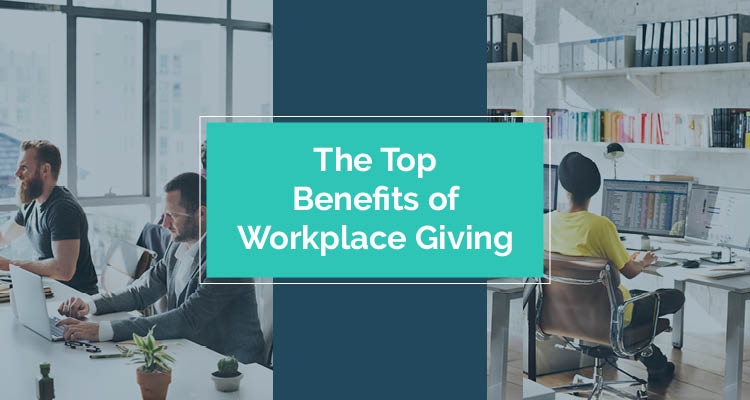 In recent years, companies everywhere have implemented or grown their corporate philanthropy programs. This isn't a coincidence. Corporate social responsibility (CSR) has significantly risen in popularity—enough to the point where consumers and employees alike expect companies of any size to offer charitable programs.
But there's more to corporate philanthropy and workplace giving than the obvious help it gives to charities and causes around the world. Workplace giving is also good for the companies creating the programs.
As you probably know, workplace giving programs can include:
Volunteer programs and

grants

Automatic payroll deductions

Annual campaigns

Disaster relief

Event fundraising
To help illustrate why these programs are so vital, we've listed the top five benefits of workplace giving for corporations:
Companies that donate to nonprofits not only help important causes, but also see positive growth and change in their own backyard. Check out the ways in which workplace giving can help companies like yours!

1. Workplace giving aids in employee recruitment and retention.
Any company would say they want to recruit the top talent in their fields or industries. While offering great products and services or maintaining a positive office culture continues to be an important incentive, workplace giving is also a huge motivator.
According to recent statistics, 55% of employees (and 75% of Millennials) would choose to work for a socially responsible company, even if it meant earning a lower salary. Companies with a positive philanthropic image recruit more employees because a growing number of employees want to be able to support causes they care about through their employer.

More and more employees, especially Millennials, are becoming philanthropically minded and want to be able to support the organizations and missions that resonate with them.
Workplace giving not only helps with employee recruitment, but it also aids in retention. The more philanthropic opportunities employees have within their company, the more likely they'll be to stay with that company. Having a way to give to nonprofits and volunteer through the workplace leads to lower turnover rates and saves companies tons of money in training and onboarding expenses.
If your company is looking for ways to find and hire top talent and keep them long term, consider taking a close look at your workplace giving strategy and take some time to evaluate its effectiveness.

2. Companies with effective workplace giving programs have more engaged employees.
Based on recent data, 85% of employees are not engaged in the workplace. That means many companies are at a high risk of losing their employees because they don't feel invested in what they're doing. To combat this, companies must develop ways to keep their employees engaged and happy at work.
Just as investing in workplace giving programs helps businesses attract and retain great employees, it also leads to a higher level of employee engagement.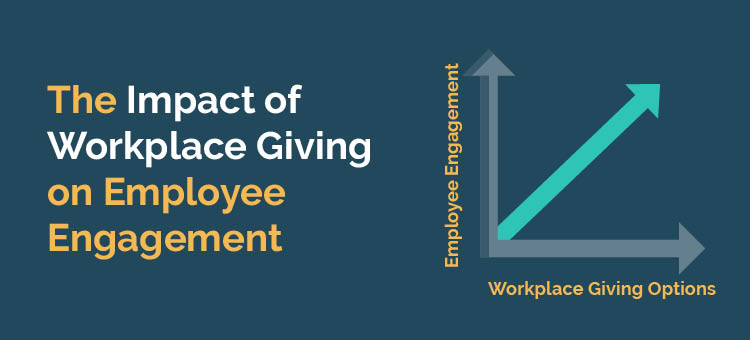 When employees are engaged with their company, they're emotionally invested in the work they're doing, and are happier and more fulfilled in their jobs.
Why is employee engagement important?
Employee engagement is important because companies with engaged employees see higher productivity and overall success. In fact, companies with engaged employees are 22% more profitable.
The rise in productivity levels also indicates that these companies have actively invested employees who are willing to put in the work to make their companies successful.
All of this comes back to workplace giving. Offering generous giving programs and making conscious CSR efforts reflects well on your company in the eyes of your employees. When employees see their companies taking the initiative to improve the communities around them and receive opportunities like matching gifts or time off to volunteer, they are more likely to stay with that company.

3. Consumers want to purchase goods and services from socially responsible companies.
Workplace giving doesn't just have an impact on employees and the nonprofits they serve. In fact, research shows that consumers want to purchase goods and services from companies that are socially responsible and philanthropic.
Creating an impactful workplace giving program leads to heightened brand awareness around your company, associating your logos and name recognition with important and reputable causes that people want to support.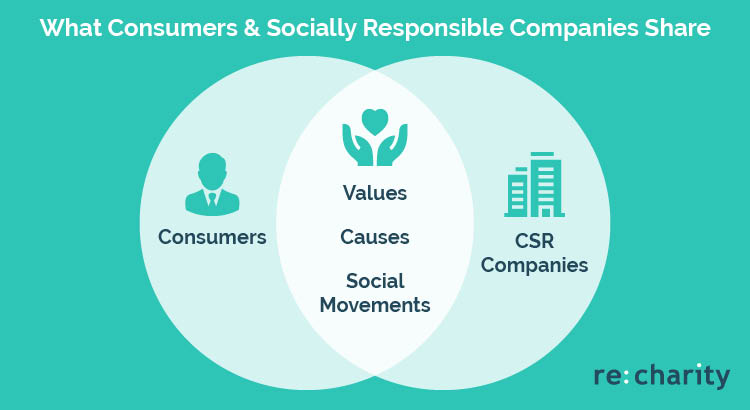 Most notably, consumers choose companies that:
Share their own personal values

Support causes they agree with

Take stances on social movements
A company's public decisions in the greater community, as well as the sense of leadership they show, impacts consumers' decisions to choose them over another.
This can go even further. Offering corporate sponsorships for nonprofit events, for example, can lead to positive brand recognition from the nonprofit partner's marketing materials. Likewise, taking part in cause marketing campaigns brings business and funds to your company and the nonprofit, respectively.
Case in point: Consumers are more likely to do business with your company if you do good in the greater community. Workplace giving is a great place to start building relationships and partnerships with local charities and causes.

4. Workplace giving supports surrounding communities and nonprofits.
Of course, if we're going to talk about the benefits of workplace giving for companies, we need to talk about the specific benefits that go to nonprofits.
While the financial assistance that stems from workplace giving programs is probably at the top of the list, nonprofits also see other forms of support from this channel. For example, when companies enact a workplace giving strategy, nonprofits benefit in the following ways:
Deepened relationships with companies.

Nonprofits that repeatedly receive support from companies form long-lasting relationships with those companies. This can take the form of partnerships, sponsorships, skilled volunteers, and more.

Heightened visibility in the greater community.

Nonprofits that receive support from companies have a higher chance of receiving support from regular donors and volunteers. When companies sponsor events or encourage employees to spread the word about their cause, this grants them more visibility.

More funds to continue serving their mission and constituents.

Financial assistance is critical

 for nonprofits. When companies offer giving options to their employees, such as automatic payroll deductions, these numbers add up over time and allow nonprofits to raise the funds they need.
Companies that do good for nonprofits also benefit the larger community at hand. Nonprofits receive the funds they need to better serve their communities, and as a result, companies help improve society. This visibility then ties back to the company's public image, causing more consumers and employees to gravitate toward them, rather than other companies.

5. Workplace giving is flexible and easy to maintain.
As workplace giving becomes more popular in the growing world of CSR, the tools companies can use to implement and maintain their programs has also evolved.
The emergence of workplace giving technology helps companies manage their giving programs with flexibility and ease.
Rather than using spreadsheets or other forms of manual data entry to track employee giving, companies everywhere use workplace giving tools to track, approve, and view the impact of their giving. Essentially, each component of their program is streamlined from one central location.
For example, workplace giving solutions allow companies to:
Track employee donations

View and approve matching gift requests

Track employee volunteer hours

View and approve volunteer grant requests

Set up automatic payroll deductions

Run annual campaigns
When companies have an automated and centralized process for tracking all elements of their workplace giving program, this saves them time and keeps their programs running efficiently. For instance, not only can companies view and approve matching gift requests, but they can set the software to automatically approve the request if it meets their guidelines.
This level of flexibility and ease then returns all kinds of benefits to the company.

Benefits of Workplace Giving Software
Because workplace giving technology offers so many ways for companies to organize and maintain their giving programs, there are many benefits that result from using it. These include:
User-friendliness.

Most workplace giving software is user-friendly, which means both the employees logging their volunteer hours or donations

and

the managers reviewing the information can easily navigate the interface.

Higher employee participation.

Because workplace giving software is so intuitive, this encourages more employees to participate in the company's program. The easier it is to request a matching gift for a donation or set up an automatic payroll deduction, for instance, the more likely employees will be to take advantage of those benefits.

A way to track CSR initiatives for stakeholders.

Workplace giving software also offers robust reporting tools, which means companies can easily view a high-level report on their CSR impact or pull a specific report from one or more areas. This easy reporting system also allows them to share their impact with key stakeholders and the general public.
Workplace giving software makes running your giving program easy and effective and encourages more participation from your employees. And when more of your employees participate, this means you'll be able to give even more funds and services to the nonprofits you care about.
It all starts with selecting the right software for your company's needs! For example, POINT is an innovative, easy-to-use solution that empowers businesses to launch and manage workplace giving and other corporate philanthropy initiatives. By working with this software, you can quickly take your CSR programs to the next level and make the most of each benefit mentioned above.

Additional Resources
It's clear that workplace giving offers tons of benefits for companies, and it also provides value to the employees who work for you, the customers who purchase from you, and the greater community around you.
If you're looking to read even more about workplace giving and corporate philanthropy, try the resources we handpicked below!