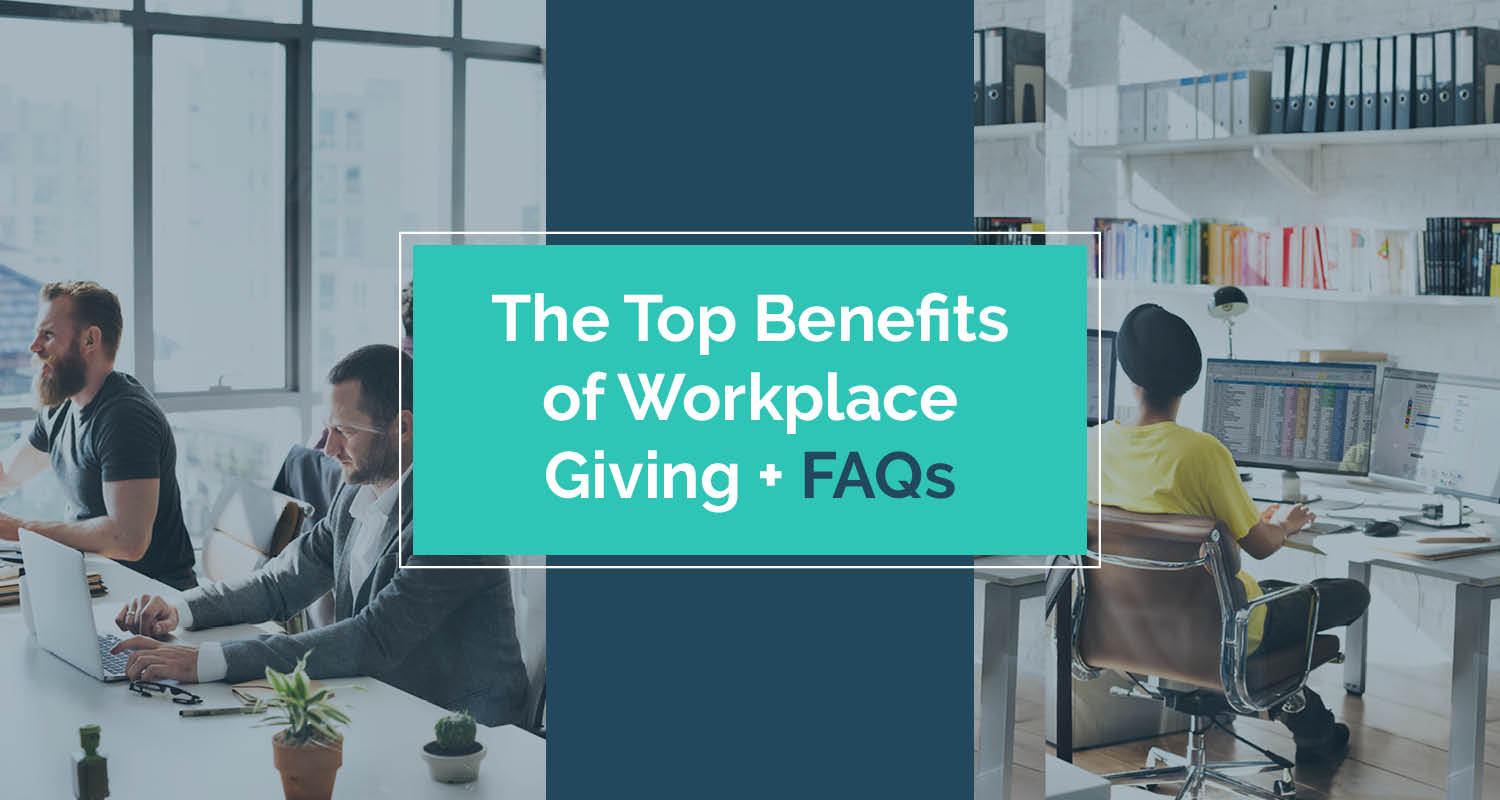 In recent years, corporate social responsibility (CSR) has significantly risen in popularity—enough to the point where consumers and employees alike expect companies of all sizes to give back to their communities.
However, there's much more to corporate philanthropy and workplace giving than the support these initiatives give to charitable causes around the world. Creating workplace giving programs also provides significant benefits for companies like yours.
That said, it might not be immediately clear how workplace giving can improve your company internally and externally. To illustrate why these programs are so vital, we'll walk through the top areas that workplace giving can improve:
Companies that donate to nonprofits help important causes and generate positive change in their own backyard. Check out how workplace giving can help companies like yours!

Workplace Giving FAQs
Before we dive into the benefits of workplace giving, it's important to understand the basics.
What is workplace giving?
Workplace giving refers to how companies give back to their communities through organized campaigns. Here are some examples of workplace giving initiatives:
Automatic payroll deductions
Annual campaigns
Event fundraising
Volunteer programs and grants
Remember that not every workplace giving idea will work for every organization. Each company should take an approach to workplace giving that best fits their preferences, focuses, and budget. For example, if a company is fully remote and has team members across the country, it might not be feasible to throw an in-person Charity 5K as a workplace giving initiative.
How can companies maximize workplace giving impact?
As with any initiative your company funds, you want to ensure the best return on your investment as possible, which, for workplace giving, equates to participation rates. Consider the following ideas to boost your workplace giving program impact:
Actively promote your programs. Some employees might not participate in your workplace giving programs simply because they aren't aware of them. Provide ample documentation of what your programs are, how they're structured, and how employees can get involved. If you notice a downward trend in participation, promote your workplace giving programs in company-wide meetings or email blasts.
Simplify participation for employees. Make participation as easy as possible to encourage more signups, gifts, and recurring involvement from employees. Use a software solution designed for workplace giving to streamline program management so you can secure more support from employees. Also, make yourself available to answer questions from employees and implement feedback about your guidelines.
Highlight success stories. One of the best ways to get your employees to take action is to emphasize the program's potential to do good. Create impact reports for your programs to demonstrate the tangible impact of participation. Don't forget to feature stories of beneficiaries (with their permission) to humanize the cause.
The key to getting employees involved with your efforts is to zone in on why workplace giving is so important. With these tips and a reliable software solution by your side, you can greatly boost your workplace giving program's potential.
Workplace Giving Statistics
With a better understanding of why workplace giving is important, we can dive deeper into quantifying those benefits. Check out the following statistics to gain better insight into workplace giving trends: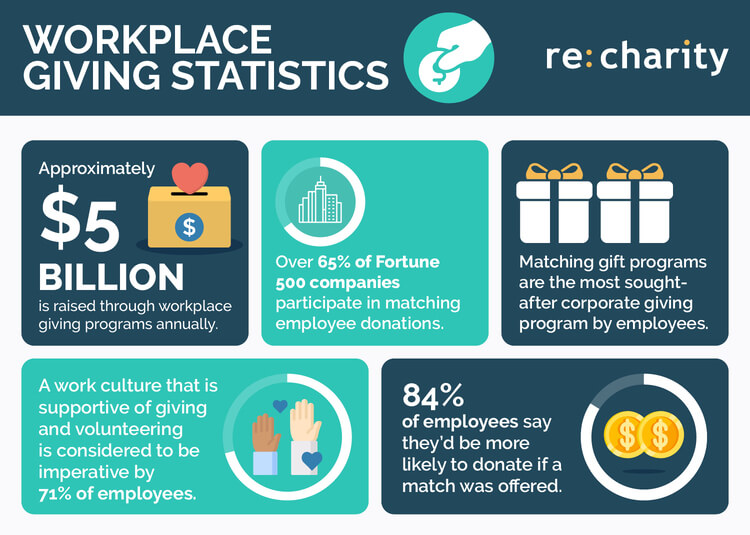 Through workplace giving programs, companies raise about $5 billion each year. For nonprofits that are constantly looking for new revenue streams, workplace giving can offer a significant funding source. Your company can help worthy organizations in dire need of funding provide services to their beneficiaries and fuel their missions. As a result, your team will feel good about the positive impact they've made on the community and can share your company's commitment to social responsibility with stakeholders.
Over 65% of Fortune 500 companies offer matching gifts. Matching gifts are the most popular form of workplace giving, and for good reason. It's extremely simple for employees to participate. All they have to do is fill out a matching gift request form and send it to the appropriate team member. With auto-submission, this process is even easier.
84% of employees say they'd be more likely to donate if a match was offered. Not only are matching gifts easy to facilitate, but the mere prospect of them encourages employees to donate. Donors want to know that their contributions are making a difference. With matching gifts, they can be certain that their donations will have double the impact, all thanks to your company's generosity.
71% of employees look for a work culture that is supportive of giving and volunteering. Workplace giving lends itself to a positive work environment. Highlighting your workplace giving opportunities during the employee recruitment process can help attract team members who are passionate about helping others and working with your company to do so.
It's clear that workplace giving does more than just help nonprofits. Implementing a workplace giving program demonstrates your company's commitment to supporting charitable causes, encouraging team members to join in and amplify the positive impact your business makes.
Benefits of Workplace Giving
Now that you know the basics of workplace giving, let's dive into which areas it can improve: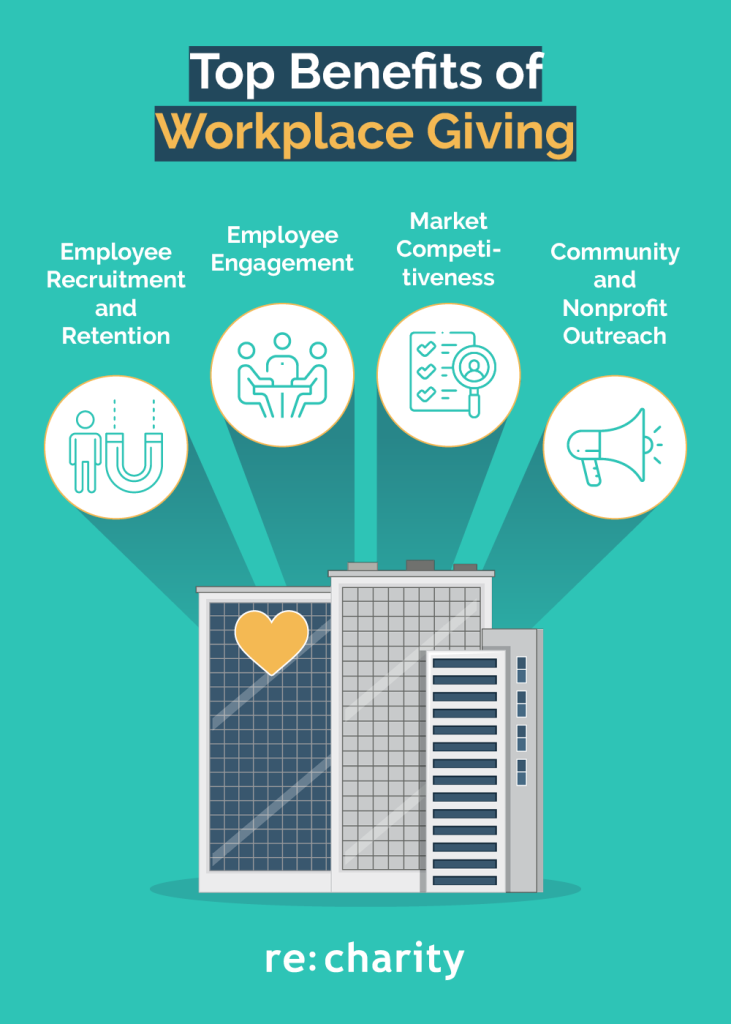 1. Employee Recruitment and Retention
Any company would say they want to recruit the top talent in their fields or industries. While offering great products and services or maintaining a positive office culture continue to be an important incentive, workplace giving is also a huge motivator.
According to recent statistics, 55% of employees (and 75% of Millennials) would choose to work for a socially responsible company, even if it meant earning a lower salary. Companies with a positive philanthropic image recruit more employees because a growing number of job seekers want to be able to support causes they care about through their employer.

Workplace giving not only helps with employee recruitment but also aids in retention. According to Double the Donation, 54% of employees who are proud of their company's contributions to society report being engaged in the workplace. The more philanthropic opportunities employees have within their company, the more likely they'll be to stay with that company. Plus, having a way to give to nonprofits and volunteer through the workplace leads to lower turnover rates and saves companies lots of money in training and onboarding expenses.
If your company is looking for ways to attract top talent and keep them long-term, consider taking a close look at your workplace giving strategy and evaluate its effectiveness.
2. Employee Engagement
With nearly 85% of the workforce disengaged, lack of employee engagement leaves many companies at a high risk of losing their employees. To combat this, companies must develop ways to keep employees engaged, happy, and productive at work.
Just as investing in workplace giving programs helps businesses attract and retain great employees, it also leads to a higher level of employee engagement. Check out these statistics from Gallup that show what high levels of employee engagement can do for businesses: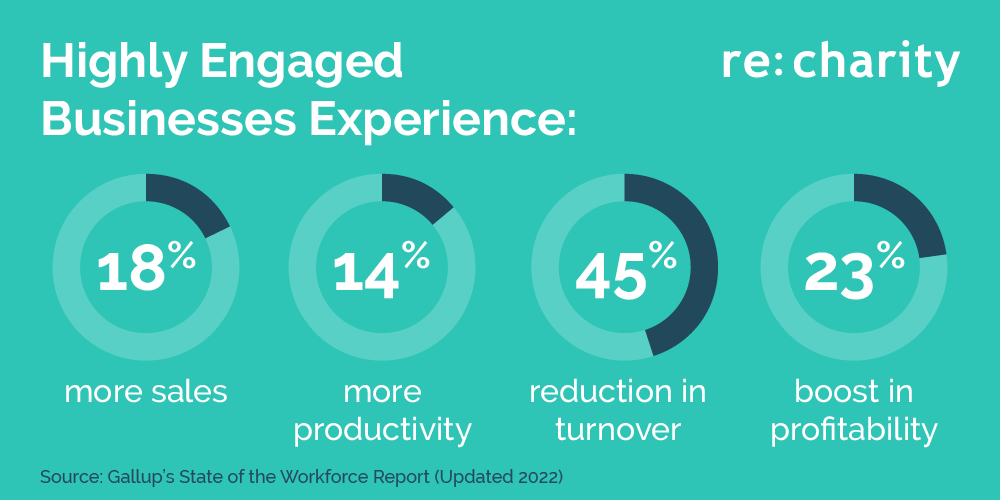 18% more sales
14% more productivity
45% reduction in turnover
23% boost in profitability
All of this comes back to workplace giving. Offering generous giving programs and making conscious CSR efforts reflects well on your company in your employees' eyes. When employees see their companies taking the initiative to improve the communities around them and receive opportunities like matching gifts or time off to volunteer, they are more likely to stay with that company.
3. Market Competitiveness
Workplace giving doesn't just have an impact on employees and the nonprofits they serve. In fact, research shows that consumers want to purchase goods and services from philanthropic companies and will even pay more to support a socially responsible company.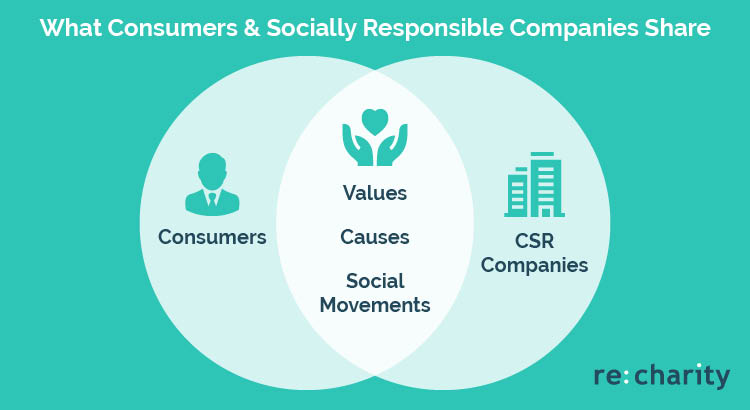 Most notably, consumers choose companies that:
Share similar values
Support causes they agree with
Take stances on social movements
A company's public decisions in the greater community, as well as the leadership they show, can help it stand out from the competition. Offering corporate sponsorships for nonprofit events, for example, can lead to positive brand recognition from the nonprofit partner's marketing materials. Likewise, taking part in cause marketing campaigns brings business and funds to your company and, by extension, to your nonprofit partners.
4. Community and Nonprofit Outreach
Besides customer outreach, your company can also build valuable connections throughout the community through workplace giving. For example, when companies enact a workplace giving strategy, they can:
Deepen relationships with nonprofits. Nonprofits that repeatedly receive support from companies form long-lasting relationships with them, which is valuable when the nonprofit and company are pursuing the same interests. This can take the form of partnerships, sponsorships, skilled volunteers, and more. For instance, a sports apparel provider that sponsors a nonprofit youth golf clinic can experience heightened sales from the nonprofit's program participants who want new gear.
Heighten visibility in the nonprofit space. Companies that regularly support nonprofits have a higher chance of receiving business from regular donors and volunteers from other nonprofits. When companies sponsor events or encourage employees to spread the word about their nonprofit partner's cause, this grants them more visibility.
Companies that do good for nonprofits also benefit the larger community at hand. Nonprofits receive the funds they need to better serve their communities, and as a result, companies help improve society while attracting socially responsible customers. This visibility then ties back to the company's public image and gives them an edge over competitors.
Bonus: Workplace Giving Software Rundown
As workplace giving becomes more popular in the world of CSR, the tools companies can use to implement and maintain their programs have also evolved.
The emergence of workplace giving technology helps companies manage their giving programs with flexibility and ease.
Rather than using spreadsheets or other forms of manual data entry to track employee giving, companies everywhere use workplace giving tools to track, approve, and view the impact of their giving. Essentially, each component of their program is streamlined from one central location.

Key workplace giving software features
The top workplace giving solutions should allow companies to:
Track employee donations
View and approve matching gift requests
Track employee volunteer hours
View and approve volunteer grant requests
Set up automatic payroll deductions
Run annual campaigns
When companies have an automated and centralized process for tracking all elements of their workplace giving program, this saves them time and keeps their programs running efficiently. For instance, not only can you view and approve matching gift requests, but you can set the software to automatically approve requests if they meet your guidelines.
Traits to look for in workplace giving software
Additionally, ensure your workplace giving software has the following traits to maximize productivity and usability:
User-friendliness. The top workplace giving software solutions are user-friendly, which means both the employees logging their volunteer hours or donations and the managers reviewing the information can easily navigate the interface.
Participation boosters. Besides having a user-friendly interface, your software should make it simple for employees to get involved by offering intuitive ways to give. For example, if one of your company's workplace giving program ideas is matching gifts, you should choose a solution that integrates with an auto-submission provider to streamline the donation process.
Accessible reporting for stakeholders. Workplace giving software also offers robust reporting tools, which means companies can easily view a high-level report on their CSR impact or pull a specific report from one or more areas. Ensure your solution can provide accessible reports so stakeholders of any background can understand your program's impact. For instance, if you have complex metrics in your reports like return on investment, your solution should be able to translate them into comprehensible language for your stakeholders outside of the industry or nonprofit space.
Workplace giving software makes running your giving program easy and effective. As an employee engagement tool, it encourages more participation from your employees. And when more of your employees participate, you'll be able to give even more funds and services to the nonprofits in your community.
It all starts with selecting the right software for your company's needs! By working with this software, you can quickly take your CSR programs to the next level and make the most of each benefit mentioned above.
Additional Resources
Between the immense external impact your workplace giving programs can have and the internal benefits for your company culture, your company has a lot to gain from investing in workplace giving. By embracing corporate social responsibility, you can improve the lives of your employees, customers, and community members as a whole.
If you're looking to read even more about workplace giving and corporate philanthropy, try the resources we handpicked below!