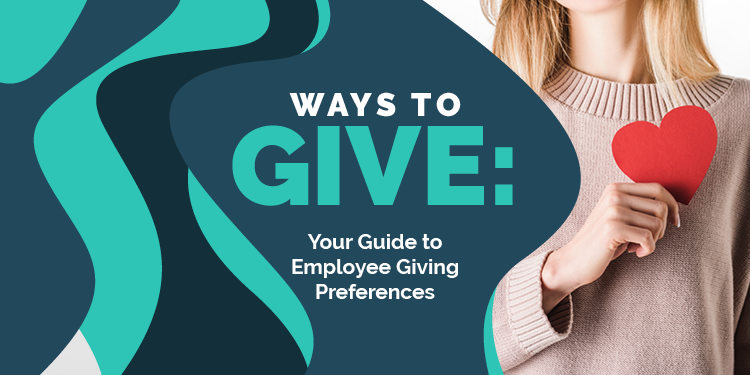 Research shows that more than 65% of Fortune 500 companies in the U.S. offer one form of workplace giving or another, with over 25,000 smaller businesses following suit.
Matching gifts are one of the most popular types of programs by far, and 85% of the world's top matching gift companies also offer volunteer grant opportunities. In addition to traditional matching gift initiatives, many employers are choosing to explore donation-matching with custom matching gift programs—which encompass direct relationships between a company and a single nonprofit it chooses to support.
Other examples of employee giving include company-wide annual giving campaigns and employee donation stipends, although these tend to be less common.
But regardless of the type of workplace (or employee) giving program your company is considering, understanding employee giving preferences is of utmost importance.
In this guide, we'll cover the following key topics to help any business develop workplace giving initiatives their employees will love:
Employee workplace giving programs significantly benefit each party involved in your philanthropic efforts. Nonprofit organizations craft new supporter relationships and collect additional revenue toward their missions. At the same time, employee donors get to see their dollars stretching further than they might have on their own.
And as the employer, you'll see increased employee engagement (meaning higher levels of productivity and retention) as well as an improved reputation among consumers as a key player in corporate social responsibility.
Now, let's dive in with our top tips to establish top-tier employee giving and begin reaping the benefits listed above.


1. Top ways to give for workplace giving programs
There are a plethora of ways that an individual donor can choose to support a nonprofit on their own. Similarly, the best workplace giving programs offer employees multiple ways to give⁠—and to participate in available donation-matching initiatives.
Here are a few of the most common ways that a donor might give through an employee giving program:
Nonprofit website/donation tool
This is often the most straightforward method⁠! A donor simply navigates to the intended organization's website via a computer or mobile device and follows prompts to donate. Most nonprofits manage their online donation collection through a third-party donation tool that accepts a variety of payment methods including debit/credit cards, ACH payments, digital wallets, and more.
Peer-to-peer fundraising platform
When giving through a peer-to-peer (P2P) fundraising platform, employees are typically being solicited by a family member, friend, colleague, or another member in their social network fundraising on the nonprofit's behalf, rather than by the organization itself. Once they've decided to give, the donation process looks similar to that of the nonprofit's website described above.
Direct mail donation
Direct mail gifts are exactly what they sound like⁠—charitable donations sent to a nonprofit via a check through snail mail. Many organizations continue to send fundraising appeals in the mail. Many even enclose a pre-addressed, prepaid envelope to make the giving process as easy as possible! Then, the donor simply writes their check for the amount they'd like to give, place it in the envelope, and send it through the mail to an organization they care about.
CSR or workplace giving platform
To contribute through CSR (or corporate social responsibility) giving software, donors typically log onto a platform provided by their employer and browse through pre-approved nonprofit organizations. Once they've made their decision, donors complete their gifts through the CSR platform website, which is then processed and sent to the organization.

According to additional fundraising studies, online donations are the most common employee giving preference, with 86% of donors wanting to make their initial donation directly to a nonprofit through their website. To many, this seems as if it's the most personal and direct way of supporting a cause that they care about. Then, another 8% of survey respondents indicated a preference for P2P, direct mail, or another form of giving.
On the other hand, only 6% of donors would rather make their initial donation through a workplace giving software provider and then have their contribution passed along to the nonprofit.

2. What employees DO + DON'T want in terms of employee giving
Since there are so many different ways to give to nonprofits and support their missions, what employees DON'T want when it comes to workplace giving programs is restriction.
But what does that mean? Let's take a look at another fundraising statistic from industry-leading matching gift software provider, 360MatchPro:
96% of employees prefer their company to match donations made directly to a nonprofit (rather than only matching donations through a workplace giving software platform).

Although some companies require employees to donate through their CSR software vendor in order to be eligible for a corporate match, the vast majority of employees prefer to have multiple options for making their gifts. This might include giving through the nonprofit's website, via a peer-to-peer fundraising platform, through direct mail, or within a workplace giving platform.
And that's not necessarily saying that individuals won't give through their company's CSR platform, either. Some employees might love having the opportunity to browse compilations of reputable charities they're able to support.
However, nearly all employees would rather have the choice to give in any way that they'd like. In other words, the more options, the better. Suppose they decide to donate through their employer's workplace giving software⁠—great! But if they'd prefer to give directly to the nonprofit itself, that should certainly be allowable as well.
Further, employees don't typically want long, drawn-out processes when they go to request their matching gifts. In fact, the more steps and the more required information involved in a matching gift request, the less likely employees are to take part in the program.

3. How innovative technology can help—with auto-submission
In order to drive participation and, at the same time, corporate program benefits, many companies are turning to innovative technology to streamline the request process for employee donors. For example, one of the biggest instances of this has to do with automated match submissions.
When this functionality is made available through the employer's corporate giving software (through an integration with Double the Donation), individuals can complete their end of the matching process in just a few seconds⁠—directly from the organization's website, donation page, or peer-to-peer campaign to which they contributed.
Here's what the procedure looks like!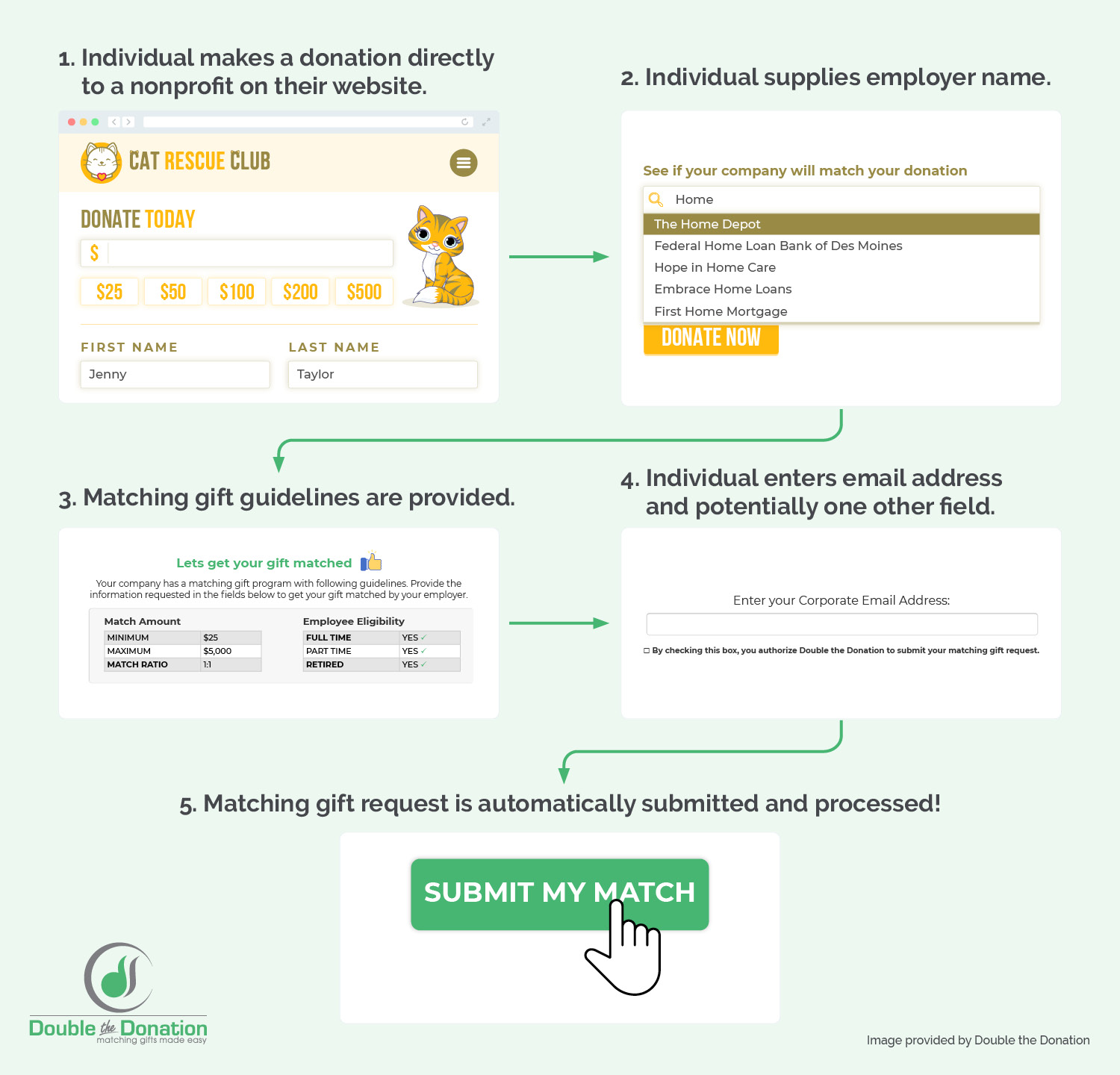 This is significantly more time-effective for the employees who previously would be required to complete a separate request process within the company's matching gift management portal, providing details regarding their employee status, recent donation, and nonprofit mission (as demonstrated below).
All in all, auto-submission leads to increased participation rates and a greater impact on the company and the nonprofits involved in matching gifts.

4. Benefits of offering multiple ways to give (and get gifts matched)
Clearly, workplace giving participants prefer to have as many choices as possible regarding eligible ways to give. But does that benefit your company as well? The short answer is⁠ yes!
The longer answer, which includes the main advantages of diversifying the ways employees can participate in workplace giving, typically falls into one of these two categories:
Increased program usage: The easier you make it to participate in a workplace giving program, the more employees will take part. Conversely, the more difficult it is to participate (or the more restricted the giving options), the fewer individuals will take part. Aim for the former scenario by enabling employees to donate through any of their favorite giving channels, and you'll see high program usage rates.
Elevated employee satisfaction: By considering your employees' wants and needs when crafting your giving programs, you emphasize that their experiences matter to your company. As a result, you'll see increased levels of satisfaction among employees, along with other related benefits such as boosted retention, strengthened connections, heightened productivity, and more.
It really comes down to this⁠—your workplace giving programs don't benefit anyone (your company, nor your employees, or the nonprofits they support) if nobody participates. When you take your teams' giving preferences into account on a strategic level, you can ensure you establish a program that helps each party reach and exceed their goals.

5. Educating employees on workplace giving opportunities
More than 26 million individuals are eligible to participate in matching gift opportunities through their employers, with even more qualifying for other workplace giving programs. Unfortunately, 78% of these people are unaware of the programs in place, meaning they're not utilizing available employee giving benefits.
Even those who have heard of matching gifts typically don't know how to get involved and how simple the process can be!
This is why thousands of nonprofits have taken a proactive approach and are promoting matching gifts to donors themselves. Yet millions of match-eligible donors continue to fall through the cracks.
So, how does that affect employers such as yourself? It typically means that the return on investment for your company giving program remains low⁠—significantly below your corporate philanthropy potential. And again, you won't be able to reap the benefits of your workplace giving initiatives if no one chooses to participate!
That's why businesses like yours must take the time to educate employees about the value and availability of your employee workplace giving programs. To increase awareness (and engagement), we suggest:
Highlighting all available corporate giving programs in new employee onboarding materials (including matching gifts, paycheck deductions, volunteer grants, and more)
Providing additional resources where employees can seek information about the programs they're interested in, how to get started, and concrete instructions for participation
Conveying the impact of workplace giving through internal communication channels at intervals throughout the year, ramping up encouragement during times of increased charitability (like the holidays)
Plus, in your communications with staff members, be sure to emphasize how easy it is to participate⁠—and how your program is inclusive of all ways to give! Remind employees that they can give to support the organizations they care about in numerous ways, including (but not limited to!) online, peer-to-peer, direct mail, and CSR platform giving.
The more familiar your employees are with the concepts, availability, and processes involved with workplace giving, the more likely they are to partake.
---
The bottom line comes down to giving employees the freedom of choice in the ways they'd like to give.
When you take your staff's perspective and preferences into account when designing or updating your program, you'll likely see higher levels of participation, and more satisfied employees overall. Encourage your team to support their favorite nonprofits through their websites and online donation tools, peer-to-peer giving campaigns, direct mail fundraising asks, and more. And if they'd like, they can give through your workplace giving platform as well!
When in doubt, employees want more ways to give rather than fewer ways to give.
Learn more about corporate philanthropy and employee giving with our other fantastic resources below: