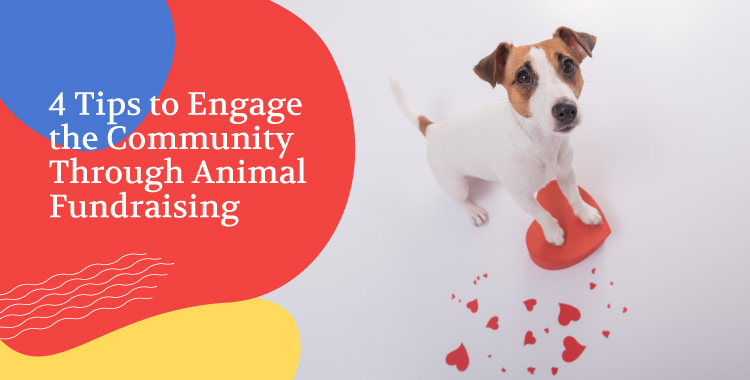 Animal welfare organizations play a critical role in ensuring that animals receive the care they need to live happy, healthy lives. However, these organizations often operate on tight budgets and rely on charitable contributions to finance their vital services. This is where animal fundraising comes into play.
By hosting an animal fundraiser and demonstrating how donations make a meaningful impact at the local level, you can create a community-led movement that generates more resources, support, and awareness for your cause. Whether you own an animal shelter, veterinary clinic, or conservation sanctuary, this guide will help you raise money while engaging the community. Let's get started!
1. Organize a Community-Wide Event
Fundraising events are an effective way to engage the community in animal rights activism. When you invite the public to take part in an event that showcases your impact, you inspire a shared sense of purpose centered around animal welfare issues.
Here are some examples of popular animal fundraising events:
Animal Shelter Adoption Event: Hosted by animal shelters or rescue organizations, adoption events provide an opportunity for the public to meet and adopt rescue animals. These events often include games, food, and other activities, making them a fun way to spend time with family and friends while supporting a good cause.
Animal Walk/Run: Outdoor walks or runs can be a great way to raise awareness and funds for animal welfare. Participants can register for the event and ask their friends and family to sponsor them for a certain amount per mile.
Animal-Related Auctions: Auctions allow supporters to bid on unique, animal-related items and experiences, such as dog training classes, gourmet treats, and visits to animal sanctuaries.
Pet Costume Contest: Pet owners love to show off their furry friends, and a costume contest is a fun way to do so while raising funds. Participants can pay an entry fee, and the animals can compete for prizes.
Choose an animal fundraising event that aligns with your goals, budget, and target audience. Then, pick a suitable venue and date, and start promoting the event as soon as possible to attract attendees.
On the day of the event, Gingr recommends using an integrated payment processor to streamline the donation process and increase the likelihood that attendees will contribute to your cause. Invest in a payment processor that can be connected to a kiosk, cash register, or mobile app, depending on your needs.
2. Leverage Social Media
Social media is a powerful tool for community engagement, as it allows you to reach a wider audience in seconds. This makes it easier to communicate important information to community members on a regular basis. Plus, social media encourages users to comment on posts with their feedback and share content with their peers, empowering more people to take an active role in your cause.
Here are some ways to maximize your time on social media through animal fundraising:
Share photos and videos of the animals in your care to create an emotional connection with potential donors.
NXUnite recommends collaborating with social media influencers and sharing campaign-related posts with their audiences.
Promote fundraising events through social media channels like Facebook or Instagram by creating event pages, sharing updates, and encouraging followers to share with their own networks.
Drive donations through built-in fundraising tools like YouTube Giving, Facebook Fundraisers, and Instagram Donation Stickers.
Encourage supporters to share their own stories, photos, or videos of their pets using a hashtag.
As you push content live, track engagement metrics such as likes, shares, and comments to gauge the effectiveness of your strategy and make necessary improvements. With a strong social media presence, your organization, fundraising campaigns, and furry friends will gain greater exposure.
3. Partner with Local Businesses
Partnering with local businesses shows that your organization is deeply committed to the community that it serves. It also provides your organization with the reach and resources it needs to achieve fundraising success.
Reach out to businesses that are closely aligned with your mission and ask if they're interested in becoming a corporate sponsor and receiving some benefits in return.
An example of a mutually beneficial partnership would be an animal shelter teaming up with a dog daycare business to host an adoption event. The organizations share a similar target audience and would therefore benefit from co-hosting a fundraiser that showcases each of their services.
Once you've identified an ideal partner, decide how they will support your fundraiser. In addition to donating to your cause, a business might be able to offer your organization:
An event venue: The local business can use its space to host a fundraising event. This will not only save costs for your organization but also help bring in more people from the local community.
Donation drives: The business can set up a donation drive on its premises by putting up flyers, posters, and collection boxes encouraging their customers and employees to donate in-kind items like pet food or monetary donations.
Co-branding: Collaborate with the local business to create co-branded merchandise, such as t-shirts, mugs, or tote bags, that can be sold to raise funds for your cause. The merchandise can also be used as promotional items for the business and can help spread the word about your shared purpose.
When soliciting support from local businesses, be clear about how they will benefit. For instance, you may agree to include the business's logo on promotional materials in return for a donation.
4. Offer Volunteer Opportunities
Invite local community members to deepen their involvement with your fundraiser through volunteer opportunities. These opportunities can include tasks such as marketing, event planning, fundraising, and animal care.
By recruiting volunteers, the community can take an active part in advancing your mission, leading to increased awareness and support. Additionally, volunteer efforts can be highlighted on social media or other platforms, which can encourage more community members to get involved and contribute to your fundraising efforts.
Be sure to send volunteers a thank-you letter to show that you value and appreciate their hard work and dedication. Volunteers often work without financial compensation, and a thank-you letter can go a long way in expressing gratitude for their time and effort.
---
Engaging the community through animal fundraising can be a rewarding and impactful experience. By following these tips, you can create successful fundraising campaigns that not only generate donations but also raise awareness about animal welfare issues. Remember to remind supporters how much their contributions mean to your cause. Doing so will help you build a strong network of supporters who are committed to helping animals in need.