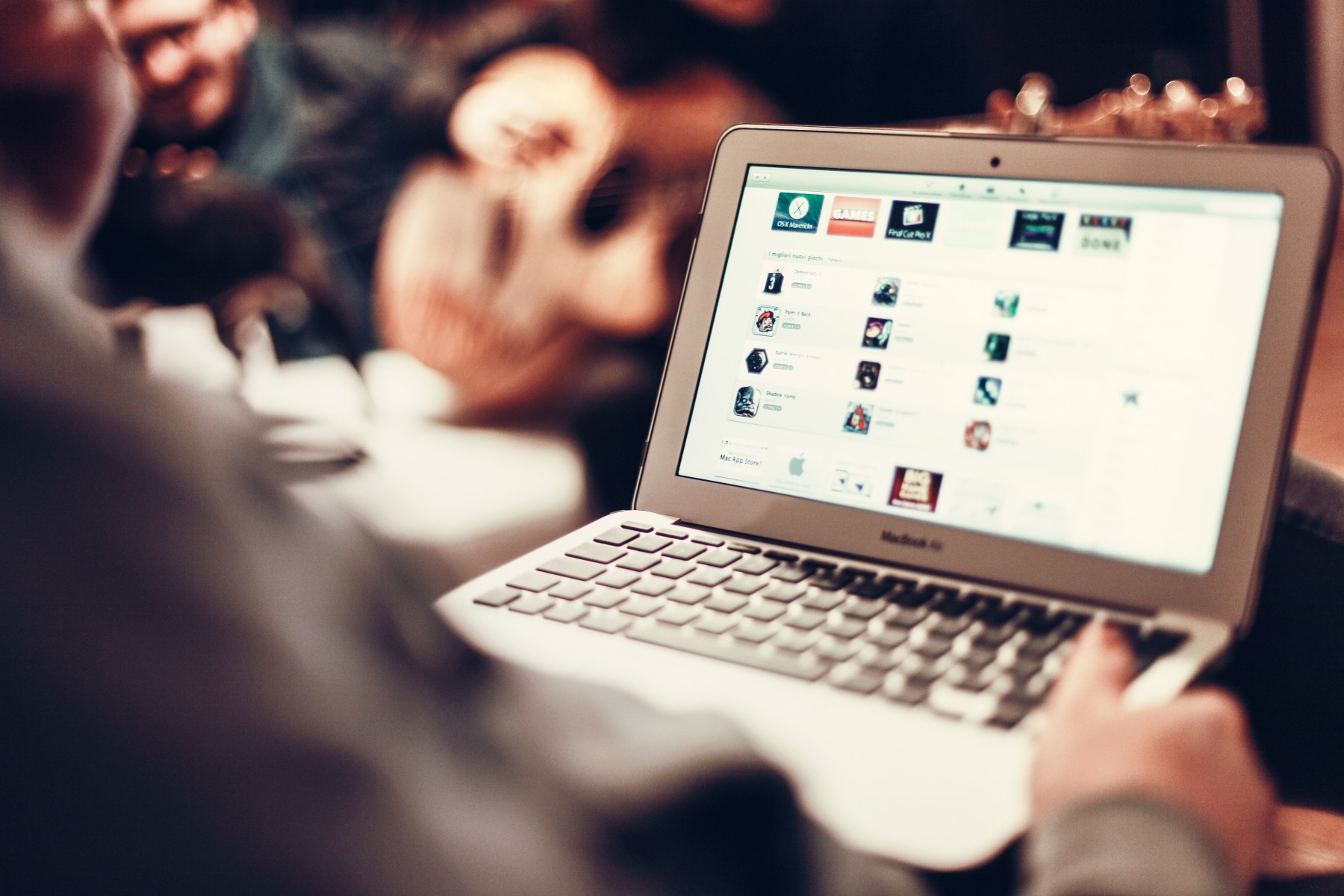 Time is the greatest resource a nonprofit organization has at its disposal. The management of that resource is then of utmost importance. So when it comes to the time-sucking world of social media, nonprofit leaders and organizations need to be at their time management best. Consider Nonprofit Tech For Good's post on How Much Time Social Media Requires for Fundraising Success where they suggest mobile and social should/could take 42 hours a week:
That breakdown doesn't even include Vines, memes, GIFs, cats and celebrity gossip so one can only imagine how much more time social could take…
The good folks at Nonprofit Tech for Good (who are behind Mobile for Good: A How-To Fundraising Guide for Nonprofits) fully understand that not all organizations, most organizations in fact, can't afford a full-time social media manager or devote that much time to managing mobile & social media:
Small nonprofits that are not in a position to hire a part or full-time new media manager should limit themselves to one or two social networks and place the highest priority on their website, email communications, and online fundraising campaigns.
So with too many hours of 'should' and even more of 'could', here are…
5 Ways You Can Maximize Your Nonprofit's Time On Social Media
1. Make Sure Social Strategy Supports Your Bigger Strategy
Spout created a great guide to social media for nonprofits and the first three steps (define the role, determine what you want to accomplish and identify your target audience) are really about alignment and purpose. Sprout quotes The Mother of Social Media dragons Beth Kanter along those lines:
Social media shouldn't be out there alone; it should be integrated and aligned with your strategic goals and target audiences…
Knowing how social aligns to your goals and supports your bigger strategies is the best way to maximize your time. It allows you to stay focused on those goals as you go about managing social channels and avoid the pit falls that abound.
And that purpose is most likely not direct revenue by the way, as Beth again points out:
The role that it can play really well is engagement, especially donor engagement and donor retention, getting people to pay attention—capturing their attention.
So before we get a bit more tactical and tool focused, make sure there is an understanding of what you want to achieve overall and how social fits into that picture. Okay, onward…
2. Go Where Your Supporters Are And Know Where They Are
Here's a quick snapshot of popular social media channels by age (HT Social Media Week blog):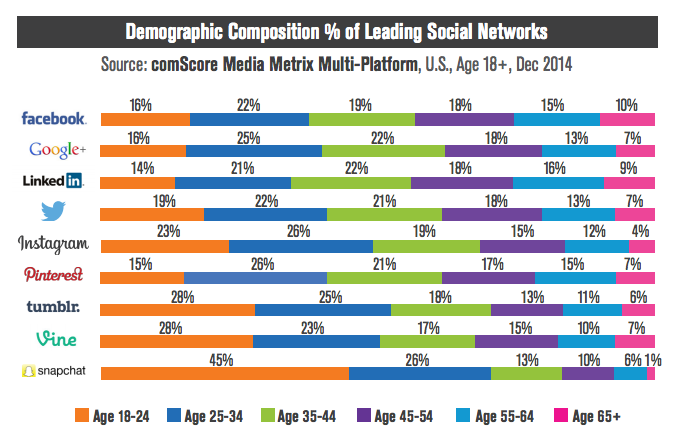 The broad generalization is that boomers are on Facebook, women are on Pinterest and 35 and under's are on everything. But broad generalization's don't help you and your organization out too much. You can look at your website analytics to see demographic makeup and traffic referral sources (Facebook is usually king here) or just look at how many people are engaging with your posts (Likes, shares, ReTweets, etc.) on your channels.
In addition, you can use something like Attentive.ly. It allows you to upload a bunch of emails and will create social profiles based on that information. You can see the most popular channels of your donors, who they key influencers are and add in the information to a segmentation strategy.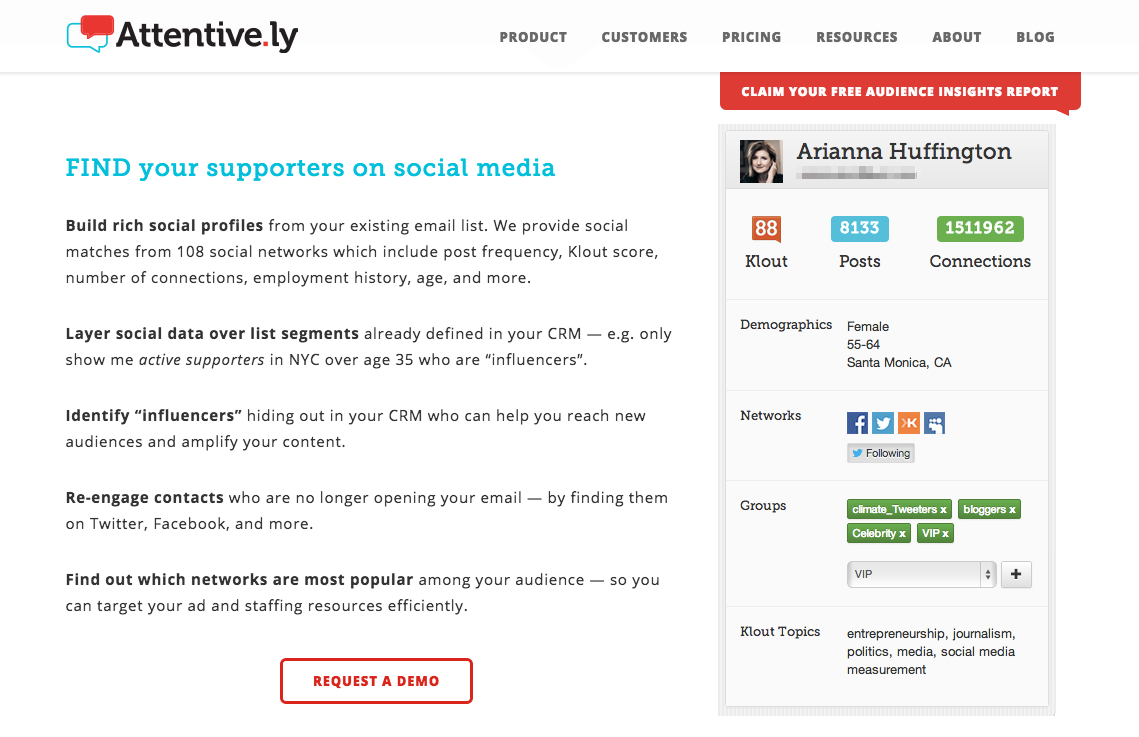 Knowing which channels your supporters are on most and engage with you best is key. You should then spend more time on those channels and less on others. Pretty simple. But you have to know first.
3. Focus On Engagement And Use Social Media Management And Listening Tools
When it comes to tools for managing social media, most often the emphasis is placed on tools that will help you publish. But just as important (if not more important) are tools that help you listen. Social media should feel less like a marketing channel and more of a conversation or a back and forth with a brand and that requires listening skills.
In their Strategic Guide to Social Media for Nonprofits Sprout suggests that 35% of your time should be spent on engaging your audience: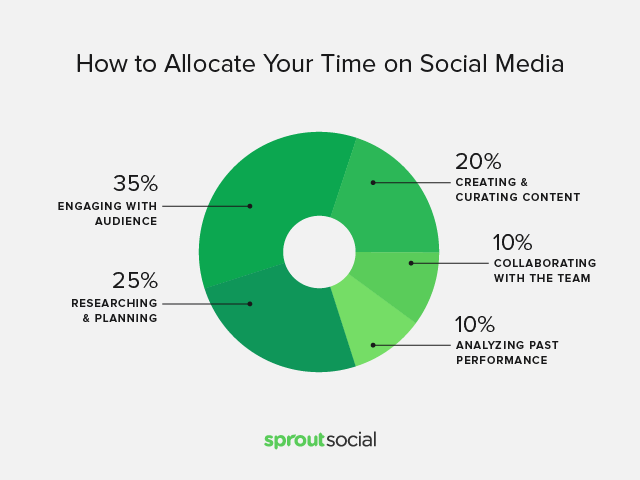 But you can't just sit on each channel, refreshing your page and feed all day. And while Google Alerts is great to set for knowing who's writing about you, when it comes to social it falls a bit short. Many social media management tools like Hootsuite (screen below) or Sprout have listening and monitoring functions built-in. You can set up feeds, keywords, lists, etc. and see those conversations whenever you log in to your dashboard.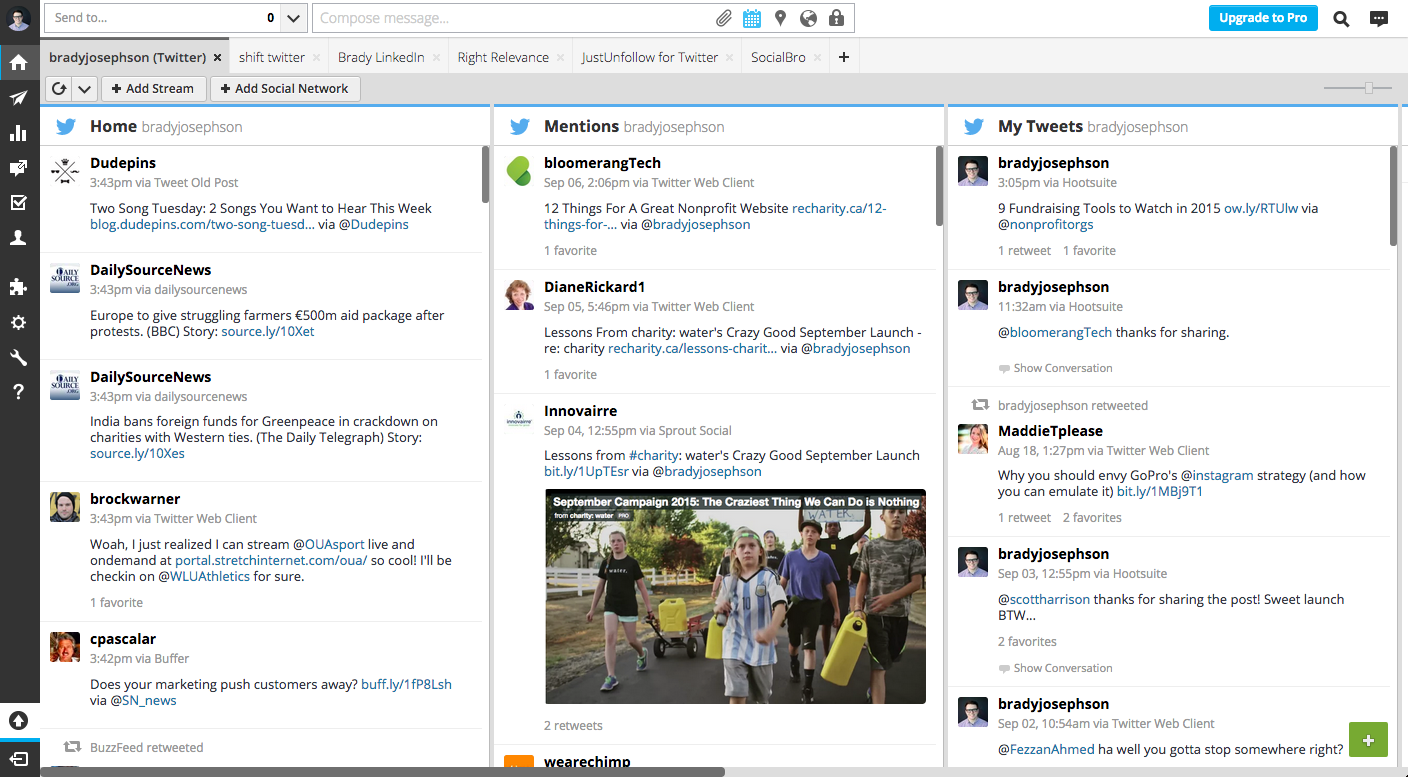 What these listening tools allow you to do is participate in conversations when you can and make sure you can answer questions, follow conversations and engage when posts and comments are about you or the things you care about.
4. Use Visuals And Tools That Make It Easier To Make Them
Photos and visuals can boost engagement 2 to 5 times on Facebook and Twitter while popular channels/sites/apps like Instagram and Pinterest are 100% image based. But it can take a lot of time to find pictures, format them properly for each channel and make them look good. Well not anymore… enter tools like Canva, Pablo and Pexels.
Canva has changed my life… for real. As someone who loves beauty and design but zero ability to make that happen Canva has been a lifesaver. It continues to get better and add more templates and pre-designed layouts making it as easy to use for Instagram as it is for Presentations and Infographics (although I prefer tools like Venngage and Piktochart for infographics).


Pexels lets you search for great (and free) stock photos. Great for background images for presentations, websites and blogs (I use these images for re: charity almost exclusively now).

Pablo (from Buffer) essentially combines Canva and Pexels for you to create and publish immediately to your channels (if connected). Particularly useful for quote or statistic posts and Twitter.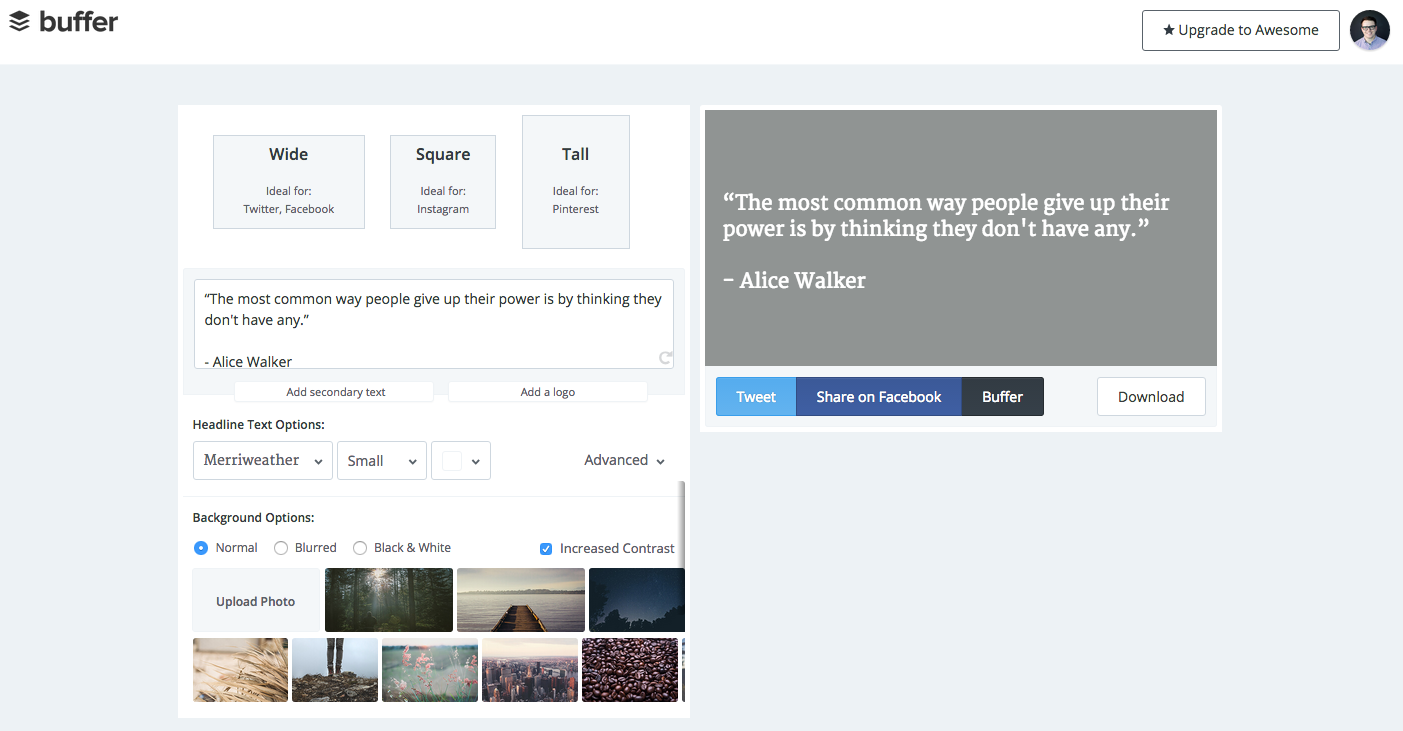 These tools won't get great pictures and videos of your clients, donors, events, etc. but they will make it a whole lot easier, and quicker, when you go to use them.
5. Plan, Schedule And Monitor Your Time
Even with all these tools to help you maximize your time, you still won't be able to do everything, on all channels as well as you'd like. This is where setting some boundaries is key. Coming up with a social media content calendar/plan (HutSpot has a template you can use here and Sprout talks about how to build one here) will help you get a better handle on your communications and messaging but also improve the efficiency of your time through batching.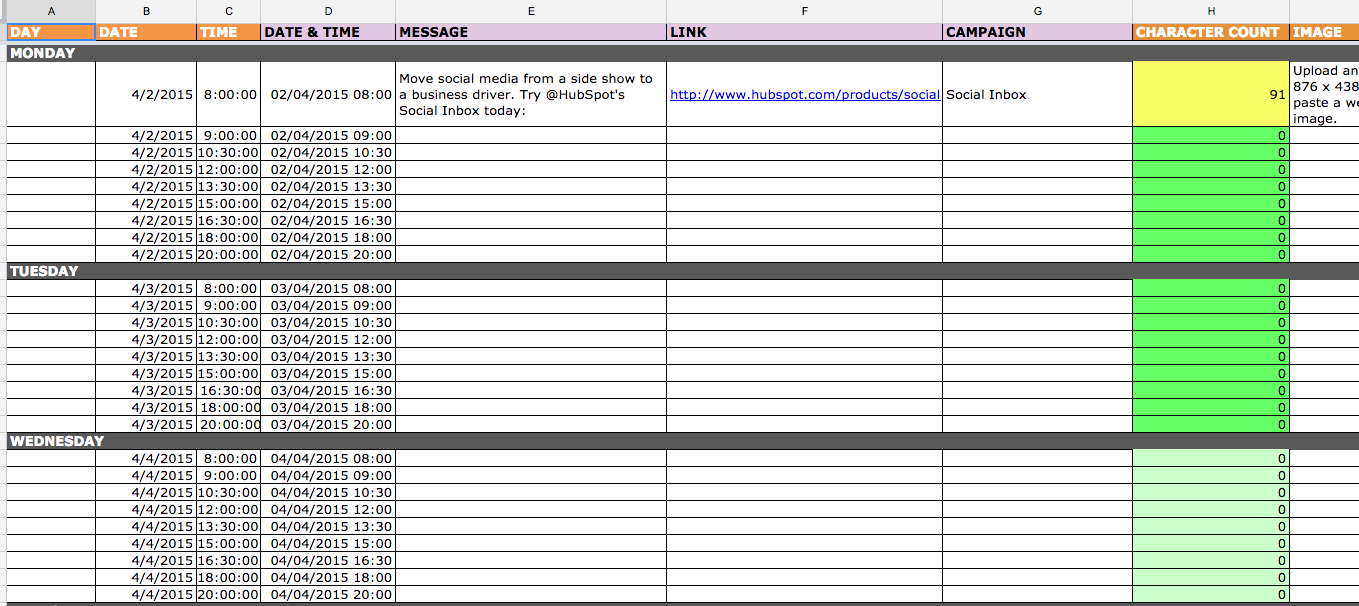 Batching is when you spend more focused time doing one task or use one skill at a time. So you would spend a chunk of time planning and laying out the content all at once using your calendar. Then you would take more time in creating all the visuals you need – using those handy tools – all at once. Then you would put those in your publishing tool according to your planned schedule – again all at once. Now all your strategic content is set.
With the publishing all set, you can simply check in however often you'd like each day (I suggest 3 times and at least 15 minutes) to your social media channels or management tool to respond, engage, connect, share, etc. Without worrying about doing all those tasks in your 15 minutes, you can be 'in the moment' and focus on your customers (supporters). Hopefully that becomes a regular habit (every week, twice a month or even every month) where you plan, create and schedule in advance then engage daily and make the most of your time and your focus.
So…
Unless you have a robust team or full-time staff dedicated to social media, you'll need some help managing your time. Make sure social supports a bigger strategy, spend your time where your donors are, listen and respond as much as you can, use image tools to produce great visuals in less time and have a plan for your posts and how you use your time. Maybe then you can sneak a few minutes of GIFs…
More Social Media Posts