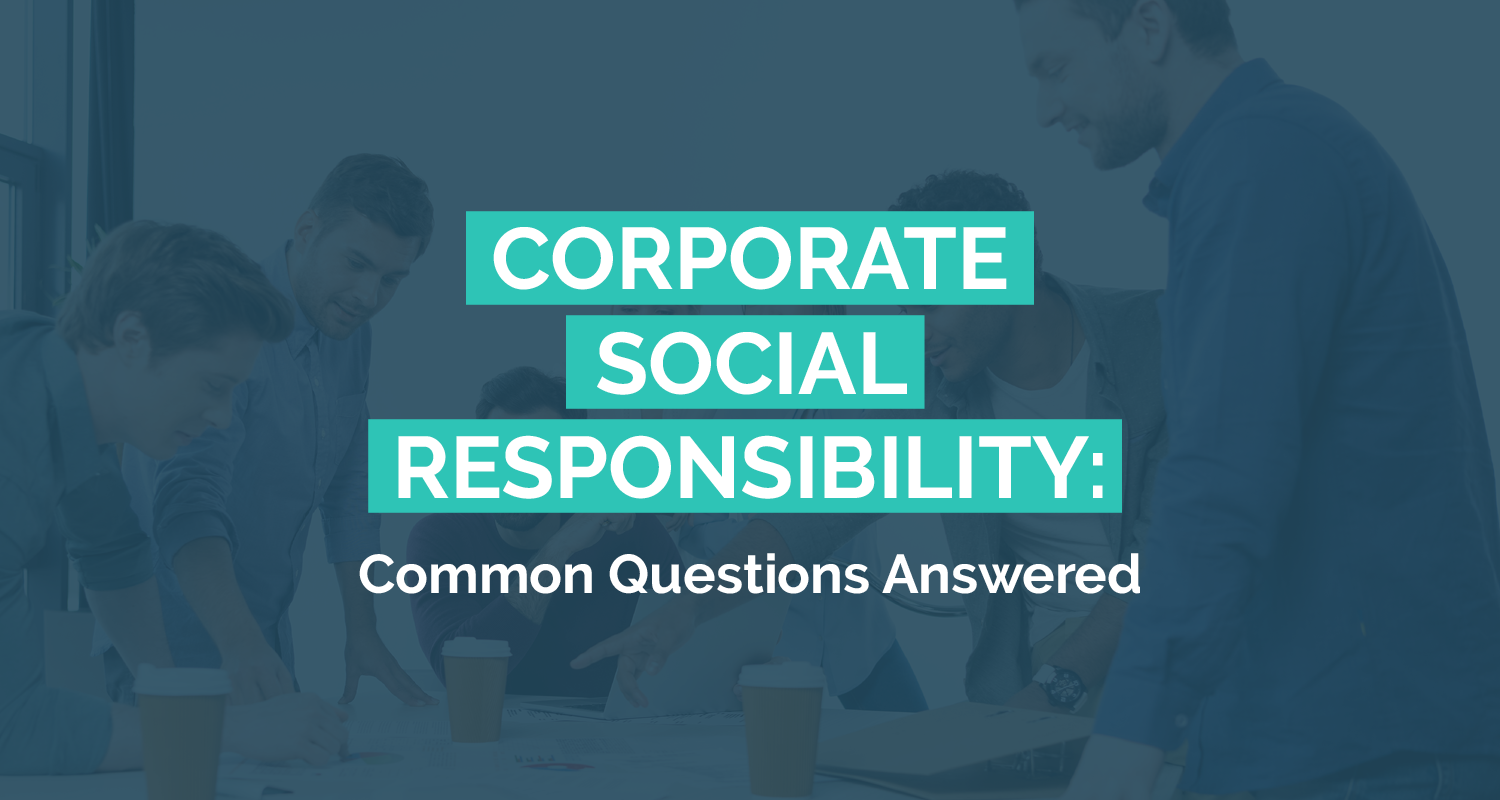 Did you know that Wells Fargo donates up to 1.5% of its revenue to charitable causes each year? While that may not seem like a lot, this philanthropic initiative benefits more than 14,500 nonprofits annually.
CSR programs involve implementing socially or environmentally conscious policies or partnering with a nonprofit to help them achieve their mission. Other CSR efforts support community engagement, philanthropy, and employee welfare.
Because CSR can be broad, organizations sometimes can't quantify its impact. Many believe that CSR is just for larger corporations. Moreover, some small businesses just aren't sure where to start with CSR. This guide will discuss the answers to four common CSR questions to provide clarity.
What are the benefits of a CSR program?
Corporate social responsibility (CSR), which Double the Donation defines as "a company's efforts to improve society in some way," can make your organization stand out as a steward of society.
But, while making plans to help the world in some way is a noble aim, you might be wondering how the benefits translate for your organization. CSR can help you in more ways than you think; here are a few notable advantages:
Positive brand reputation: According to recent studies, 77% of consumers are motivated to purchase from companies committed to making the world a better place. This means that brands that prioritize CSR take the first spot in consumer preferences. If your business is looking to spread brand awareness or even rebrand completely, implementing thoughtful CSR is a promising option.
Enhanced community connections: As a small business, your CSR efforts do not need to be far-reaching right off the bat (though they can be). Usually, the most efficient option is to start locally. It means reaching out to local nonprofits and other community partners to make a difference together. The connections you make can then be used as company sponsorship opportunities farther down the road.
Employee retention: How you give back to your community speaks volumes about your company's values. In the same way, your internal CSR initiatives should place value on your employees. Organizations that practice internal CSR, such as increased PTO or flexible working hours, experience higher employee retention rates.
Besides these benefits, CSR can cultivate a positive work environment for your entire staff. That can translate into increased employee motivation and productivity, making your company a more engaging and desirable place to work.
How can I get started with CSR programs?
An effective CSR program is strategic and aligns with your individual organization's goals and resources. That said, you should fight the urge to jump headfirst onto the first initiative you find. Instead, look at your organization holistically to choose scalable CSR initiatives that will continue to be meaningful as your company grows.
Here are some steps you can take to begin:
Study your company's values: Reflect on your organization's values and mission before selecting a CSR initiative. For example, if your company prioritizes sustainability, it could choose programs that decrease its carbon footprint. These programs could include carbon emission reduction and community environmental awareness workshops.
Set a budget: To remain sustainable, you'll need to set a CSR budget that determines where the CSR money will come from. Consider allocating a portion of your budget for unforeseen opportunities that align with your CSR objectives, such as natural disaster response.
Set clear CSR goals: Nail down your CSR goals by making them measurable and specific. The company mentioned above, for instance, could note a CSR goal of reducing carbon emissions by 50% by the end of the next five years.
Research local needs: Does your local animal shelter need extra hands? How about your homeless shelter? By researching local needs, your plans can directly impact your immediate community, making your CSR more relevant and noteworthy.
Track progress: Monitor your progress as you implement each new initiative. Establish KPIs, such as the number of beneficiaries, resources utilized, or energy saved. Doing this will ensure you're on track and celebrate your big CSR wins with your corporate reports.
Keep in mind that one of the main objectives of CSR is to foster employee engagement. Therefore, approach CSR as an ongoing and dynamic process and be willing to consider any new employee ideas as they spring up.
What are some top CSR ideas?
To get the ball rolling, reference some standout CSR strategies that are easy to adopt. Here are some top picks:
Matching gifts: Matching gifts double the size of your company's impact on a chosen nonprofit organization. Here's how it works: an employee decides to donate, and your company elects to match that donation, usually at a 1:1 or 2:1 ratio. To start a matching gifts program, set a budget, identify your matching gift threshold criteria (ratios, minimum, and maximum amounts), and determine eligibility.
Sneaker drive: Collecting sneakers and getting paid is a quick and sustainable way to raise money for a nonprofit of your choice. Simply, partner with a sneaker recycling provider like Sneakers4Good, collect gently worn, used or new sneakers and running shoes from your employees, and ship the shoes with the provided shipping bags. Then, the provider will send you a check you can put toward a nonprofit or charity of your choice. The best part? Your collected running sneakers are repurposed to support micro-enterprises in developing countries.
Volunteer opportunities: Pursue relevant and consistent volunteer opportunities for your company. Consult online resources like VolunteerMatch to find organizations near you for your company to consider. Additionally, look into providing volunteer grants by providing financial support to organizations where your employees regularly volunteer. By doing this, you transform employee volunteer time into tangible funds.
These ideas represent just a few CSR programs. As you narrow your top picks, don't be afraid to think outside the box or partner with other businesses and nonprofits to leverage your combined resources for social good. For instance, a new gym could partner with a community youth sports program to teach healthy lifestyle tips and promote physical well-being. This CSR idea would offer the gym increased community connections and the chance to give back.
How can I promote my CSR programs?
Once you've chosen a few key CSR initiatives that align with your company's values, it's time to promote these programs. Start internally to be sure all team employees are on the same page about any new internal and external initiatives.Next, you'll want to communicate your CSR plans to external stakeholders to build community connections and enhance your brand reputation.
Opt for a multichannel marketing strategy to share your CSR goals and progress. Create a dedicated website page to explain your goals, KPIs, and impact. Mention updates on social media and link back to your website for followers to find out more about your programs. To go the extra mile, you might also consider hosting a cause marketing campaign to kick off your CSR initiatives and educate followers about your chosen cause.
---
Corporate philanthropic efforts place businesses as stewards of society rather than just employers. They provide opportunities for organizations to use their resources for social good.
Remember to remain transparent and authentic in your communications as you select and promote your CSR initiatives. Share genuine stories of impact to show how your organization is making a difference and why it matters.