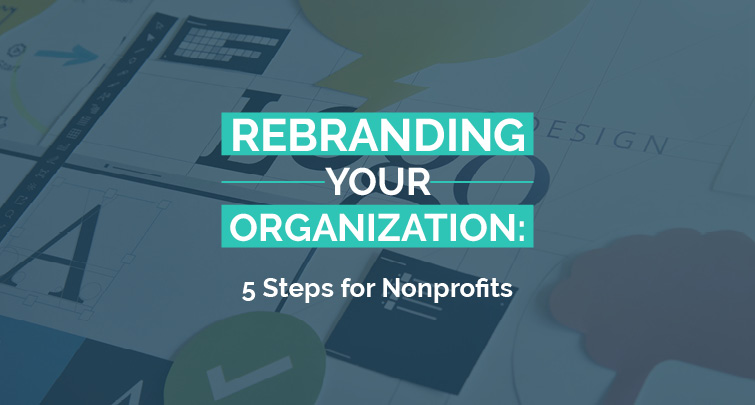 Your donors identify your nonprofit based on a few key brand elements, such as your logo, colors, and messages' tone. Nonprofits with brands that supporters relate to or trust will facilitate a more positive donor experience, as donors will feel positively about interacting with that organization.
If donors have mixed or neutral feelings about your nonprofit's brand, rebranding is an opportunity not just to change up your public image, but also to improve the donor experience.
Rebranding your organization enables you to reintroduce your nonprofit to your supporters and make an impression on new audiences. An updated brand identity often comes as part of a new or improved marketing strategy.
As part of this strategy, the updated brand serves to re-engage lapsed supporters, encourage current supporters to get involved in new ways, and attract interest from new supporters. Of course, you'll also need to be thoughtful about how you communicate your brand changes to current donors to maintain a positive donor experience.
The prospect of redesigning your nonprofit's identity and overhauling your marketing strategy may seem daunting. Fortunately, it can be broken down into digestible steps that make it easy to get started. To help your nonprofit make this shift successfully, this guide will walk through five steps for rebranding your organization.
1. Establish the goals of your organization's rebranding.
Before committing to a rebrand, make sure your team understands why your organization needs a refresh. What goals are you hoping this rebrand helps achieve? Are you looking to target a new group of constituents?
Rebrands happen at for-profit organizations and nonprofits for similar reasons. A few common goals include:
Re-aligning expectations. After establishing your nonprofit, you may discover that supporters have an impression of your organization that is misaligned with the image you intended to convey. Common signs that a reset is necessary include confusion from supporters, lack of interest from your target audience, or lack of brand recognition.
Reflecting an internal change. If your nonprofit's mission or values have changed, your brand should change along with them. For example, an organization that was originally dedicated solely to efforts in a single community will likely need to rebrand when they expand operations to a second location.
Attracting new supporters. Your rebrand should also come with new marketing messages and strategies. Refreshing your brand will allow for visibility from potential new supporters who may have overlooked your nonprofit in the past. Establishing who you want your rebrand to target is a great step in controlling your organization's new identity. For example, a nonprofit focused on attracting younger supporters may change its branding to be more colorful and have shorter, more engaging messages.
Your goals should drive your entire rebranding process. Use these goals to gain inspiration, chart out final designs, and determine how you will launch your rebrand to your new audience.
2. Partner with a consultant.
Marketing consultants can help you conduct audience research, identify holes in your current brand strategy, and assist in creating new branding materials. For a thorough rebrand, nonprofits will likely need to work with a marketing consultant and a graphic designer.
Some consulting firms will offer both of these services. When evaluating consultants, request to see a portfolio of work they've completed for past clients. This work should give you a better idea of the types of material they can create for you.
Remember that a rebranding includes more than just a visual refresh. Kwala's guide to nonprofit branding lays out the core elements of an organization's brand strategy:
Organization name
Color palette
Typography
Logo
Tagline
The impact of altering each of these aspects will obviously differ greatly from element to element. For example, changing from a serif to a sans serif font may create a subtle difference in how supporters perceive your organization's tech-savviness. By contrast, renaming your organization is a far more significant lift, and all of your current supporters will notice the change.
Of course, there are times when major rebranding changes are needed. For instance, if your organization is merging with another organization or is dramatically changing its scope and purpose, it may be in your best interest to consider a name change. If you do choose to rename your organization, create a strategy that allows supporters searching for your old name to still find your nonprofit.
3. Gather initial feedback.
Nonprofits can learn from the approach that for-profit organizations often take when beginning a rebrand, which generally starts with receiving feedback from controlled focus groups. Specifically, nonprofits should try gathering initial feedback from small groups of supporters. Creating controlled focus groups allows nonprofits to learn how their brand changes will likely be received before rolling them out in full.
Nonprofits can look into hiring a third-party focus group partner. The third-party group will be objective and can offer insight into how individuals unfamiliar with your nonprofit may react to your brand. However, hosting focus groups can also be expensive. Nonprofits with limited budgets or interest in hosting multiple focus groups can save costs by asking for volunteers to provide their feedback. While volunteers may have a biased view of your nonprofit, their insight will be useful in determining how loyal supporters will view your brand.
Ahead of your focus group, prepare drafts of various marketing materials with your new brand elements. You can use this as an opportunity to compare multiple versions of the same brand element. For example, you might create a print out of your homepage with two taglines. Then, ask focus group participants which they prefer and why.
Initial feedback will primarily be qualitative. Positive feedback is reassuring, but negative comments are even more helpful, especially when they're specific and actionable. Pay attention to comments that express confusion or demonstrate that a participant has an incorrect understanding of your brand. If multiple participants express the same view, that is usually a clear sign that your brand materials need to be revised.
4. Create an organized implementation process.
After confirming the final versions of your new brand elements, create a plan to implement them. The scale of this process will vary depending on your organization's scale and the extent of your rebrand. For example, if you are simply updating your logo, your organization will likely only need to focus on adjusting icons, headers, and signatures. By contrast, an organization changing its style of communication will need to more thoroughly review all external messages to ensure they reflect the new brand identity.
To organize your process, ensure your nonprofit:
Updates your style guide. Update or create a new style guide with your brand elements to maintain consistency. Then, share this guide with your marketing team and anyone else at your nonprofit who creates external messages.
Creates and adapts assets. Ensure you have new brand assets for all of your existing materials. For example, create transparent and mobile-friendly versions of your logo.
Reviews external materials. Immediately following your rebrand, verify that all external communications have the correct branding. Audit historic pages on your website and other external materials that may have gone overlooked.
The length of your implementation process will depend on the size of your nonprofit and the extent of your rebrand. Create a timeline for implementing these changes, and establish who will be responsible for overseeing them.
5. Announce brand changes.
Create a message announcing your rebrand a few days before pushing changes live. This message should explain why the changes were made to interest new supporters in your cause while reassuring current supporters your organization is still committed to the same values they initially gravitated to.
Take the feedback you received from your focus groups to consider how your current donors may react to your rebrand and how it will impact the donor experience. Doing so will allow you to frame your messages to get ahead of concerns, answer questions, and use this as an opportunity to get supporters excited about your cause.
For instance, if your nonprofit is changing its logo, you might make a social media post sharing the new design. You might explain how new visuals better represent your nonprofit's mission or that a bolder color choice reflects your organization's passion and commitment. To facilitate a smooth transition and donor experience, you might also make sure that your nonprofit's name is clearly visible on all documents with your new logo to reassure donors that you are the same organization.
Pay extra attention to how supporters respond to your messages in the days following your rebrand. While you may have already finalized your new brand elements, this is still an opportunity to research your audience. Take note of supporter engagement rates, changes in interactions from existing supporters, and demographic data from new supporters you acquire from different channels in the coming months.
This information will ultimately help you gauge whether your rebrand was a success. In some cases, initial feedback may indicate you need to further revise your brand. If this occurs, document and analyze supporters' reactions, identify which elements need improvement, and work with your marketing consultant to establish your next steps.
---
An effective rebrand can inject new life into your nonprofit. Determine what changes you want to make and how those changes will help you reach your branding goals. Use these steps to organize your process into approachable steps. A streamlined rebrand will result in the engagement and visibility your nonprofit's rebrand aimed for.