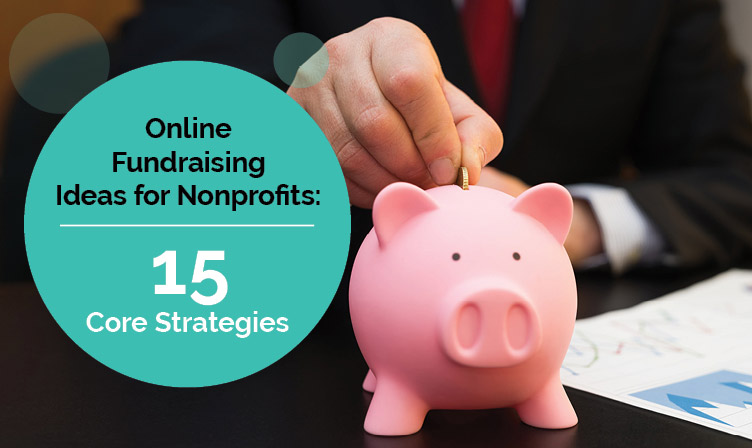 Many of society's daily functions have taken to the digital sphere, from connecting with friends near and far to shopping for essentials. It makes sense, then, that fundraising has followed the trend and moved online!
In fact, just last year, online fundraising grew by over 12% across the board and is only trending upwards from there. Online giving isn't going anywhere but up, and it's important that your nonprofit evolves with the times.
However, the internet is a massive place, so it might be difficult to narrow down where to start your fundraising journey! To help, we've pulled together a set of core online fundraising strategies that nonprofits should focus on:
Follow along for a breakdown of each online fundraising strategy, and peruse our recommended tools for boosting your results and streamlining the whole process.


1. Well-Designed Marketing Materials
How This Online Fundraising Strategy Works
Nonprofits tend to put enough thought into the messages they're communicating with their marketing materials, but not quite enough effort into the actual design.
When raising money online for your cause, you'll need striking marketing materials to amplify your message and spread the word about your campaigns. Otherwise, supporters and prospects may overlook your calls to action and take their support to another organization that has a more prominent and professional online presence.
Between social media, email, and your website, there's a lot you need to do in terms of graphic design in order to promote your online fundraising efforts.
After all, your graphics, typography, and overall design of your marketing materials will be what initially catches prospective donors' eyes. That's why striking a balance between informative and visually appealing is crucial when it comes to promoting your campaigns online.
Online Fundraising Ideas for This Strategy
Whether or not prospects actively realize it, your graphics are a driving force behind your online fundraising outreach. There are quite a few platforms that you should consider improving your graphics for if you want to inspire more donations, including:
Your website: Go beyond stock images and instead use powerful images and graphics that convey your mission and drive users to click through to the most important pages.
Email: Enhance your newsletters and increase your clickthrough rates by creating well-designed emails with the typography, graphics, and colors that fit your brand.
Social media: Your nonprofit's social media pages are a prime place to share infographics and other informative images about your cause. This is also a great place to share your digital fundraising flyers.
Recommended Providers
Kwala is a graphic design company that specializes in the mission-driven space. When you work with Kwala, they'll pair you with one of their experts, who will strive to understand your cause. Their services include everything you need for your online design needs, including social media graphics, infographics, web advertisements, and more! With unlimited designs and revisions, they'll continue working on your designs until they're perfect. That way, you can level up your digital fundraising and inspire more support for your work.
Take a look at this infographic designed by their team: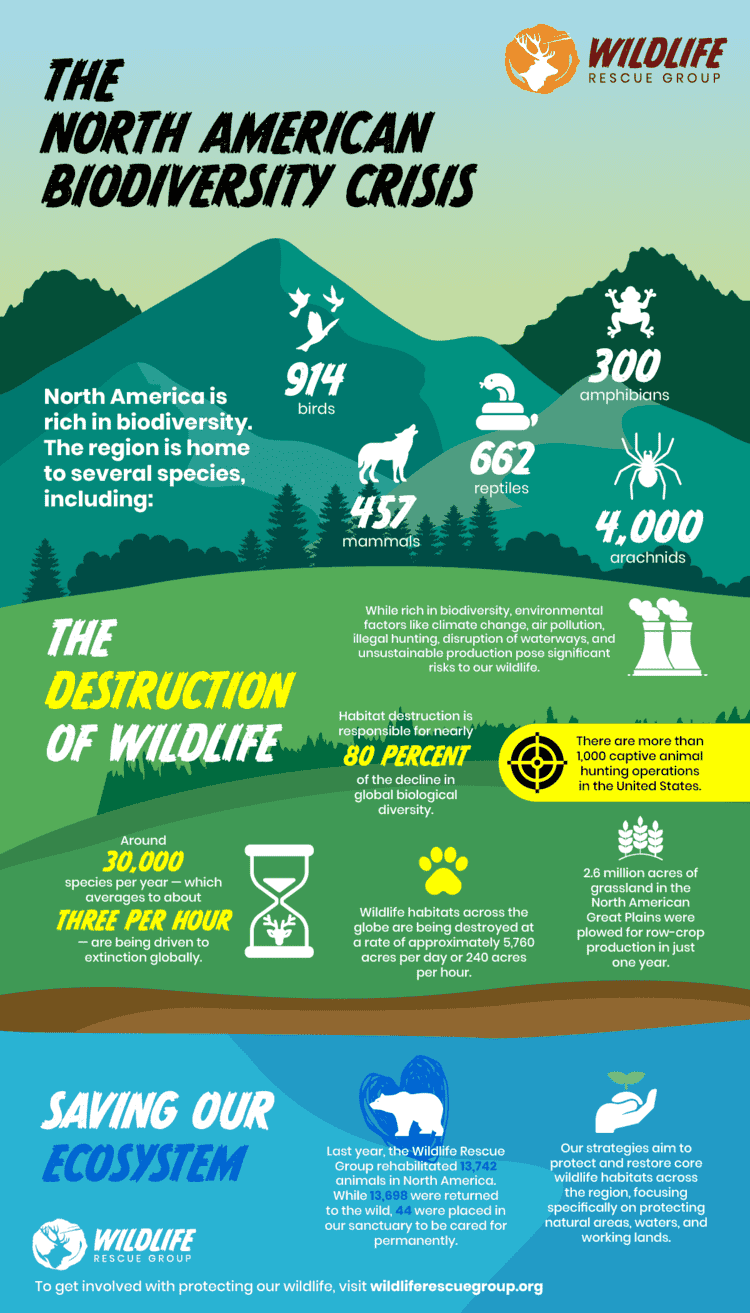 Great for sharing on social media, it captures the users' attention with vibrant colors, conveys the urgency of the organization's work through powerful statistics, and tells people how to get involved.
To amplify your cause through stronger graphics, consider turning to Kwala design captivating materials like this for your cause!


2. Online Donation Forms
How This Online Fundraising Strategy Works
An online donation form is the tool through which you gather all of your nonprofit's online donations. You begin this process by choosing a digital donation platform to host your online fundraising activities. From there, you simply create your form!
When the time comes to make a donation, supporters enter their contact information and payment details to direct funds to your organization. You just have to advertise the option to them, and you're good to go. 
Your form will be the basis of almost all online fundraising you do in the future, so put some thought into choosing the right one and customizing it to fit your needs.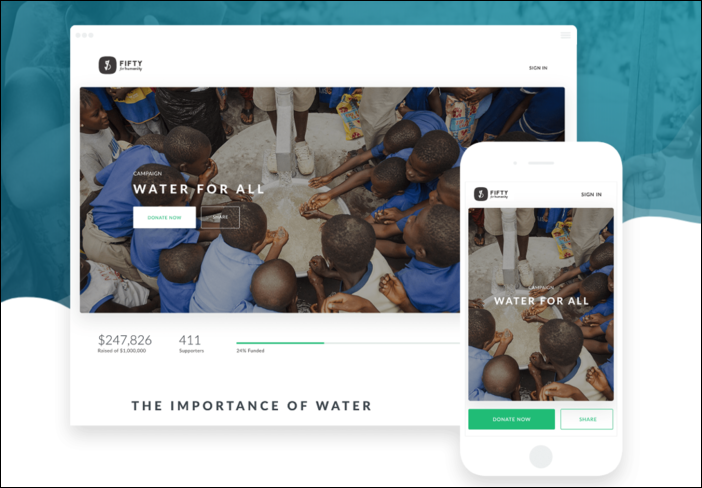 Online Fundraising Ideas for This Strategy
The use of an online donation form can be relevant for almost every fundraising campaign, and should be used as such! However, there are a few best practices that you should follow in setting up your donation form:
Customize the form with characteristics such as your nonprofit's familiar branding, suggested donation amounts, and fields corresponding to any essential donor information you're specifically wanting to collect

Embed the form directly on your website

Choose a donation platform that offers essential integrations, including your organization's CRM software and trusted payment processing companies
Recommended Tools
Donate Kindly is the first 0% platform fee nonprofit fundraising platform. Charging only for payment processing, it's one of the most cost-effective options on the market that offers embeddable donation forms and a database through which to access donor data.
Donately's customizable donation forms allow you full scope of customization– all the way down to editing the form's code to make it exactly as you'd want. Further, Donately offers essential payment processing integrations with PayPal and Stripe ensuring donors can give through the secure methods which they are familiar with.
Morweb is a website building platform made with nonprofits in mind and features easy-to-use tools designed to grow with your organization. You'll be able to create a website branded with your nonprofit's familiar look and then embed your giving form directly into it.
CharityEngine prides itself on being an all-in-one solution. That, in part, means that their CRM solution also functions as an online donation platform– facilitating the creation of donation pages and containing a built-in PCI-certified payment processor.
For a more complete list of our recommendations, check out the best online donation tools here.

2. Corporate Philanthropy Tools
How This Online Fundraising Strategy Works
Corporate philanthropy most often refers to two corporate social good initiatives: matching gift and volunteer grant programs. These programs involve a corporation pledging to make a matching financial contribution corresponding to either a donation made or volunteer hours worked by their employee.
While the process is generally similar across the board, once you get down to the specifics, the process can vary drastically from corporation to corporation. A corporate philanthropy tool gives you access to a huge database of corporations that offer these programs, allowing donors (and you) to search for matching opportunities with every gift.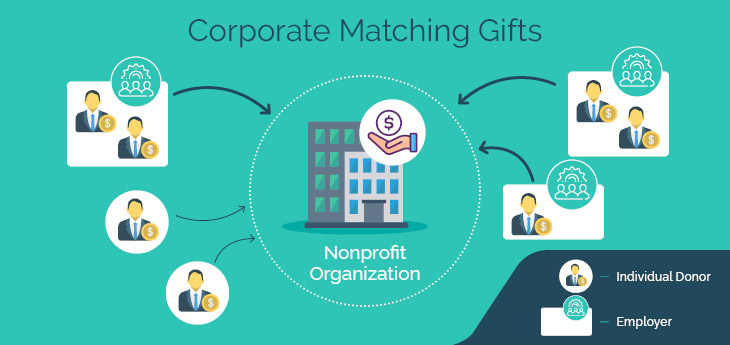 Online Fundraising Ideas for This Strategy
The most important thing to remember about this strategy is education! Many employees are unaware that their employer offers corporate philanthropy programs, let alone how to initiate the process if they're eligible.
Providing a matching gift database tool directly on your giving page allows donors to discover whether they're eligible for a matched gift, significantly easing the process.
Recommended Tools
Double the Donation is an industry-leading matching gifts database, providing easy searchability for donors to discover whether their gift is match eligible. Further, if eligible, it directs donors to all of the necessary forms/processes to submit their gift for matching!
360MatchPro by Double the Donation is a heftier solution for larger nonprofits interested in pursuing matching gift opportunities. Allowing you to tie a fully-automated matching gift software into your fundraising platform, you're able to identify matching gift-eligible donors and automatically follow up with them to begin the process.
Check out our reviews of the leading matching gift databases to learn more.



3. Crowdfunding
How This Online Fundraising Strategy Works
Crowdfunding relies on the power of social networks such as Facebook and Twitter to broadcast your fundraising campaign to a massive, interconnected audience.
It involves you setting up a giving page through a crowdfunding platform and inviting supporters to share it on social media. These supporters then share the page to their respective networks, who share it as well… and so on! Along the way, donors give to the page and watch the total donations grow.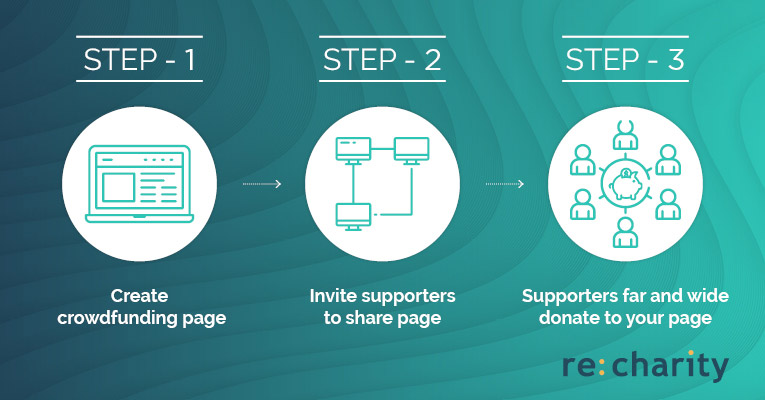 Online Fundraising Ideas for This Strategy
Crowdfunding works best with time-sensitive fundraising initiatives rather than just general ongoing expenses. There are a few best practices for setting up your nonprofit's crowdfunding page:
Tell a story:

Share a story behind the fundraising initiative, clearly explaining what the money raised will be benefiting.

Be concise:

Be quick and to the point for short online attention spans.

Include visuals:

Images and videos can, at times, be much more convincing than text for the internet viewer. 

Keep supporters updated:

Post regular updates for supporters to see the progress due to their donations.
Recommended Tools
Fundly is a comprehensive crowdfunding platform allowing for complete customization of your donation page. Because it's mobile and desktop friendly, there are no technology restraints preventing someone from giving. Further, with its iOS app, you're able to update your Fundly campaigns directly from your smartphone.
For a more complete look at our nonprofit crowdfunding platform recommendations, check out this list.

4. Online Auctions and Raffles
How This Online Fundraising Strategy Work
This strategy generally involves your nonprofit hosting an auction event and partnering with an online auction software provider to handle all digital bidding/ticketing/data gathering for you.
The steps are as follows:
Publicize your charity auction and sell tickets online through your auction software.

Manage item procurement, sharing items through the software as they arrive for pre-bidding to begin.

On the day of the event, register attendees into your auction software.

During the event, operate the auction as you normally would– except, attendees will bid through their mobile apps, experience unparalleled competition, be able to purchase additional raffle tickets and respond to in-app donation appeals.

After the event, digital check out methods allow for instantaneous transaction completion and automatic email receipts. No more long lines!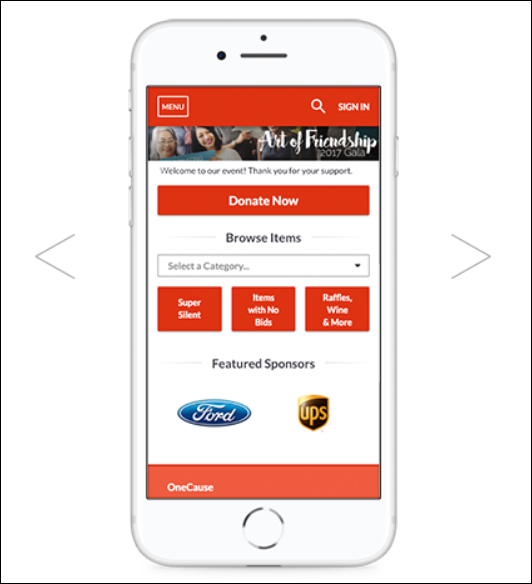 Online Fundraising Ideas for This Strategy
Online auctions can be extremely effective standalone digital events, but they can also improve most any live auction event, too. If your organization hosts auction events large or small, consider these additional ways to give during your next auction:
Raffle tickets

Fixed-price items

Drink tickets

Mystery boxes

Nonprofit merchandise

A standing donation form for donors to give at any point during the process
Recommended Tools
Since its start, OneCause has raised over $1.5 billion for causes through 20,000 fundraisers. With features to help you with item procurement and packaging, ticketing and table management, and additional items sales, just to name a few, their software offers everything your nonprofit will need to host an online or live auction event.
Check out the complete guide to online charity auctions by OneCause for more information on planning this type of campaign.

5. Peer-to-Peer Fundraising
How This Online Fundraising Strategy Works
The process involves you using peer-to-peer fundraising software to create a central campaign (possibly right through your existing donation tool if you chose a particularly robust option) and inviting donors to create personal giving pages in conjunction with yours.
Donors then share these giving pages with friends and family, and this network donates to your cause in support of their loved one. This process allows you to solicit donations from a population you may not have reached otherwise and, more importantly, exposes you to a ton of new donors that you can now reach out to during future initiatives.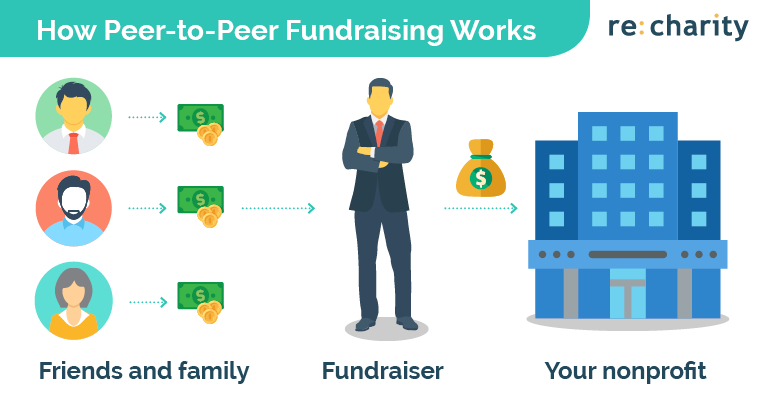 Online Fundraising Ideas for This Strategy
Peer-to-peer fundraising works best with fundraising initiatives that are either timely or tied to upcoming events that you've planned. Check out a few ideas below:
Run/Walk/Ride fundraisers

Ambassador-led fundraisers

Tributes and memorials

Socially-charged giving campaigns
Recommended Tools
Qgiv is a platform through which you can offer your donors all of the tools they need to set up a peer-to-peer fundraising page. Offering the ability to offset processing fees, enable recurring gift registration, mobile-friendly donation pages, and a fundraising hub from which you can view all of your campaign's information– this tool offers a comprehensive peer-to-peer strategy.
OneCause takes peer-to-peer fundraising to the next level by offering social feeds and gamification, adding an even stronger community and competition aspect to the strategy. Further, with extensive customization options, you can adapt the software to pretty much any campaign or event you choose.
For more recommendations of top peer-to-peer fundraising platforms, check out our complete list here.



6. Online pledge campaigns
How This Online Fundraising Strategy Works
Pledge campaigns can be a powerful method of leveraging your organization's existing networks to raise funds. You simply collect pledges (a promise of a donation at a later date) from your network, and watch the promised donations rise! This can be especially useful for newer nonprofits looking for a major fundraising boost.
Further, you can create a pledge campaign around an upcoming event– such as a Walk-a-thon, which is the most common example.
You can incorporate peer-to-peer elements into your pledge campaign to expand your reach even further. Have your supporters create their own pledge pages and then share them with their friends and family. They solicit pledges through this sharing, with their online networks vowing to make donations corresponding to some action made by the participant, like $20 per mile walked, for instance.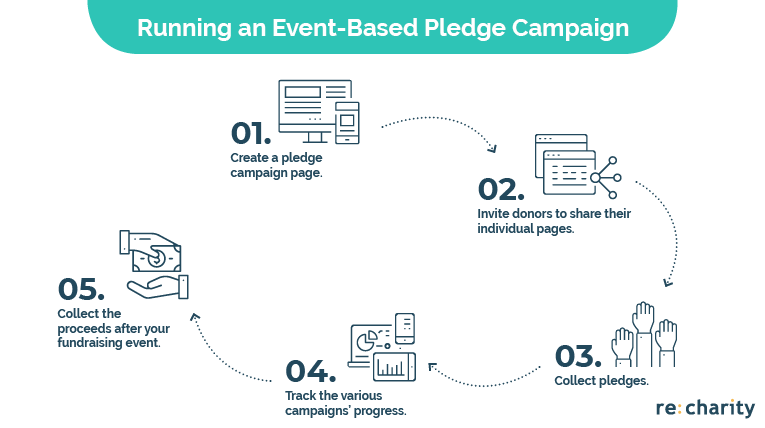 Online Fundraising Ideas for This Strategy
There are many fundraising events that pair well with this online fundraising strategy. However, the most successful by far are event-a-thon fundraisers.
These fundraisers most often involve some sort of activity, with participants gathering pledged donations corresponding to a certain unit of that activity. For example, at a walk-a-thon, donors  would pledge to give x-amount of money corresponding to a certain amount of laps walked by the participant. 
The participant would gather these pledges in advance, through an online pledge campaign. Check out a few event-a-thon ideas below:
Dance-a-thon

Read-a-thon

Hoop-a-thon

Rock-a-thon

Spell-a-thon
Bowl-a-thon
Volunteer-a-thon
The possibilities are endless!
Recommended Tools
Snowball's comprehensive fundraising software offers a built-in data reporting tools and attractive online pledge campaign features. In offering flexible options for everyone involved, motivating fundraising thermometers, and mobile friendly donation pages, it should easily cover all of your online pledge campaign needs.
99 Pledges specializes in PTO/PTA, school, and sports team fundraising, specifically event-a-thon style campaigns. The software is one of the lower-cost options on the market as well as one of the easiest to use– perfect for adults organizing K-12 fundraisers.
Check out Snowball's complete guide to pledge campaigns for more information on this online fundraising strategy.



7. Product fundraising
How This Online Fundraising Strategy Works
This strategy begins with you designing products to sell to donors. Then, you partner with a product fundraiser website and sell the product to donors with proceeds returning to your nonprofit.
By pairing with a company specializing in this practice– rather than just selling the product yourself– you'll likely pay a reduced payment processing fee. Plus, custom merchandise like t-shirts or face masks make excellent year-round fundraising options or one-time add-ons for events or campaigns.
Online Fundraising Ideas for This Strategy
You can pair online product fundraising with pretty much any event. However, there are a few best-practices to keep in mind when doing so:
Choose a product that your donors will appreciate

Use familiar branding and a unique, but tasteful design

Price the product reasonably
Recommended Tools
Bonfire is a custom T-shirt company offering easy creation of quality apparel for your next product fundraiser. Through one of their fully-online campaigns, you can avoid keeping an inventory and instead ship products directly to buyers. Further, you'll be able to download a .CSV containing the contact information of your fundraiser supporters.
Check out Bonfire's full guide to designing the perfect t-shirt here for ideas to get started.
ABC Fundraising is a popular product fundraising company that works with charities, schools, churches, and other fundraising organizations. By providing a wide range of products to choose from (such as discount cards, face masks, flower bulbs, and snacks), they make an excellent fundraising partner for maximizing both revenue and supporter engagement.
Taking things a few steps further, ABC Fundraising now emphasizes a convenient, remote-friendly sales option by equipping organizations with their own custom-branded online web stores to sell their products from!

8. Social media strategies
How This Online Fundraising Strategy Works
Social media strategies very broadly refer to using social networks to spread the word about your nonprofit and its fundraising initiatives. Some actions, such as crowdfunding and peer-to-peer fundraising, more readily lend themselves to social media sharing– but you should be using social media for all sorts of outreach.
The process is simple, as you just make an account for your organization and start posting. If possible, you'll want to get your account verified to instill trust in supporters, but the process might not be possible until after you've built up a strong following.

Online Fundraising Ideas for This Strategy
Social media is pervasive, and you should be using it to promote every fundraising event or campaign your nonprofit pursues. However, there are certainly best practices for using the networks, and it's vital that you follow them:
Choose social networks that are relevant to your supporters

Keep your posts personal and genuine, avoiding advertisement-ridden content

Post interactive content that encourages engagement

Use visuals, including photos, videos, and live streams

Make your online donation page easily accessible from all social platforms
Recommended Tools
Bloomerang's donor management software offers unique social listening features, pairing with your organization's Twitter account. With powerful social media monitoring capabilities, the software is able to track who is tweeting about you, match tweets to constituents in your database, and add new constituents who have mentioned your organization online.



9. Email fundraising
How This Online Fundraising Strategy Works
This online fundraising strategy is fairly straightforward as well, as it involves sending emails to supporters to keep them in the loop regarding nonprofit news and upcoming fundraising events. Email can also be an extremely effective donation channel for making direct solicitations to segments of your donor base.
The process begins with you collecting supporters' emails, whether through your donation form or a form designated to give further information. Then, you send new supporters a welcome email before sending them regular updates, donation requests, or maybe even your newsletter.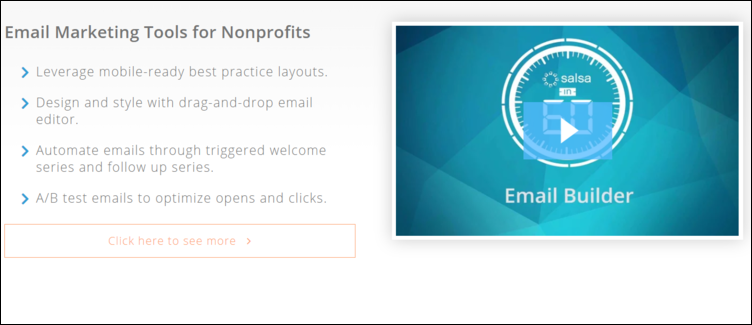 Online Fundraising Ideas for This Strategy
To get the most out of your email fundraising efforts, you may want to enlist a nonprofit marketing software to help in the process. A nonprofit marketing software will allow you to:
Automatically email new supporters with a welcome email before guiding them through a series of additional messages to learn more about your mission and work

Automatically email donors thanking them after a contribution

Create mobile and desktop friendly email communications
Recommended Tools
Salsa's nonprofit marketing software, SalsaEngage, features a plethora of valuable email fundraising tools. With mobile-ready layouts, a quick design-and-drop editor, and automated email series, your email fundraising strategy should be both easy to implement and effective.



10. Event registration pages
How This Online Fundraising Strategy Works
While fully digital fundraisers are growing in popularity, there's nothing like a fundraising event to rally donor support and bring attention to your cause. However, by taking your event registration to the internet, you can drastically simplify the process.
The process begins with an event management software, through which you create your event registration page. Then, when the time comes, donors will be able to register for and donate to your event right through the page– and all of the data associated with the transaction will be waiting for you in the software!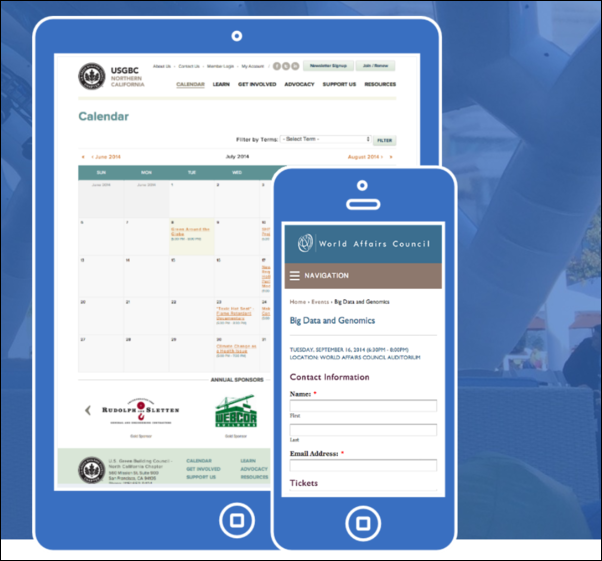 Online Fundraising Ideas for This Strategy
While the use of an event registration page can help with pretty much any event type, there are a few events for which these digital processes are particularly helpful:
Black tie galas, or other events where you're targeting major donors that are likely very busy to begin with

Walk-a-thons, festivals, and other events where you're expecting a large turnout

Complex events where you'll be dealing with a high volume of guest and volunteer data, which you'll want to have organized for effective day-of management
Recommended Tools
Regpack's all-in-one event management software is designed to help your nonprofit increase event enrollment and increase funds in the process. With features such as direct website embedding, a dedicated support team to build out your system and automated registration processes, the software is designed to considerably ease your event management.
Soapbox Engage offers event management software that directly integrates with Salesforce. This means that all of the features it offers– automatic reservations, a variety of ticketing options, event marketing analysis, your choice of payment processor– directly flow into your CRM platform.
Check out Double the Donation's exhaustive list of top event management tools for nonprofits to learn more.



11. Grant applications
How This Online Fundraising Strategy Works
Grant applications are generally sent to foundations or government entities, asking for support in the form of funding. 
Grants are awarded to nonprofits that apply for them through proposals sent to the granting entity. Competition for these grants can be incredibly fierce, and some larger grantmaking bodies receive mountains of applications each year. Casting a wide net and making sure your applications stand out is the best way to succeed.

Online Fundraising Ideas for This Strategy
Grant writing is notoriously difficult, as competition is high and writing doesn't come easily to everyone. However, there are a few techniques that will help your grant application's chances of getting approved:
Do your research before writing.

Follow the grantmaker's rules exactly.

Use a storytelling approach.

Use clear, specific language.
These are just a few best practices for grant writing and, honestly, there is no one right way to do it. Check out Snowball's guide to the topic for more context. Grant writing is no easy task, especially if you're new to it, so it may benefit you to hire a nonprofit consultant in the process.
Recommended Tools
Aly Sterling Philanthropy is a top nonprofit consulting firm offering a plethora of services in the nonprofit world. In addition to grant consulting, this firm provides services in strategic planning, board management, and more generalized fundraising solutions.
For further recommendations, check out our list of nonprofit consulting firms here.



12. Sponsorships
How This Online Fundraising Strategy Works
This strategy involves contacting businesses and individuals via the internet and asking if they would be interested in sponsoring your nonprofit. Most often working with businesses, a sponsorship usually involves your nonprofit offering them something in return such as a booth at your next fundraising event or a logo placement on your fundraiser T-shirts.
Generally, you'd contact these businesses through email using a sponsorship letter.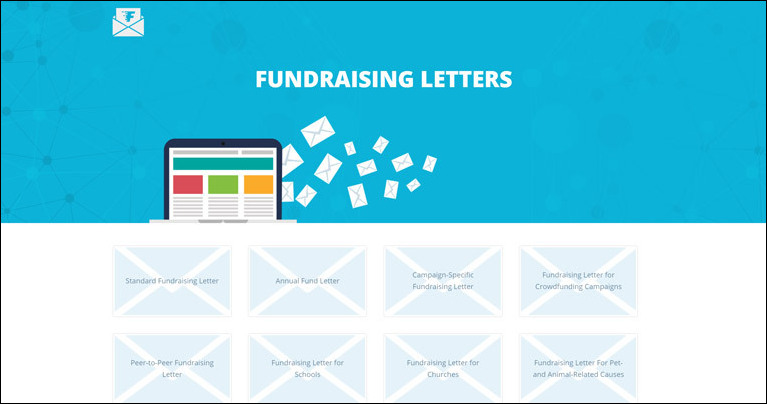 Online Fundraising Ideas for This Strategy
While this may seem straightforward, there are definitely a few best practices to keep in mind when sending out sponsorship letters:
Do your research in advance, noting who exactly at the company you need to contact
Address the letter correctly– do not send an email addressed to the wrong person
Include concise, specific information in your letter noting: why you reached out to this specific sponsor, what you want from them, what the donation will go toward, and when you need a response by
Recommended Tools
This website exists to provide letter templates for your organization to use in all sorts of fundraising-related activities. In addition to standard letters, including annual fund and campaign-specific options, there are also field-specific letters. All are available for you to download for free.



13. Online membership perks
How This Online Fundraising Strategy Works
A happy membership can be a lifesaver in helping your nonprofit's fundraising thrive, from providing your with a strong volunteer force to bringing in funds through member dues. One of the easiest ways to make sure your membership is cared for is by taking your member management to the digital sphere, with online membership software.
With online membership software, you can store essential information about your members, offer them supplementary education, and even community-building activities. Further, you can securely track any member dues, donations, and event registrations to ensure nothing is left unaccounted for.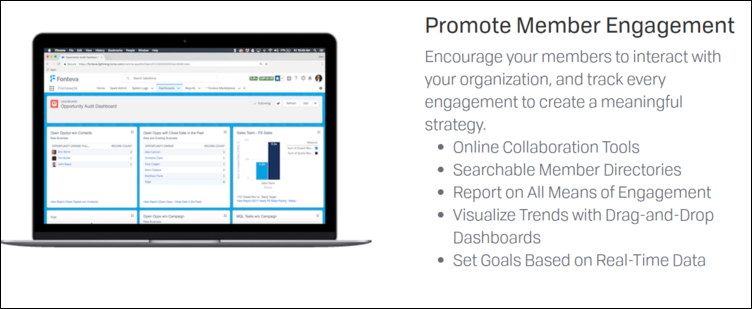 Online Fundraising Ideas for This Strategy
If your fundraising strategy relies on a strong membership to fuel it, online membership software is sure to help you manage this population. However, the best tip for using this software successfully is to thoroughly research any solution before investing in it. Here are a few questions you should ask of your online membership software options:
What is your budget?

What are your staff constraints as far as managing the software?

How much customer service help can you expect from the software creators?

How much growth do you anticipate in your organization in the near future?

Which features are most important for your nonprofit?

What special perks can you offer potential members to encourage them to join?
Recommended Tools
Fonteva is a fully Salesforce-integrated solution that provides you will all of the tools you need to promote member engagement, customize the member experience, and save time. In doing so, you're able to fully focus on the member experience.
Swoop is a user authentication solution. It uses an innovative passwordless process to manage the connection between human and server, verify users' identities, and approve or decline the log-in attempt. It's an extremely tech-savvy and cost-effective way to start building out a members-only section of your nonprofit's website.


14. Advocacy campaigns
How This Online Fundraising Strategy Works
Advocacy campaigns invite donors to get involved or to give in support of a very specific cause, rather than in support of your nonprofit itself. These campaigns generally come in two forms:
Online petitions:

These campaigns involve inviting visitors to sign their name in support of some statement or cause.

 
Online actions:

These campaigns involve inviting a supporter to contact a decision maker and encourage action.
The main draw of these campaigns is in attracting new supporters and building mailing lists, as you're able to get data concerning your supporters such as contact information and which initiatives they were particularly inspired by. Then, you can contact these supporters to donate to your nonprofit's activities.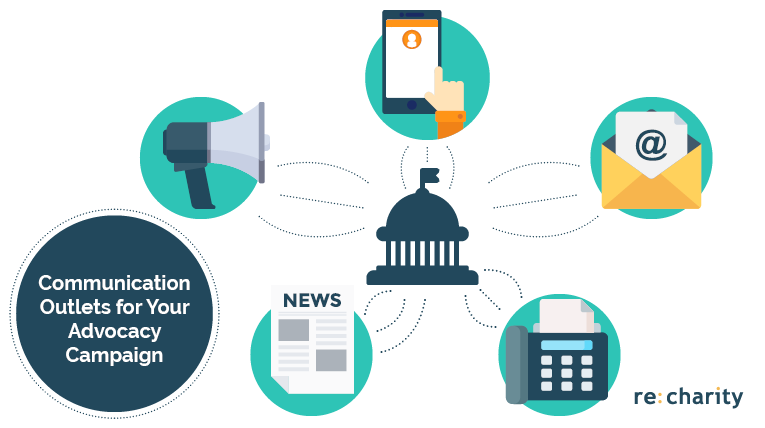 Online Fundraising Ideas for This Strategy
While the main driver of this activity is getting contact information regarding people that support causes related to your nonprofit, there are a few actions you can take to make online advocacy campaigns directly beneficial for your nonprofit:
Add custom questions to your petition form to capture more details about supporters

Follow-up with petition signers to solicit donations

Integrate your advocacy software with your donation platform to create a beneficial relationship between the two
Recommended Tools
DNL OmniMedia provides nonprofit technology consulting, with a concentrated expertise in Blackbaud and Salesforce products. These consultants can walk you through Luminate Online, Blackbaud's nonprofit marketing toolkit, and provide customized guidance and strategy development. Their mobile advocacy app is the perfect addition to a modern advocacy campaign.
Soapbox Engage's advocacy software directly integrates with Salesforce, allowing any information gathered within the program to directly flow into the nonprofit's database. Including both online petition and online action capabilities, any advocacy efforts your nonprofit wants to pursue should be covered.
Learn more about mobile advocacy apps and the features to look for here.



15. Online prospect research
How This Online Fundraising Strategy Works
Online prospect research is the process through which fundraisers use online tools to examine their donor data and determine a donor or potential donor's likelihood to give. The process is especially impactful when identifying high-impact, major gift donors.
Prospect research examines both wealth and warmth (affinity) indicators to determine how likely a prospect is to donate to your cause.

Online Fundraising Ideas for This Strategy
With the amount of data that's generated through digital fundraising efforts, examining that data through prospect research can seem like an overwhelming process. However, if you segment your data– or break it out into groups by characteristics– it can be a much more manageable process.
Consider segmenting your data by the following characteristics for easier evaluation:
Giving characteristics: date of last donation, amount of last donation, frequency of donations

Demographics: age, gender, location, marital status

Business affiliations: real estate ownership, workplace

Communication preferences

Preferred giving channel

Other nonprofit development
Recommended Tools
DonorSearch's prospect research tools allow you to easily search, analyze, and create reports regarding your donor data. You can find prospects, create marketing lists, search the company's proprietary databases– and so much more.
Study up with their complete guide to prospect research tools and strategies.
Wrapping Up
Online fundraising is on the rise, and it's important that your nonprofit is able to evolve with the times. Of these 15 strategies, you're sure to find at least one that meets your nonprofit's digital fundraising needs.
However, if you're looking for more information on online fundraising or choosing the perfect software for your organization, check out the additional resources below: