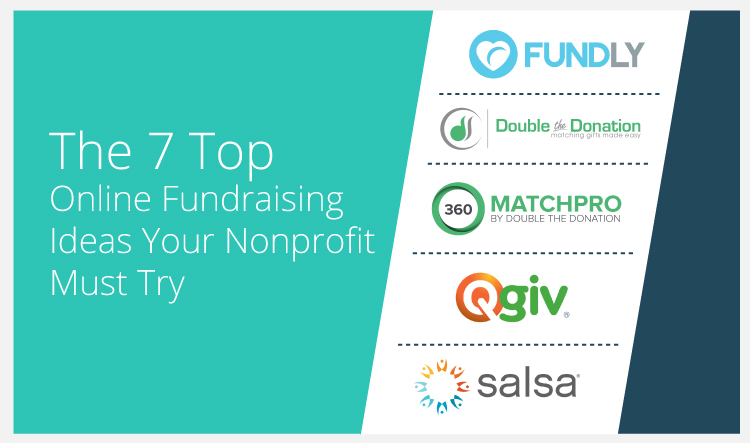 We're all about new and innovative ways to fundraise, especially ones that allow us to reach as many people as possible! That's why we're bringing you this list of our favorite online fundraising ideas.
These ideas for fundraising are all simple enough for any nonprofit to do once you know what they are and what products to use, and they'll help your nonprofit achieve your fundraising dreams.
Our favorite 7 ideas for online fundraising are:
If you're ready to learn more about how to take your nonprofit's online fundraising strategy to the next level, read on!

1. Crowdfunding
What is this online fundraising idea?
Crowdfunding is proving itself to be one of the most versatile fundraising strategies around for both nonprofits and individuals alike. This tactic relies on the power of social networking: people ask their friends and family to donate to either a personal page or a page that flows those donations to the nonprofit of their choice.
Why do we love it?
This strategy is especially effective for nonprofits because it creates the opportunity for nonprofits to reach more people than it could on its own through the share-ability of the donation page. Your nonprofit can only spread its message so far on its own—by allowing your supporters to be on your fundraising team and share your donation page among their friends and family, you can reach far more people.
We also love crowdfunding because it spreads awareness as well as fundraising opportunities. Most platforms encourage users to post stories and photos on their page, which informs even those who choose not to donate.
An example of a great crowdfunding platform:
Our favorite crowdfunding platform is Fundly! Fundly is easy to use for both nonprofits and individuals, and their pages are super customizable so you can tell your story in the most impactful and effective way possible.
Some of our favorite features of Fundly are:
Interactive slideshow option for pictures and videos

Option to post updates, blog-style

A free mobile app to make updates from

Automatic mobile responsiveness
Fundly has helped campaigns based on everything from funding travel to paying healthcare bills find success through crowdfunding.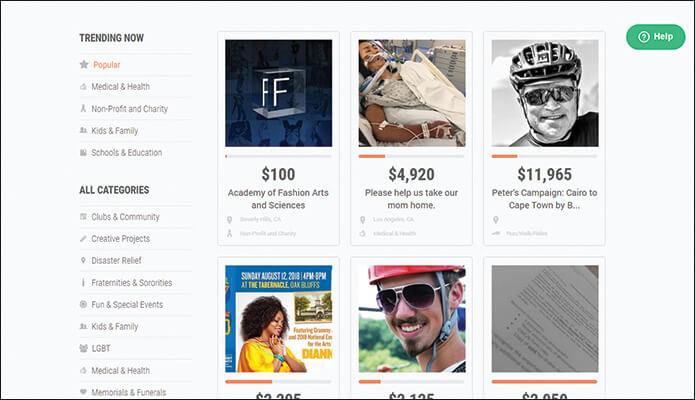 Main takeaway:
Crowdfunding is a great option for nonprofits that want to spread awareness about their mission while also fundraising online.

2. Matching gifts drive
What is this online fundraising idea?
A matching gifts drive is a simple fundraising process. First, encourage your supporters to donate or remind recent donors of their contributions. Then, help them research their employers' matching gifts policies and initiate a match!
Many people don't take advantage of matching gifts policies just because they don't know that they exist, so holding a matching gifts drive is a great way to raise awareness for programs that can help your nonprofit long after the original drive is over.
Why do we love it?
We love matching gifts drives (and matching gifts in general!) because of their ability to make all of your donors twice as effective, without asking them to dig deeper into their own pockets.
Your donors are already giving up their own funds for your cause, but matching gifts programs allow them to give more without having to do it themselves! Do you know any supporters who work for these top matching gift companies?
General Electric

BP

Gap

ExxonMobile

Johnson & Johnson
Corporate philanthropy is a massively underutilized resource for nonprofits, so a matching gifts drive is a great way to ensure that your donors are knowledgeable about their employers' corporate philanthropy programs and can use them to benefit your organization.
An example of a great matching gifts software:
Our favorite matching gifts programs are Double the Donation and 360MatchPro.
Double the Donation provides nonprofits the ability to either customize a page on the Double the Donation site or embed a plugin into their own website. The page and plugin allow donors to search for their employer and immediately find out if they have a matching gifts program, if the donors is eligible, and what they have to do to complete the process.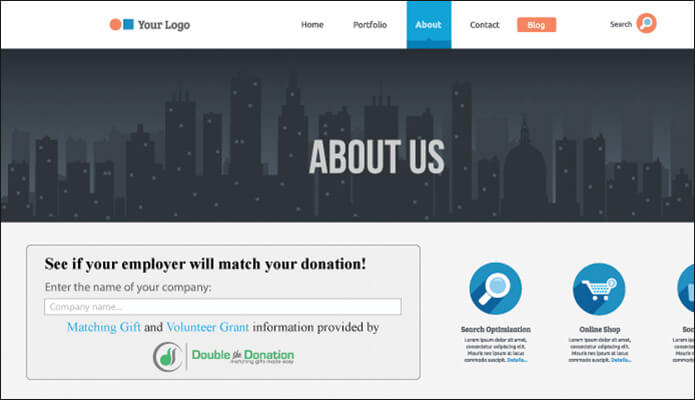 360MatchPro is a great resource for larger nonprofits by completely automating the matching gifts process. The software handles the identification and follow-up processes with every donor to ensure that your nonprofit can maximize their matching gifts revenue without swamping your staff.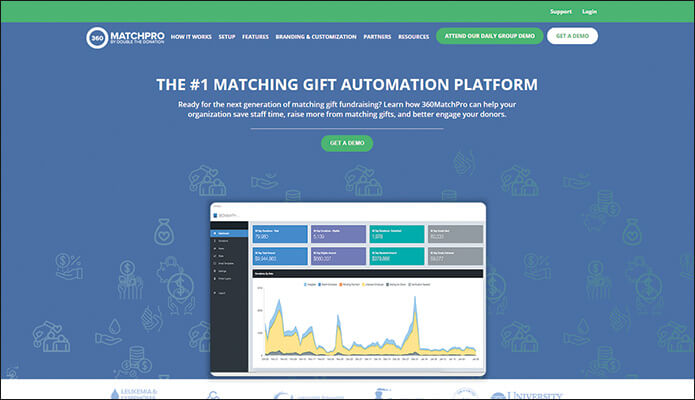 Main takeaway:
Matching gifts drives are a fantastic way to get your donors involved in their employers' corporate philanthropy programs as well as maximize your fundraiser's success.

3. Peer-to-peer fundraising
What is this online fundraising idea?
Peer-to-peer fundraising is a style of crowdfunding that relies on your organization's most dedicated supporters. Supporters make their own pages detailing their connection to your organization and why they champion your cause, and then they share their personalized pages amongst their friends and family online.
Like crowdfunding, peer-to-peer fundraising does the awesome double duty of fundraising for your organization while also spreading awareness about your cause through your trusty volunteers.
Why do we love it?
Peer-to-peer fundraising is one of our favorite online strategies because of the effectiveness of its communication strategy! Wouldn't you be more willing to donate to a nonprofit if a good friend of yours had already vetted it and trusted it?
Word-of-mouth is the oldest and best communication tactic out there, and peer-to-peer fundraising merges word-of-mouth with the speed and ease of social media outreach. You'll be surprised at the geographic range that your supporters' social networks encompass.  
Peer-to-peer fundraising also offers the opportunity to get to know your donors on a more personal level, because you get to work with them to join the team and set up their fundraising pages!
An example of a great peer-to-peer fundraising platform:
We have two peer-to-peer software providers that we couldn't decide between, so we'll offer them both: Salsa and Qgiv.
Qgiv's features include
A drag-and-drop website interface

Gamification tools

Merchandise storefront software
Their product is intuitive and easy to use, and their support team is available to help you get things rolling!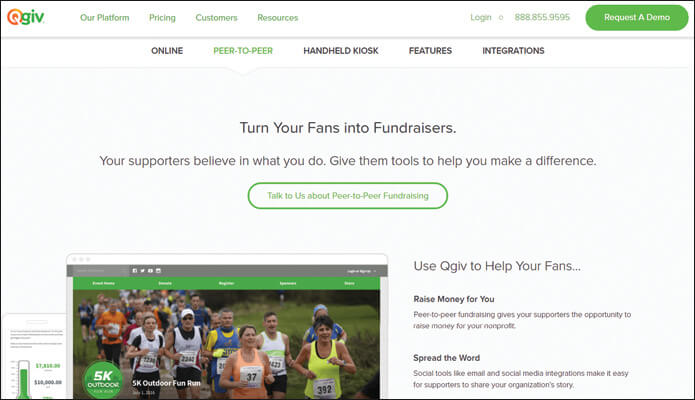 Salsa also gives you easily customizable web pages, along with the option to make individual and team pages to create a sense of competition. Donating and managing your progress is quick as can be through their mobile fundraising app.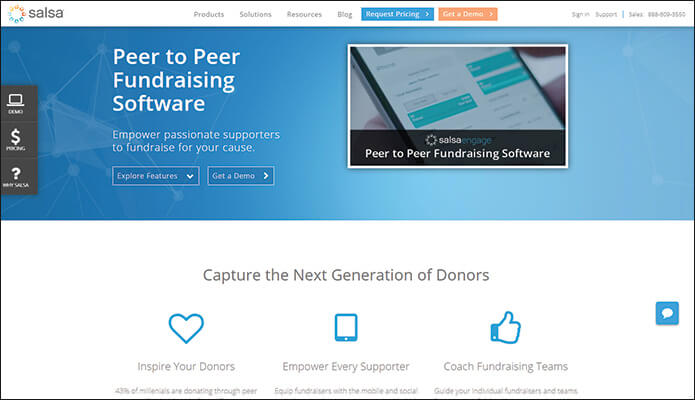 Main takeaway:
Peer-to-peer fundraising lets your organization let your most passionate supporters take control of their fundraising efforts to reach out to their friends and family. This is a great strategy for when you want to add a fun game aspect to your fundraising strategy.

4. Online auctions
What is this online fundraising idea?
Auctions have a proven tradition as a successful fundraising strategy, but now you can launch them into your current online fundraising efforts by hosting one online.
Like in any auction, you collect goods from your supports or through your nonprofit's efforts before the event. Then, your event attendees bid on the items. You earn money for your nonprofit, and your supports have the chance to get some pretty cool items. It's a win-win all around.
Why do we love it?
We love online auctions because they're all the fun of a traditional auction, but with the prices slashed! You don't have to pay for the venue, catering, or entertainment that would be necessary for an in-person auction.
Online auctions are also great for organizations that have a wider-flung audience: by hosting your auction online, supporters from all parts of the world are able to participate.
An example of a great online auction software:
Whenever we think about online auctions, we think about Bidpal online auction software from OneCause. They're the champions of both in-person and online auction software. Here are just a few perks of their online auction software:
Allows guests to preview auction packages.

Sells fixed-price items.

Creates and showcases an event countdown clock.
However, our favorite thing about OneCause is how intuitive their software is. Their simple and streamlined face is easy to use, and their support team is always ready to help you make the most of your software.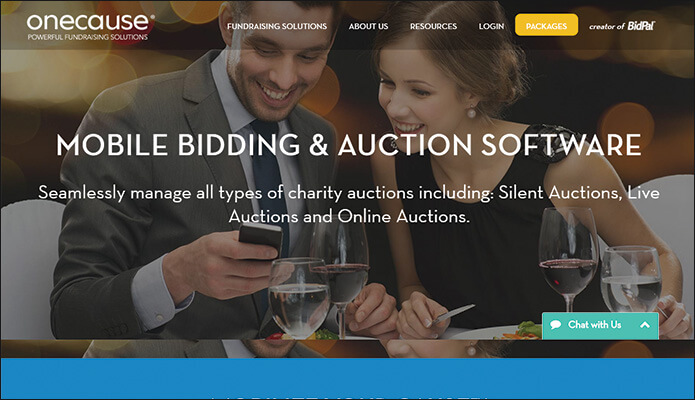 Main takeaway:
Online auctions are a great way to generate the excitement of a live auction during a fundraiser without having to shell out for an in-person event.

5. T-shirt fundraising
What is this online fundraising idea?
T-shirt fundraising is just what it sounds like: fundraising by selling t-shirts. This strategy is a fun way to reward your supporters with cool gear while raising money for your organization's mission. This strategy for fundraising pairs well with special events, but it can be made more universal by offering your merchandise on your website.
Why do we love it?
We love selling t-shirts because they're a great fundraiser while also allowing your nonprofit to increase:
Brand recognition.

Mission awareness.

Supporter loyalty.
How? Your supporters buy your t-shirt or sell them to their friends on your behalf. Your supporters and their friends then wear the shirts, which makes everyone they see notice their shirt. They get curious, and then they look up your organization and mission. Success!
Finally, producing t-shirts for your organization creates a uniform for your team of contributors. Your supporters can wear these shirts to races, events, and volunteer opportunities, and it creates a sense of camaraderie between them and everyone else in your shirt.
An example of a great t-shirt fundraising platform:
We love Bonfire for making t-shirts! They offer you the option to run a t-shirt campaign online with no inventory, meaning you never run out of shirts or end up with too many! Plus, they take care of shipping to your supporters for you
Their process goes like this: you design your shirt, you promote and sell it, they ship your shirts, and then you get the profits. It's as easy as pie, and their customer support system is phenomenal.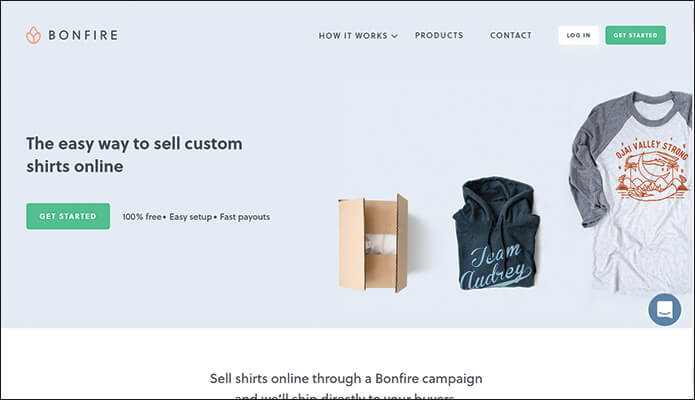 Main takeaway:
Selling t-shirts is a great way to raise money and spread awareness, while rewarding your supporters with some awesome merchandise.

6. Online donation forms
What is this online fundraising idea?
An online donation form is by far one of the easiest ways to fundraise online. You customize a web page to match your organization's brand, and then distribute it to your supporters.
Your supporters can easily donate via credit or debit card online, and can then share the link to the page with their friends and family.
The donations from your online donation page go directly to your nonprofit, which means you have access to the funds as soon as the donation is completed.
Why do we love it?
We love online donation pages because of their ease of use and customizability features. A well-designed donation page can simplify the process for a donor, increasing the chances that they'll complete their donation.
And the customizability of the page allows your organization to put up pictures and videos related to your cause, to create an emotional connection between the page's viewers and your mission.
An example of a great online donation form provider:
Our favorite online donation page creator is Donately. Donately has developed a balance between useful features and a beautiful interface that lets nonprofits create an awesome donation page without having to sacrifice security or functionality.
Donately can:
Embed into whatever CMS you use.

Integrate with all your apps.

Keep track of donation statistics and donor information
And as a bonus, all of their donation pages are automatically mobile-responsive, so that your supporters can donate from anywhere.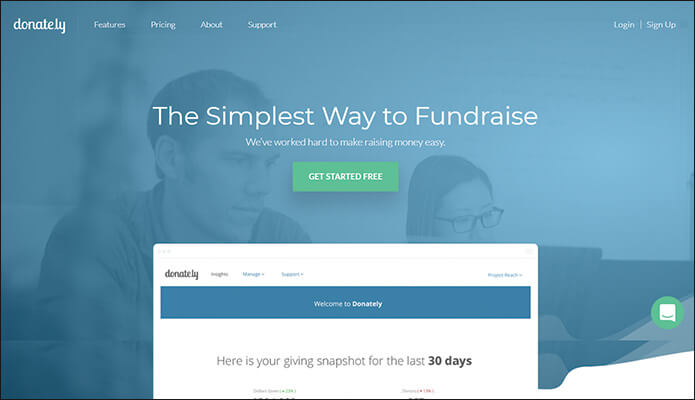 Main takeaway:
An online donation page from a trusted provider is a great way to allow your nonprofit to fundraise online, without worrying about how you're going to collect donor information or design the page.

7. Event registration
What is this online fundraising idea?
Did you know that your event registration process is an important part of your online fundraising strategy? Your event might be in-person, but your organization can leverage the registration process to maximize your online fundraising success as well as make your event planning process easier.
Why do we love it?
We love incorporating event registration into our online fundraising strategy because it gives us another method for communicating with supporters as well as increases our online presence
Handling registrations online also makes our events go off much more smoothly—if we can handle everything online before the event, then when our guests show up on the night of, we're ready to go!
An example of a great event registration software:
We recommend Doubleknot for all of your event registration needs. They have a whole suite of event registration software features, ranging from a simple event to a more complex program with multiple tracks and options.
With Doubleknot's software, you can create:
Custom payment schedules.

Discounts and specials.

Automatic billing
You can also offer a safe and secure online payment processing.
You can even configure your own add-on and upsell options, to maximize your fundraising abilities. Don't forget to include your merchandise and memberships for sale to increase their visibility during the registration process!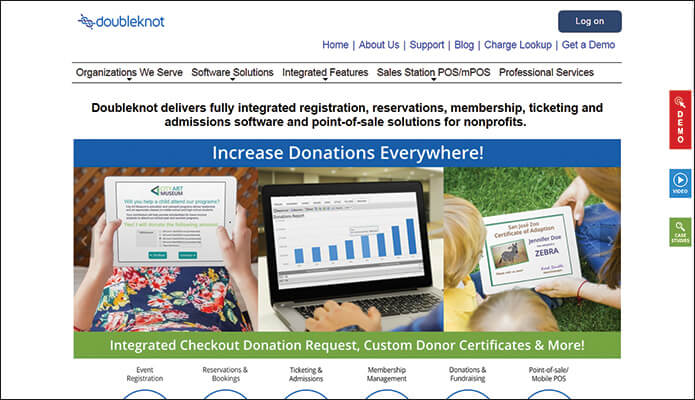 Main takeaway:
Don't let your registration be an added drag for your organization. Make it part of your online fundraising strategy by utilizing the right software.
---
Online fundraising can be made easier when your nonprofit tries out some of the most popular online fundraising ideas. Online fundraising can seem daunting, but it's really not so difficult.
Whether you're an old hand at fundraising or if you're just getting started, these ideas can take your online fundraising strategies to the next level.
---
Additional Resources
Now that you've got all of these great online fundraising ideas under your belt, consider checking out some of these other resources for more ideas to maximize your fundraising endeavors!
Top 13 Fundraising Solutions for Your Nonprofit. For more recommendations on everything from custom donation pages to nonprofit CRMs, check out our guide to some of our favorite fundraising solutions.
Top 11 Nonprofit Consulting Firms. Sometimes your nonprofit's strategies might just need a bit of a boost. Give our rundown of consultants a read-through and consider if bringing on a consultant is right for you and your nonprofit.
The 6 Best Text-to-Give Service Providers for Nonprofits. While we've assembled a pretty comprehensive list of online fundraising ideas here, there are always more innovative ways to combine technology and fundraising! Check out this list of text-to-give platforms to give your supporters the option to donate right from their phones.