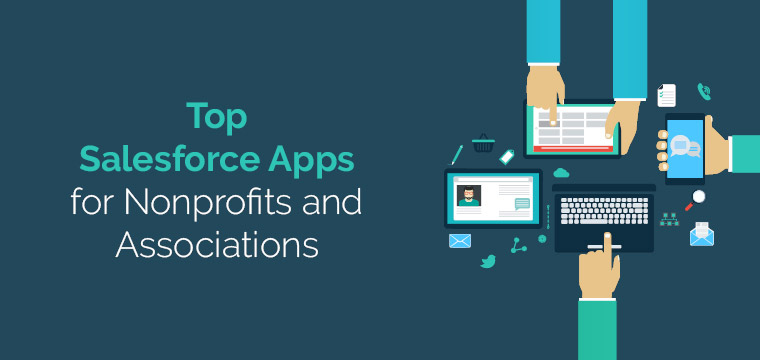 Your nonprofit organization or professional association uses Salesforce because it's the world's leading CRM. With comprehensive features and unmatched ease-of-use for tools of its level of utility, Salesforce can't be beat.
However, while Salesforce is the leading platform for all sorts of organizations, there's no way around the fact that most of its features are designed to meet the needs of for-profit businesses. So why has Salesforce taken both the business and nonprofit software worlds by storm? The Salesforce AppExchange.
The ability to customize the platform with Salesforce apps and other nonprofit- and association-specific tools is an invaluable perk. Access to the full range of Salesforce apps and plugins out there makes an already powerful CRM platform into one of the most customizable management tools on the market.
We've picked some of the top Salesforce apps designed to address the unique needs of nonprofits and associations:
As you research new digital tools, remember that offering a Salesforce-integrated app or plugin is an important way for third-party software developers to reach a wider audience and offer more useful products. This makes Salesforce integrations and apps a major indicator of quality when it comes to association and nonprofit software.
Let's dive in:

1. 360MatchPro – Best Salesforce Integration for Matching Gifts
 Salesforce Integration Overview
360MatchPro by Double the Donation integrates with Salesforce to fully automate your nonprofit's matching gifts process. Matching gifts—a form of corporate philanthropy in which companies agree to match the donations their employees make to eligible nonprofits—are extremely valuable to the organizations that receive them.
Too often, however, these programs are underutilized because nonprofits don't remind donors to participate in their employers' matching gift programs or donors don't remember to complete and submit their matching gift requests.
360MatchPro solves both of these common issues by identifying donors whose employers offer matching gift programs and reaching out to them via automated email. No matter how large your organization's supporter base is, you won't miss out on potential matching gift opportunities.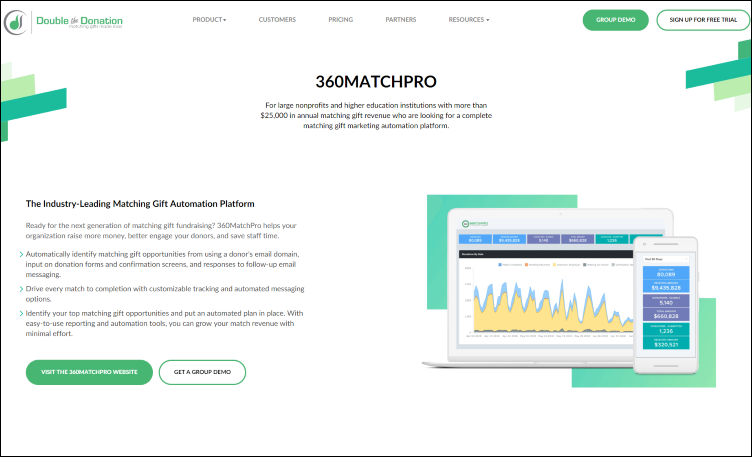 Key Features of this Salesforce Integration
Combining the efficiency of automation with customizable aspects, 360MatchPro facilitates stronger relationships with your supporters by helping them make larger contributions at no additional cost to themselves. A few of the software solution's key features include:
Automated identification of potential matching gift opportunities. In addition to the donor information stored in your Salesforce CRM, 360MatchPro can also scan supporters' email domains, donation forms, confirmation screens, and other sources to identify those who are eligible for participation in their employers' matching gift programs.
Customizable emails sent to your supporters. The automated emails sent to your supporters to remind them to complete their matching gift requests arrive from an email domain branded to your organization to ensure trustworthiness. You can also customize the content, timing, and groups of recipients for these emails.
Plans for approaching your largest matching gift opportunities. 360MatchPro allows your organization to identify and create automated plans for reaching out to your most sizeable opportunities for increasing revenue through matching gifts.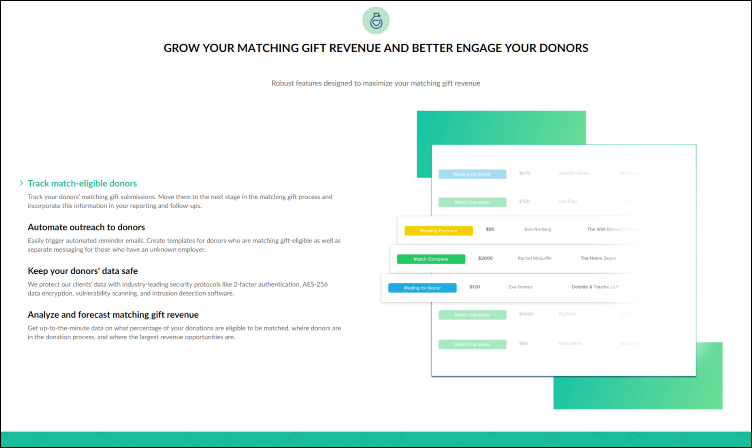 Why They Made Our List
Supporters want to participate in their employers' matching gift programs and value the opportunity to make even larger positive impacts on the causes they care most about. 360MatchPro's automated process helps ensure that neither they nor your nonprofit will miss out! Plus, this Salesforce integration's reporting features keep your team up-to-date on how effective your matching gift communications have been and how you can increase your revenue even further.
Explore 360MatchPro's Salesforce Integration

2. Soapbox Engage – Best Salesforce App for Event Management
 Salesforce Plugin Overview
Soapbox Engage develops powerful Salesforce apps that get nonprofits up and running on the CRM platform quickly.
Their event management app is a real standout. Enterprise-level Salesforce solutions can be extremely expensive, but the Events app from Soapbox offers robust features without the hefty price tag. Plus, full integration with Salesforce will streamline your event planning and ticketing processes, with all your valuable data reporting straight to your database.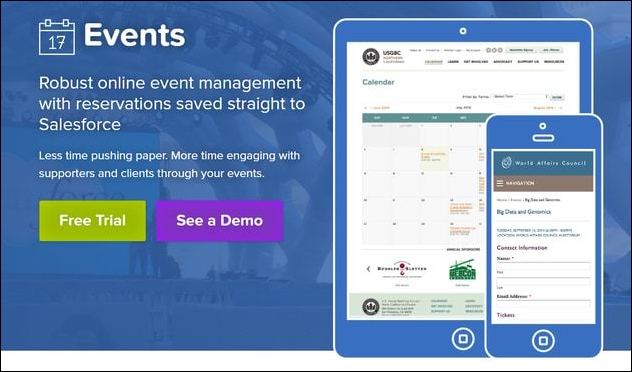 Key Features of this Salesforce Plugin
The Soapbox Engage Events app includes a number of key features that make it a valuable addition to any Salesforce toolkit. These include:
Unlimited event creation. Create an unlimited number of events in Salesforce and customized event pages to host your registration tools for guests.
Customizable ticket options. Offer multiple free or paid types of tickets, set capacities, promos, and timeframes, and customize forms to gather any other important guest information you'll need.
Analytics tools right in Salesforce. With automatic data reporting, it's easy to track and analyze engagement with your event in the lead up to the big day.
 Why They Made Our List
The Soapbox Engage Events app made our list because it's one of the most effective and affordable options on the market for small to mid-sized nonprofits getting started with Salesforce. Plus, Soapbox Engage offers a broad range of different apps that all work seamlessly with one another to strengthen your entire toolkit.
Learn More About Soapbox Engage

3. Fonteva – Best Overall Salesforce Apps
 Salesforce Apps Overview
Fonteva is a leading provider of Salesforce apps designed specifically to provide associations and other organizations with streamlined management and planning tools. They offer two native Salesforce solutions, one focused on comprehensive membership management and the other on integrated event planning.
Fonteva Membership is a native Salesforce app, designed from the ground up to work seamlessly on your CRM platform. Associations and nonprofit organizations with extensive membership programs can use the Fonteva suite of management tools to manage their data and member engagement with precision.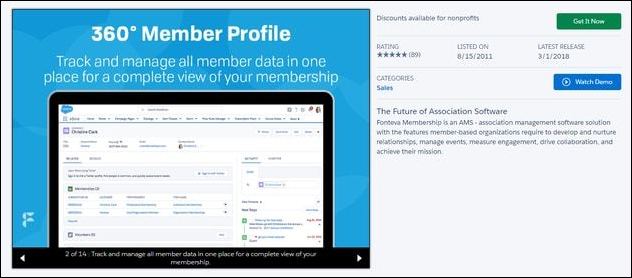 Fonteva Events is a set of Salesforce-built event planning and management tools that can help organizations streamline events of any size, from small meet-ups to enterprise-level conferences. Its native integration with Salesforce makes it easier than ever to put the power of the platform to full use.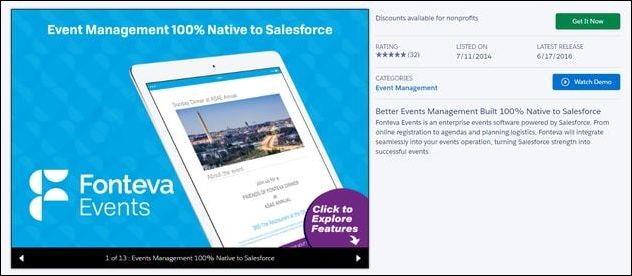 Key Features of these Salesforce Apps
Both of Fonteva's Salesforce apps offer powerful features designed for associations and organizations already using Salesforce. For their member management solution, these include:
Custom member communities. Customize and manage your microsites, member forums, and group portals, or keep your members fully engaged by letting them take the reins.
Comprehensive member profiles. Automatically report all key contact, engagement, and other relevant member data directly to your Salesforce-integrated member profiles.
Smarter reports and dashboards. Draw from the wealth of data in your Salesforce CRM to generate custom, real-time reports. Easily shift focus from the big picture to fine details.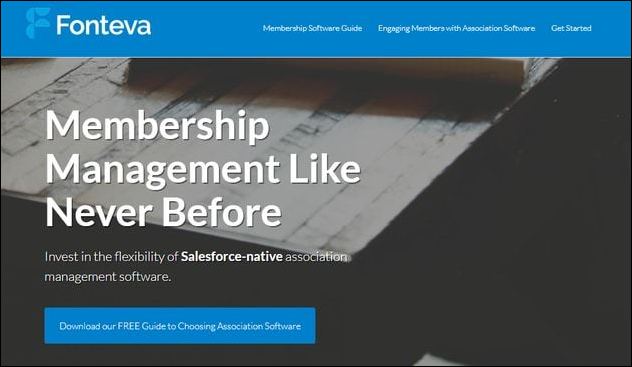 Fonteva Events also harnesses the power of Salesforce to help organizations plan more effective and engaging events than ever before. Its top features include:
Full lifecycle management. Comprehensive planning features combined with easy access to your data makes it easy to plan every detail at every stage of your event.
Event site builder. Create a custom website for your event that flows data directly to your Salesforce CRM. Registration, custom options, and payments are a breeze.
Session builder tools. Put together engaging sessions for your conference attendees, let them create their own schedules, and even empower members to organize their own sessions.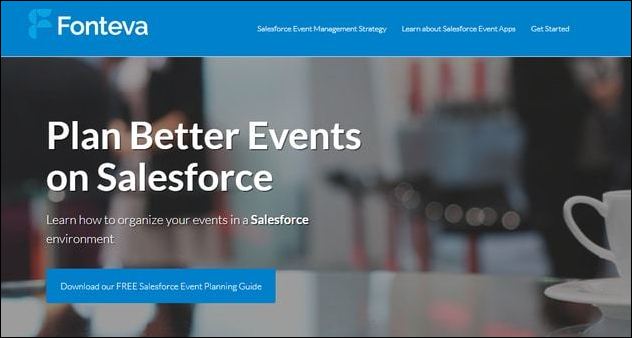 Why They Made Our List
Both of Fonteva's Salesforce apps placed high on our list because they're fully native to the platform. That means they were designed to work seamlessly on top of the Salesforce CRM system, providing your organization with unparalleled utility.
It can be difficult to find management and planning software that's the perfect fit (especially for professional associations), but Fonteva's cloud-based, Salesforce-native structure means it grows along with you. If you already use Salesforce, Fonteva's tools are the ultimate extension.
Explore Fonteva's Salesforce Apps

4. OneCause – Best Salesforce App for Fundraising Events
 Salesforce App Overview
OneCause is a leader in fundraising event and donor engagement tools. They pioneered mobile auction technology, and their Salesforce app makes it easier than ever to connect their powerful fundraising software with the Salesforce platform that supports you entire organization.
Integrations are an important marker of quality when it comes to fundraising software. Ensuring that all your systems speak the same language is essential, and the OneCause Salesforce app does exactly that.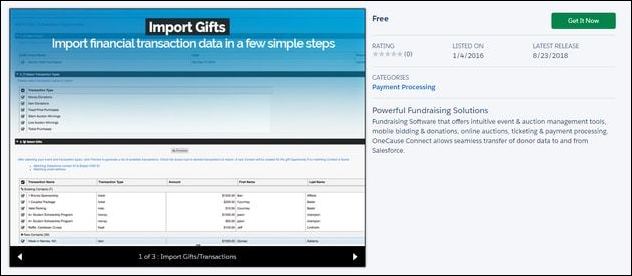 Key Features of this Salesforce App
OneCause made our previous list of top fundraising software for good reason!
Its fundraising software and event management tools can maximize donation intake at your events, and its integration with Salesforce means you can maximize your intake of invaluable data, too! Consider these features:
Seamless data reporting. Effortlessly move donor data between the OneCause auction and event system and your Salesforce CRM.
Comprehensive gift reporting. Record every transaction from your big night, including auction winnings, ticket sales, donations, and other charges.
Robust analytics. Integration with Salesforce means you have a 360-degree view of your event's results, giving you new insights into what really works.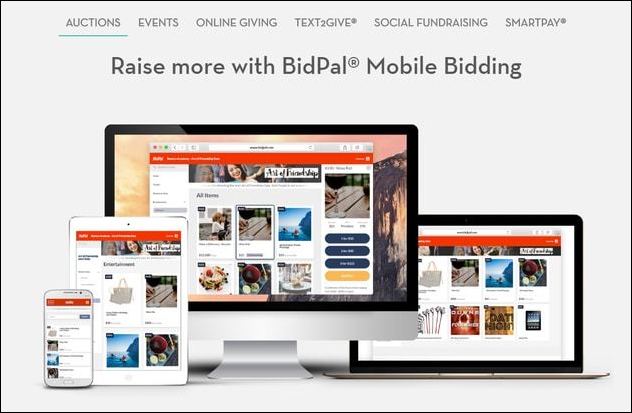 Why They Made Our List
Combine its Salesforce integration with the powerful features of the OneCause suite, including mobile, live, and silent auction planning and support, and your organization is set up for success like never before. Host more engaging events, raise more money, and learn more from your data.

5. Salsa Labs – Best Salesforce Plugin for General Fundraising Support
 Salesforce Plugin Overview
Salsa Labs offers a powerful set of digital tools for nonprofits that need more heavy-duty support for their fundraising efforts.
While it's not a Salesforce app that you can directly install in your CRM, Salsa does fully integrate with Salesforce, meaning it's more of an integrated plugin. Easily connecting the two systems gives your organization a huge leg up when it comes to fundraising and cleanly managing your data all at once.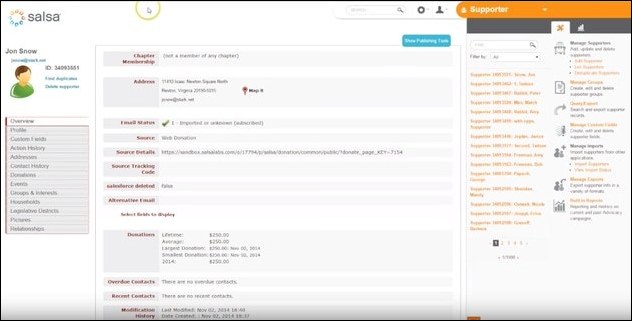 Key Features of this Salesforce Plugin
The Salsa suite of online fundraising tools features a number of invaluable tools. These include:
Customizable fundraising and donation forms. Fine-tune your donation forms to maximize their effect, and then flow their collected data to your Salesforce CRM.
Peer-to-peer fundraising campaigns. Conduct your own highly engaging online campaign, all the while recording and tracking the huge amount of valuable data your donors generate.
Embedded matching gifts access. Give your donors the option to quickly search for their eligibility and submission guidelines right on your campaign pages.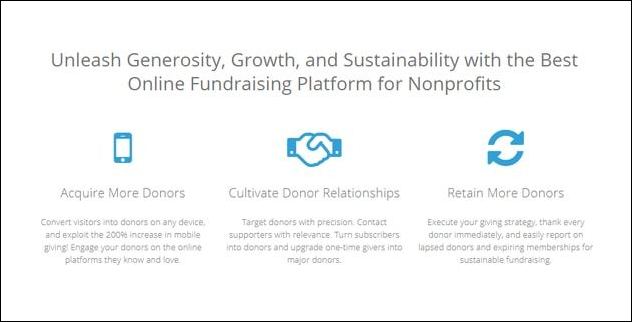 Why They Made Our List
The Salsa suite of digital fundraising and donor engagement tools bring together a number of key features that were previously unavailable within a single system that also integrated with Salesforce. You already know how valuable integrations can be, so Salsa is a win-win for those organizations interested in a more heavy-duty fundraising option.

6. Donorbox – Best Salesforce App for Donation Forms
 Salesforce App Overview
Donorbox, a leader in easy-to-use custom donation forms and pages, offers a full integration with Salesforce to make their tools even more useful than before.
As part of the Salesforce for Nonprofits pack, your organization has access can quickly and easily integrate its Donorbox forms with the CRM platform. Like Salsa Labs, Donorbox isn't necessarily an app, but rather an integrated plugin. Its integration with Salesforce, however, is a big deal for the many nonprofits that use both systems.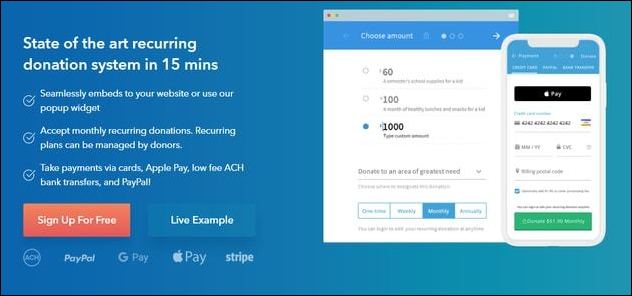 Key Features of this Salesforce App
The top features of Donorbox are amplified by their ability to flow data directly into your Salesforce CRM. These include:
Fast and easy donation forms. Create a fully customized donation form for your website and configure payment processing in just 15 minutes.
Multiple ways to implement. Put your new donation form in a pop-up, directly in your website, or on its own beautiful campaign page.
Customizable options. Set up recurring donation options, social media sharing, and campaign tracker tools in your forms for maximum engagement.

 Why They Made Our List
Donorbox has long been among the most popular players in the nonprofit online donation form space. Their easy-to-use and extremely effective tools are a favorite of organizations of all sizes.
Full integration with the world's leading CRM has only gone further to boost their usefulness. It's incredibly important to integrate your donation forms and database, and Donorbox offers one of the best Salesforce plugins to do so.

7. DonorSearch – Best Salesforce App for Prospect Research
 Salesforce App Overview
Growing nonprofits and other organizations that need to strategically identify new supporters understand the value of prospect research. DonorSearch offers the largest and most comprehensive charitable and political giving database available.
Through its Salesforce app, 360io, the entire DonorSearch database is within even easier reach than before.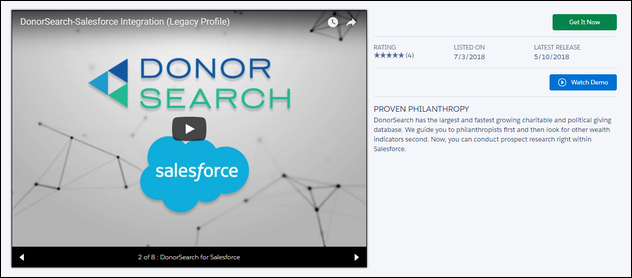 Key Features of this Salesforce App
Full integration between the CRM and prospect research database makes the DonorSearch Salesforce app immensely valuable for organizations ready to take advantage of all its benefits. Some of the app's features include:
Automatic donor screening. As new donors are entered into your CRM, automate a philanthropic screening to identify their past giving habits.
360-degree philanthropic views. Screen your entire donor database, including low- and mid-level donors, to immediately find those who give heavily elsewhere.
Unlimited searches and licenses. Your whole team can conduct as many searches as they need in support of your donor prospecting goals.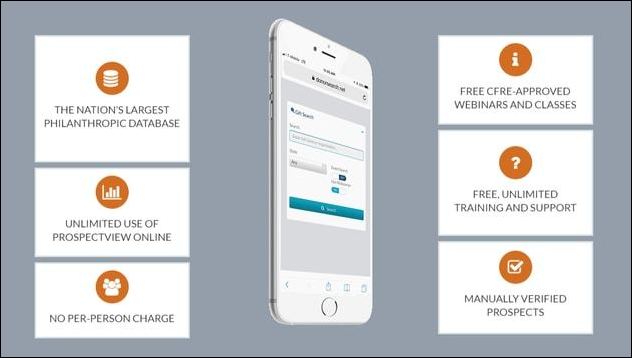 Why They Made Our List
Prospect research is an extremely important part of the nonprofit equation. Organizations of all types rely on actionable research insights to identify key areas for growth, and the partnership between two leaders, DonorSearch and Salesforce, makes it easier than ever to get started.

8. Qgiv – Best Salesforce App for Peer-to-Peer Fundraising
 Salesforce Plugin Overview
Online fundraising is serious business for nonprofit organizations, and Qgiv offers an unrivaled suite of tools to help you kick your efforts into high gear while engaging more online donors than ever.
Just as important, Qgiv's complete Salesforce integration makes it easier than ever to make sure you're making the most of all the valuable fundraising data you generate, too.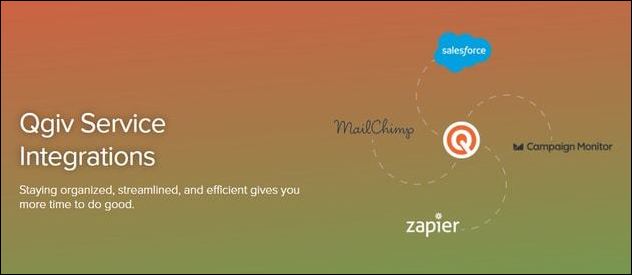 Key Features of this Salesforce Plugin
The Qgiv digital fundraising platform contains a number of essential features for effective modern fundraising. Its most popular tools include:
Social fundraising support. Easily set up and manage your next peer-to-peer fundraising campaign with fully customizable options and tools.
Virtual donation terminals. Mobile-responsive donation forms and event registrations help you engage more donors in more places.
Central control panels. Gather all the fundraising data from your campaigns to analyze new patterns, then use the Qgiv Salesforce integration to make ensure it all reports to your underlying database.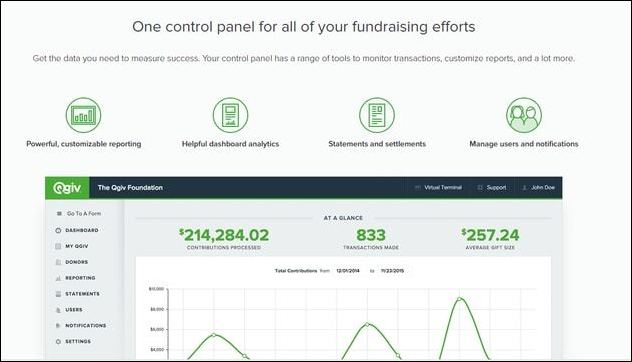 Why They Made Our List
Peer-to-peer fundraising represents the most significant fundraising trend in recent years, and Qgiv has proven itself to be a leader in the space. Any online fundraising platform you use needs to work seamlessly with the CRM system at the center of your operations. The Qgiv integration makes it one of the best available Salesforce plugins for nonprofit social fundraising.

9. Luminate CRM – Best App for Relationship Management
 Salesforce App Overview
Nonprofits and other organizations are likely already familiar with Blackbaud, one of the tech giants of the heavy-duty fundraising software space.
Its relationship management and fundraising platform designed for those already using Salesforce, called Luminate CRM, offers a powerful set of features. It's one of the most truly useful Salesforce apps available for larger organizations ready to adopt Blackbaud software.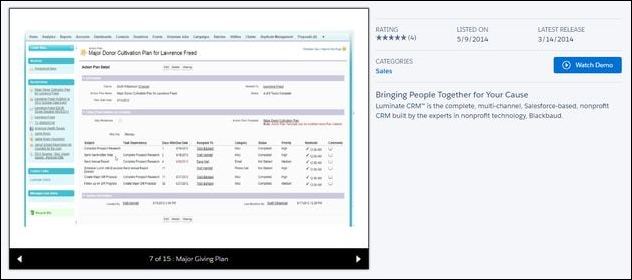 Key Features of this Salesforce App
As a set of high-powered, nonprofit-specific tools to extend the utility of the Salesforce platform, Luminate CRM offers a number of key features:
Comprehensive relationship management. Engage constituents and track every key interaction for both detailed and big-picture management.
Customizable reporting and dashboards. Create custom fields, layouts, and workflows with no coding required, helping you learn more from all of your data.
Direct and multichannel marketing tools. Easily segment your mailing lists and automate campaigns with integrated Luminate Online marketing tools.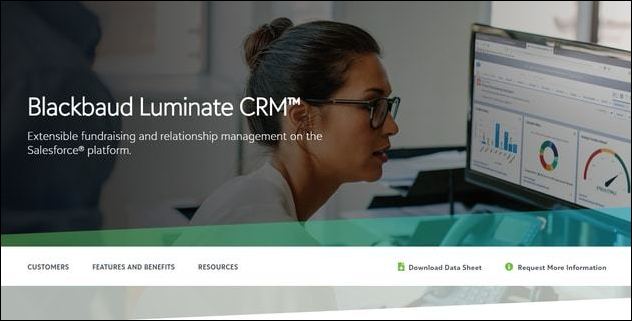 Why They Made Our List
Blackbaud is a major player in the nonprofit software space, and Salesforce is the world's leader in CRM technology. As the only Blackbaud product fully designed to operate on the Salesforce platform, Luminate CRM is a big deal for many nonprofits.
Remember, however, that taking on either of these platforms can be tricky for beginners. We always recommend finding a nonprofit technology consultant with experience in both Blackbaud and Salesforce to help guide your team in how to use its new tools.
---
Nonprofits, associations, and other organizations that already use Salesforce to manage their operations and data know how incredibly useful the platform can be. If you haven't yet explored all of the offerings on the Salesforce AppExchange, though, you're only getting about half the value you should be!
Salesforce apps and plugins can help you fully make the platform your own, customize its features to fit your unique needs, and help you raise more money, engage more constituents, and track more valuable data.
Continue your research with a few additional resources for more ideas about how to put your software to work for you: