While there are many event, communication, and data management tools on the market, associations have unique needs that need to be addressed with association-specific software. As an association professional, you've probably been frustrated by trying to use generalized tools that simply aren't optimized for your operations, and you understand the importance of investing in the right software.
So, to help you navigate your search for the right AMS system, tools, or platform, we've carefully selected our top picks for the best association management software solutions. 
Whether you're simply updating your association's tech strategies or you're searching for powerful software to completely revamp your operations, the following AMS solutions represent a cross-section of the wide variety of tools your team can choose from:
Best Association Management Software Solution: Fonteva
Other Top Association Management Software Solutions:
Effective association management software is an important investment that requires careful thought and research. In addition to outlining your association's goals and objectives and getting an idea of the tools you might need, this resource should empower you to confidently select your own perfect software solution. Let's dive in.

Best Association Management Software Solution: Fonteva
AMS Software Overview
As a technological frontrunner in the association space, Fonteva boasts an all-in-one association platform solution that is comprehensive yet easy to use and completely scalable. With its full toolkit of event, member, and data management capabilities, it's easy to see why Fonteva regularly tops association software rankings.
Database functions, member profiles, analytics dashboards, accounting tools, and intuitive data reporting round out Fonteva's comprehensive features. Plus, its lean, cloud-based framework means that Fonteva grows with you—no need for expensive hardware updates.
Top Features of this Association Management Solution
Fonteva can't be matched for utility and ease-of-use for both your internal team and your membership at large. A few of its top features include:
Cloud capabilities, scalability, and ease-of-use.

Built on the Salesforce platform, the world's leading CRM for businesses and organizations, Fonteva fully integrates with the underlying database system. This structure provides your team with a completely intuitive, flexible, and mobile solution for

membership management

.

Online communities and event planning.

Combining Fonteva's online community management tools with its full suite of event planning features is a winning formula. Plus, Fonteva gives your members the freedom to manage their own committees, subgroups, and engagement with eLearning programming.

Intuitive financial and reporting tools. Full integration with Salesforce means your team can completely customize and automate how you report and analyze your association's data, including financial and operational metrics. At the same time, Fonteva's payment processing and e-commerce tools make it easier than ever to boost revenue.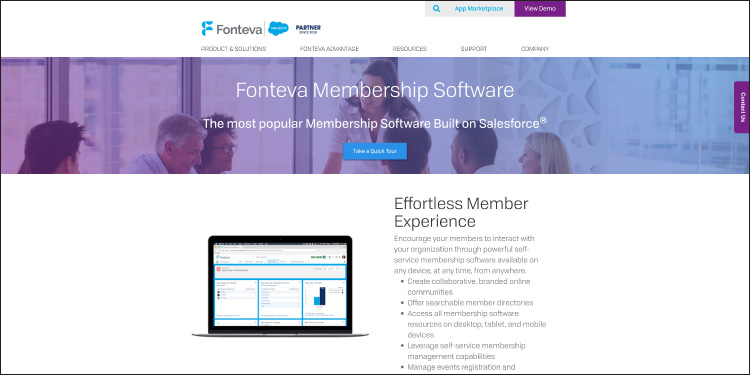 Why This Association Software Made the List
Simply put, Fonteva is intuitively designed from top to bottom for associations of all sizes and industries. Fonteva can quickly become an invaluable tool for your association's operations and an essential partner for its long-term growth.
As the most flexible solution for large to mid-sized organizations, Fonteva can enhance the scale of your digital retention and acquisition strategies, streamline your internal operations, and create new outlets for member engagement. Most importantly, and uniquely as compared to traditional AMS solutions, Fonteva truly grows with your organization.
Explore Fonteva's association management platform

Other Top Association Management Software Solutions

1. Protech
AMS Software Overview
Leveraging the power of Microsoft Dynamics 365—one of the frontrunners in CRM and enterprise resource planning technology, Protech offers a robust association management platform that puts the member experience first. 
In particular, the Protech platform offers a huge capacity for customization, as it can seamlessly integrate with hundreds of Microsoft Office and Microsoft Dynamics 365 business applications, Microsoft AppSource tools, and third-party apps.
With this flexible and scalable association platform solution, you can easily start creating your own specialized suite of association tools for everything from e-commerce to event management to member engagement.
Top Features of this Association Management Solution
The Protech association platform solution is designed for all association professionals to be able to make the most of Microsoft's powerful technology and achieve their organization's unique goals. In particular, it offers:
Intuitive event management features.

Streamline the complicated processes of event management through Protech's expedited event management capabilities, including intuitive management tools for sponsors and exhibitors, as well as simplified registration for members.

Seamless app integration throughout the Microsoft ecosystem.

As a Microsoft-native solution, Protech's platform allows your team to create its own specialized suite of association management tools through countless Microsoft app integrations and third-party connectors.

Customizable dashboards. Gain greater insight into your organization's unique functions and performance through interactive, fully customizable dashboards.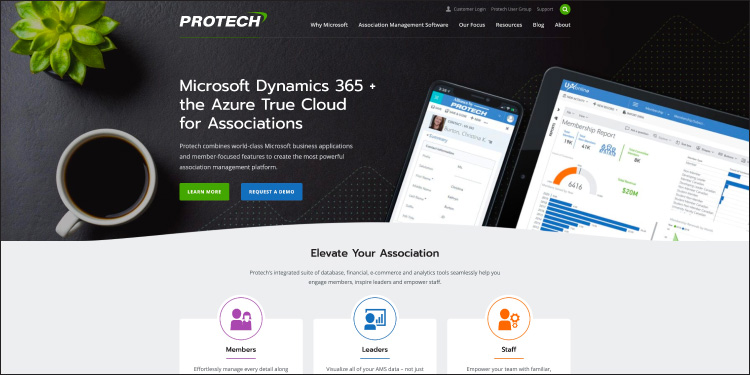 Why This Association Software Made the List
There's no question that Protech is an incredibly versatile and customizable solution that can be fitted for any association's needs. All associations can benefit from the vast integration capabilities of Protech's platform, though it is a particularly good choice for teams who already rely on Microsoft technology. 
If your team uses other tools in Microsoft AppSource, Microsoft Office, or any other applications within the Microsoft ecosystem, then consider investing in a centralized association management platform that can make the most of this powerful software.

2. Novi AMS
AMS Software Overview
Made by and for trade association professionals, Novi AMS is a comprehensive, user-friendly association management software solution that can positively impact every aspect of your management processes.
As the only association management software solution approved by Intuit for the QuickBooks App Store, Novi AMS makes it easy for associations to keep their financial information updated and accessible.
In addition to integrating with QuickBooks, Novi AMS helps your organization create and update your mobile-responsive website, manage events, and keep in touch with all of your members.
Top Features of this Association Management Solution
The Novi AMS platform was designed by trade association professionals who understand that association management should be a straightforward process that facilitates—instead of getting in the way of—your members' professional development. Some of its top features include:
2-way, 24/7 sync with QuickBooks.

For associations using QuickBooks as their accounting software, Novi AMS makes it easy to keep track of financial information. Whether you're creating invoices or updating member data, the data you enter or update on one platform automatically appears in the other.

Mobile-responsive website creation.

Trade association professionals at every level of technological experience will find it easy to create an engaging and accessible website for their members using the Novi CMS. Websites made using Novi are fully customizable to your organization and responsive on all devices, even allowing you to edit on-the-go.

A membership database built for trade associations. Because members of trade associations typically join through their employers rather than as individuals, the Novi AMS membership database is structured to illustrate and track these parent/child relationships, as well as additional relationships among staff and parent organizations.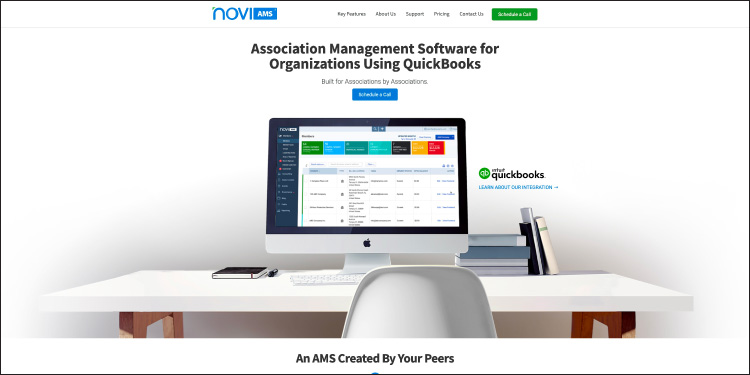 Why This Association Software Made the List
Novi AMS works to address trade associations' most common logistical needs so that leaders can focus on providing the best possible experience for their members.
With unparalleled accounting features that ensure your association won't lose track of valuable data and a CMS that makes updating your website a smooth process, Novi AMS is an ideal association management system for trade associations.

3. ePly
AMS Software Overview
ePly is one of the top association management software platforms because of its incredible event management capabilities. Hosting an effective event for your association is important, not only for fundraising possibilities but for outreach, networking, and educational reasons. With ePly's comprehensive set of software tools, your association will be able to host an excellent event without any added stress.
Regardless of your mission or type of association, ePly, a completely configurable software platform, offers solutions that will aid you as you plan any type of event. This platform's specialized tools are sure to make your association's event stand out and run smoothly.
Top Features of this Association Management Solution
ePly is best known for its comprehensive event management tools that are specifically designed to help associations plan, execute, and manage an event with ease. This platform is equipped with numerous tools for your association to use, including:
Custom form building.

Too often, registration forms limit an association's ability to collect data on their event attendees. With the ability to build your own custom forms, ePly allows your association to collect any information it deems important.

Data reporting tools.

All of your association's events need to be planned with the most accurate data possible to ensure their success. ePly will enable your association to generate attendee data reports so you can always make well-informed decisions about your events.

Custom development.

ePly is unique in that they genuinely care about the success of your association's events and are willing to work with your team to develop any custom tools you may need to succeed.

Mobile application.

One of ePly's most valuable tools, their mobile app is a tailor-made app designed to appear as a seamless extension of your association's online presence. This app will enable e-ticketing, mobile check-in, event calendar management, and secure payment processing.
With ePly, your association can sidestep the stressful, often time-consuming tasks that accompany hosting an event and focus on doing your good work.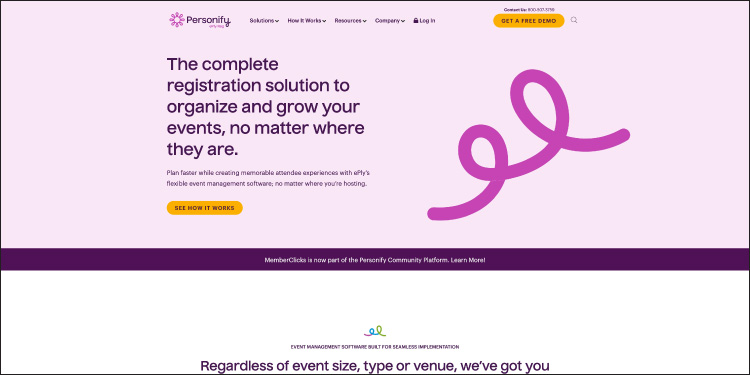 Why This Association Software Made the List
ePly's dedication to one-on-one customer service and support means your association can rest assured that, should anything go wrong on the day of your event, your software provider will be there to help you through it.
This software platform has specific, unique solutions for associations, businesses, and universities so you can be sure that your platform was designed with your specific needs in mind. Take a look at ePly's solutions to get an idea of how it can change the way you think about event planning!

4. Salsa
AMS Software Overview
Salsa CRM is a top choice for associations focused on fundraising as a major source of revenue. With a whole suite of powerful fundraising tools, this platform packs a punch when it comes to fostering outreach, boosting member engagement, and increasing support.
Plus, Salsa's underlying database tools serve as a self-contained, central location for all your member, donor, and internal data. Robust reporting features and customizable analytics tools then guide your team to make the most of all this data and craft ever-improving strategies for engagement and growth.
Top Features of this Association Management Solution
As a more heavy-duty solution focused equally on fundraising and data management, Salsa offers a unique balance of features:
Relationship tracking.

Rich member and donor profiles let you keep detailed notes and track engagement history, helping you maintain important relationships and identify areas for growth.

Targeted messaging tools.

Keep your members notified and fully engaged. Automate messages triggered by specific engagement actions, or simply segment and schedule your messaging in advance.

Digital marketing and fundraising. Salsa CRM comes with access to a whole suite of extra tools. Marketing, fundraising, and advocacy tools are the perfect way to boost engagement with your members while reaching new audiences.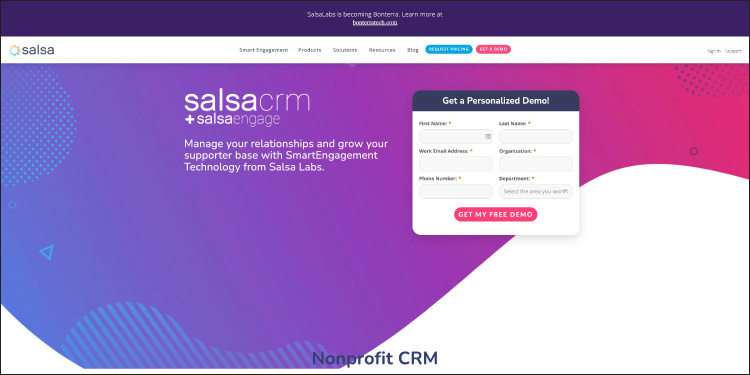 Why This Association Software Made the List
Salsa provides a unique mix of features that might be perfect for the association focused on raising funds for its projects. Combining its powerful fundraising tools with effective advocacy and CRM features, for instance, might be an incredibly smart move for some groups.
If your association enjoys a strong culture of engagement, Salsa might be the perfect platform for boosting all the other aspects of your operations, too! Your revenue, data management practices, and marketing will thank you for it.

5. Morweb
AMS Software Overview
As a website-building tool for nonprofits and other organizations and a lightweight but effective member management system, Morweb is a strong choice for smaller groups. If your association's management and development needs revolve primarily around digital engagement, this is your best bet.
Focused on offering their clients the tools they need to sustainably grow their online operations, Morweb can help take your association's website, member management strategies, and more to the next level. It's a particularly good choice for younger associations looking to gain a digital foothold.
Top Features of this Association Management Solution
Perfect for digital beginners, Morweb can help your association build its first website and effectively manage your growing membership with these top features:
Intranet and private page tools. Manage the internal structure of your site, creating password-protected pages for your members to engage with your content, share discussions, and register for events.
Member directory and event features. Plan your events directly within your content management system with Morweb's full registration and pricing options, then use your intuitive, searchable member directory to refine your plans.
Powerful website building platform. Your website says a lot about your association, and Morweb's design and management platform is the perfect way to make sure it looks its best and operates at full steam.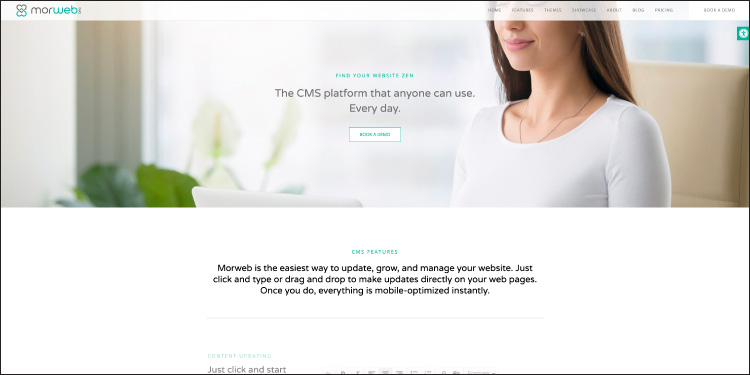 Why This Association Software Made the List
For smaller or younger nonprofits, finding a properly scaled solution that addresses multiple needs is a major challenge. Morweb fills this void with its effective, high-quality web design services and tools.
A great website is a crucial part of getting started as any type of organization, particularly an association that depends on keeping its members engaged. Effective built-in management tools are what make this top website builder a great association management software, too!

6. Doubleknot
AMS Software Overview
As a robust but niche-oriented solution, Doubleknot is a great example of the wide variety of options in the world of association management software. A leading management platform for zoos, museums, and other cultural institutions, Doubleknot offers an effective set of management tools for associations related to these fields.
For instance, the Association of Children's Museums uses the platform to manage its relationships with all of its member museums around the country.
Offering a full range of features and tools, Doubleknot is a strong contender for best management tool in its space.
Top Features of this Association Management Solution
A mix of both general management and field-specific features should characterize an effective niche solution. Doubleknot's top features include:
Membership management tools.

A full suite of tools including directories, renewals and permissions features, onboarding automation, and engagement tracking.

Donation and fundraising features.

Doubleknot allows your association to create its own donation pages, accept mobile payments, and generate mailing lists.

Comprehensive program management. Customizable registration forms, event planning, scheduling, attendee communications, and revenue reporting make Doubleknot a perfect tool to streamline your association's operations.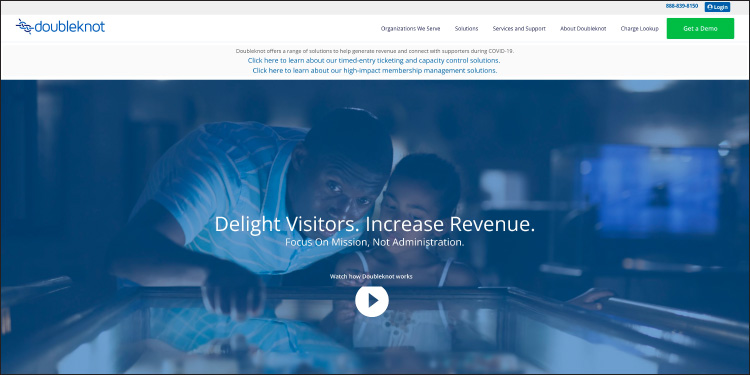 Why This Association Software Made the List
Niche-oriented association management software solutions that provide the same level of functionality as more general platforms are surprisingly difficult to find. Doubleknot leads the pack in this regard.
As an association that works with cultural institutions, effective tools and program management capabilities are essential to wrangle all the moving parts. Explore Doubleknot's features for an idea of how it can help!

7. MIP Fund Accounting
AMS Software Overview
MIP Fund Accounting is a leading bookkeeping solution designed to adhere to the specific needs of associations. The financial management needs of associations are slightly different than those of for-profit companies. 
From member fees to fundraising opportunities, all of the revenue your association brings in is tied to the advancement of your services rather than generating more money. For this reason, associations thrive with a fund accounting-specific solution.
Top Features of this Association Management Solution
MIP Fund Accounting helps associations track every dollar from its acquisition to its purpose of enhancing programming. Some of the many features offered through this comprehensive solution include:
The choice to host servers on-premise or on the cloud.

This gives your association the freedom to choose how you want to organize and store your data in a way that you're most comfortable with. You can read more about how to make this choice here. 

Unlimited budget creation.

Create as many budgets as your organization needs to succeed and stay on track. This also allows you to compare your annual budget from year to year to see areas for tightening up estimates and getting better on track.

Dashboards and reports. Track your association's financial progress no matter where the money is in the system. You can pull custom FASB-compliant reports any time or just check in on your in-real-time dashboards.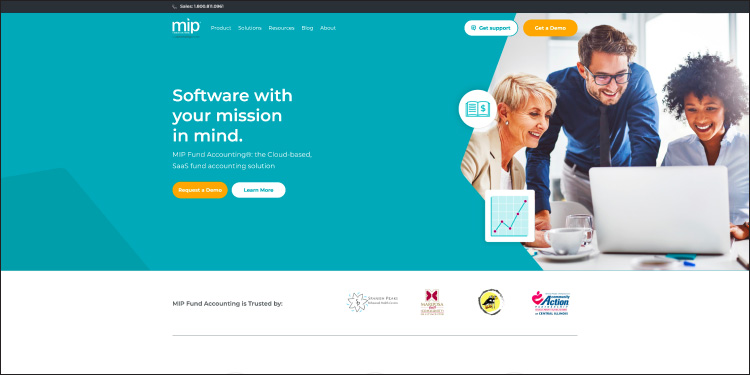 Why This Association Software Made the List
MIP Fund Accounting is a great way to organize your association's finances, but it takes things a step further! The financial management solution integrates with other association software solutions offered to help you design a complete tech ecosystem.
When your accounting solution integrates with effective association management, learning management, career center, event management, and payment software solutions, you can feel confident that all of your financial data will be accounted for and reported on for future decision-making.

8. DonorPerfect
AMS Software Overview
DonorPerfect has been a popular choice of management software for nonprofit associations for several years now, with an emphasis on the niche needs and operations of mission-based and fundraising-centric membership programs.
Mid-sized associations in need of effective data and member management tools should explore DonorPerfect's features. As a relatively lightweight CRM solution for nonprofits, the platform is flexible and can easily be adjusted to suit your association's needs perfectly.
Top Features of this Association Management Solution
DonorPerfect offers all the essential features for your association to better manage its relationships and streamline operations:
Robust data management.

DonorPerfect offers a scalable database service that grows along with you. Unify all your data in a way that maximizes its usefulness.

Comprehensive analytics tools.

Reporting and analytics capabilities can guide your evolving engagement and growth strategies. Dashboards and automatic reporting make it even easier.

Membership and volunteer tracking. Manage your relationships with constituents to ensure no one falls through the cracks. DonorPerfect can help you keep engagement high.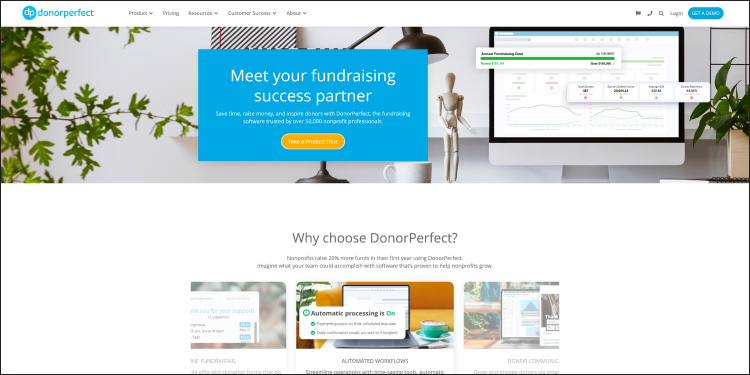 Why This Association Software Made the List
DonorPerfect made the list because it's a flexible option for both organizations and associations looking for effective, relatively lightweight solutions. Its general features can provide a sturdy framework for your association's growth.
Plus, its API means that tech-savvy associations can design their own fully customized platform to really make the most of DonorPerfect's tools!

9. Higher Logic
AMS Software Overview
As a management software suite that focuses heavily on providing engagement-boosting tools, Higher Logic offers a number of effective solutions for associations.
Although Higher Logic's tools aren't totally comprehensive, its broad range of engagement platform solutions means that you can find a useful tool to address any of your association's goals, from managing online communities to planning events to creating custom advocacy programs.
Top Features of this Association Management Solution
A focus on community-building is a sound strategy for uniting and managing your association. Higher Logic's top features include:
Online community management tools.

Automation tools, directories, calendars, and collaborative features round out Higher Logic's online communities toolkit.

Marketing automation services.

Higher Logic offers smart marketing automation tools, too. Target your message and reach wider audiences than ever before!

Event community setup and management. Create and manage standalone sites and discussion communities for your association's major events.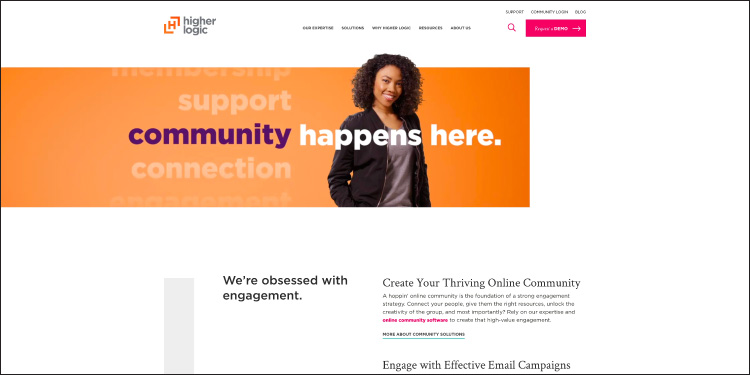 Why This Association Software Made the List
As a provider of extremely useful tools to aid your association management projects, especially those involving online engagement with members, Higher Logic is a great choice.
It can't replace a more comprehensive association management software platform like some of the top entries on this list. However, its tools can definitely help associations that only need specific engagement solutions.

10. Sumac
AMS Software Overview
Sumac is a popular management software solution for small nonprofit organizations with relatively tight budgets.
Its features are nonetheless comprehensive, customizable, and scalable to your needs. This makes Sumac an excellent choice for small or young associations that need easy-to-use management tools and digital engagement features.
Top Features of this Association Management Solution
A customizable and lightweight software solution should still offer the same level of utility as other tools. Some of the many effective features of Sumac include:
Lightweight management and database.

Sumac's member and volunteer management tools allow your association to easily track key metrics and record essential points.

Event and eLearning planning.

Ticketing, event planning, and course registration features help you engage your members without a more expensive or heavy-duty solution.

Full customization options. Sumac is happy to create custom integrations and solutions for their customers, so your association can easily fine-tune your new management platform.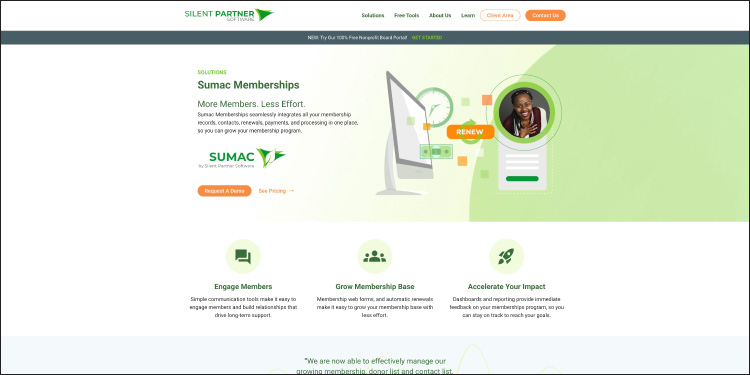 Why This Association Software Made the List
Sumac is an excellent association management software solution because it strikes the perfect balance between affordability and utility.
As a lightweight but comprehensive and customizable option, Sumac is a great choice for all kinds of organizations.

11. Tendenci
AMS Software Overview
As one of the only fully open-source association management software solutions, Tendenci can be a smart move for groups looking for customizable and comprehensive solutions.
As an open-source platform, Tendenci offers a wide range of pre-built features and tools in their app marketplace, allowing your association to customize your software solution by mixing and matching tools based on necessity.
Top Features of this Association Management Solution
On top of the underlying management and database system, Tendenci apps provide top features like:
Report writer tools

. Customize your reports by drawing from data and automating analytics, invoices, and donation data all in one place.

Community forums.

Like other association management software, Tendenci offers effective online community tools to get your members engaged.

Job bank features. Let your members post job listings in a designated space online. Provide access as a major member benefit!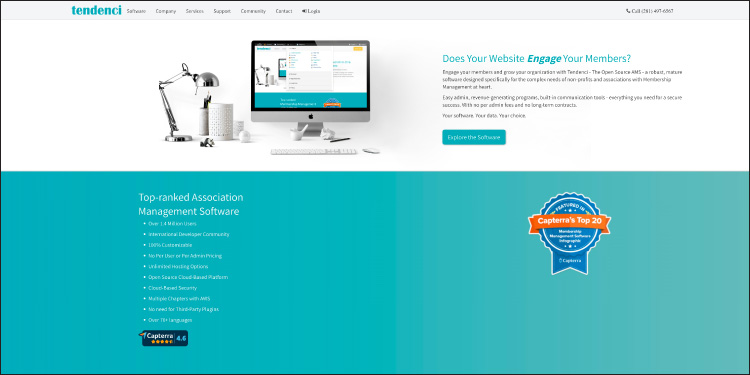 Why This Association Software Made the List
Open-source software plays an increasingly important role for all kinds of organizations. For associations, they mean complete customization.
Tendenci's exhaustive features make it a great choice. However, it's best for associations that already understand all their needs and have the time and resources to fully customize their software.

12. Velosio
AMS Software Overview
Focused on more heavy-duty CRM and AMS solutions full of custom integrations, Velosio offers great association management software for larger groups.
By partnering with Microsoft and a number of other key players, Velosio can provide a high level of technical quality and customization, although its price point sits higher as a result.
Top Features of this Association Management Solution
Velosio's most central features include:
Core CRM capabilities.

Velosio builds all of its additional features on a powerful database foundation, empowering your whole system to contribute to smarter data protocols.

Membership management.

A classic suite of management tools rounds out Velosio's AMS platform, with membership analytics and custom reporting features included.

Grant management tools. Manage your association's grant applications and track their progress in one easy-to-use, collaborative space.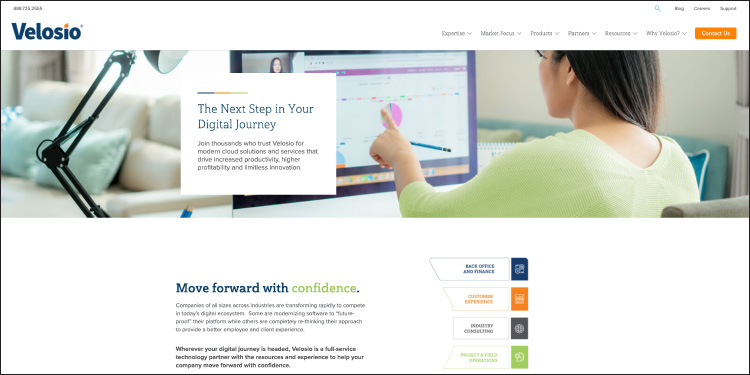 Why This Association Software Made the List
For larger associations with the time and resources to develop heavy-duty, customized solutions for the long-term, Velosio is a great choice.
Their partnerships will give your association access to powerful, integrated management solutions, but the level of investment required for their services might be out of reach for many groups.
---
When researching new management tools for your association, it's essential that you extend your search beyond the systems that your organization initially developed with. These initial software solutions generally don't have the right amount of power and the variety of management features that your growing association needs, and they often provide only very general tools.
Instead, weigh all your options. This list offers a sample of both extremely niche-solutions and highly robust and comprehensive membership management platforms. All-in-one solutions built on lean frameworks are a surefire way to streamline operations, while specialized software is more likely to provide you with the exact tools you need to achieve your goals.
Continue your research on association management software with these additional resources: