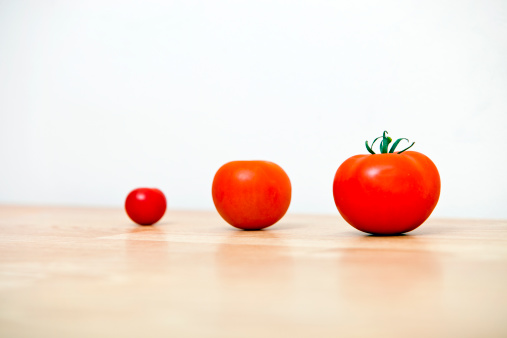 Google for Nonprofits has made it so you can add $10,000 per month in free text advertising to your budget and increase your potential to show up on the first page of search results.
Pretty great, right?
Yet through my marketing and web design work with nonprofits at ArcStone, I've ran into one too many organizations who struggle with AdWords or even have yet to look into Google Ad Grants.
In fact, "the average nonprofit grantee uses only $330 a month out of a potential $10,000 Google Grant" (Search Engine People).
What isn't surprising is the reason behind this: nonprofits are often short on time and resources to use this grant to its fullest. AdWords can be confusing, and without the expertise to manage the $2 click limit and conduct keyword research, your results may be minimal.
Below I take a deep dive into how AdWords works, nonprofit grant qualifications, and recommendations to improve your campaigns. If you've already signed up and are simply looking to increase your efficacy with your account, skip to section 3.
I. First, how does AdWords work?
AdWords has done a LOT for nonprofit marketers as they seek to show up on that competitive and coveted front page of Google. To show you how this works, take a look at the example below.
If I were a donor and wanted to donate to support refugees, I may go into Google and type "donate to support refugees."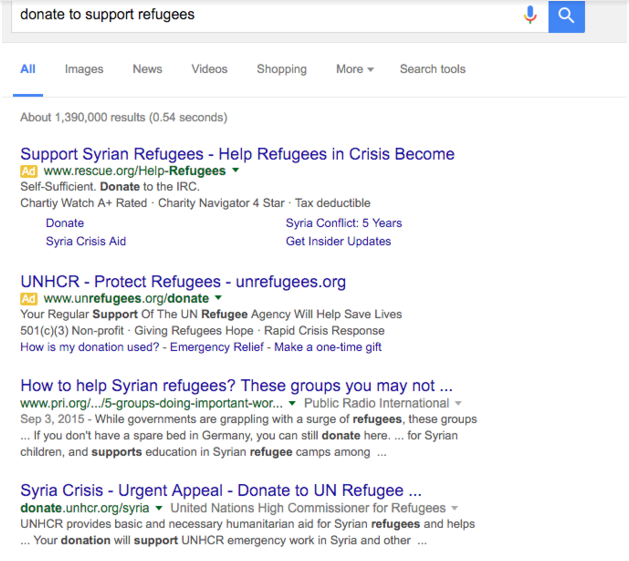 From my screenshot, you can see that rescue.org is the first result. However the nonprofit isn't showing up first just naturally.
Notice the small yellow "Ad" icon next to their URL – that indicates they are using AdWords and paying to boost their rankings. To see the difference, look to the 3rd and 4th result, and see how they don't have the yellow "Ad" icon. Those are the first organic results (or results that show up due to their site's content matching the Google Search).
This goes to show that if rescue.org had not used paid ads, they would not be showing up as the first result. In my search results, they were actually 12th.
Why is this first result so important to your nonprofit? According to Search Engine Watch, the first position on Google gets 33% of clicks, and then clicks drop drastically from there. If your nonprofit received that many more clicks, think of all the donors who would be more aware of your cause and who might actually donate.
So how does this work? In short, with Paid Ads your nonprofit chooses keywords which will then link with search queries in Google. Google takes into account your keywords plus how much you bid for a position, and places your nonprofit's ads at either the top or bottom of the qualifying search results page. That means more searchers find your nonprofit.
II. Next, how to sign up for Google Ad Grants
Qualifications
Your nonprofit must be a registered nonprofit or charity – see Google's requirements here
Your work should fall outside of the following areas:

Government
Hospitals or health care
Academics or childcare centers – If you are a school, take a look at Google for Education for industry-specific help

Must have an up-and-running website
Registration
Fill out the membership application page here (as seen below) and wait 24-48 hours for approval from Google 
Be aware of the restrictions:
a) There is a monthly budget of $10,000 or $329 per day.
b) There is a limit of $2.00 bid per click.
c) You can only target your audience based on keywords and not based on their location, language, device or other audience-based targeting features included in normal paid accounts.
d) Ads will only appear on the Google Search results pages. Other campaigns such as display, video & remarketing campaigns are not part of the program.
e) You can only use text ads.
Resources
Use Google's Learning Center for ways to more fully take advantage of services.
Stay in the know with the latest from the Google for Nonprofits blog, the @googlenonprofit Twitter account and the users discussion group
Use our how-to's below to continually improve your AdWords success!
III. Now, how to maximize a Google Grant
Working with many nonprofits to improve their ad campaigns, my team at ArcStone has learned a bit about maximizing a nonprofit budget. Here are a few enhancements you could consider:
Track
Start with a review of your current AdWords progress. Track areas such as…
Which ads people are and aren't clicking on
How your keywords rank in a tool like SEMrush and Google Search Console
User flow: What do users do after they've clicked on your ad?
Where it might be worthy to bid above your Ad Grant's $2.00 limit: Use Paid Ads for those more competitive campaigns so you can bid higher when it is worth it
Measure changes
Make updates to your AdWords campaign that are strategic and measurable
With each edit you make to the campaign, make sure you track what was updated so you can point to why an improvement occurred
Add in "negative" keywords so you can lessen unprofitable clicks
Ensure landing pages are relevant so you can improve Quality Scores
Update your landing page
A common downfall our team sees with landing page design is in how when users click an ad and come to a landing page, there are too many options. Users get distracted when there isn't a clear call to action. Take a look at our case study with nonprofit Hunger Solutions.
Repeat
Continue to make changes: Each month with our nonprofit clients we track pre-defined metrics on the ads and then make small tweaks to monitor the next month.
Stay encouraged!
In our case study above where we made these changes, we saw…
178% increase in conversions over the course of the month post-updates
A decrease of 31% in cost per click
3x as many calls from the landing page