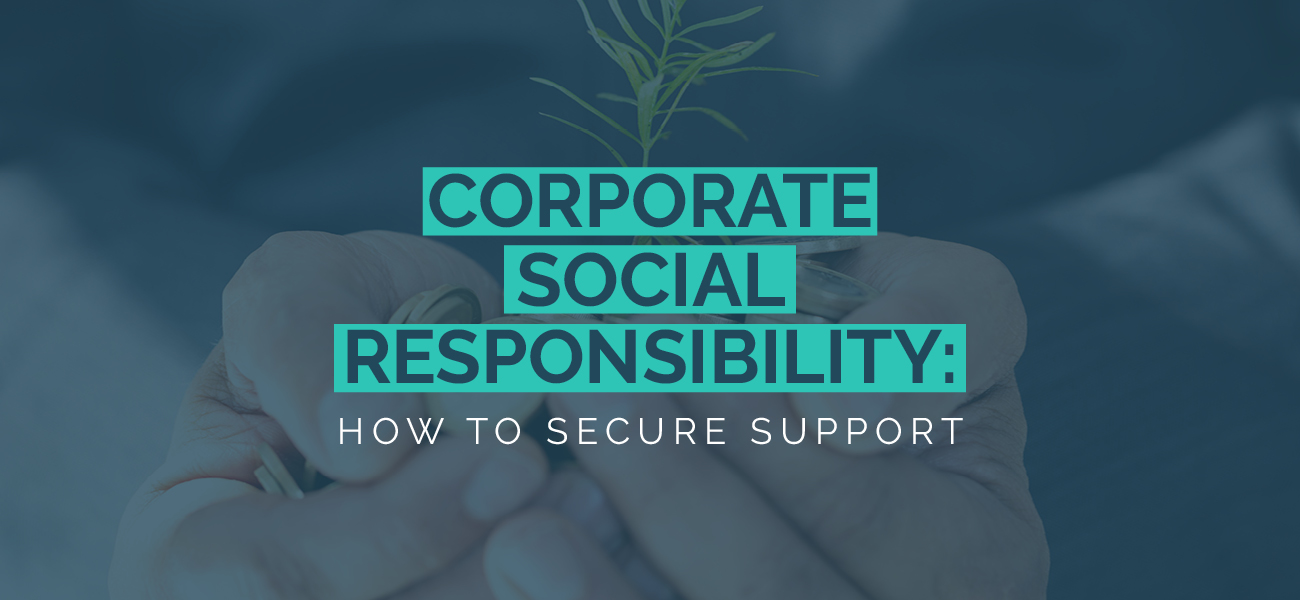 As a mission-driven organization, your nonprofit aims to make a meaningful impact on its community. Wouldn't it be nice if, in turn, the community supported your efforts and you worked together to achieve your goals?
Corporations that are socially responsible make it easier for your nonprofit to make a difference, not only by funding your efforts but also by employing philanthropic practices that benefit the community. In this guide, we'll reveal how your nonprofit can tap into this significant support by exploring the following topics:
What Is Corporate Social Responsibility?
Types of Corporate Social Responsibility
CSR Benefits
How to Tap Into Corporate Social Responsibility
Examples of CSR Programs
In order to capture the attention of companies and convince them to offer their support, your nonprofit needs to approach corporate social responsibility (CSR) strategically. With that in mind, let's explore the basics of CSR.

What is corporate social responsibility?
Corporate social responsibility is a business model through which companies take responsibility for their impact on society by employing practices to improve and support it.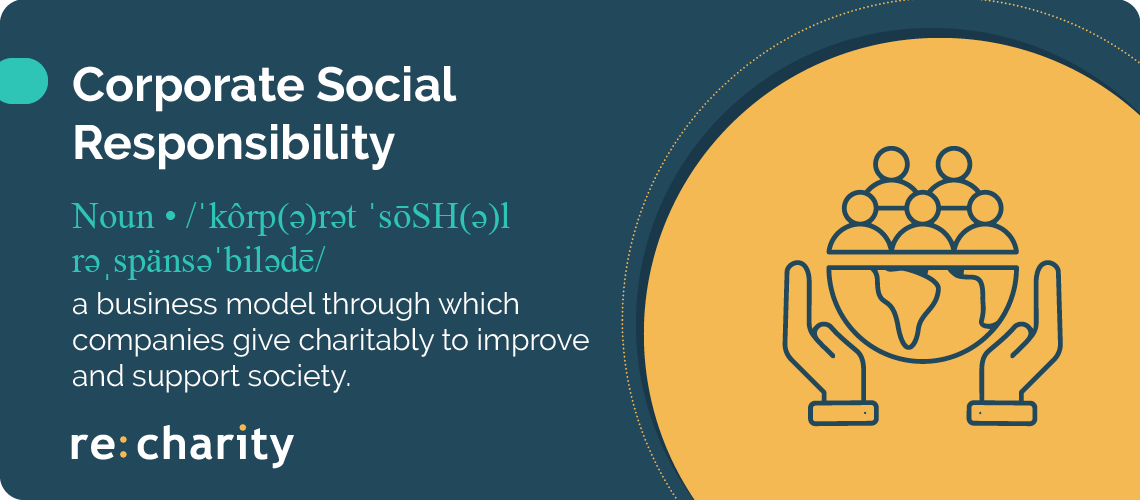 There are a variety of ways in which companies may choose to practice CSR, including charitable giving and improving internal operations. There are also a variety of groups a company's CSR efforts may serve, including staff members and customers worldwide, as these initiatives aim to provide positive social value to local and global communities alike.
For nonprofits, this means that companies practicing CSR have the potential to be more than just financial contributors. CSR not only provides opportunities for companies to give to nonprofits in diverse ways, but it also empowers them to become full-fledged partners of nonprofit organizations, actively working to make a difference in the community.
Types of Corporate Social Responsibility
Traditionally, there are four main types of corporate social responsibility. Companies may practice any variety of these socially responsible initiatives, but the area most likely to impact your nonprofit is their philanthropic endeavors. However, all types of CSR can impact a nonprofit's work, so we'll take a closer look at each initiative.
Environmental, Ethical, and Economic CSR
Socially-responsible practices that don't directly benefit nonprofit organizations typically fall within three categories:
Environmental: Through this form of CSR, companies aim to preserve the environment by reducing their pollution, recycling, and replenishing natural resources. By enforcing these measures, companies treat the environment responsibly.
Ethical: Companies that implement ethical standards by treating others fairly commit to treating their customers, staff members, and stakeholders with respect.
Economic: Economic responsibility refers to any financial investment the company makes in the name of CSR, such as the money spent enhancing company operations or raising wages for employees. This type of social responsibility encompasses all CSR initiatives since companies typically commit financial resources to power their CSR efforts.
Although these types of CSR may not involve directly donating to a nonprofit, they indirectly support nonprofit goals by making a significant impact on the community. For example, if an environmental nonprofit aims to increase recycling in its local community, then a company's new internal recycling practices will indirectly aid those efforts.
As a result, companies' operations begin to align with nonprofit missions, making it easier for charitable organizations to ask for corporate support through donations or grants.
Philanthropic CSR
At the cornerstone of social responsibility is corporate philanthropy, through which companies use their resources to directly support nonprofit organizations. This way, companies can contribute to the betterment of society by empowering nonprofits that do the actual work.
Companies may donate directly to nonprofits through the following gift types: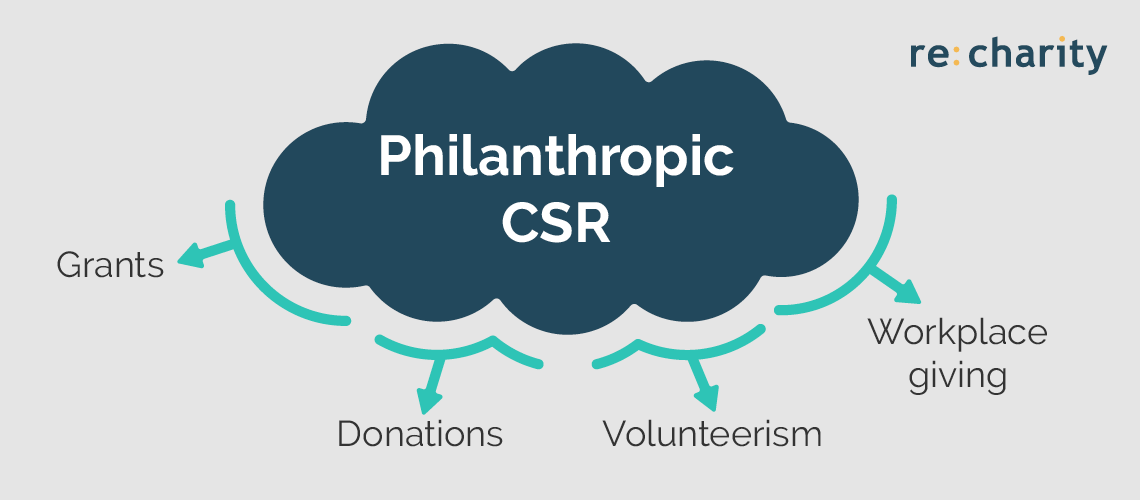 Grants: Companies may create grants and accept applications from various nonprofits. The organization that applies and makes the best case for support will be chosen and awarded the grant! Some grants are less competitive, like Google's Ad Grant, which awards eligible nonprofits $10,000 in ad credits to promote their websites.
Donations: Rather than establish an application process and have nonprofits compete for grant funding, some companies simply choose an organization to support and donate freely. These donations may be random monetary gifts, event sponsorships, or in-kind donations, such as goods or services.
Volunteerism: Many companies offer paid time off from work for volunteer work. That way, employees can participate in volunteer events during work hours without using their limited vacation or sick time.
Workplace giving: Companies and employees can partner to support nonprofits through workplace giving programs. Through these programs, companies contribute in response to their employees' giving, such as through matching gifts or volunteer grants.
There are a variety of corporate philanthropy programs, but matching gift programs are by far one of the most popular methods. Employees make a gift to a nonprofit of their choice, then their employer makes a donation of the same amount in response. Sometimes, companies take it a step further by offering to double (or even triple) donation amounts!
Matching gift programs can make employees feel supported in charitable giving and simplify the donation process, especially when you leverage auto-submission software to let donors automatically submit a request to their employers. Plus, your nonprofit benefits from collecting double the amount of donations!
CSR Benefits
The greatest (and most obvious) benefit of CSR is its ability to positively impact society. However, your nonprofit can also benefit from corporate social responsibility initiatives, and so can the companies that employ these practices! Benefits of corporate social responsibility include: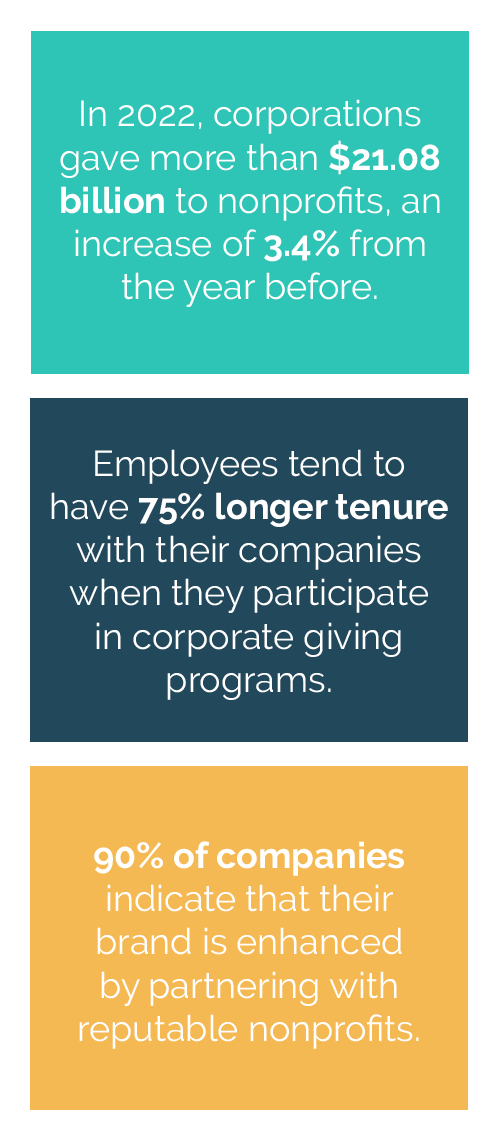 Increased nonprofit revenue: In 2022, corporations gave more than $21.08 billion to nonprofits, an increase of 3.4% from the year before. Clearly, CSR efforts raise significant support for nonprofit organizations!
Employee engagement: People enjoy working for companies that are socially responsible, and are often more engaged and committed to workplaces that encourage charitable giving. In fact, employees tend to have 75% longer tenure with their companies when they participate in corporate giving programs.
Improved company reputation: 90% of companies indicate that their brand is enhanced by partnering with reputable nonprofits.
Depending on the type of CSR companies choose to engage in, there can be additional benefits. For example, let's say your nonprofit was awarded a grant and the company announces it on their social media channels. Your nonprofit will inadvertently receive brand exposure and get its mission in front of the company's marketing audience, which you otherwise wouldn't have been able to reach!
How to Tap Into Corporate Social Responsibility
Understanding the value of corporate social responsibility is just the first step in acquiring corporate support. To start bringing in game-changing funding and bring awareness, your nonprofit can try the following steps: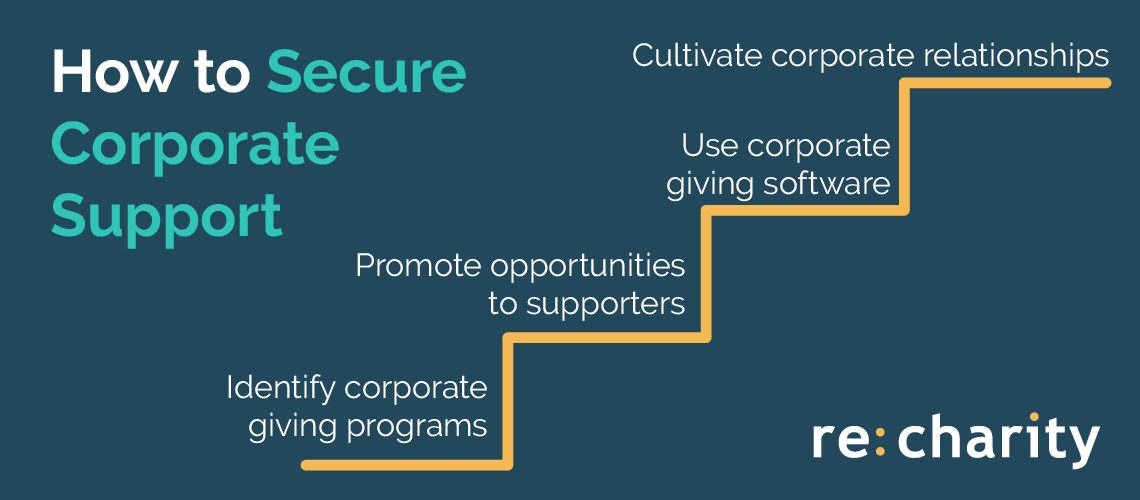 1. Identify corporate giving programs
Some companies are already actively participating in corporate social responsibility and ready to give to your organization. Whether they've started a matching gift program or a volunteer grant, it's up to your nonprofit to identify existing opportunities that you may be missing out on.
Lean on the networking opportunities provided by your board members, staff, donors, and other constituents. They may have connections with local business owners or know of opportunities that you haven't heard of yet. Some simple research into local businesses and larger corporations can also help you identify CSR efforts that could impact your nonprofit.
2. Promote opportunities to supporters
Even if you're aware of a company's corporate social responsibility efforts, your ability to tap into the program's benefits may depend on employee participation.
According to Double the Donation's matching gift statistics, an estimated $4-$7 billion goes unclaimed in matching gifts each year. Imagine how much your nonprofit could raise in matching gifts alone if donors simply knew about matching gift opportunities and participated in the program!
Promote workplace giving opportunities to your supporters and encourage them to look into their employers' CSR programs.
3. Use corporate giving software
Raising awareness of corporate giving can help get donors on board, but they'll quickly lose interest if the donation process is complicated. Luckily, several tools are available to simplify corporate giving, depending on the type of program being run. Some examples of corporate giving software include:
Matching gift database: A platform that manages matching gifts can help your nonprofit market the opportunity to its website visitors. With the help of a matching gift database, your nonprofit can encourage donors to verify their eligibility and even automatically submit a matching gift request if your tool offers auto-submission functionality.
Volunteer management tools: From volunteer recruitment to retention, it takes a lot for your nonprofit to sustain its volunteer base and secure corporate support, like volunteer grants. Choose a volunteer management platform that integrates with an automation tool so that you can manage your volunteers' engagement as well as identify potential corporate support.
Grant management: Grant management software: Grant funding involves finding and processing grant applications, as well as tracking the grant money awarded to your nonprofit. To keep this data organized, invest in a comprehensive grant management tool that will help you find grants, apply for them, maintain compliance with the grant's requirements, and much more.
Remember, corporate social responsibility can take numerous forms. Your nonprofit will better manage the corporate support it receives by leveraging the right tools or outsourcing to an expert who can help.
4. Cultivate corporate relationships
An easy way to garner corporate support is by reaching out directly to the companies that might be interested. You can make direct requests for donations, event sponsorships, and other support simply by asking.
The key to cultivating corporate relationships, though, is to engage with the company beyond your request. Consider the following ways you might retain a company's support:
Communicate the benefits of partnership. Some companies are willing to donate, but may not realize the power of continued support. Summarize the benefits of their recurring contributions, such as repeated brand exposure for their company. You might even create a comparison chart to show the impact made with one donation versus the maximized impact of continual support. However, regardless of the level of donation, be sure to communicate your gratitude to every corporate supporter.
Call out their socially responsible actions. Companies' reputations largely impact their success, meaning brand exposure is one of the primary ways you can benefit their organization. Create a page on your website or a series of social media posts calling out your corporate sponsors and highlighting their dedication to corporate social responsibility.
Thank them for their support. Gratitude, whether public or private, goes a long way in showing corporations why their social responsibility is important. Use handwritten letters, digital cards, and gifts to thank corporations for their support, whether they contributed directly or their CSR efforts support your nonprofit's mission.
Another great way to retain corporate support over a long period of time is by offering multiple ways to contribute. For example, a company may not be able to sustain repeated donations, but you can can follow up with other opportunities to engage such as volunteerism or in-kind donation support.
Examples of CSR Programs
Want to see corporate social responsibility in action? Take a look at the following remarkable CSR examples.
Microsoft
This tech company cultivates a respectful and inclusive workplace culture through initiatives like training and development and ample paid paternal leave. Plus, Microsoft is one of the largest contributors of matching gift funds, with over $255 million contributed to more than 32,000 nonprofits.
General Electric
The multinational conglomerate company, General Electric, produces technology that helps to generate approximately 30% of the world's electricity. To reduce its carbon footprint, the company is committed to decarbonizing the energy sector while increasing the accessibility of sustainable electricity.
But the company's CSR efforts don't stop at sustainability. General Electric contributed $44.2 million in company donations and $9.3 million in employee giving to various nonprofits and educational institutions.
Johnson & Johnson
This well-known pharmaceutical company has been working to reduce its impact on the environment since 1986, when Johnson & Johnson established its formal energy management program. Currently, their environmental CSR efforts include sourcing the company's electrical needs from renewable sources and achieving carbon neutrality for its operations.
Coca-Cola
Coca-Cola's CSR efforts are largely focused on sustainability, including the company's internal operations and efforts to sustain the environment. They aim to achieve a 25% carbon footprint reduction by 2030.
Wells Fargo
This financial services company donates up to 1.5% of its revenue each year to charitable causes. Wells Fargo offers grants for nonprofits to support economic advancement, housing affordability, small business growth, and sustainability.
The company's employees receive 16 hours of paid volunteer time each year to give back to their communities, through which over 100,000 employees actively participate in community support opportunities. Wells Fargo also encourages employees to donate to charities of their choice by facilitating workplace giving initiatives year-round.
Additional Corporate Social Responsibility Resources
While it's up to corporations to start their socially responsible efforts, your nonprofit can do its part to secure corporate support. If you're interested in learning more about CSR and fundraising tools, check out the following resources: