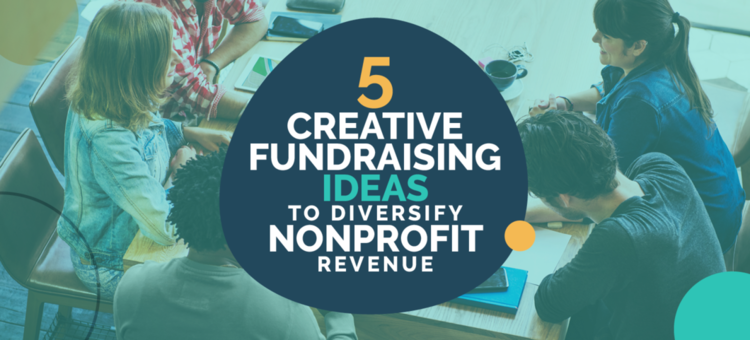 Many nonprofits tend to rely on just one or two main funding sources to help save their staff's time and energy. Despite these advantages to a more focused fundraising strategy, the key to running a financially sustainable organization is diversifying your revenue streams.
To accomplish this, you'll need to find new, creative ways to engage your nonprofit's supporters in fundraising. But with the number of potential fundraising opportunities out there, it can be hard to know where to start.
In this guide, we'll aim to provide you with some inspiration by sharing five of our favorite creative fundraising ideas. Here's what we'll cover:
By taking a diversified approach to fundraising, you can set your nonprofit up for success in multiple ways. Not only will your organization gain a greater potential for growth, but it'll also be in a better position to recover financially if your annual costs are higher than expected or a funding source falls through. Let's dive in!

1. Online Shopping Fundraisers
Online shopping fundraisers allow individuals to contribute to their favorite nonprofits as they make everyday purchases. When a supporter shops at a participating online retailer using your organization's fundraising app, a portion of their total sale goes directly toward funding your mission.
ShopRaise's guide to shopping for a cause explains that your nonprofit can launch an online shopping fundraiser in three easy steps:
Partner with an online shopping fundraiser platform. These platforms provide the app your supporters need to contribute to your organization and will handle all retailer negotiations for you. Once you sign up, their fundraising experts will also walk you through a simple onboarding process and create a branded landing page for your nonprofit.
Market your fundraiser. Your supporters will need instructions to participate in your online shopping fundraiser and can benefit from regular reminders to continue shopping for your cause. Leverage multiple marketing channels such as your nonprofit's website, email, social media, and flyers to spread the word.
Track your results. You'll be able to view real-time data on your fundraiser's progress, allowing you to adjust your marketing strategy over time and thank your top supporters individually. To protect shoppers' privacy, you'll see just their names and fundraising totals—only the supporter will know exactly what items they purchased.
Online shopping fundraisers are free to launch, easy to run, and make a great year-round revenue stream for your nonprofit. They also benefit supporters because they get to contribute to your organization without spending any additional money. Plus, they can shop more ethically while still having the flexibility to purchase from their favorite businesses.

2. Gift Card Fundraising
Another way for your organization to raise funds through shopping is by starting a gift card fundraiser. Similarly to an online shopping fundraiser, a portion of the proceeds will be contributed to your organization when a supporter buys a digital gift card from a participating retailer. Supporters can then use their gift card for online or in-person purchases, or they can forward the email to a friend or family member as a gift.
Two of the best months to launch a gift card fundraiser are November (as supporters think about buying holiday gifts for their loved ones) and April (as they prepare for Mother's Day, Father's Day, peak wedding season, and upcoming graduations). However, it's best to leave your fundraiser open all year round so supporters can contribute by purchasing gift cards for their family and friends' birthdays.

3. Virtual Events
Events make great annual fundraisers, allowing your nonprofit to expect an increase in revenue at a specific time of year. Plus, they bring your community together around a cause.
However, many popular fundraising events can be moved online to expand your organization's reach. Some examples include:
Galas. A twist on a traditionally formal fundraiser, a virtual gala allows supporters to experience a night of entertainment and education about your organization from the comfort of their homes. Invite special guests to play music or give speeches, host contests and drawings for prizes, and run donation challenges during your event livestream to raise funds.
Silent auction. Silent auctions can easily be taken online by leveraging mobile bidding software. Instead of browsing tables and writing bids on paper bid sheets, supporters can view all of your prizes and bid on their favorites with just a few clicks. Plus, the software will send them notifications when the auction is about to close and when they're outbid on an item to keep the competition going.
5K run or walk. Give your supporters some flexibility in completing their 5K race by allowing them to run or walk it on their own time and in any location. Charge an entrance fee, set up peer-to-peer fundraising pages for each participant, and instruct them on how to track their distance and report their time after the race.
Because virtual events aren't dependent on a particular location, they allow you to connect with supporters who live far away from your organization. Plus, they tend to have fewer upfront costs than in-person events.

4. Text-to-Give Campaigns
Mobile giving can function as a standalone fundraiser, but it also pairs well with other campaigns or events. No matter how you go about text fundraising, it's an effective way to ask for donations by meeting supporters where they likely are—on their smartphones.
Once your nonprofit signs up with a text-to-give provider, you'll receive a unique five-digit shortcode or 10-digit long code. Then, supporters will text a keyword to that code and receive a link to your online donation page so they can make their gift. Make sure your donation page is mobile optimized before launching your campaign so supporters can easily fill out the form on a touchscreen device.

5. Matching Gifts
Matching gifts are a popular form of business philanthropy that allow your nonprofit to double many of the donations you already receive. When a supporter who works for an organization with a matching gift program contributes to your nonprofit and submits a match request, their employer will also donate, usually matching the original donation at a 1:1 ratio.
According to matching gift statistics from 360MatchPro, 84% of nonprofit donors say they're more likely to give if they know their contribution will be matched, and one in three would give a larger donation if a match were offered. Considering these and the fact that more than 26 million people work for businesses with matching gift programs, matching gifts can be a lucrative funding source for your nonprofit.
However, 360MatchPro also estimates that up to $7 billion in matching funds goes unclaimed each year, mainly because many donors don't know their gifts are eligible to be matched. To help solve this problem, embed a matching gift tool directly into your organization's donation form to prompt supporters to check their eligibility and submit their match requests. Additionally, make sure to promote matching gifts to your donors across all of your marketing channels.
The ideas in this guide are just five of the many possible fundraisers your nonprofit could try to diversify its revenue streams. Weigh the costs and benefits of each fundraiser and consider your supporters' interests to choose the right combination of funding sources for your organization. Happy fundraising!