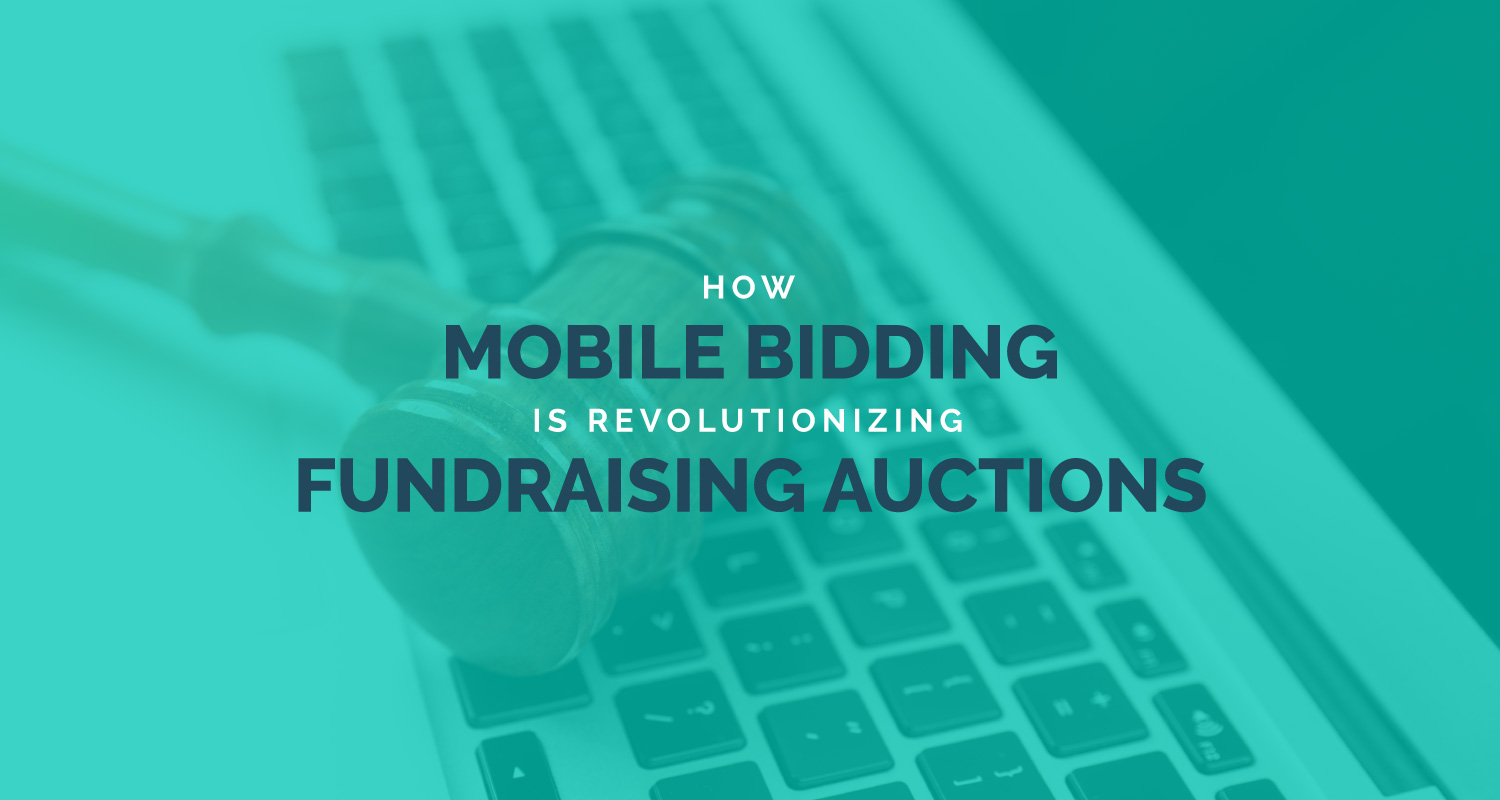 If you've been keeping an eye on the fundraising event landscape, you've probably heard of mobile bidding.
With the advancement of technology in our smartphones and virtual fundraising bursting onto the scene in the last several years, the process of mobile bidding has become commonplace for raising more money at charity events, as it allows people to easily donate and bid using silent auction software from the palm of their hands.
In this article, we'll dive into how and why mobile bidding is revolutionizing the auction space.
What's wrong with traditional auctions?
Traditional silent auctions have served nonprofits well for years, but their time is over. Organizations everywhere are realizing that conventional auction methods like the use of paper bid sheets are outdated and that mobile bidding is the future.
Without a mobile bidding solution, you risk running into all the pitfalls of traditional auctions:
Disorganized bidding process. If there's a popular item in an auction, guests may crowd around the bid sheet and cause other items to be blocked from bidding. Mobile bidding solves this problem by letting guests bid on items at the same time from their phones.
Guests not knowing when they're outbid. With traditional methods like paper bid sheets, guests will constantly have to interrupt their activities to go back to the auction area and monitor their bids. This not only disrupts donor engagement, but potentially results in less money raised. If a bidder forgets about an item they're bidding on, they won't return to bid higher.
Difficult to manage. Without a mobile bidding solution, it's hard for event organizers to tell which items are popular or which guests are bidding the most. They may also have to deal with "bid sheet bullies:" those who want to win an item so badly that they prevent others from bidding on it, costing the charity valuable donation dollars.
Long checkout lines. Nothing deflates an otherwise successful fundraising event more than guests having to wait in line at the end of the day. With mobile bidding, checkout can be a breeze. It can even be automated so that guests do not have to wait in long lines for their auction items.
You can avoid all of these hurdles by choosing fundraising event software with intuitive mobile bidding features.
Mobile bidding improves your guests' experience.
One of the biggest reasons that mobile bidding is taking over fundraising auctions is that it makes for a better guest experience. Imagine your donors, sponsors, and their guests entering the event with complete ease, and being able to raise money in your auction before the event day even arrives. Mobile bidding can make that possible!
Mobile bidding can help you boost attendance by giving your guests:
Greater flexibility: With mobile bidding, people can bid on your auction items from virtually anywhere. For example, if you are raising money for your school, your auction event can reach beyond just parents and students. Friends and family from all over the country can bid on items and support their loved ones with their donations. You can also open your auction several days in advance of the event, allowing guests to preview items and begin bidding.
A more engaging way to participate: Mobile bidding software — especially one that has its own native app — keeps your guests engaged in bidding activities and gives them an enhanced experience. Bidders will be able to see items up close and personal, read the descriptions without worrying about someone waiting in line behind them, and search specific items and categories they want to shop.
Real-time updates: Mobile bidding software allows bidders to see item updates in real time, gamifying your auction. Once a bidder feels as though they can win, the competitive spirit kicks in, and that's how bidding wars get started! With real-time updates, guests may also be able to see live fundraising progress and feel more involved in the efforts of your fundraising event.
If you're using mobile bidding for the first time at your event, it's important to prepare your guests in advance. Be sure to highlight these changes and the benefits to your guests in your marketing materials for a more seamless transition.
Mobile bidding takes work off your nonprofit's plate.
Event planning takes a lot of work, and your team will thank you whenever you can save them time and effort. When you integrate mobile bidding into your auction, you'll:
Save time: Instead of filling out paper bid sheets by hand for every single item, you can quickly set starting bids and bid increments within your software.
Streamline checkout: There's no need to spend an hour manning a checkout table at the end of the event and manually accept payments. With mobile bidding software, guests can add their credit cards before the auction begins and handle any payments in the app.
Need fewer volunteers: While you'll still need some volunteers to ensure your auction runs smoothly, you won't have to worry about recruiting enough volunteers to keep tabs on bid sheets.
The best auction websites will come with even more features that simplify work for your team and allow you to focus on fundraising. Research options with your team to explore all the possibilities that different mobile bidding solutions offer.
Mobile bidding leads to higher bids and more revenue.
Handbid's guide to silent auctions explains that encouraging bidding wars generates higher auction revenue, and mobile bidding is the easiest way to create that friendly competition.
When using mobile bidding, the bidder's perspective looks a little something like this:
A guest finds an item they like and places an initial bid using their phone.
Later, the guest receives a push notification that they've been outbid.
The bidder immediately places a higher bid to get the item.
The cycle repeats, eventually leading to a much higher final bid and more funds raised for your nonprofit.
Again, when guests are invested and when they get competitive, it creates more excitement around your fundraising auction and generates more income for your cause.
---
As technology continues to advance and virtual fundraising becomes increasingly prevalent, the adoption of mobile bidding has become a powerful tool for organizations to raise more funds and engage a wider audience. With the ability to easily donate and bid from the palm of their hands, participants can actively contribute to charitable causes and make a meaningful impact.
Work with your team and your board to find the right mobile bidding software for you, and watch your fundraising dollars grow!