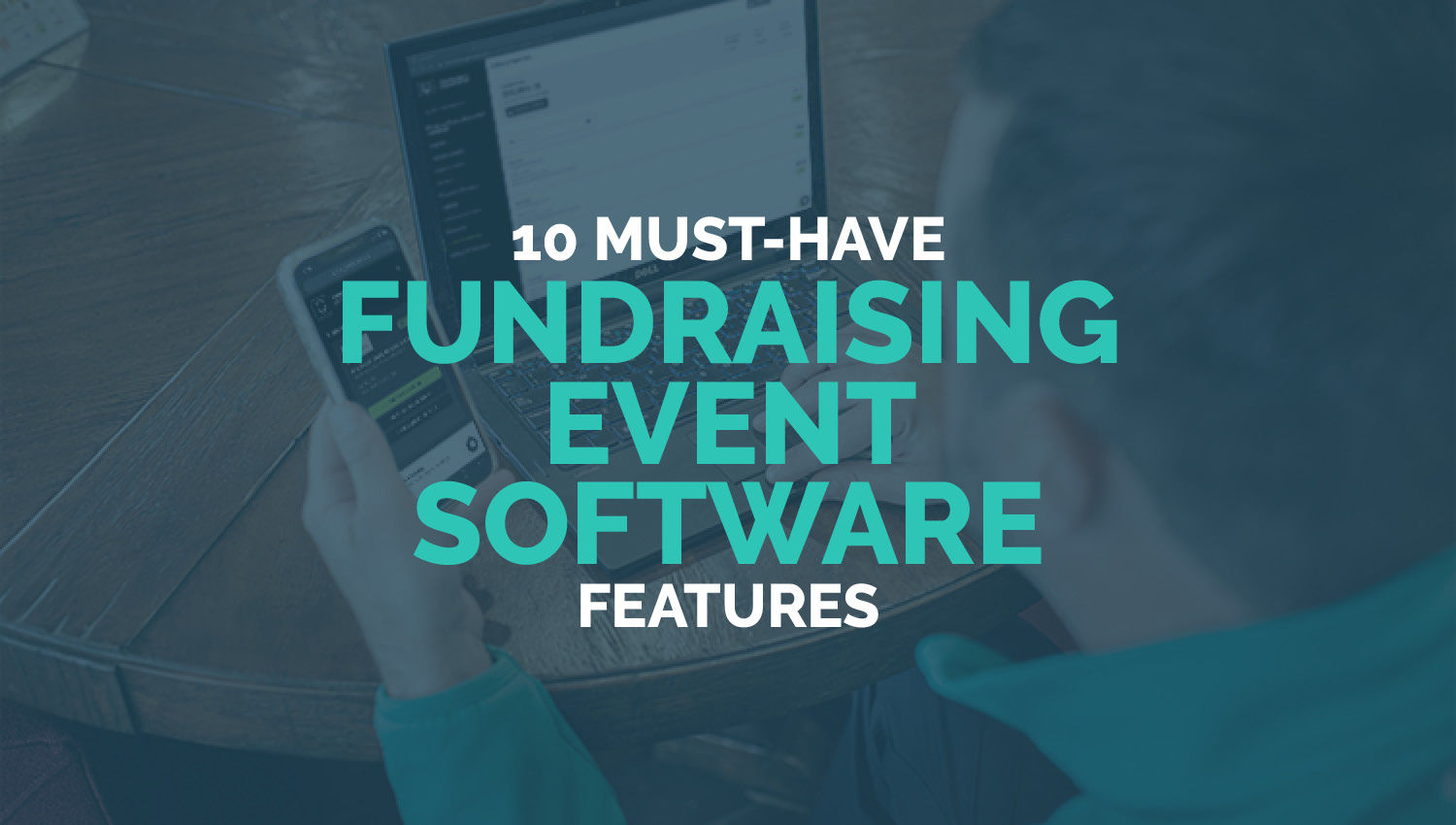 Your nonprofit's fundraising events are key pieces in the overall fundraising puzzle. These events are often major undertakings that come with a number of moving parts and component pieces to handle that lead to a professional, lucrative fundraiser.
The good news for nonprofit event planners is that software exists to help expedite the planning process, keep you organized, and make it easy to collaborate with your planning team. A centralized, web-based software keeps all your event data in a centralized location, ensuring you and your team are working with real-time information.
When looking at software solutions for your next fundraising event, keep these must-have features in mind.
1. User-friendliness & Support
No one wants to have to learn the ins and outs of a complicated software platform! Your event management software should be easy to navigate on your own, with intuitive workflows, attractive design, and helpful guardrails. Perhaps most importantly, it should be paired with a responsive support team to answer questions, provide coaching, and address issues in a timely manner.
2. Online Registration
This feature is key to automating event prep and saving busy organizers a ton of time and effort. Reduce the administrative load by transitioning paper registration forms with checks and mailed receipts to online registration. You'll capture donor and sponsor information right when they commit to your event and be able to manage it in the software's backend. Be sure it automatically sends an emailed receipt to registrants! Sync this information with your CRM to paint a valuable picture of which donors are participating in your event, returning year over year, and how they're supporting you through fundraising events.
3. Secure Payment Processing
This feature goes hand-in-hand with online registration. If money needs to be collected for the purchase of registration or sponsorship packages, add-ons, or donations, ensure the software not only has the ability to process payments, but that it's also done securely to protect your donors.
4. CRM Compatibility
Your organization's CRM is the digital information hub for everything related to donors and having access to it during planning and execution of your event is critical. Your event software should integrate or be compatible with your CRM so you can track participation, donations, sponsorships, and other pertinent information for further donor stewardship. Whether there's a direct integration or you can easily export and upload data, ensure you keep your data clean by detecting duplicate or outdated information.
5. Robust Reporting
Donor data is a gold mine of information your organization can—and should—leverage to better understand trends and donor preferences. You can improve future events with a data-driven approach, so your event management software should be able to generate a variety of reports that help you better understand the fundraiser's analytics and take action based on the story the data tells.
6. Email Communication and Marketing Tools
According to Double the Donation, email yields the highest ROI of any marketing channel, so utilize email marketing campaigns as part of the mix when promoting your fundraiser. Any event management software should also be able to send emails to registrants with just a few clicks. This makes it easy to quickly communicate updates, announcements, and reminders to registrants, like the event's schedule, venue or parking information, special guests, auction or raffle prizes, and sponsor recognition. You'll keep everyone informed, which helps the overall event run more smoothly.
7. Mobile App
Software that has an accompanying mobile app has a number of advantages. First, it makes it significantly easier to communicate with participants through push notifications. Need to remind folks that silent auction bidding closes in an hour? Or update them on your event day fundraising goal? Send a push notification with a call to action! Second, you can use it to collect event-specific information. For instance, if you're hosting a charity golf tournament, golfers can use a mobile app to track and submit their scores (which makes finalizing the results much quicker and easier than tabulating paper scorecards). Finally, an app can be used to engage participants and solicit donations. Participants could check the standings at a golf tournament,  check the status of their silent auction bids, and make a donation directly to your organization.
8. Sponsor Onboarding & Management
Sponsorships are the heart of a charity event's fundraising power. Leverage your event management software to onboard, manage, and provide exposure for your sponsors and maximize the sponsoring company's ROI. An event website that lists your various sponsorship packages for sale and lets sponsors purchase them and upload logos directly to the software creates a time-saving automation that eliminates the need for organizers to go back and forth to collect sponsor assets. What's more, digital sponsor exposure can be sold at a premium. According to GolfStatus, digital exposure throughout your event management platform—including on the event website and mobile app—earns sponsors thousands of impressions before, during, and after the event and comes with fewer hard costs (like printing signage or other materials).
9. Donor Engagement
You have a captive audience during your fundraising event, so find ways to engage attendees whenever and wherever possible. Get your supporters excited in the weeks and days leading up to the event by engaging them through digital channels and keep the momentum going throughout the event itself. For example, for a charity golf tournament, choose a software that offers live leaderboards where golfers can see standings in real-time and make a donation right from the leaderboard. Bonus points if there's a tracking mechanism where donors can see progress toward a goal and how they're helping!
10. GDPR and Data Privacy Compliance
General Data Protection Regulation, or GDPR, guides how entities can use, process, and store personal data. Compliance means keeping any data you collect about your donors secure, and is essential for building trust with your supporters and protecting your nonprofit from any bad actors. Any software platform you employ should be GDPR compliant and secure.
Wrapping Up
The right software—with the right features and solutions—impacts nonprofit event planning and is a huge factor in the success of your fundraising events. Determining what software is right for your organization depends on the type of event, cost, implementation timeline, and your needs. Get started by researching your options, keeping the above must-have features in mind, and analyzing what platform or platforms might work best for your fundraising events.