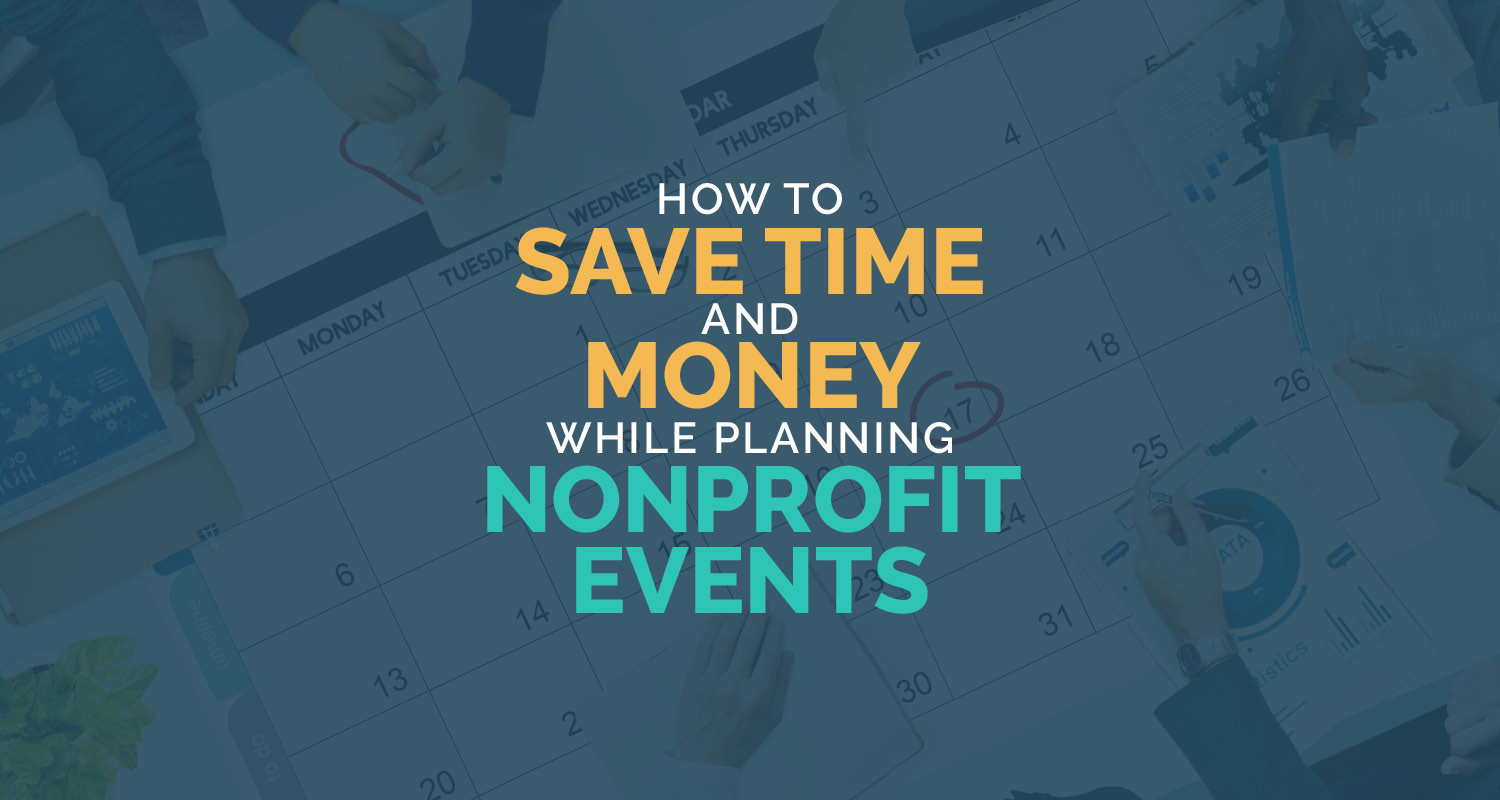 Nonprofit events play a critical role in helping your organization expand its reach, raise money, and spread awareness about your cause.
But let's be real—when it comes to planning successful and memorable nonprofit events, there are a lot of moving parts to consider—from the theme, decor, content, and entertainment you plan for the big day to the approach you take to marketing the event.
Getting your planning process right is especially important if you're a smaller organization that faces the challenge of balancing budget constraints with the desire to break free from mundane and uninspiring event practices.
In this quick guide, we'll cover five tips that will help you keep your bottom line in mind while also helping you plan an event that leaves your supporters feeling that they've just experienced something unique and special. Let's get started.
1. Give yourself plenty of time for the planning process.
Being short on cash may feel like the biggest hurdle your nonprofit is facing when it comes to planning unforgettable events. But the real enemy is time—you simply can't procrastinate the planning process and expect that you'll have everything in place to produce a showstopping event when the big day rolls around.
Depending on the size and scope of your event, you'll likely need at least a few months to iron out all of the details. But with so much to consider, from your venue and catering to presentations and entertainment, where should you start?
CharityBids suggests starting off your event planning process by:
Determining your objectives and goals for the event. What does your organization want its event to look like? What do you want to accomplish with the event? The goals you set at the beginning of the planning process should be flexible, but serve as guiding lights for the rest of your planning work.
Snagging your spot on your supporters' calendars. Once you've decided to host an event, pick a specific date and get save-the-date messages out quickly.
Creating an event planning committee. You'll need a team of committed individuals who are clear on their responsibilities in order to pull off your event. Your committee will likely consist of a committee chair, event designer, sponsorships coordinator, volunteer coordinator, public relations/communications manager, and an auction procurement team.
Budgeting for the event. Your goals and objectives should guide your budgeting. Also keep your priorities in mind. You may, for example, be willing to focus more of your event money on bringing in a top-notch keynote speaker than decorating your venue to the nines.
Outlining a planning calendar. Work backward from your event date to select target dates for specific planning tasks to be completed, when invitations and press releases should go out, and more.
As you dive deeper into event planning, you'll soon be working through details like which venue to rent or which caterer to go with.
But you should also take a step back to consider the big picture of your event and ensure you plan out your follow-up activities. After all, once you've wowed your attendees with a stellar event, the right follow-up messages will be the key to engaging them in future events and other aspects of your nonprofit's work.
2. Use the right tools.
The right set of tools can make your event preparation process more efficient and effective. Look for tools that can streamline and even automate different aspects of event planning. This will lighten the load on your team's shoulders, giving you the time and energy to think about more crucial aspects of your events.
Here are some of the tools you should consider having in your toolkit:
Event management software: The right event management tools can help you streamline your registration and ticketing processes, and also set you up to consistently communicate with your attendees well ahead of the big day.
Livestreaming platform: If you're hosting a virtual nonprofit event, you'll need a reliable livestreaming tool. Spend time well ahead of your event getting to know your platform's features and planning how you'll use those features to engage your attendees. You should also develop a backup plan in case you experience technical issues on the day of the event.
Surveys: Are you debating between different entertainers for your event and wondering which one your supporters would enjoy the most? Go ahead and ask them by using surveys. Not only will you answer your questions, but you'll also generate some excitement about your event and make your supporters feel involved in crafting their own event experiences.
Website event page: Your website's "Events" page can be a one-stop shop for everything your attendees need to know about your event. This page should cover everything from pricing and parking details to the schedule for the day and how to register. Ensure that the page matches the branding and the feel of the rest of your website to help maintain a consistent and professional image.
If you're investing in any new tools during your event planning process, look for one that will be able to scale up with your organization as it grows. This will ensure you have a solution you can use again and again and that your team is already familiar with.
3. Be resourceful.
In order to stay within the bounds of your event budget, you'll likely need to get creative and make the most of the resources you have at some point during the planning process. Here are a few tips for doing so:
Rely on committed, highly-trained volunteers. Some nonprofits may think that assembling a small army of volunteers will solve all their event problems. In reality, having too many cooks in the kitchen can bring your event efforts to a grinding halt, making your team inefficient and ineffective—especially if people are just standing around at your event wondering what they should be doing. Handle the volunteer recruiting process with care—only recruit the number of volunteers you really need to make your event possible and ensure that they receive the right training for their roles well ahead of the day of the event.
Tap into the power of in-kind donations and sponsorships. In-kind donations and money from sponsors can help you secure things you need to make your event special. For example, a board member who owns a restaurant may donate catering or bartending services for the night of your event, saving you money and helping you stay efficient by eliminating the need for your team to spend hours coordinating with vendors. Sponsors may also contribute funds or items to your event efforts, making it easier to bring your vision to life.
Repurpose materials from past events. Say that you hosted a fun run fundraiser last year for which you created a high-quality video that explains your cause. Why not reuse it this year? This is a great way to get the most mileage possible out of any assets you create for events. And, as you're creating new materials for your current event, keep future you in mind. Create videos, posters, and graphics with a focus on timelessness so that you can continue to repurpose materials down the road.
As you maximize your resources, you'll maximize the impact of your event. You'll also provide your supporters—such as your volunteers or sponsors—with opportunities to get involved and be part of building your event into everything you want it to be.
4. Promote your event for free with the Google Ad Grant.
When you're planning a nonprofit event, you likely set aside a portion of your budget for marketing. That way, you can promote your event and ensure you maximize the number of attendees.
However, with free marketing tools like the Google Ad Grant, you can reduce the amount you spend on event marketing and reinvest those extra funds into event planning.
The Google Ad Grant program offers eligible mission-based organizations $10,000 per month in ad credits. Nonprofits can use those funds to create ads that drive traffic to their websites and promote their events.
To leverage this free event marketing tool, follow these steps:
Check your eligibility. In order to qualify for the Google Ad Grant program, you must be registered as a charitable organization. For nonprofits in the United States, this means obtaining tax-exempt 501(c)(3) status with the IRS. You must also meet all program requirements of your country and agree to the Google for Nonprofits terms.
Apply for the program. Once you've determined your nonprofit is eligible, register with TechSoup and use the validation token you receive to sign up for Google for Nonprofits. Then, you'll complete the Google Ad Grant application and wait for your acceptance into the program.
Create your ads. You can use the funds Google provides to bid on keywords so that your nonprofit appears on the top of the search engine results page for interested users. For example, you might bid on keywords such as "walkathon for mental health" or "animal shelter event" to get people involved. Then, configure your ads so that they drive users to your event registration or ticket sales page.
Include a call to action. To increase conversions, make sure it's clear what action you'd like users to take. For event marketing, your call to action will likely encourage people to register or buy tickets for your event. Therefore, you should include a call to action such as "Register Now!" or "Get Your Tickets Today!" so people know exactly what they'll be prompted to do once they click through to your site.
Use conversion tracking. Google Analytics allows you to track the number of conversions your ads are producing. That way, you can see how many searchers you're turning into event attendees and can get an idea of how well your ads are working. Then, you can analyze which ads are doing best so that you can create similar ads for your next event marketing campaign.
Not only will the Google Ad Grant save you money that you can use for event planning, but it is also a powerful marketing tool that will ensure you gain new support and increase event registrations.
5. Make a wise investment—work with experts.
One of the best ways to save time and money planning your nonprofit event is to work with nonprofit event planning and production professionals.
This may seem counterintuitive, especially for growing organizations. Won't partnering with an event planning company just drain your budget?
Not if creating a unique, never-before-seen event is your goal. Working with event production experts is an investment, not an expense. This is because the right event professionals:
Know how to take loose ideas and goals and turn them into unparalleled events
Handle all event planning tasks, giving your internal team the time and headspace to focus on other aspects of your nonprofit's important work without burning out
Have strong relationships with the best vendors, venues, entertainers, and more
Assist you in creating a professional and polished image for your event
Help ensure your attendees will walk away from your event eager to see what your organization is going to do next
The time and money that you save from investing in event planning and production services, as well as everything you'll learn from your partners along the way, are frankly invaluable. This is why you should work with a production company.
As you consider different partners, ensure that you negotiate agreements that align with your budget and make sure that the event planners are equipped to work with you to bring your vision to life!
---
There's no doubt about it—nonprofit events are difficult to get right, especially if you have time and money working against you. Remember to begin planning early, use the right tools, and be resourceful to make the most of your event. And, to take your efforts to new heights, consider working with event planning experts. May your next event be one to remember!