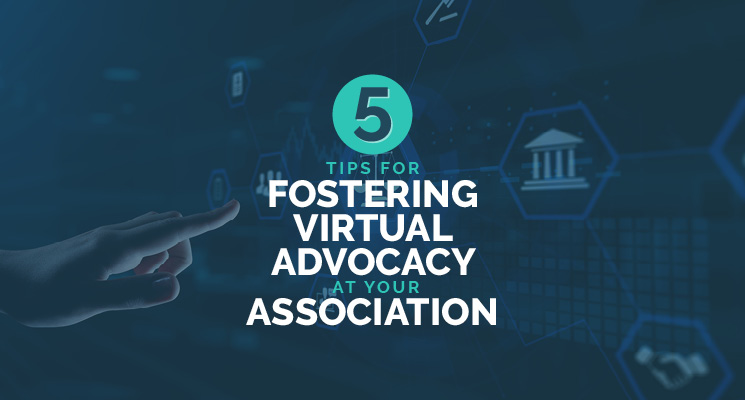 With online activity becoming the norm in so many associations' operations, using virtual advocacy to get the word out about your cause just makes sense.
According to DataReportal's Global Overview, in 2023, we've reached 5.16 billion internet users and 5.44 billion mobile phone users across the world. With so many people online, it's essential for associations to tap into the power of digital communications to boost support for their cause.
You can use the large reach of the internet to better empower your audience to take action, from educating and engaging members and donors, to reaching out to political decision-makers. Plus, you'll be able to increase membership while pursuing change that will benefit the community.
But what precisely is virtual advocacy? How do you foster it in your association?
What is virtual advocacy for associations?
Virtual advocacy for associations is all the activities you use to spread the word about your cause online. Digital advocacy is not politics but can influence political decisions. It doesn't only involve lawyers and lobbyists, though it can include lobbying to influence legislative bodies.
Some ways to spread the word about your cause online include:
Contacting legislators online. Contact people who have the power to make changes and make it clear how this affects their district.
Signing a petition. Make your voices heard. Make it known that your mission is one that a lot of people care about.
Hosting virtual events or webinars to boost engagement. Get people excited about your mission. This will lead to more supporters and recruitment.
Sharing videos and educational materials. Educate people on your mission. Make it clear why it matters and what they can do to help.
Any of these methods and more can take place on a variety of online platforms. Emails and text messages are one way to spread your message, using regular newsletters to keep people engaged and informed. There are also many social media sites that have been becoming even more popular in the past few years. The internet is vast and ever-expanding; you can spread your message to every platform, or just pick the one that best serves you.
Why is virtual advocacy important for associations?
It is essential for associations to add virtual advocacy to their existing activities to expand their reach and get in front of new supporters. You should view virtual advocacy as an engagement tool that, like event activities, helps educate and engage members and donors about your mission. The big difference, though, is that digital advocacy is more accessible.
Some common benefits of virtual advocacy include:
The ability to leverage supporters' online social connections to boost awareness. Your supporters' connections on the internet allow your message to reach further than it would off the internet. If one person sees your message and shares it, their entire sphere also gets to see it, without you having to reach each of them directly.
Cost-effective and efficient communications with supporters. People are already online for much of their day—DataReportal indicates that the average time that someone with the internet spends online is over six hours! Being able to have opportunities for engagement and advocacy in that same place is nothing but a positive.
Added convenience for members and donors to take action. Members and donors can more easily fit virtual advocacy into their normal schedules, so they'll be more inclined to engage. Keeping things easy and accessible is one way to improve their member experience. The key is to offer the right mix of engagement options that appeal to diverse segments of your membership.
Increased ability to gather data on supporters and advocacy campaign results. Gone are the days of counting up ballots and documenting survey results by hand. If votes and surveys are done virtually, results will also be virtual and easy to organize.
With these benefits in mind, it's time to learn how to maximize your association's virtual advocacy efforts.
5 Virtual Advocacy Tips for Associations
Here are five virtual advocacy tips to better educate and engage with your members and donors.
1. Empower your members on social media
Social media makes it easy for your association to interact with current members and new supporters. Additionally, it's easy to get in contact with political decision-makers relevant to your organization's cause.
Many associations will use social media as part of their multichannel marketing strategies to help amplify their message because of its large reach, broad appeal, and potential shareability of messages. Any lawmakers you may want to contact are also easily reachable via their social media handles.
As well, being active on social media isn't only helpful in contacting lawmakers. The 2022 Membership Marketing Benchmarking Report highlights the importance of engaging with members on social media, reporting that an organic social media plan is positively correlated with association growth.
No matter the goal of your social media work, set supporters up for success by providing resources such as:
Advocacy goals and objectives
Images and graphics they can add to posts
Designated hashtags to reach potential donors, spread awareness, and track what people are saying
Empowering your members to get involved with and promote your cause allows you to form a grassroots movement around your campaign. By providing members with the information, tools, and motivation they need to begin spreading awareness about your cause, you'll be able to reach new supporters through their networks and ensure your campaign is continuously gaining momentum.
2. Launch a peer-to-peer fundraising and online petition campaign
Peer-to-peer fundraising campaigns are a way to raise funds that use your supporters' existing networks to raise money on your behalf. Once your larger campaign is set up, volunteer fundraisers set up their own fundraising pages that can target the individuals in their own circle.
Petitions, in turn, are one of the oldest forms of advocacy that associations have used. They work in building your association's profile, engaging existing members, and growing your donor base.
Both peer-to-peer fundraisers and petitions can be effective ways to boost member engagement and expand an association's reach. They can raise needed money for a cause in the short term, and will also benefit you in the long term by bringing in more supporters and donors.
When creating a fundraising campaign, plan early to organize logistics and create marketing materials. Also, make sure you have an intuitive, easy-to-use advocacy website with an online donation form.
When creating an online petition, choose an impactful title and create a clear mission statement to help members and potential donors connect with your cause. Also, make it accessible and shareable through social media by providing a link that takes people to the online petition page. Once someone completes the petition, they should be prompted to share it on social media.
Some more tips for organizing a successful fundraising campaign and ensuring members have a positive experience:
Recruit supporters who are dedicated to your cause
Provide members with templates and graphics to use and share
Spread the word about your campaign through multiple channels
Remember to thank your members afterward, they're the ones who allowed you to hit your goals
Remember: These methods may effectively educate members and raise money, but you need to incentivize participation. Consider tying participation to a referral program or member benefits like contests, discounts, and free virtual events.
3. Organize an email-writing and call campaign
You can encourage members to devote some free time to contact legislators via email and phone to push for change. These campaigns are an excellent way to get legislators to take notice of your association and specific causes relative to others.
To set members up for success, associations should consider providing email and phone call templates they can use to contact legislators. Templates help achieve efficiency while ensuring the content of the message remains uniform.
The potential downside of templates can be the perceived lack of personalization. So, make sure members know how to provide some personalization to each template, beyond addressing the legislator by name.
Members should try to localize the issue as much as possible by showing how it affects a specific legislator or district. Tailoring the template may require practice at first, so work with members so they understand how to do it.
4. Intentionally promote your advocacy work on your website
A membership association's website is a fundamental resource for current members and prospective donors. By creating an advocacy page, associations can boost their campaign results. A well-designed website also adds a layer of legitimacy to your actions, with potential donors taking you more seriously.
Essential components of an advocacy website page are:
Background information about your association's cause
A clear mission statement
Advocacy goals and objectives
Legislator lookup tools
A prominent call-to-action button, like "Donate Now"
5. Attend tele-town halls and organize virtual meetings
Many lawmakers host tele-town halls or other virtual meetings with stakeholders and decision-makers around various topics and causes. Callers can ask questions and discuss causes or issues with political decision-makers.
A big benefit of these events is that they're accessible to a large audience who can tune in from the comfort of their home. So, look out for these town halls or virtual meetings and promote them internally to your members to encourage engagement. By encouraging members to participate in these events, associations can drive further engagement and awareness surrounding their missions.
Additionally, your association can host its own virtual advocacy events for members, partners, and other associations, such as webinars and rallies, where you invite leaders to join and speak. With proper planning, volunteer recruitment, and marketing, this can be a great way to engage members more deeply.
Start Fostering Virtual Advocacy at Your Association Today
Virtual advocacy is a great option for associations that opens you up to a large audience you can educate and engage with.
When it comes to virtual advocacy for your association, it's important to collect data on performance and member engagement to determine insights that will drive better results moving forward. Association management software can be a valuable tool for tracking engagement and performance surrounding your advocacy strategies.
As you start to integrate virtual advocacy into your association, pay attention to opportunities to empower members on social media, launch peer-to-peer fundraisers and petitions, organize write-in campaigns, promote your advocacy work on your website, and attend tele-town halls.
Do that, and you'll be well on your way to getting the most out of your virtual advocacy work.