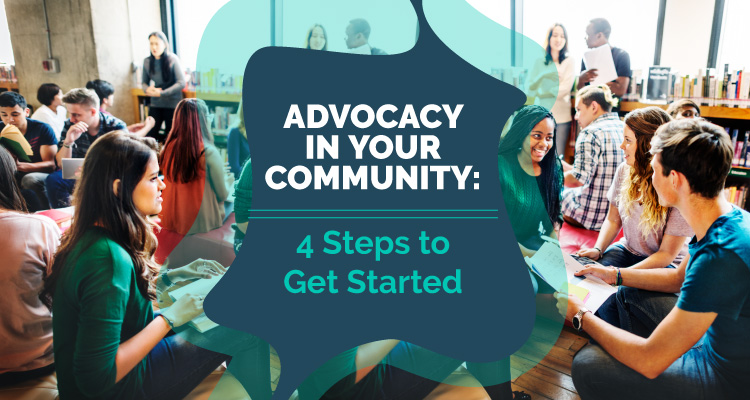 Advocacy campaigns can last for a long time, require a considerable amount of planning, and can have a strong impact on your nonprofit's mission in the long run. With all these factors, getting started can be a bit intimidating, especially if you're not quite sure what launching a new advocacy campaign fully entails. 
For most nonprofits, their first advocacy campaign will be in their community. This is for a few good reasons. You likely know your community's specific needs and have a vision for how your nonprofit can address them. Plus, if a majority of your supporters are local, you can engage them with in-person and hybrid activities that allow you to forge personal connections that are essential for building a successful campaign. 
To help your nonprofit get started and launch your first advocacy campaign in your local community, this article will explore four core steps you'll need to take:
Create a compelling message. 

Connect with other organizations. 

Launch a canvassing campaign. 

Leverage your supporters' networks. 
Grassroots campaigns rely on the dedication of concerned individuals and your organization's ability to rally them together to make a difference. Keep your campaign's primary goal in mind at all times to ensure you are effectively managing your resources and setting your campaign up for long-term success. Let's get started. 
1. Craft a compelling message. 
Your donors and volunteers support your nonprofit because they believe in your cause. Just like with your usual fundraisers, your advocacy campaign will need a strong message that explains why your cause matters and supporters should act to make a difference now. 
Your data should help you answer a few immediate questions about what to include in your messages, such as who your audience is and how you should get in touch with them. From there, you can begin creating a message that supporters will want to engage with by: 
Invoking an emotional response.

Many people join advocacy campaigns at least initially due to a strong emotional response. While you should have facts and statistics you can share with your audience as they learn more about your campaign,  in your initial messages it can be more effective to focus first on sharing stories and emotional appeals. 

Using eye-catching visuals.

Visuals help your messages stand out online and can be essential for getting potential supporters on social media to pause their scrolling and read your posts in full. Additionally, choosing an image that matches your story can help strengthen your audience's emotional connection to your cause. 

Offering immediate next steps.

After reading your message, provide potential supporters with an immediate call to action. This could be donating, volunteering, signing up for your newsletters, or sharing the post on social media. 
Your campaign's messages will likely be more specific than your nonprofit's overall mission. For example, an environmental nonprofit might have a mission based around removing plastics from the ocean. This organization might then have an advocacy campaign with highly focused messages about specific legislation related to whether stores in their community can use plastic bags. 
2. Connect with other organizations. 
Your nonprofit isn't the only local organization with strong ties to your community. In fact, chances are that there are several other organizations that have connections and networks your nonprofit might not. When planning your advocacy campaign, consider which organizations you can partner with to promote your campaign. 
Of course, not every organization will be a perfect fit for your campaign. When assessing potential partners, look for: 
A mission that aligns with yours.

Organizations that join your campaign should have a mission that aligns with that campaign.

Double the Donation's guide to corporate sponsorships

references how businesses with similar philanthropic goals are more likely to want to partner with your nonprofit. However, they also warn about how important it is to avoid organizations whose business practices might contradict your mission. 

A history of philanthropy or advocacy work.

Not every organization you approach to ask for a partnership will say yes, but you can make an educated guess about which ones are more likely to agree by looking at their history with philanthropy. If a business has donated to several nonprofits or publicly supported a past advocacy campaign, they're likely a better candidate than an organization with no prior history. 

The resources to help.

Different organizations will be able to help in different ways. For example, if you partner with another advocacy group that has been campaigning for similar causes, they will likely be able to provide advice on topics like where to canvas. In contrast,

a corporate sponsor

may not be interested in actively participating in your campaign but may instead offer to donate to your campaign in exchange for adding their logo to a few marketing messages. 
Before asking for support from another organization, be sure to practice and refine your campaign's pitch. Emphasize why your cause matters, why your nonprofit is the right organization to lead this campaign, and how the organization that joins your advocacy campaign can benefit from doing so. 
3. Launch a canvassing campaign. 
To make connections in your community, consider launching a canvassing campaign. Door-to-door and street canvassing allow you to make one-on-one connections with members of your community and spread awareness about your new campaign. 
Additionally, your nonprofit can also experiment with canvassing software and virtual canvassing. This approach takes canvassing online, allowing your volunteers to continue reaching out to community members even when they aren't physically able to visit their homes. When assessing canvassing software, look for a solution that offers the following features:
Turf-cutting.

Divide your canvassers' assigned areas to ensure all of your volunteers know where they need to go and that your organization will be able to hit your canvassing goals. This also applies to virtual canvassing, where even though supporters are canvassing remotely, you can still divide canvassing maps geographically. 

Branching scripts.

Chances are that your canvassers will need to hit on quite a few key points about your nonprofit and campaign while also fielding a variety of questions from potential supporters. Use software with branching scripts to help them out and ensure they always share the most important information in every conversation. 

Real-time reporting.

Challenges and opportunities will come up in the middle of canvassing, and real-time reporting allows your volunteer managers to take note of these situations and act immediately. 
After your canvassing campaign, be sure to follow up with new supporters to solidify the connections your volunteers established. Also, don't forget to thank your volunteers for all the work they put in to make your canvassing campaign a success. 
4. Leverage your supporters' networks. 
While your nonprofit has many connections in your community, your supporters' have even more expansive networks that might include individuals who would be interested in joining your campaign. Spread the word about your campaign and connect with these individuals by taking steps to leverage your supporters' networks. 
One of the key ways to do this is to launch a peer-to-peer campaign, wherein supporters will fundraise and campaign for your nonprofit on your behalf. Grassroots Unwired's peer-to-peer fundraising guide walks through the three essential steps to hosting one of these campaigns: 
Recruit volunteers.

Start promoting your advocacy and peer-to-peer campaign to supporters to gather volunteers. Check your

donor data

to find supporters who have a history with your organization as they will be more likely to want to share your campaign with their friends and family than new supporters still learning about your cause. 

Onboard volunteers.

While individual supporters will run relatively independent campaigns, you should start off with an onboarding session to help get them set up first. Answer any questions supporters might have, help them get their individual campaign pages up and running, and make sure they know who at your organization they can go to if they need help. 

Provide support throughout the campaign.

Participating in a peer-to-peer campaign can be a lot of work. Make sure to check in with your supporters regularly to provide encouragement and help them troubleshoot any problems they might be running into. 
You can also elevate your peer-to-peer campaigns and get even more eyes on your campaign by hosting an event. During their conversations promoting your campaign, your supporters will also invite their friends and family to attend your event, boosting your attendance and creating a true community event to begin your advocacy campaign. 
---
Advocacy campaigns have the ability to attract attention to your cause in a new way while also moving your mission forward. Community-focused campaigns are a great place to start for nonprofits new to advocacy. Begin brainstorming your message, how you can make use of your community connections, and assess your current technology to check if you need any advocacy software-specific upgrades.