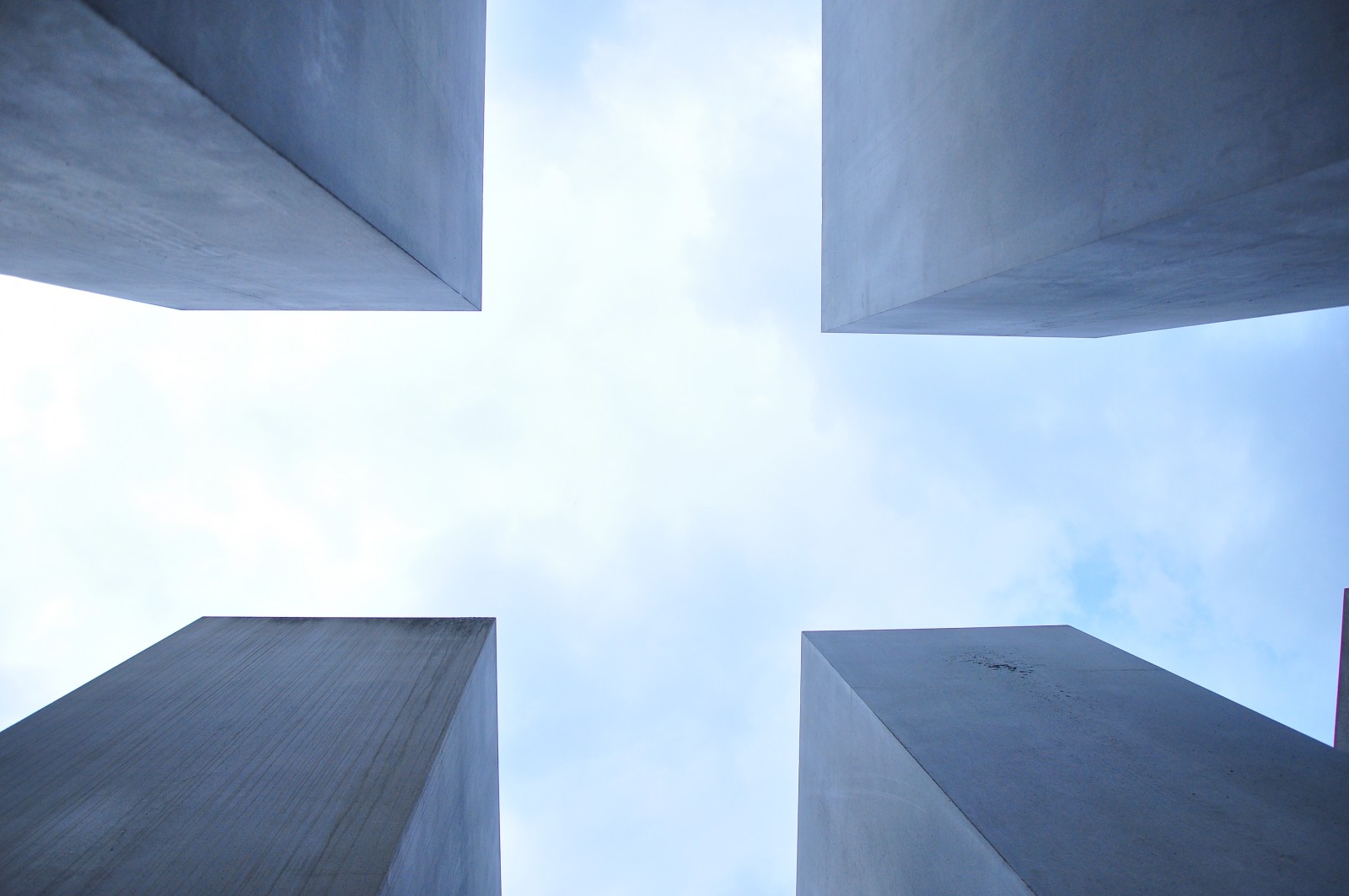 I recently attended MCON in Chicago, coinciding with the release of the Millennial Impact Report, which means Millennials and NextGen Philanthropy have been on the brain and will be in some upcoming posts. If you are rolling your eyes already about 'more Millennial posts' feel free to move on… but if you are interested in a segment that will have $1.4 trillion in purchasing power within 5 years, comprise 80% of the workforce by 2020 and generally don't think about brands and advertising like other segments, please keep reading. You still there? Okay good… more to come but here are…
7 Stats You Should Know About Millennial Employees
1. 30% of Millennial employees donated through an online giving platform
2. 43% of Millennial employees said they would be more likely to give if competition was involved

3. 69% of Millennial employees would be more likely to give if their company offered to match a part of their donation

4. 53% of Millennial employees gave between $100 and $1000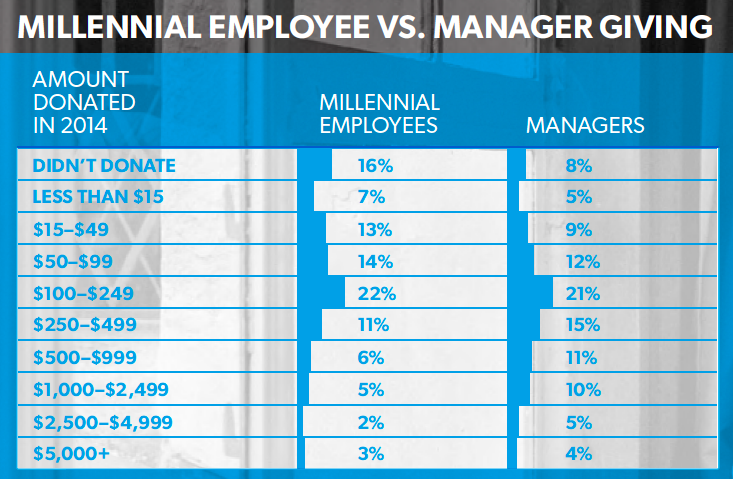 5. 70% of Millennial employees volunteered more than 1 hour
6. 77% of Millennial employees said they would volunteer more if they could use specific skills to benefit the cause
7. 46% of Millennial employees are more likely to donate if a co-worker asks them to donate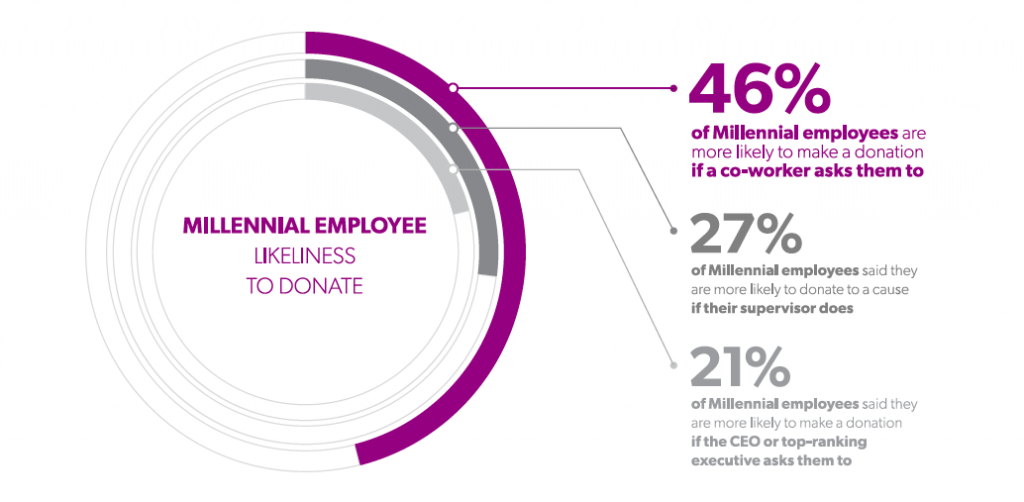 Okay great. A bunch of stats, now what? Glad you asked. Based on those insights, here are…
3 Things You Can Do To Engage Millennial Employees
1. Have an (easy) online giving and fundraising tool
More employees gave online than by check or payroll deduction meaning more people are going to your website with the sole purpose to make a donation. How optimized is your online giving experience? Is it mobile friendly and as few steps and fields as possible? Is there a place for them to tie their donation to their company or leave a comment? What about get matched or get an instant tax receipt they can then take to their employer to get it matched? Do you talk at all about matching donations?
Hopefully your standard online giving experience has some of these features but adding a special page for employee giving, or for a company if they are a big enough partner, is relatively easy nowadays as well. And then you can further customize that giving experience to the employee who is giving through their work. It's better for them which is better for you and makes them, and their company, feel more valued. That's always a good thing.
2. Work through the Millennials that are already involved with you
And what about fundraising? Almost half of those surveyed are more likely to give if a co-worker asks them which is over double when compared to the CEO or top-level executives asking. Millennials are notorious for using social proof and what their peers are saying to make decisions. The same is true with giving and getting involved with causes. Asking your current supporters or Millennial employees to take and spread your cause in their workplace with their own fundraising page is a pretty simple way to leverage that social proof and connect with more people within the company.
Online donation software can provide your organization with crowdfunding tools to give your supporters to use. If that's too much commitment there are free crowdfunding tools where you can set up an campaign or ask donors to set up a campaign on your behalf. And it doesn't have to be about fundraising either, asking your volunteers to recruit other volunteers at the workplace is a better and more direct route to people than constantly trying to go top-down and deal with busy executives.
3. Create (simple) campaigns and programs for companies to engage with
Incentives. Competition. Using specific skills. These are all things that would make Millennial employees give and get involved more. Those are also things that just don't happen on their own. If you really want to get the most out of Millennials in the workforce, you'll have to create some campaigns and programs that tap into these areas. It makes it easier for them to get involved and for the employer to ask their employees to join. Pitting departments against one another or having them create teams to give and fundraise against one another is an easy way to do this. Toss in some prizes and experiences or work with the company to provide some incentives along with you and away you go.
Using specific skills is not quite as straightforward and easy. One idea, instead of asking what employees want to do and then trying to create something for them, spend some time thinking about skills you need (coding, design, copywriting, accounting, etc.) and put together a few different roles and tasks. If you don't do the work to know what you want to say yes to, it makes it harder to say no to things as well. By doing a bit of the legwork here, you can give employees some of what they want but in the way that meets your needs.
So…
As companies become filled with Millennials and they start to drive more of the work and giving culture, the relationship between companies and causes will only grow in importance. There can be huge value if you can offer some simple tools, work through some people who are already engaged and create some simple campaigns and programs for them to plug in to. I also strongly recommend downloading the Millennial Impact Report to see all the stats, insights and results from the survey. Good luck!