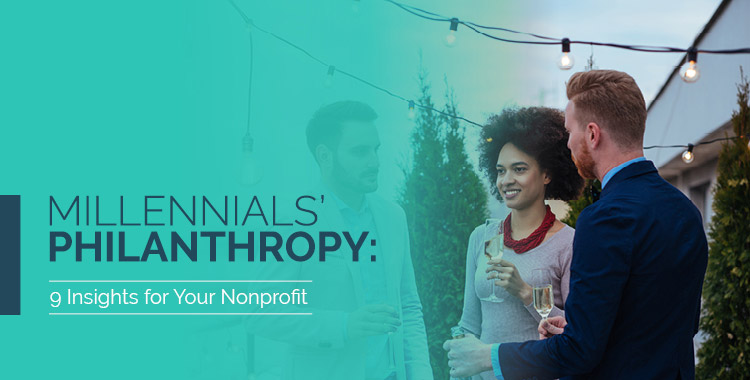 Despite the fact that millennials are often bogged down by student debt and earn less than individuals in previous generations did, they still constitute a hugely valuable giving force that must not be overlooked. Millennials make up approximately one-third of the working population and every day become more fiscally secure and able to give charitably.

Changes in trends and strategies in the nonprofit sphere happen fast—don't let your nonprofit miss out on this major source of potential revenue! This post will answer the following questions:

Equipped with the answers to these questions, you will be well on your way to successfully appealing to one of the most generous generations in history. So, without further ado, let's dive in!

What do I need to know about millennials' philanthropy?
While the potential impact that millennials can have in the nonprofit sphere seem apparent, it might still seem difficult to appeal to this generation. So, it is important to ask: what causes do millennials support?
What causes do millennials support?
Millennials are as complex as any generation. Their behavior is often over-generalized and stereotyped, but the fact remains that they are incredible supporters of charitable organizations. The truth is, millennials support a variety of causes on both ends of the political spectrum and related to a whole host of issues, but some things are the same: they donate to trustworthy and transparent organizations.
They are very particular about which organizations they are willing to support—not out of unfounded distrust, but out of a desire to ensure their money is going toward organizations that will use it wisely and support a cause they are passionate about. Here are a few key insights to keep in mind:

1. Millennials give to organizations where they can be active.
Millennials tend to give more frequently, in small amounts, to more causes. And they also want, and expect, more communication about their donation. But beyond that, millennials want some opportunities to get their hands dirty. Especially if it means they get to meet other people, use their skills, and maybe even advance their own career in some way. According to a recent study on millennials' philanthropic tendencies, 42% of millennials said they wanted to help companies develop future products and services.
Key Takeaway: They want to give, sure, but they want to feel involved in your work and benefit by being a part of it.
Ideas You Can Use:
Create a Junior Board and/or be intentional about having millennials represented on your board, committees, and leadership to help guide and create future strategies.

Develop or partner on a young professionals network where they can meet other young professionals but also meet older, more experienced people who can help them in their career.

Post volunteer opportunities online that people can find and do as a group – with their company or with their friends.

2. Millennials give to organizations their friends and peers support.
This isn't just about social fundraising – although strong peer networks and influence certainly helps – but it's about how Millennials get and trust information. The same study cited earlier also found, "only 1% of Millennials said that a compelling advertisement would make them trust a brand more". Or as the research summary post put it:
Millennials connect best with people over logos.
Key Takeaway: They trust the messages they get from their peers more than the messages they get straight from you.
Ideas You Can Use:
Ask millennials, specifically and personally, to share key information and posts for you online.

Partner with influencers, blogs, and people with strong social media followings to help you get your message out there instead of buying ads or using traditional media

Create a peer-to-peer fundraising campaign where they are able to, and asked, to use their network and skills to help benefit your mission.

3. Millennials give to organizations they can trust.
Trust is a common theme in studies on Millennial philanthropic behavior. In the aforementioned consumer behavior study, Millennials were found to value authenticity over content and blogs over traditional media. But if you are able to connect with Millennials, earn their attention and keep their trust, they can be quite loyal donors:
60% said that they are often or always loyal to brands that they currently purchase. The sooner you build a relationship and deep connection with millennials, the better because they will continue to purchase from you.
Key Takeaway: You have to demonstrate you are trustworthy to them before they get involved, and you have to maintain that trust to keep them involved.
Ideas You Can Use:
Send more frequent updates (via email and social media) on your work, outcomes, and progress. Don't wait 6 months and post a PDF on your website.

Use

trustmarks

, seals, and

social proof

from respected institutions and supporters to show you are worthy of attention and investment

Frame your work and appeals for donations/fundraising.
---
No matter your mission, your fundraising team should be looking to millennials for support. As generous and loyal supporters, millennials are interested in making the world a better place than they found it. Allow this generation to become actively involved in your organization and work together to further your goals.
---
Additional Resources for Millennial Philanthropy