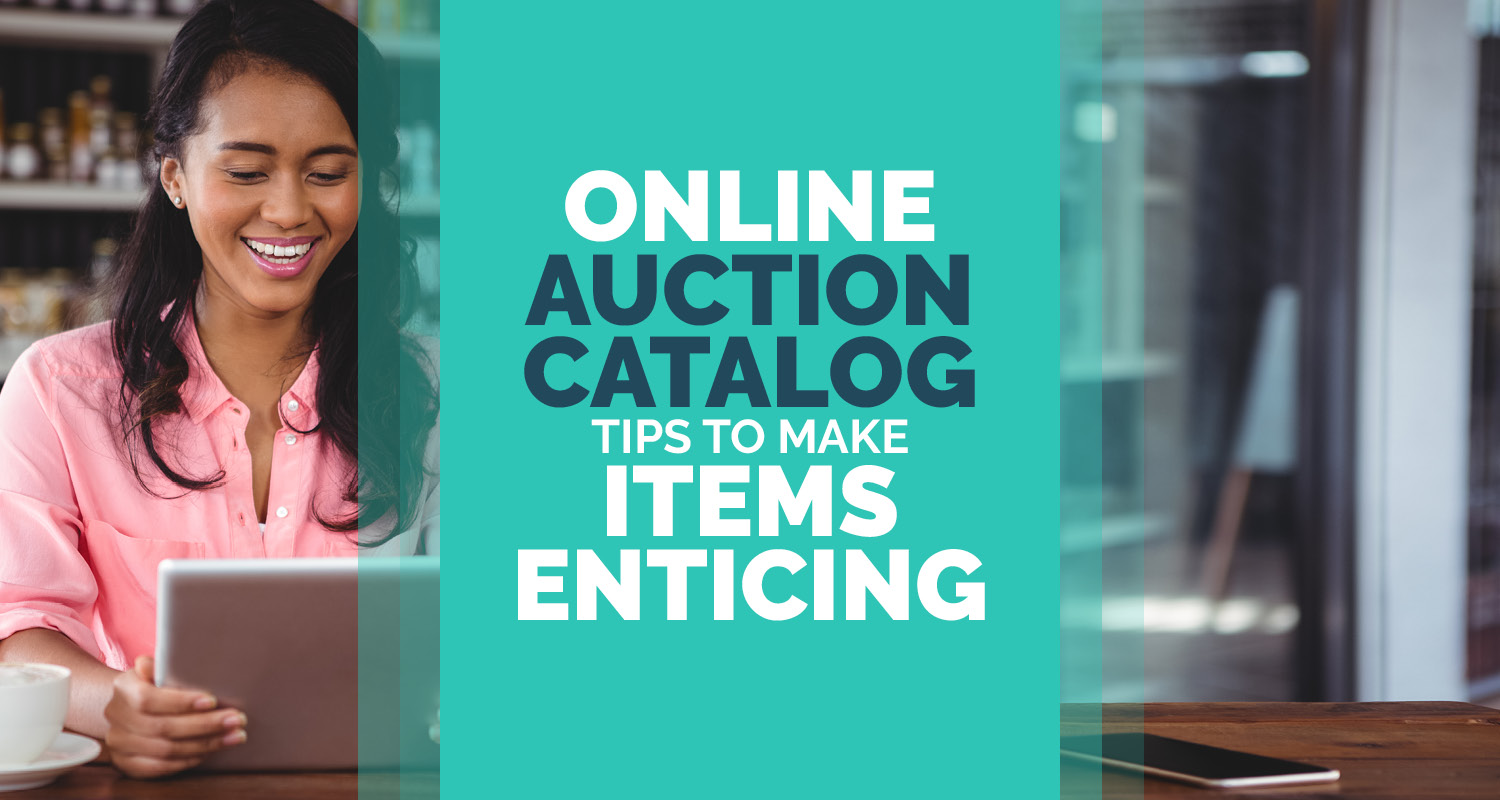 You've done the hard item prep work and the smart budgeting decision of hosting your auction online. You've also tracked down your item donors and have an exciting list of items for this year's online auction. But are you displaying your auction prizes in a way that attracts attention?
This is where online catalogs come in. A successful auction catalog captures the appeal of every item and makes guests quick to jump into the bidding process. And, for online auctions especially, they showcase each prize's main selling point and can have a tremendous impact on your fundraising potential.
To help, we've created a quick checklist of five auction item catalog tips:
Keep in mind that the using right software can automate the auction catalog creation process, making it easier for you to update your item list, starting bids, titles, and visuals without hassle. That said, let's begin with the most pivotal part of cataloging items: pricing.

1. Refine minimum starting bids.
Before creating catalog entries for each item, take time to verify and adjust your minimum starting bids. Doing so allows you to activate bidder interest without devaluing your items.
First, you'll need to double-check each item's fair market value (FMV). This measure refers to the retail or selling price of a particular item. Item donors are the best source of information for FMV. Next, you'll need to ensure each item's starting bid comes in at about 30-50% FMV.
After calculating each item's starting bid falls, SchoolAuction.net's guide to item pricing suggests finalizing your metrics by researching items' popularity and appeal based on previous auction data.
For items that score well in these categories, set your starting bid at closer to 30% FMV to encourage bidding wars. Items that fall short should have starting bids closer to 50% FMV to protect against revenue loss. By making these pricing tweaks ahead of time, your organization will create the best atmosphere for bidder engagement.

2. Clear item titles and descriptions.
To accurately represent each item, ensure each item has an accurate title and description. This means making sure each item is accompanied by
Clear and descriptive titles. Describe items in a clear and concise manner. Although fun item titles like "Romantic Getaway" may be tempting, they do not always represent the same item or experience for every bidder. Instead, a title such as "3 Night Getaway in Luxury Lake House Bed and Breakfast" is more apt. If you'd like, you can use a creative title as long as the item's exact offering is listed alongside it.
Informative descriptions. When writing descriptions, avoid using "fluffy" adjectives that do not clearly describe an item's key selling points. For instance, a "fantastic sports gift basket" is not as descriptive as a "college football gift basket complete with two jerseys, four game day tickets, two hats, and two branded beverage koozies." Tell bidders exactly what is included in each item, so they don't have to dig for more information. Keep your descriptions short and use bullet points to highlight top features at a glance.
Restrictions. List package expiration dates, blackout dates, and age restrictions as needed. For items without explicit expiration dates, list a general date in your auction rules by laying out a general date if no specific one is listed. If a package requires extra costs (such as travel fees) let bidders know upfront as well.
Fair market value. Per IRS regulations, include your FMV before bidding begins to help bidders receive tax deductions. Although displaying FMV upfront is debated, it's best to stay on the safe side by highlighting FMV in your online auction catalog.
Once you've finalized your item titles and descriptions, use them to market your event. Send emails teasing items to offer your guests a sneak peek before the event as part of your auction's email marketing campaign.

3. Recognize item donors.
Referencing specific donors can add value to your auction items. Plus, acknowledging donors is necessary for showing gratitude and building trust.
How you recognize each donor can vary by item. For consigned items, such as a beach vacation, phrases like "Made possible by _____, friends of [your organization's name]" get the point across in a friendly manner. More niche items like cooking lessons or artwork offer opportunities to advertise the popularity and expertise of your item donors. For example, a cooking class auction prize could be enhanced by mentioning the chef's education, experience, and specialties.

4. Add quality visuals.
Online auctions rely on quality visuals to drive bids. You've already procured captivating auction items. Make sure you represent them well in your catalog with:
High-resolution images. Blurry images cause bidders to strain their eyes and can make your catalog look unprofessional. Use clear, clutter-free images to adequately depict your items.
Multiple angles. Some items benefit from a 180 or 360 view. A mountain getaway package, for instance, should include multiple images of the destination, such as the area's lodgings and the mountain-top view.
Action shots. When guests are deciding whether or not to bid on an item, an action shot can help them envision its value. For instance, someone enjoying a horseback riding lesson might be a subtle push needed to keep that item on their must-have list.
For a cohesive bidding experience, be sure to include your organization's brand elements within your catalog. For schools, this would mean including the school's colors, logo, and name to unify the catalog.
Besides looking more visually appealing, Kwala's nonprofit branding guide suggests that cohesive branding and color coordination help communicate professionalism and foster trust and credibility with supporters, especially when online. In other words, an online user will be able to rest assured that your digital catalog is a secure page belonging to your organization. Keep in mind that your branding must be implemented within your chosen software, so make sure to select one that allows for customization.

5. Use software to streamline the process.
Software can simplify the auction catalog creation process greatly. With automated item input, you can easily upload and update item details. This means you can also edit items submitted before they are added to the catalog.
Sofware with a front-end user-friendly experience can help guests find the prizes they're most interested in with sorting tools and categories. Bidders can also search for items based on specific item numbers or names if they already have their top picks nailed down.
Another perk of auction software is its additional online donation tools. Integrated pay-to-play parties, raffle tickets, and fund-a-need donations are all examples of tools you can use to hit your fundraising goal faster.
Auction software can also include extensive planning tools to help you refine future auction catalogs. Advanced reporting features can track exactly how well each item performed, so you'll know if it's worth including in next year's catalog.
---
Online auction item catalogs are helpful for bidders before and during your auction. They inspire support with exciting photos and clear descriptions. If you decide to use software to generate your online catalog, leverage its additional features to create a professional-looking catalog faster and enhance the bidder experience.