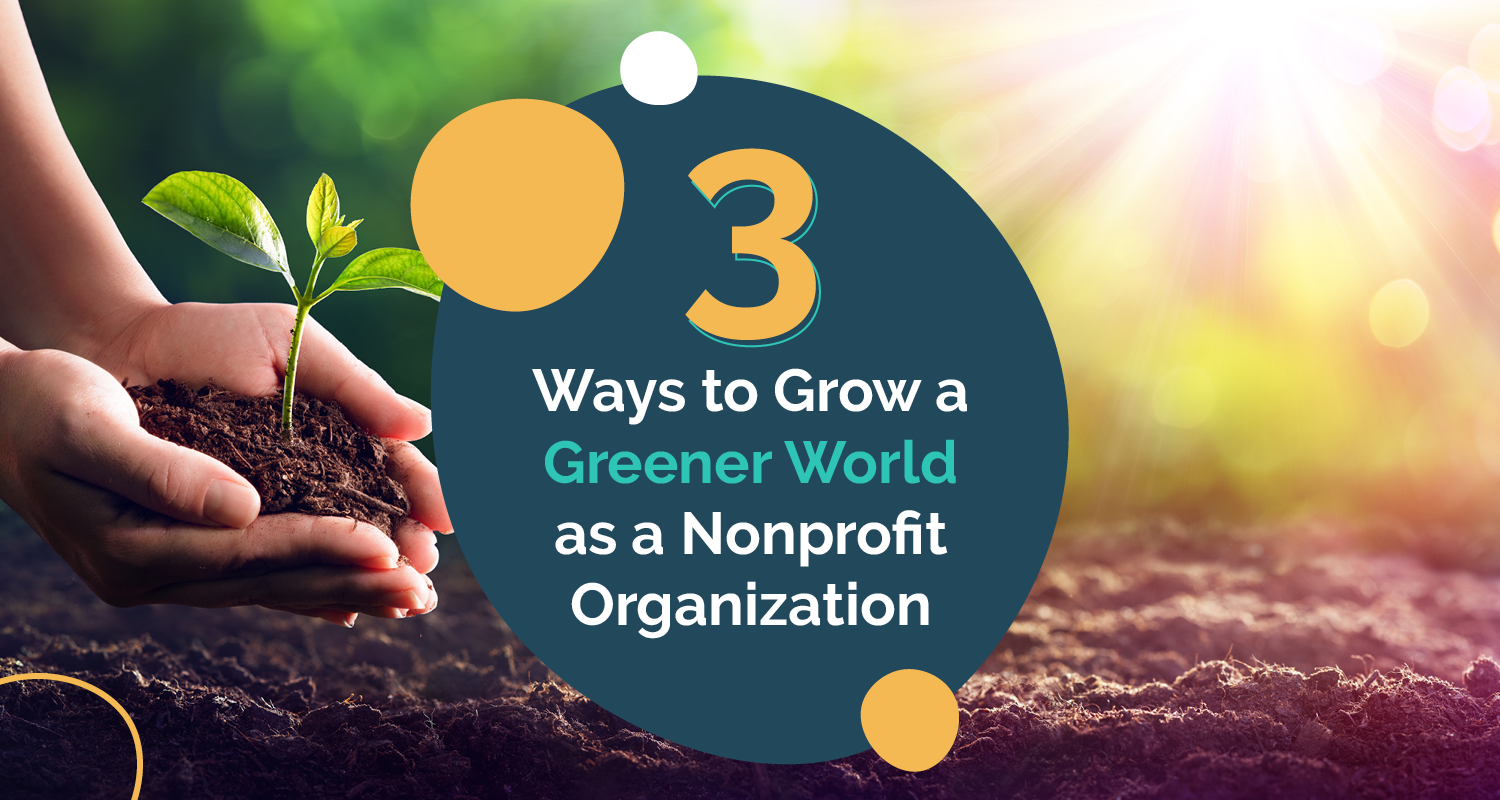 Creating a greener, more environmentally sustainable world is essential for organizations of all kinds. After all, ensuring that our planet remains healthy and habitable is everyone's responsibility, regardless of whether you're an individual, a corporation, or a nonprofit. Plus, rebranding your nonprofit as an environmentally-focused organization comes with a variety of benefits, including an enhanced reputation and increased community engagement.
To help you leverage these benefits, we'll go over the following strategies your nonprofit can implement to grow a greener world:
While becoming an environmentally sustainable organization is a significant task, you can start by becoming conscious of how your organization can be more green and eco-friendly. Consider evaluating sustainability as part of a SWOT analysis for your nonprofit. Then, you can incorporate these strategies into your operations to take further steps toward securing the future of our planet.

1. Implement sustainable practices.
The most obvious way to grow a greener world as a nonprofit is to implement sustainable practices at your base of operations. There are a variety of ways you can make your nonprofit more eco-friendly. For instance, you can:
Encourage recycling. Although reducing and reusing are prioritized in the waste management hierarchy, that doesn't mean that recycling isn't helpful for the environment. After all, it's estimated that in the United States, less than 25% of recyclable materials are actually recycled. Consider providing different trash bins for recycling, composting, and other waste, so employees can more conveniently throw away recyclable materials.
Reduce energy consumption. Choose energy-efficient lighting and appliances for your organization's office. And, remind staff members to turn off the lights after they leave a room and to shut down equipment when not in use. Aside from helping the planet, these practices will also reduce the strain on your nonprofit's budget, as you'll be paying less for power every month.
Implement a work-from-home policy. Another way to reduce energy consumption is to allow employees to work from home. Not only does this save on your nonprofit office's power bill, but it also reduces the amount of emissions your employees produce on their daily commute. If you're not ready to move your operations entirely virtual, consider a hybrid work format instead.
Reduce paper waste. Paper accounts for about 26% of total waste in landfills. Do your part to reduce or eliminate paper waste from your nonprofit operations by moving important records and processes to a digital format. For example, if you've historically had supporters fill out paper forms to take part in volunteer opportunities, consider investing in a software solution that allows them to complete these forms online.
Prioritize digital marketing efforts. While flyers, posters, and direct mail are tried-and-true marketing materials, they also produce avoidable paper waste. Consider shifting your focus toward digital marketing. Not only does promoting your nonprofit virtually allow you to reduce paper waste, but you'll also be able to reach a wider audience across the globe. Plus, there are plenty of low-cost marketing tools that you can leverage to power up your promotional processes.
Aside from implementing these eco-friendly practices, consider adding green initiatives to the core values of your nonprofit. This way, all staff members will understand that being eco-conscious is a big part of your organization's culture. And, it may help you attract potential employees that share these values.

2. Ask for in-kind donations.
Another way to center environmental sustainability at your nonprofit is to ask for more in-kind donations. While receiving financial gifts is highly beneficial for nonprofits, in-kind donations are more eco-friendly, as they allow your supporters to reduce the waste they produce by empowering you to reuse their items.
Some in-kind donations that your nonprofit may find helpful include:
Goods for basic needs. Especially for organizations that work with people experiencing homelessness or poverty, donations of basic goods can make a huge difference. These include clothing, toothpaste, deodorant, soap, food, and other items that people need to survive.
Office equipment. Ask donors for items that you need for your nonprofit's headquarters. For example, instead of going out to buy these supplies, ask your supporters if they have any spare printer paper, pens, highlighters, paperclips, staples, sticky notes, and other office equipment.
Event items. You can gather decorations, tables, chairs, and other items for your next event. For example, you could collect in-kind donations for your next auction or raffle basket. Even if you only acquire small items, Winspire points out that gift baskets are best-sellers at auctions. Put these small items together into a gift basket and reap the benefits of a successful auction.
One of the drawbacks to accepting in-kind donations is that it may take longer for your nonprofit to process them. However, to mitigate this extra effort, consider enlisting volunteers to help you process donations. Not only will you be able to efficiently accept in-kind donations, but you'll also be teaching your volunteers how to be more sustainable.

3. Host sustainable fundraisers.
According to Donate This Recycle That, the first step to hosting a fundraiser is to identify what you're trying to achieve and to set goals that align with your mission. For nonprofits choosing to center sustainability that still need to generate revenue, it makes sense that your fundraisers should be eco-friendly.
Some examples of green fundraisers include:
Recycling drive. Ask supporters to collect and donate recyclable materials such as aluminum cans, glass bottles, newspapers, and more. At the end of the collection period, take all these items to a recycling center, where you'll be paid per pound of recyclable material you turn in.
Clothing sale. To host a clothing sale, ask supporters to donate gently-used and new clothing to your nonprofit. Then, you'll sort through them and host a second-hand clothing sale of these items. Raise funds by inviting your community to come by and purchase items.
Community cleanup. A variation of an event-a-thon, a community cleanup is where you ask supporters to volunteer their time to help clean up a specific part of the community, such as a beach or a park. Participants will receive donation pledges for the amount of litter they pick up or for the amount of time they spend cleaning up. Your community will benefit by becoming litter-free, and you'll be able to raise funds while doing so.
When brainstorming sustainable fundraiser ideas, don't be afraid to get creative. You aren't limited to fundraisers that are specifically eco-friendly—you can put an eco-friendly spin on existing fundraising ideas.
For example, product sale fundraisers are a popular choice amongst nonprofits of all shapes and sizes. To make them eco-friendly, sell products made from sustainable or recycled materials. For example, you could sell t-shirts made of recycled cotton. Or, you could sell reusable water bottles to encourage supporters to stop drinking from plastic water bottles.
---
We're all responsible for doing our part when it comes to creating a more sustainable future. As a nonprofit, you have the power to not only make more eco-friendly choices for your organization but also to educate your audience about the importance of sustainability. Just make sure that you lead by example by showing your supporters how you are centering sustainability in your operations.