As we move into the second half of 2022, this is an opportunity for associations to identify specific pain points in their current technical strategy and make plans to improve them.
Associations have faced a variety of challenges over the past few years, with charitable giving statistics reporting that 50% of associations had trouble reaching their fundraising targets due to the impacts of COVID-19. To prepare for future challenges and opportunities alike, associations should assess their current technology and whether they're leveraging it effectively. 
To help your association update its digital strategy for 2022, this article will explore three strategies that can set associations up for potential growth, accessibility, and stability. Specifically, we'll explore how your association can:
Look for online community-building strategies and tools.

Invest in your ability to engage with mobile members.

Refresh your digital marketing strategies.
We will also explore how to assess your association's current technology, allowing you to determine the current status of your digital strategy and make targeted decisions to update it. First, let's begin by walking through three modern digital strategies. 
1. Look for online community-building strategies and tools.
Your association's community is one of your most valuable assets. Bringing together individuals who share a profession, interests, or cause can foster continued engagement, creativity, and connections between members. 
You most likely already have tools in place to foster online engagement, such as:
Your association management platform's online portal

Your association's social media pages

Email newsletters or listservs
While many associations have returned to offering in-person events for some time now, maintaining an active online community can provide needed stability between gatherings. Your association management tools should allow you to create unique online engagement opportunities and monitor how members respond to them. 
For example, you can tap into video conferencing and live streaming tools to present panel discussions, expert conversations, and even virtual networking events. Live streaming and recording events can make your association's offerings more accessible to a wider audience of members who live farther away or prefer not to travel. 
Associations can also launch community-building activities that take place primarily online. For instance, advocacy campaigns have increasingly gained traction online. Double the Donation's advocacy guide emphasizes the newfound importance of digital advocacy. Your association can launch its own campaign to make the most of your digital engagement toolkit, build a stronger sense of community among members, and raise awareness for your association's work.
2. Invest in your ability to engage with mobile members.
As an association professional, you likely seek mobile-optimized products in your day-to-day life to make using technology more convenient. Mobile devices have been staples for modern internet users for several years now, with 1 in 5 adults in the U.S. being a smartphone-only internet user.
If your association hasn't already invested in a mobile strategy, now is the time to do so. 
As a baseline requirement, your website should definitely be mobile-optimized. Your member portals and discussion boards should be mobile-accessible as well, ideally via a dedicated mobile app. Assess your current software and website functionalities to ensure everything functions properly on mobile. 
Some platforms will automatically ensure your association's online presence is mobile-accessible. For example, associations using the Salesforce CRM or Blackbaud CRM can invest in native apps and integrations. These can optimize various core online features association members are likely to interact with such as registration forms, text alerts, and the member portal. 
Consider surveying your members to assess their satisfaction with your association's mobile experience. This will point you to both immediate issues that need addressing and to longer-term improvements worth investing in.
3. Refresh your digital marketing strategies.
Just as you should fortify your online community-building strategies to connect with members in 2022, you should also look into your digital marketing efforts.
Digital marketing continually generates engagement data, effectively providing real-time glimpses into the effectiveness of your strategies. These constant updates allow your team to adjust your marketing strategy as new opportunities and challenges arise.  
Look through your existing marketing tools and consider the role they currently play in your digital strategy. These are a few common areas of improvement for many organizations:
Email automation.

Combining smarter automated platforms with proven strategies for writing engaging emails can help boost your open rates and get more of your messages seen by members.

Website integrations.

You are likely already using digital tools on your website that generate data, such as

course registration forms

, your eCommerce store, and your donation page. Integrate your website and CRM to ensure data runs smoothly between these systems, improving your website's usefulness for both your team and your members.

Search engine optimization.

Your association is a thought leader in its space and generates high-quality content professionals will likely take interest in. You can use this content to gain a wider audience by developing and pursuing a concrete SEO strategy. This can significantly boost your search engine visibility around key terms and help raise awareness of your work.
Significantly changing or launching a new digital marketing strategy can be a difficult process, and your association may need to outsource help. 
DNL OmniMedia's guide to marketing consultants advises organizations to consider investing in a marketing consultant when they plan to restructure their fundraising strategies, are planning a major campaign, or intend to make major changes to their technology. If your association is experiencing any of these situations, prepare to dedicate some time to researching and getting in touch with a consultant. 
Conducting a Technology Check-Up for Your Association
After reviewing these three strategies, there are a few steps you can take to help prevent your team from losing time, focus, or money as you make tech updates.
Technology planning is the process of developing a comprehensive strategy for identifying improvements you need, making updates, and then incorporating long-term plans for keeping your tech running smoothly. 
The basic steps of developing a technology plan include assessing your toolkit, determining your priorities and needs, outlining a budget, researching vendors, and finalizing a timeline. An overarching strategy will help technical projects of any size stay on track. Focus on these best practices as you craft your plan:
Re-evaluate your goals and how technology supports them.

If boosting your member acquisition or renewal rates were major goals last year, are they still? Is it time to shift focus to a new strategic priority, or do you want to stay the course and refine your efforts? How can your technology play an increased role in retaining members during challenging times?

Conduct a technology audit.

This fits into the "assessing your toolkit" step mentioned above. Take a systematic approach to review and examine each tool that your association currently relies on to operate smoothly and engage its members. What works well, and what could use improvement? Are there any missed opportunities or wasted efforts that your new tech strategies should address?

Follow data hygiene best practices.

This should be a continuous practice ingrained into your internal operations. Keeping your association management software organized and clean is the only way to keep it truly useful. Periodically sweep your database for redundant information, merge overlapping records, and create new custom fields whenever necessary.
Additionally, remember to look for ways to build out your existing efforts. Are there any areas in your engagement strategy that have been successful so far but could be expanded further? Use these opportunities to help guide your technical strategy development.
With these tips, you can refresh and refine your strategy to overcome this year's unique obstacles.
____________________________________________________________________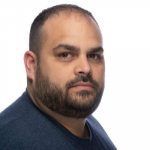 Guest post by Carl Diesing, Managing Director of DNL OmniMedia
Carl co-founded DNL OmniMedia in 2006 and has grown the team to accommodate clients with on-going web development projects. Together DNL OmniMedia has worked with over 100 organizations to assist them with accomplishing their online goals. As Managing Director of DNL OmniMedia, Carl works with nonprofits and their technology to foster fundraising, create awareness, cure disease, and solve social issues. Carl lives in the Hudson Valley with his wife Sarah and their two children Charlie and Evelyn.