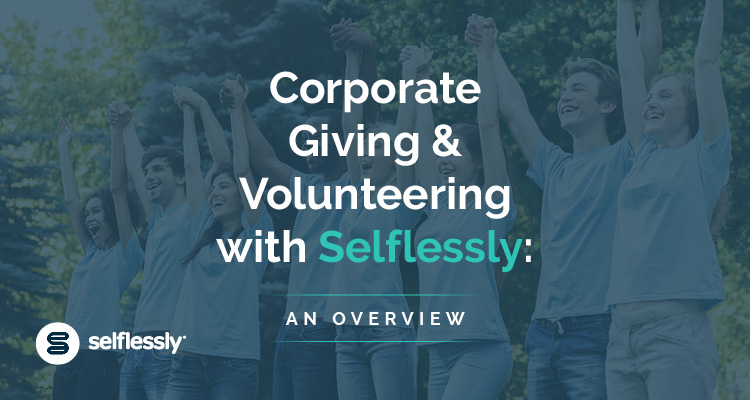 More and more companies are turning to corporate philanthropy to improve their brand image, drive employee engagement, and enhance company culture. As a result, corporate giving management platforms are becoming an increasingly vital component of nonprofits' and companies' partnership strategies.
One example of this technology is Selflessly. Selflessly for companies is a platform to organize and facilitate corporate giving programs⁠—including matching gifts, volunteer grants, volunteer time off and other types of philanthropic initiatives. Included in this, Selflessly can help a nonprofit's corporate partners better engage with you. Selflessly can help nonprofits like yours highlight upcoming activities with your corporate partner. The intuitive corporate giving portal gives corporate partners an easy time to manage matching gift requests, verify donations, and more.
Essentially, it works like this:
Companies manage corporate philanthropy programs through their CSR platform of choice (in this case, Selflessly!).

Their employees, aiming to participate in the workplace giving programs made available to them, decide to support their favorite nonprofit organizations (such as by making a donation or attending a volunteer event). From there, they'll log into their employer's CSR portal to jumpstart the workplace giving process.

Employing companies then review the submission requests, verify initial employee support, and approve corporate funding, often in the form of a matching gift or volunteer grant⁠—also through the Selflessly corporate giving management solution.
When organizations optimize their usage of this platform, they're able to further streamline and simplify the processes involved for their donors. That means better experiences all around and more funds directed toward their missions and visions.
Let's walk through an overview of what Selflessly offers to aid mission-driven businesses and nonprofits alike.
Millions of Pre-Vetted Organizations
Corporate giving platforms pride themselves on their ability to facilitate giving between charitable-minded businesses and pre-vetted nonprofit organizations. Selflessly specifically highlights their more than 1.7 million approved charities⁠—from grassroots-level organizations to national nonprofit causes⁠—among a wide range of mission types.
Companies and individuals alike are able to log into the Selflessly platform and search for the organizations they'd like to support based on criteria like location, keywords, cause type, and more.
Selflessly already includes all 501c3 nonprofits in their database. This means employees can request donation  matches to all registered nonprofits already without the nonprofit signing up! Selflessly has even expanded to include all registered Canadian nonprofits as options for employees to send donations. This means companies and employees can rest assured knowing that their businesses' dollars are going toward government registered and sanctioned organizations.
Employee Volunteer Management
It's not all monetary donations, either. Selflessly also provides users with robust volunteer management tools to help coordinate ongoing corporate volunteering programs.
Specifically, the volunteer management component of this CSR platform allows companies to:
Create volunteer events by partnering with nonprofit organizations.
Locate existing local and national volunteering opportunities to participate in.
Offer and keep track of paid volunteer time off for employees.
Tons of individuals want to support their favorite causes in the most hands-on ways possible. When their employers incorporate volunteerism into their own corporate philanthropy strategy, individual team members will be more likely to get involved to make a difference. For nonprofits, that means new opportunities to engage with dedicated supporters, while companies benefit from increased employee engagement and overall improved corporate social responsibility.
Purpose-Driven Impact Reporting
When it comes to philanthropy, nonprofits and corporations alike should be sure to take a proactive approach to data collection, analysis, and reporting. Luckily, companies using Selflessly's CSR platform can do so with ease using the solution's built-in purposeful reporting technology.
This can allow users to:
Easily manage their giving program administration, such as reviewing and approving matching gifts and volunteer time off requests.
Quickly track the tangible impact of their corporate philanthropy efforts on the nonprofit causes they support in real-time.
Seamlessly report on nonprofit grants and sponsorship contributions, allowing for streamlined tax-exemption records.
Draw conclusions based on data reports compiled in an easy-to-digest format, enabling them to adjust and improve their programming as necessary.
Locate top organizations that the company's employees are supporting.
Selflessly + Double the Donation: Matching Gift Auto-Submission
One of Selflessly's most stand-out features is a newly developed functionality made possible by a seamless integration with the leading provider of matching gift software for nonprofits, Double the Donation⁠. And that is matching gift auto-submission!
Prior to this recent release, donors were required to complete an online request process within their company's CSR portal in order to secure matching gifts on behalf of the organizations they support. Now, companies that use Selflessly enable employees to participate by simply entering their corporate email address in a donation confirmation screen plugin provided by Double the Donation.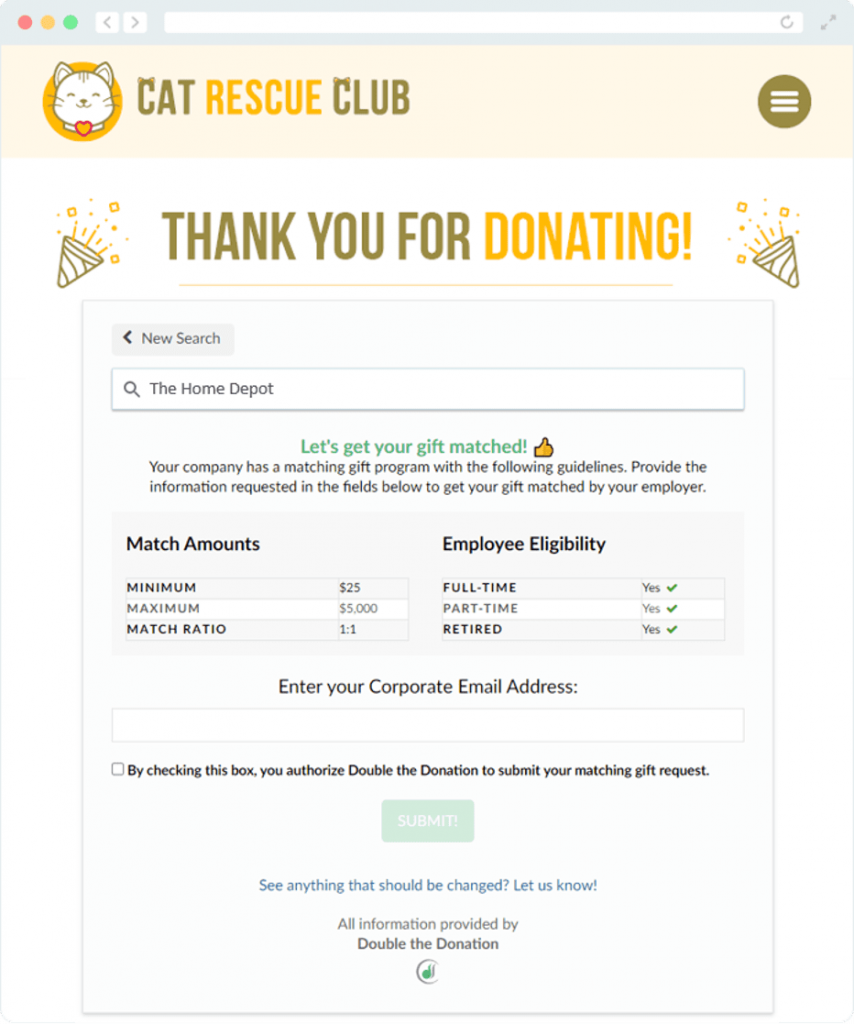 From there, Double the Donation automates the match request process, handling the back-end of the submission within the Selflessly platform with ease.
All in all, auto-submission drastically simplifies the process for donors to take part in their employers' matching programs, thus avoiding multiple of the most common roadblocks to matching gift success. The quicker and easier it is for individuals to request corporate matches, the more likely they are to do so, and the more matching gift funding your organization can expect to see⁠—making it one of the top benefits of Selflessly for nonprofits.
---
The better equipped your organization is, the better the results you can expect to see from your corporate fundraising efforts. In order to procure the greatest impact, it's important to get set up with best-in-class matching gift automation technology, like Double the Donation. Further, consider encouraging your corporate partners to connect with a corporate giving platform like Selflessly to increase engagement with your nonprofit.
In doing so, you are able to set your donors up for continued success as they secure corporate support on your behalf.