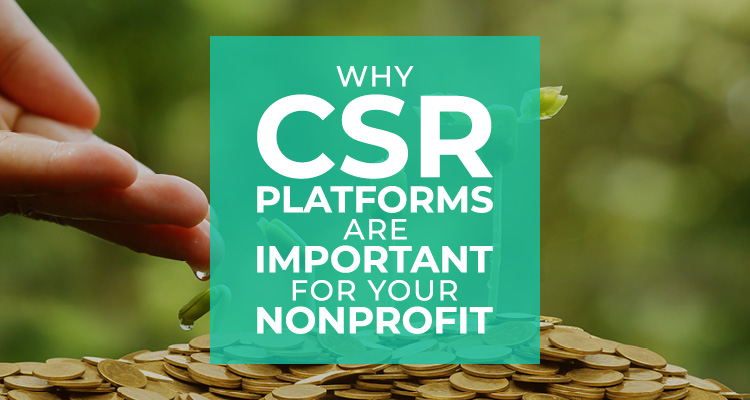 We've written before about a specific type of fundraising software for nonprofits: matching gift software. This kind of tool enables organizations to inform their supporters about corporate matching gift programs, easily uncover donor eligibility for the programs, and direct participants toward the next steps. But there's another key piece of technology that can make or break an organization's workplace giving strategy, and that is CSR platforms.
A CSR platform, or CSR software, is a type of technology purchased by a company that is aiming to elevate its corporate social responsibility efforts with smart giving initiatives. This tool essentially manages the businesses' corporate giving programs⁠—such as matching gifts and volunteer grants⁠—and simplifies the processes for everyone involved.
So what exactly do CSR platforms have to do with nonprofits? In this quick guide, you'll find out! We're going to cover:
Now, without further ado, let's jump in⁠—and discover everything your nonprofit team needs to know about corporate giving software solutions.
The Basics of CSR Platforms
CSR stands for corporate social responsibility⁠—which is a key business practice followed by thousands of corporations across the globe. These companies aim to improve the world around them through CSR efforts, often in terms of economic, social, and environmental responsibility.
One of the most prominent forms of CSR takes place in the form of charitable donations to nonprofit causes. Companies donate generously to nonprofit organizations, often looping their employees into the process by empowering them with employee giving opportunities such as corporate matching gifts and volunteer grant programming.
And CSR platforms are utilized by the businesses to help manage⁠—and automate⁠—their philanthropic initiatives.
This typically includes workplace giving facilitation, community grant disbursement, and more. Specifically, in terms of employee participation, a CSR platform can serve as an intuitive portal in which employees can submit their corporate giving requests.
Common CSR Platforms to Know
There are a ton of different corporate giving platforms that companies can choose from to manage their CSR initiatives. As a nonprofit, you'll want to keep an eye out for these solutions. After all, you're likely to see these names cropping up in your CRM as donors use their portals to request and process matching gifts and volunteer grants.

Since 1999, CyberGrants, a part of Bonterra, has become one of the largest and most-used CSR platforms in the sector. This solution incorporates tools for companies looking for employee giving, corporate volunteerism, grant management, disaster relief, and more.
Many enterprise-level businesses utilize CyberGrants' CSR management portal, including Verizon, Walmart, Home Depot, Disney, and Cisco.
YourCause by Blackbaud is another essential provider of CSR management tools for businesses. Founded in 2007, its clients include several big-name companies such as IBM, PepsiCo, Dell, AT&T, and CVS.
Within the platform, corporate users are able to manage employee giving, employee volunteering, global engagement, and disaster relief, among other CSR efforts.
Since its launch in 2008, Benevity has provided innovative CSR solutions for businesses looking to increase their giving efforts. With nonprofit giving and donation matching, volunteerism, affinity groups, and more, Benevity aids in simplifying nonprofit contributions for companies and their employees.
Some well-known Benevity clients include Apple, Gap Corporation and subsidiaries, Microsoft, Google, Twitter, UPS, and more.
Other CSR Platforms
Following the "big three" highlighted above, here are some additional corporate giving management systems. These platforms tend to cater more toward smaller businesses looking to get started with corporate philanthropy, but you don't want to miss out on the opportunities facilitated by these providers. And they also tend to be some of the first to get started with trail-blazing developments (like auto-submission) so you'll want to keep these vendors in mind as well:
Selflessly ⁠— Offers innovative tools for corporate giving, employee volunteerism, matching gifts, and more
Millie ⁠— Enables companies to engage their network with matching gifts, volunteering, giving campaigns, charitable gift cards, and gamification options
POINT ⁠— Empowers companies to foster community engagement with volunteer opportunities, monetary donations, and in-kind gifts AND enables nonprofits to manage their volunteerism
And that's certainly not the end of the list, either. There are even more CSR platforms to consider, though these ones offer an excellent starting point for many organizations.
CSR Platforms' Role in Nonprofit Fundraising
Now that we've explored the basics of CSR platforms and what common vendors to keep an eye out for, let's get back to nonprofit fundraising⁠—and where exactly these software providers come in. After all, as a nonprofit professional, this is how these systems will be the most essential to you.
CSR platforms pertain to nonprofit fundraising because they facilitate the relationship between each party involved in the corporate giving process. This includes your organization (which receives funding from CSR programs), your donors (who participate in CSR programming and request funding on behalf of your organization), and their employers (who offer CSR programs and ultimately provide funding for nonprofits like yours).
Essentially, the distribution process ends up looking like this:
A donor contributes to (or volunteers with) your nonprofit.
The donor requests a matching gift (or volunteer grant) from their employer by logging into the company's CSR management portal and providing the required information about your cause.
The employing company reviews or automatically approves the workplace giving request.
Depending on the company offering the program, your nonprofit may be required to verify that the initial donation or volunteer hours were provided by the individual.
The company or third-party management platform approves the workplace giving request and begins the process of funding disbursement.
Your organization receives a check from the company (or its management platform) corresponding to the donor's initial donation amount or volunteer time.
In other words, a company's CSR platform is the middleman between your organization and the company supporting your cause in the name of corporate social responsibility.
CSR Platforms For Matching Gift Auto-Submission
Historically, donors have been required to log into their employers' corporate giving management portals to request matching gifts from the company. It's long been a separate process and one that has been a critical drop-off point for individuals wanting to get their gifts matched.
Now, CSR platforms are working with Double the Donation (which partners directly with over 75% of the largest peer-to-peer focused nonprofits) to streamline the request process through matching gift auto-submission.

Several corporate giving platforms have begun rolling out this innovative new feature, which does exactly what it sounds like⁠—allows employee donors to automatically submit matching gift requests to their employers. And it all happens right on the nonprofit's gift confirmation page!
This simplified process significantly reduces the number of steps that are being asked of donors to get their gifts matched by employers, which ultimately drives more eligible supporters to take the leap to request their matches. In the end, it's more funding for organizations and missions like yours.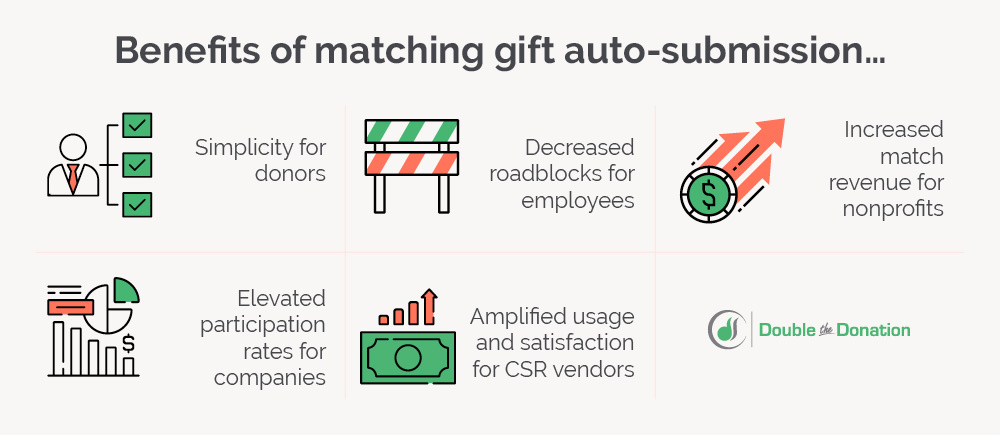 Benefits of Optimizing CSR Platform Usage
So what can you do to set your organization up for success when it comes to best utilizing CSR platforms in your fundraising efforts? The first step is to simply register your nonprofit with each software provider!
Most of the above-mentioned management platforms offer a nonprofit-specific portal with which you can create a profile for your organization. By registering for these corporate giving software providers ahead of time, you can streamline and simplify the process for your donors, their employers, and even your own nonprofit fundraising team.
For example, doing so allows you to:
Reap the benefits of increased visibility to potential new donors who work for the companies utilizing the CSR portal.
Increase trust in your organization as an already-screened cause that's been pre-verified by the CSR platform.
Elevate your nonprofit's likelihood of becoming eligible for more companies' matching gift and volunteer grant programs, and receive more workplace giving funding as a result.
Remove potential barriers to your donors' matching gift and volunteer grant request processes, making it simpler for eligible supporters to drive their workplace giving requests to completion.
In the end, registering your organization for (and optimizing your profile with) as many of the top CSR platforms as possible will help save everyone's valuable time, secure more corporate revenue for your cause, and overall bring your nonprofit fundraising to the next level. Plus, these corporate giving software providers make it quick and easy to get started!
---
Much of the most effective fundraising occurs online, and having the right tools is a critical prerequisite for ongoing success. The same goes for matching gifts, volunteer grants, and other forms of corporate philanthropy.
When you equip your nonprofit and its donors with best-in-class resources built on a solid foundation of knowledge, you'll be all set to continuously utilize CSR opportunities on behalf of your cause.
Interested in learning more about corporate giving and how you can make the most of it for your organization? Read up on these other educational resources: