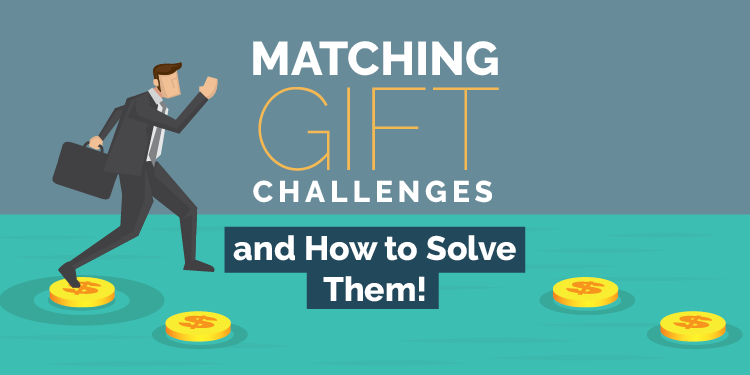 Corporate matching gifts are a particularly valuable form of nonprofit funding, yet thousands of organizations fail to reach their full matching gift potential each year. In fact, common matching gift challenges lead to an average of $4 to $7 billion in available corporate funding going unclaimed each year.
To a nonprofit fundraiser, that's essentially free money going right out the window⁠—rather than to charitable causes like your own that are in great need of funding.
So it's time to do something to bridge the gap between available and secured matching gift revenue. In this guide, we'll walk through the following barriers to matching gift success (and what you can do to overcome them):
Get ready to increase your nonprofit's matching gift fundraising by preparing and guiding dedicated donors through the process and past these roadblocks. Let's begin!


Matching Gift Challenge #1 – Donors have never heard of matching gifts.
Thousands of corporations employing millions of individuals incorporate employee matching gift programs as a component of their philanthropic efforts. But unfortunately, research shows that more than 78% of this group is unaware that their employer will match their donations⁠—resulting in less than 7% of match-eligible individuals actually submitting their match requests.
More than likely, a significant portion of your nonprofit's donor base falls into the previous category of match-eligible yet uninformed individuals. And when donors don't know their employers will match their donations, the organizations they give to (such as yours) cannot expect them to secure the available match.
Matching Gift Solution – Market matching gift opportunities.
One of the most impactful ways to drive matching gift revenue is by ensuring each donor is exposed to the idea of matching gift programs. With strategic matching gift marketing efforts, you can share general information about corporate and workplace giving initiatives, how these programs benefit each party involved, and how individuals can determine whether their employer participates in matching employee gifts.
We suggest taking a multichannel approach to promote these giving opportunities to donors, including prominently displayed matching gift information on your nonprofit's website, email marketing efforts, social media platforms, and more.
Then, be sure to provide your nonprofit supporters with easy access to an intuitive matching company database (the tool can be embedded in your website, donation forms, etc.). This will allow users to quickly search for their employer, determine whether the company matches employee gifts, view program guidelines, and navigate to the company's submission forms.


Matching Gift Challenge #2 – Donors are unsure how to request a match from their employer.
Match-eligible donors love participating in their employers' company matching programs. But even the most dedicated supporters are not likely to jump through a ton of hoops to secure a match on your behalf.
And unfortunately, many companies fail to effectively communicate the steps an individual should take upon making their initial donation in order to request a corporate match. Too many roadblocks or uncertainties often lead to abandoned match potentials.
Matching Gift Solution – Share company-specific instructions and next steps.
Let's say your donor is excited by the idea of securing a donation match from their employer on your behalf. But once they submit their initial gift, they have no idea where to start. As a result, it often falls on the nonprofit to help their donors navigate these sometimes-difficult processes by sharing matching gift guidelines, submission forms, and more specific to the individual's employer
Luckily, your matching gift software triggers personalized, company-specific matching gift follow-ups that provide detailed information on their employer's matching gift process. This includes easily accessible match eligibility criteria (such as minimums and maximums, types of qualifying nonprofits, and more) and direct links to the company's online match request forms.
When a nonprofit simplifies the process (and specifically the steps required of the individual donor) to secure a company match, more individuals are likely to participate.


Matching Gift Challenge #3 – Donors do not submit their match requests by their deadline.
Each company that offers a matching gift program is able to determine its own deadline by which employees must submit their match requests in order to secure corporate funding on the organization's behalf.
Although many businesses choose generous deadlines (often coinciding with the end of the calendar or fiscal year in which the gift was made or pertaining to a number of months post-donation), tons of donors fail to submit their matching gift requests in time. This is especially common when individuals have not been previously aware of their employer's matching gift programs.
Donors will often be exposed to the idea of matching gifts within the donation experience itself (such as with your embedded matching gift donation page widget) and interested in participating in their employer's program. Upon submitting their gift, however, their attention is brought elsewhere, causing them not to complete the match request process on the spot. When this happens, some donors never come back to request their matching gift. They may not even think of it again until long after the match request window has been closed.
When deadlines pass, a previously match-eligible donation essentially loses its eligibility status before the donor has a chance to secure their corporate match. In other words, the nonprofit doesn't receive the matching funds.
Matching Gift Solution – Enact regular matching gift follow-ups post-transaction.
Organizations that follow up with match-eligible donors post-donation are more likely to keep their cause⁠—and potential match⁠—at the top of the donor's mind for longer.
To better understand this point, here are a few key facts to know (based on previously cited studies by Double the Donation):
Matching gift reminder emails sent within 24 hours of a donation being made results in a 53% open rate (this is 2-3 times higher than the average nonprofit email open rate).
Incorporating more than one matching gift reminder email drastically increases the number of matching gifts submitted. For example, a second matching gift email sent increases the number of matches identified and submitted by the first email by 48%!
Your organization can even drive more matches by leveraging a sense of deadline-related urgency. For example, consider incorporating in your follow-up emails the importance of requesting company matches as soon as possible to avoid missing the matching gift window.


Matching Gift Challenge #4 – Fundraisers do not have time to devote to matching gifts.
So matching gifts are free money. But in order to maximize the amount of matching gifts an organization receives, it requires time and effort invested into a strategy.
Someone has to inform supporters about matching gift opportunities to offset the millions of matching gift-eligible individuals who have never heard about these programs. Someone has to follow up with donors and remind them how to submit a match request with their employer.
What if nobody on an organization's team has the time to be that "somebody?"
Matching Gift Solution – Streamline the matching gift process with automation software.
When you don't have the time and energy to devote to another fundraising initiative, that's when you bring in software to do the job for you. In this case, matching gift software enables organizations to streamline the matching gift fundraising process from start to finish using automated communications in place of tedious manual labor.
Each time a donor gives to your nonprofit, they'll be exposed to matching gift information via an embedded donation page search widget where they're encouraged to enter their employer's name. Within hours, your software will trigger personalized donation follow-up emails complete with company-specific matching gift guidelines and online request forms. The automation solution then records donation and employment data to store alongside donor records and tracks donors through the process to drive more matches to completion.
Double the Donation's studies report that matching gift automation can substantially increase the amount and percentage of corporate matches driven to completion. In fact, utilizing a matching gift automation tool (like 360MatchPro by Double the Donation) has been known to double or even triple an organization's matching gift revenue.
So not only will there be less to do on your team's plate, there will be more dollars flowing into your organization!
---
With the right tools and strategies, any organization has the ability to increase its matching gift fundraising efforts and begin making the most of this severely underutilized nonprofit funding source.
Start by taking a proactive approach to overcoming common matching gift challenges like these. In the end, you'll see more corporate and individual donor dollars flowing toward your cause, your organization will be better funded for greater success, and your beneficiaries will reap the benefits of a well-run program. Good luck!
Ready to learn more about matching gifts, corporate giving, and overall fundraising strategies for raising more? Check out our other educational re: Charity guides here: