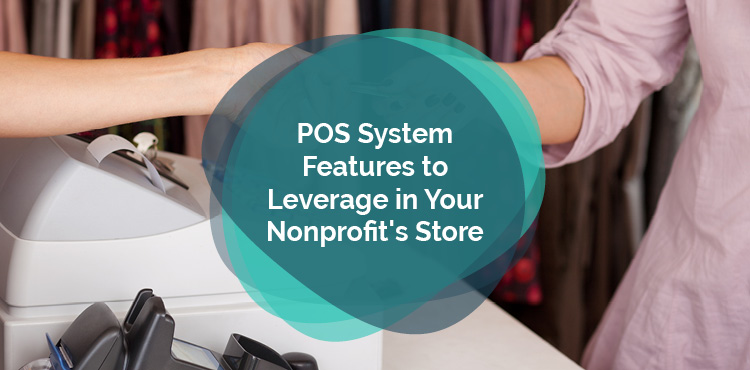 In addition to donations, grants, and matching gifts, selling your nonprofit's merchandise or services can be an excellent source of supplemental funding for your cause. A digital and/or physical storefront can attract new supporters who are interested in your products or services, as well as supporters who want to receive something more than your appreciation in return for their support.
However, as you're designing your custom products and defining your marketing strategy, you should also consider the point of sale (POS) system you'll use, which will be a critical factor in your store's success. Today, POS systems do much more than simply process transactions. A robust all-in-one POS system can help you:

That being said, not all point of sale systems are built the same way. Each will emphasize certain features over others. As you read, consider which features are the most important to your nonprofit's store and prioritize those when deciding on your POS system.
Make sales online.
You've likely already incorporated virtual strategies into your fundraising plan. Online shopping affords customers the convenience of never having to leave their couch to get the things they want. With so many people (including your supporters) online, your store will suffer if it doesn't join them.
But there's good news! You don't have to set this up on your own. Your POS system can (and should) be able to integrate with your existing eCommerce website, or help you create a new one. Your eCommerce website should offer the following features:
Product pages. These pages are perhaps the most important part of your site! List and promote the services and products you're selling.
Easy checkout. If visitors face technical difficulties or tedious forms during checkout, they're likely to abandon their cart. Instead, make this process as easy for them as possible.
Calendar page. If you're holding upcoming galas, trainings, or volunteer events, post them on your eCommerce website for interested site visitors.
SEO optimization. Optimize your pages for both easy user experience and to rank high in search engine results, drawing more traffic to your site.
Templates. You have more important things to do than fiddle with a tricky user interface. Get your website up and running without a headache.

Making online sales can save your nonprofit time, raise more money, and reach supporters around the world—and your POS system should help rather than detract. That being said, in order to avoid unhappy customers, make sure your website displays a real-time update of your store's in-stock and out-of-stock products.
Streamline inventory management
Streamlining inventory counting and management may seem unimportant, but it will free up time for your staff and volunteers to take steps to help your store grow. Your staff and volunteers are working in your store because they believe in your nonprofit's mission. Don't waste their time by asking them to manually count items!
Your POS system should include both software and hardware features to keep track of your products, analyze sales reports, and automatically update your stock, all in a single dashboard. Use your POS system to:
Offer more of the products and services that your customers want with an unlimited number of SKUs.
Price products accurately, easily, and competitively with barcode scanners and printers—so that you make a profit and customers know how much they'll be paying.
Keep high-demand products in stock and inventory updated with automatic reorders when stock drops below a minimum threshold.

Ultimately, however, you can't expect your POS system to entirely change the direction of your nonprofit's store on its own. In order for a powerful POS system to reach its potential, you should establish processes, procedures, and ongoing training to support your staff. This brings us to the next feature you should leverage: technical support!
Support staff success.
At one point or another, who hasn't found themselves in a never-ending cycle of restarting their bug-prone computer—and restarting and restarting—each time hoping for a different result? While not exactly a product feature, technical support is crucial to your store's success.
As we mentioned above, your staff and volunteers are working for your nonprofit because they believe in your mission, not because they want to struggle with a piece of esoteric technology. If you have volunteers who feel frustrated and unsuccessful in their positions, they're likely to look for other organizations to donate their time and support.

Your POS system should be easy to use on day one and offer continued, reliable in-house service. From installation to SKU integration, choose a POS provider who is always available and happy to lend you and your team their help. If you're looking into purchasing a new POS system, make sure that the provider also provides you with complete setup, staff training, and a thorough warranty.
Keep track of your volunteers and staff.
You likely already know you should be tracking your staff and volunteer hours for many of your grant applications and grant reports. Moreover, tracking your volunteers' time can be leveraged to earn volunteer grants from your volunteers' corporate employers. But doing this by hand or via an Excel sheet can be quite tedious and result in errors and lost hours.
Instead, reduce unnecessary administrative burden by having your POS system automatically log staff and volunteer hours. Here's how it works:
When staff and volunteers arrive, they'll scan an "employee" card or log into your system with a unique username and password, which will automatically trigger the beginning of their shift.
If they need to take a quick break or lunch hour, they can easily log that time in the POS system.
When they leave, they'll sign out of their account, marking the end of their shift and logging their total time worked.

As a result, administrators can have complete access to view and track real-time data on staff and volunteer hours as well as schedule an entire team's shifts for weeks or even months ahead of time.
Build an engaging loyalty program.
According to POS Nation's guide to growing retail sales, a 5% increase in customer retention can boost overall profitability by more than 75%. Dollar for dollar, that's more money for your nonprofit to spend toward the important work you do.
So how do you retain customers to your nonprofit's store? POS Nation recommends four approaches to loyalty promotion via your POS system:
VIP clubs. VIP clubs can be an easy way to show your appreciation to your most loyal customers and supporters. Leverage your POS system to offer exclusive opportunities—such as product launches, events, and discounts—to repeat customers or high-priority supporters.
Punch cards. Historically, punch cards were a way for customers to earn rewards and encourage loyalty. After each purchase, customers could get a hole punched into a physical card. When a customer filled up their card, they could redeem it for a reward or discount. But long gone are the days when your customers need to carry around (and often lose) a physical punch card. Your POS system can digitally and automatically track customer purchases and the corresponding points so they don't have to!
Birthday perks. Why do most businesses offer birthday rewards? Because they work! Customers and supporters always love a free perk and they particularly appreciate the personal touch of being wished a happy birthday. Your POS system can notify staff members during checkout when customers are eligible for a birthday reward.
Partner programs. In addition to offering rewards to your store, you can partner with other businesses and nonprofits to offer cross-store promotions. With this approach, you can earn customers and supporters who wouldn't normally shop at your nonprofit's store. Leverage your POS system to print coupons that customers can use both at your store and partner stores. 
Focus your strategy on one of these approaches, or combine them to attract and deepen your relationship with a wider range of customers. Whatever you choose, use these incentives as an opportunity to keep track of customer purchase history, contact information, and personal data to better tailor your deals, services, and products to their interests and needs.
As you explore these system features, don't forget to also take advantage of all the data your POS system collects along the way—from peak shopping hours to highest-selling products to customer contact information. Your POS system should be able to quickly generate reports that show you trends and patterns in your nonprofit's store. Use these reports to evaluate your product offerings, find and retain customers, and target your marketing via text messages, social media, direct mail, emails, and reviews. As a result, you'll be able to not only grow your store but more importantly grow your nonprofit's reach.