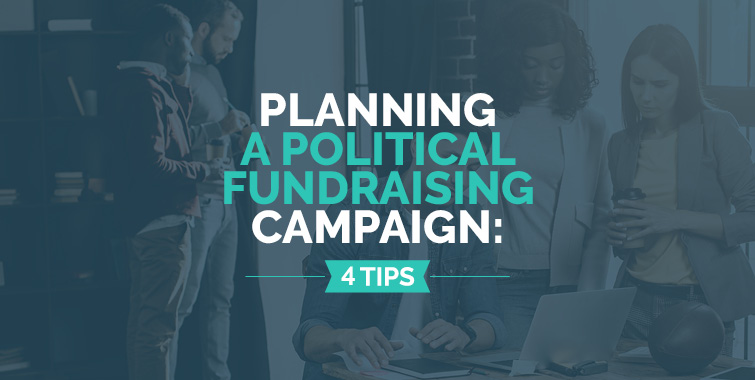 It's no secret that, in order to stand out in the current political climate, you need a significant amount of funding. Whether you're advocating for change at the local level or running for a federal office, the amount of money that you raise can determine the longevity and success of your campaign.
Creating a fundraising campaign from scratch can be overwhelming. But with a well-executed strategy powered by the right digital tools, you can set yourself apart from the competition and raise meaningful support. Make the most of your political fundraising efforts with these five tips.
1. Encourage crowdfunding
Crowdfunding is a great way to garner widespread support. It combines the power of grassroots activism with fundraising technology to connect people who are passionate about your cause. Rather than making cold calls to individuals you don't know, your organization can use a specialized crowdfunding platform to reach out to people who are already donating and sharing your mission.
To launch a political crowdfunding campaign, create a donation page through your chosen platform with information about your cause and the particular reason for your fundraiser. Then, encourage supporters to share the donation page among their personal networks and make a call to action for small to mid-sized gifts. This is an effective, low-pressure way for people to contribute to your political fundraising campaign on their own terms, and anonymously if they choose.
2. Host hybrid events
Events are a great way to bring new supporters into the fold and educate them on the actions you want them to take. If you want to reach an even greater number of supporters, you might consider hybrid-style events. A hybrid fundraising event is an in-person event with a virtual element that allows you to expand your audience beyond those in the local area.
Consider hosting one of the following hybrid events during your next political fundraising campaign:
Auctions: With mobile bidding, both in-person and virtual audiences can use their phones to bid on the items they find most interesting.
Galas: Invite high-profile guests and include activities such as live entertainment and speeches to attract a large audience and generate significant funds.
Virtual walks and runs: Virtual walks and runs allow donors to compete in sporting events at their convenience while raising money for your cause.
While it can be hard to mimic the excitement and connections of a fully in-person event, there are online platforms and event software solutions that can help. Many organizations have found success using video conferencing and live streaming software to expand their in-person events into the virtual space.
3. Pay special attention to your digital channels
Chances are most of your potential supporters, especially younger individuals, engage with politics online. That's why it's important to establish an online presence that explains why your cause matters and outlines how supporters can get involved.
Use these digital fundraising methods to drive your campaign forward:
Email Marketing: According to fundraising statistics from 360MatchPro, email marketing produces the highest return on investment. Use compelling subject lines like "Donate to help pass the End Childhood Hunger Bill," to encourage recipients to open your message and take action.
Texting: Use text messaging to get the word out about upcoming events, send links to supporters, and allow donors to give conveniently using their mobile devices.
Online Fundraising: Your organization's website is likely the first place that people will turn to for cause-related information. Create separate pages for each of your campaigns and embed donation forms throughout.
Social Media: Spread awareness for your campaign on social media through eye-catching links, videos, graphics, and GIFs.
For the best results, use these digital fundraising strategies in conjunction with traditional marketing. For instance, you could use print flyers to introduce the general population to your cause. Then, use a marketing tool to automate a series of emails that link to your crowdfunding platform. Producing a diverse range of content in this way will help you engage more supporters and reach your goals.
4. Leverage advocacy software
Throughout your political fundraising campaign, you're likely to generate a lot of information about donors, event attendance, and campaign success rates. Investing in advocacy software can help you store these key data points and analyze each activity after its completion.
In addition to collecting and analyzing metrics, your advocacy software solution should help you streamline operations. Search for a comprehensive solution that offers digital marketing and fundraising capabilities that you can use to maximize your efforts.
---
As you plan your next political fundraising campaign, keep in mind that preparation will need to take place far in advance. For example, if you decide to host a hybrid gala, you'll have to factor in the time it takes to market your event, connect with supporters, accept registrations, and decide on the right technology. But with proper planning, the right fundraising tools, and a detailed strategy to guide your efforts, you'll be well-equipped to enact meaningful change.