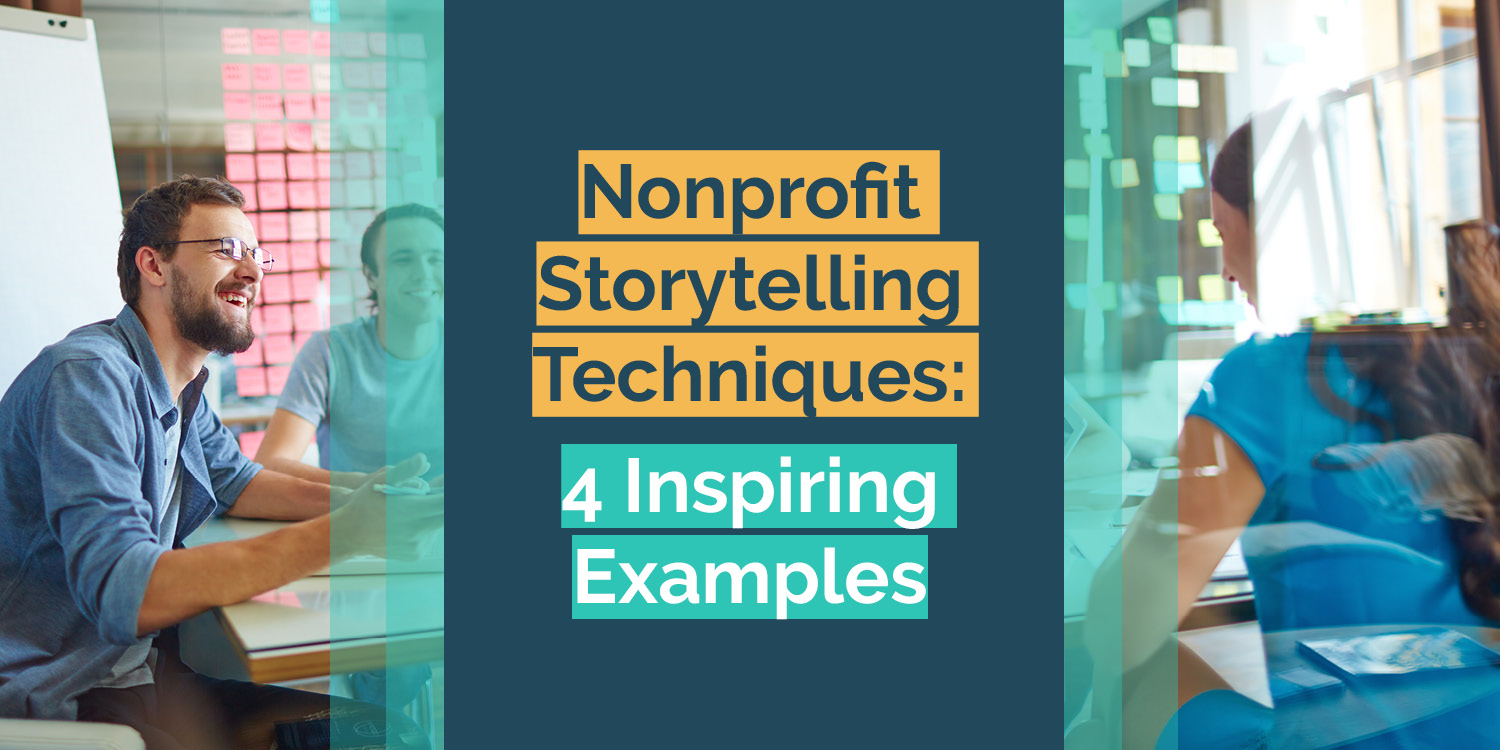 Did you know that our neural activity increases five times when listening to a story? Or that in comparison to data, facts, and stats alone, stories are twenty-two times more easily remembered? The research is clear—stories engage us in a uniquely effective way.
Thoughtful storytelling strategies can translate into measurable benefits across your organization, enabling you to create stronger relationships, increase loyalty, and prompt action. Not to mention, storytelling can be a powerful addition to your campaign platforms. With tight campaign turnarounds and short attention spans, storytelling can be the secret weapon to spread awareness and build trust fast.
In this guide, we'll explore four examples of effective nonprofit storytelling to get you inspired. Each one represents a best practice you can place in your organization's marketing toolkit for your next campaign. Let's begin!
1. Place the donor as the hero: Malala Fund
Everyone likes to be the hero of the story, and this is no different in the case of nonprofit donors. Your supporters give because they resonate with your cause and want to make a difference, but that makes them the hero of your mission!
Empower your donors to take action by clearly identifying how supporters can activate positive change. Malala Fund's donation page does a great job of inviting supporters to take the leading role. Here's how it sets the scene:

The Challenge: Barriers like conflict, poverty, discrimination and climate crisis prevent girls from accessing safe and quality education…girls are fighting for their right to learn — and they need your help.
This section lays the groundwork for the main problem the Malala Fund solves—education access for girls in need.
Our Approach: Malala Fund believes local educators and activists are best suited to address the problems girls face in their communities. We invest in their work and collective power to create change, hold leaders accountable and give girls the tools they need to advocate for themselves.
This section discusses the tailored approach the Malala Fund takes to combat the above educational barriers.
Your Impact: From supporting STEM education for young women in Pakistan to creating safe learning spaces for girls in northern Nigeria, your gift today is an investment in Malala Fund programmes that directly benefit girls.
Finally, the last section clearly states how a donor's gift can turn the tables for good. The Malala Fund frames donations as an investment into the educational future of girls. You can use this structure in your online campaign appeals within your existing platforms to engage supporters in a clear and memorable way.
2. Use statistics to communicate impact: Charity: water
Incorporating data, statistics, percentages, or other numerical information into your campaign is an effective way to demonstrate your nonprofit impact.
Numbers also add an element of depth to your claims so that supporters can more easily visualize the impact of your mission. For instance, Charity: water has become a household name in the nonprofit branding space because of its ability to weave data insights into storytelling. Let's take a look at its homepage stats:
703 million people lack basic access to clean and safe drinking water
137,015 water projects funded
17,463,191 people served
The above statistics speak to Charity: water's mission, credibility, and reputation, inviting donors to trust its commitment and capabilities.
Compare those statistics to its donation description: "Your $40.00 monthly donation can give 12 people clean water every year. 100% funds water projects"
Not only does this description make the donor the hero, it also quantifies exactly how much of an impact a donor's gift can have. Instead of vaguely describing how a donor's gift can create change, Charity: water assigns an exact amount of beneficiaries to the dollar amount, making donors understand just how far their money goes.
3. Use an emotional appeal: Battersea Animal Shelter
To make successful donation requests, your nonprofit must inspire some sort of empathy. That's where an emotional appeal comes in.
Without an emotional aspect, your donors may not be able to connect with your cause on a deeper level. To get them to share your passion, you'll need to frame your cause in an emotionally compelling way. Let's look to Battersea Animal Shelter's donation page as an example. Next to a picture of a wide-eyed puppy, the shelter places this donation description: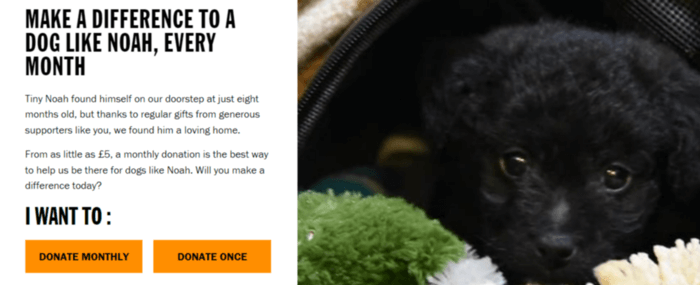 "Tiny Noah found himself on our doorstep at just eight months old, but thanks to regular gifts from generous supporters like you, we found him a loving home. From as little as £5, a monthly donation is the best way to help us be there for dogs like Noah. Will you make a difference today?"
The story of "Tiny Noah" pulls at the donor's heartstrings and gives them a reason to join Battersea's mission to reach more animals in need. How did it achieve this? By using emotional language. You can use the same technique by telling your beneficiaries' stories. Just be sure to ask for permission before sharing anyone's personal information.
4. Use video: High Jump
According to Getting Attention's storytelling guide, 57% of people who watch nonprofit videos will actually donate. Get the fundraising odds going in your favor by using video to tell your campaign story.
Videos engage nonprofit audiences both visually and audibly. They also uniquely humanize campaigns by letting the viewer step into the mission without getting distracted. And, with the right sound, visuals, and story arc, videos have the power to emotionally resonate.
To illustrate these points let's review High Jump Chicago's recent campaign video by Delack Media Group. For context, this organization provides tuition-free academic enrichment programs for 7th and 8th graders in public schools.
This video stands out as an exceptional example because of its straightforward b-roll footage of the city of Chicago and interviews with locals. It lets viewers enter into High Jump's community and better understand how their donation furthers student academic success.
To get started with video storytelling, you can choose to either produce a campaign video in-house or partner with a nonprofit video production company to make sure your vision is captured perfectly.
---
If you're interested in finding more storytelling inspiration, consider conducting more research. Look for guides that provide campaign-specific examples,  such as Fundly's roundup of crowdfunding examples, for a  starting point. Even if you've already employed some storytelling techniques, thorough research about evolving best practices can always help you refine your existing approach. Happy storytelling!