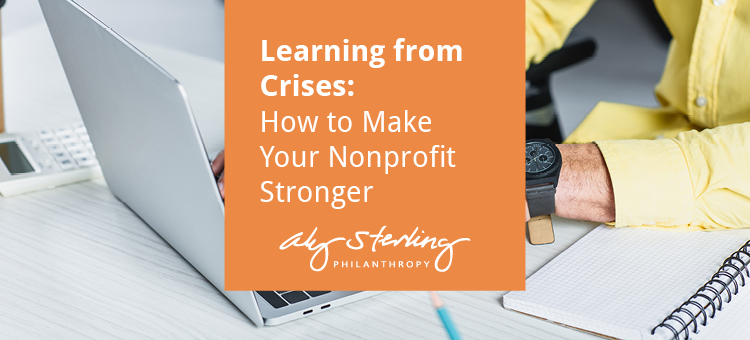 Although your organization has undoubtedly faced crises over the years, the nonprofit world has rarely seen a challenge as universal as the COVID-19 pandemic. The pandemic left the entire world reeling, forcing nonprofits to adapt to new challenges on the fly. Times of crisis like the pandemic often reveal nonprofits' weaknesses, but also present new opportunities for adjustment and growth. 
Now, with the vaccine rollout underway and public safety measures in place, you may be looking for strategies to lead your organization out of the pandemic and into a strong future. At Aly Sterling Philanthropy, we help nonprofits analyze areas of strength and weakness to create a strategic plan to face future challenges. To take advantage of the learning opportunities presented by crises, we recommend that nonprofits:
The COVID-19 pandemic isn't the first major crisis nonprofits have faced, and it won't be the last. These tips will help fortify your organization and ensure it is prepared to face any new obstacles head-on.
Reinforce communication plans
As your organization moves through different phases of a crisis, create and maintain clear lines of communication between your organization and your team, volunteers and donors. 
Check in frequently with your people to see how everyone is feeling as the situation evolves. For example, you might create a survey for your supporters to share their opinions about your organization's COVID-19 procedures, where they see your organization going in the future and how they want to engage with you going forward. Be sure to also use video chat platforms like Zoom or Google Meet to host recurring all-hands meetings with your team to ensure everyone is still on the same page with your crisis management plan. 
Further, use your email newsletter, social media pages and website to distribute updates to supporters and create a two-way communication line so people can ask questions and give feedback. 
In all communications, strike an optimistic tone to reassure supporters that the current predicament won't last forever and that your organization is ready to take on a post-crisis world. You need the support of your people more than ever in times of crisis, so prioritize open and honest communication among your team and supporters. 
Next steps: Figure out the communication channels that work best for your team and formalize the methods into a communication plan. Your communication plan will help guide your efforts 
during future crises by providing the strategies that work best for your organization. 
Diversify fundraising efforts
Take this opportunity to rethink your fundraising efforts for a fresh, revitalized approach to fundraising, and decide how you will maintain and expand your revenue streams in the future. 
Like a farmer growing a variety of crops rather than gambling on the success of just one, having a diverse range of fundraising avenues can help your organization weather any disruptions if one stream begins to diminish. For example, during the pandemic, you might have seen individual donations dry up due to the economic downturn, but perhaps you were able to take advantage of COVID-specific grant funding from a community foundation. 
Having multiple fundraising streams gives your organization a greater degree of flexibility when meeting needs and dealing with challenges. To create a fundraising strategy that can persist through any crisis, nonprofits should: 
Conduct prospect research

. Dive into your CRM analytics to search for new major donor prospects. Look at data points such as wealth indicators and past giving history to identify top prospects and reach out through sponsorship letters or phone calls. Also, be sure to check in frequently with your current major donors to express gratitude and solicit feedback for how your organization can improve communication going forward.

Strengthen corporate partnerships.

Corporate partnerships can be long-lasting, mutually-beneficial relationships for your organization.

Double the Donation's guide to corporate responses during the pandemic

found that many corporations actually expanded their matching gift programs in this period. Reach out to your corporate sponsors to promote these programs as an easy and impactful way your corporate partners can help your organization in times of need.

Refresh grant-writing strategies. Grants can be challenging to acquire, but a deliberate grant-writing strategy can help improve your organization's chances of gaining access to these funding opportunities to help ride out a crisis. Conduct research to find not only new opportunities available to nonprofits since the start of the pandemic, but also specific opportunities that apply to your nonprofit's mission. Use this guide to grant writing to help improve your approach, with tips such as tailoring each proposal to fit the submission guidelines and using persuasive writing tactics to inspire readers.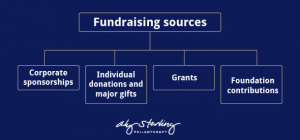 Use each of these strategies in tandem to increase your odds of fundraising success during times of crisis or hardship. 
Next steps: To help define and implement your crisis-era fundraising strategies, consider hiring a fundraising consultant. 
These experts can help lead your organization out of current challenges and equip you with a strategy to apply to any crisis. 
Embrace digital platforms
If there's anything we've learned from the current COVID-19 pandemic, it's the dominance of virtual technology and the power of digital tools to bring people together in times of adversity. 
If your organization has been slow to adopt virtual tools, now is the time to get on board. However, if you've utilized virtual platforms throughout the pandemic or other challenging times, use this opportunity to codify your virtual strategies into a manual or guide to have for future reference. 
A few main components of a strong nonprofit digital strategy include a high-quality website, mastery of live-streaming platforms and a thriving social media presence. 
Ensure your website provides ample information on your organization's mission, history, program updates and volunteer and donation opportunities. Additionally, take this opportunity to make sure your website is optimized for viewing on any device: computers, mobile phones or tablets. Boosting accessibility in web design is critical so that anyone can get involved with your mission as you ramp up your activities coming out of a crisis. 
Further, invest in an online live-streaming platform to streamline your approach to remote communications and virtual events. Although in-person activities will resume when the pandemic subsides, we believe virtual meeting technology is here to stay because of the multitude of benefits live streaming provides for nonprofits.
It allows organizations to save money on event overhead, and people can connect through it even though they might be separated by hundreds or thousands of miles. Decide on a virtual streaming platform now that you can use in both times of crisis and for everyday operations to host meetings, info sessions or other virtual events.
Finally, use your social media pages to share updates with supporters and provide opportunities for them to get involved. Make sure these posts are targeted and integrated into your overall communications strategy (including email and your high-quality website, above) and are not utilized as a stand-alone effort. 
Use the specific tools of each platform, such as creating polls on Instagram Stories or using Facebook Live to host a Q&A, to engage with supporters. Create a social media style guide or best-practices document to organize and systemize your approach to social media communications. Note important communication aspects such as tone, post frequency and guidelines for responding to messages. 
Next steps: Your organization likely has gained a lot of momentum recently in the use of digital technology. But don't lose this energy as you transition to a new phase! Digital technology is here 
to stay and will only grow in importance, so prioritize your digital strategy now to have a blueprint for future virtual crisis communications.
Create a data-driven strategy for the future
As your organization positions itself for success coming out of a difficult period, rely on your data to drive decision-making and strategy. Use the data gathered from your pandemic-era fundraising efforts or campaigns that took place during other times of crisis to assess performance and adjust your strategy accordingly. 
For example, if you determined that donors who were contacted via phone call had a higher fundraising participation rate in your last campaign, continue committing to one-on-one communication strategies.
Your team will have more confidence in your future crisis management plans because they are backed up with evidence and informed by past experience. 
Next steps: Build out your CRM with data from crisis-era fundraising efforts and store information on successful communication strategies during these periods to replicate in future crises. Having easy access to these hard facts can help you make a data-driven case for new fundraising and communications strategies to your board or other leaders within your organization. 
---
It's in times of struggle that we find out what our organizations, and the people within them, are truly made of. Learning from the successes and failures of crisis-era strategies will give your organization a greater degree of resilience.
And remember, bringing on a fundraising consultant can assist your team in times of transition and change. You'll be equipped to emerge from the current crisis stronger and take on new challenges with a full set of resources at your disposal.