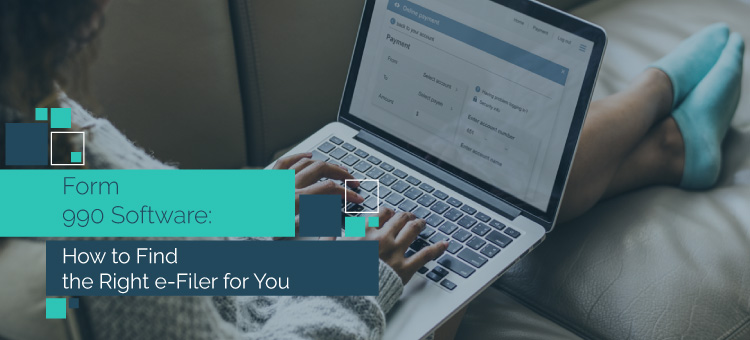 Who loves tax season? Honestly, very few people. Between complicated forms with boring names and confusing processes, you probably dread this season every year.
While nonprofits often qualify for a tax exempt status, this doesn't mean that the tax season gets easier! If you're an organization that falls within the 501(c)(1) through 501(c)(29) range, you're required to file for tax-exempt status.
In order to maintain this exempt status, most nonprofits (501(c)(3) organizations in particular) must file an annual 990 form.
Therefore, when it comes to this year's tax season, your nonprofit will need to know which form to file as well as how to file it. Luckily, there are plenty of software solutions out there that can make the process of filing much easier.
This guide is designed to walk you through all of your questions about tax filing and the software that can help you file. You can either read through the guide in its entirety or use the navigation below to jump to your specific question:
Tax season doesn't need to a dreaded time! Let's dive in to learn more about how you can make this tax season easy.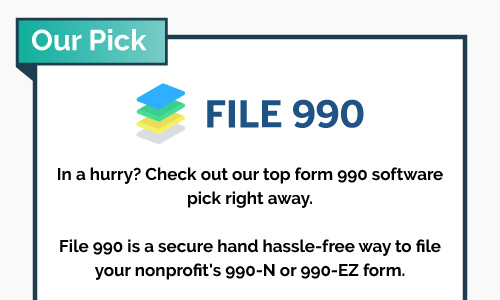 1. What Tax Form Does My Nonprofit Need to File?
Even within the 501(c)(3) category of organizations, there is still some variation in the tax filing process. Different nonprofits should file different 990 forms depending on their gross receipts throughout the year.
The different options for the types of 990 forms filed by nonprofits include the forms 990-N, 990 EZ, 990, and 990-PF.

990-N
The 990-N tax form is sometimes called the 990 Postcard due to the incredibly short nature of the form. The full name of this form is technically called "Electronic Notice (e-Postcard) for Tax-Exempt Organizations Not Required to File Form 990 or 990-EZ." It's an eight-question, electronic tax form.
The primary indicator to know if you can fill out this form is that your nonprofit must have had gross receipts less than $50,000 throughout the financial period.
However, there are other restrictions on those that can file out this postcard form. Your nonprofit cannot file a Form 990-N if your organization is:
Church-affiliated
Part of a group return
Politically affiliated
A U.S. government instrumentality
A split-interest trust
An ERISA sec. 4049 trust
A group legal services plan
A qualified tuition program
A charitable trust treated as a private organization
To read more about the restrictions and limitations for what types of organizations can file a 990-N form, read through the IRS user guide.

990EZ
The 990EZ form is just one step above the 990-N form. It's not quite as short as a postcard, but it's only a four-page form.
Organizations qualified to fill out a 990EZ form are those with gross receipts greater than $50,000 but less than $200,000 or assets that total at less than $500,000.

990
The 990 form is a twelve-page form that must be filled out annually (with some exceptions) to maintain your nonprofit's tax-exempt status.
Organizations that need to fill out this form are those that have at least $200,000 in gross receipts during the financial year or above $500,000 in assets.
For a long-winded discussion about the details of a 990 form, the IRS has an incredibly comprehensive guide available here.

990-PF
The PF in the 990-PF form stands for "private foundations." So the explanation is simple enough: Private foundations fill out a 990-PF regardless of financial status.
The 990-PF form asks private organizations to fill out information about their assets, financial activities, trustees and officers, and the grants awarded during the last financial period.

2. Why Do I Need Nonprofit Tax Software?
Nonprofits who fail to file their appropriate 990 form risk losing their tax-exempt status. This status saves nonprofits like yours a lot of money that could be spent on taxes rather than the organization's mission.
Nonprofit tax software can help solve a couple of different problems that you may experience with your 990 form, such as ensuring the information is complete and that you file on time.

Ensuring Information is Complete
The government doesn't necessarily want to let organizations go without paying taxes. After all, taxes are the federal government's primary source of revenue. Therefore, your 990 forms are your chance to prove to the government that you deserve your tax-exempt status.
If you don't fill out the form completely, you'll receive a Letter2695C returning your form due to the missing information.
How can form 990 software help? IRS-certified tax e-filers ask your nonprofit's financial manager a series of questions about your organization to auto-fill the necessary parts of the 990 form.
Form 990 software creates an easy user experience for your nonprofit's filing, making it much easier to hit all of the necessary components of the form.

Filing on Time
Your organization has a set period of time during which you can file your taxes. You'll fall into one of the following two deadline categories:
File your 990 by May 15th if your nonprofit follows the calendar tax year.
File your 990 by the 15th day of the 5th month after the month that concludes your fiscal tax year.
Although this provides a pretty wide time frame during which your nonprofit can file, that also leaves a lot of time that you can forget to file, which can lead to some major issues. The biggest immediate issue is that your nonprofit will be imposed a penalty of $20 for every day you're late. The max penalty is $10,000 or 5% of your gross receipts.
Did we mention that's just for organizations whose gross receipts are less than $100,000? If your receipts are greater than that, your penalty increases to $100 each day with a maximum charge of $50,000.
Plus, if you fail to file for more than three years, your nonprofit will lose its tax-exempt status and need to reapply and pay filing fees.
How can form 990 software help? Many nonprofit tax software solutions will send a reminder after your nonprofit's first filing to make sure you get the correct 990 form submitted on time. These reminders are often emailed and sent automatically to your treasurer with a link back to the e-filer.
Don't forget that if you expect to be late for some reason or another, you can always file a form 8868. This form will extend your filing deadline for an additional 6 months.

3. What are the Nonprofit Tax Software Key Features?
When you file using a 990 form software, it's imperative that you conduct some research before committing to a software solution. After all, you'll hopefully be filing using that software for years to come and you'll want to make sure you choose the best solution to meet your needs.
Some of the key features to look for in a software solution include data security, ease of use, affordability, and excellent customer service.

Data Security
The first priority for your nonprofit should always be security. You need to be sure that all of your important tax information is filed through a secure submission process.
Before submitting any of your important financial information to an online provider, double check to be sure you're using an authorized IRS e-filer.
IRS authorization ensures that your nonprofit's information will go straight to the IRS and that your organization's information is in good hands.
Also check to make sure the information you submit is safe in the e-filer's network. Look for one with bank-level security.

User Experience
The whole point of using nonprofit tax software is to make filing tax information easier for your nonprofit. Therefore, finding a solution with excellent user experience is key!
Generally, the preferred form 990 software will ask a series of questions from the user and fill out the form based on their responses to those questions.

Affordability
Filing to maintain your tax-exempt status is a method of saving money for your nonprofit. So why would you overpay to save that money?
Look for a nonprofit tax software solution that offers straightforward pricing so that you know exactly what your nonprofit will pay before you invest.
Transparency is key when your nonprofit invests in any software solution. This will help you factor it into your organization's annual budget.

Excellent Customer Service
Let's face it, you might have a couple of questions about your tax software or about your return. However, the majority of software providers are not authorized to explicitly offer advice about your tax filing. When you look for a provider, look for one with:
Contact information for software questions. When you come across questions about the software itself, you should find it easy to call, email, or otherwise contact your provider.
A referral network of accountants. Even if your software provider can't answer specific questions about tax information, they often have references that can answer those questions. Plus, those references won't only know about taxes, but they'll also be familiar with the software you're using!
Make sure you know how to find the answers to all of your questions. You're also always able to contact the IRS at 1-(800)-829-4933 or look up information on their website.

4. What are the Best Nonprofit Tax Software Solutions?
We've compiled a few of our favorite form 990 software solutions for you to choose from. Our recommendations include File990, TaxAct, and Aplos. Check out our reviews below:

File 990
File 990 is a safe and secure way for your nonprofit to file your 990-N or 990-EZ form. When you first log in to the software, all you need to do is enter in your nonprofit's EIN.
File 990 will pull information from the IRS database based on the EIN and ask a series of simple questions to help you fill out the remainder of the form.
This software provides features such as:
Email reminders to file your 990 form based on your saved fiscal period.
Bank-level security to keep your organization's information safe.
Trackable failed returns.
Instant verification of accepted returns.
Pricing
File 990 believes in a straightforward, transparent approach to pricing. You can file your 990-N form for $39.95 per filing or your 990EZ form for $49.95 per filing.

TaxAct
TaxAct offers a wide variety of forms that many differnet organizations can use. They provide simple guidance through the process of filing your 990 form.
This provider is perfect for organizations who fall under political and religious affiliations (who may not be eligible for 990-N or 990EZ forms) because of the variety of form options they offer.
TaxAct also offers features such as:
Printable backup copies of tax forms.
Alerts for errors or omissions in your filing.
Bookmark capabilities to save questions to return to later.
Pricing
Start for free with TaxAct, then pay when you file. The price to file is $59.95.

Aplos
Aplos offers a complete suite of financial management software that can help your nonprofit file your 990 form as well as create budgeting plans for your nonprofit.
Aplos is the perfect IRS-authorized e-filer for nonprofits who already use Aplos for their other financial management needs. 
This nonprofit tax software offers features such as:
Receipt and acceptance confirmations.
Status checks by entering your nonprofit's EIN into their database.
990 tags that you can use in your accounting books to mark specific transactions for easy 990 reporting.
Pricing
Contact Aplos for information about pricing.
---
Form 990 software drastically simplifies your nonprofit's tax season. Your organization saves a ton of money through your tax exemption status. So make sure you can keep this status! Never forget to file again and make sure your form 990 is always complete.
To learn more about nonprofit software solutions that can help your organization succeed, check out our resources below: