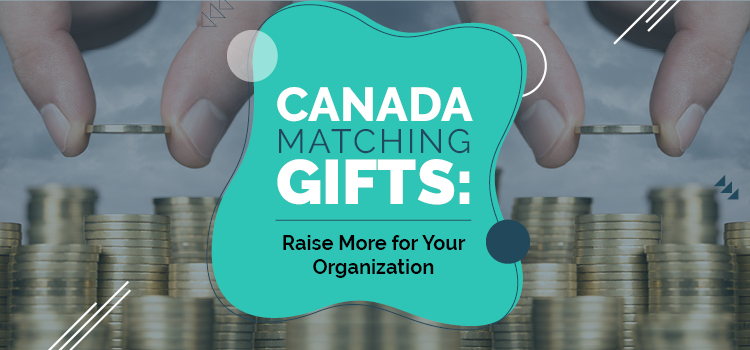 As a nonprofit organization in Canada, it can be a challenge to secure the funds you need to continue serving your mission. And if someone were to bring up matching gifts as a potential source of revenue, it might seem easier said than done.
But matching gifts are an essential channel of fundraising to pursue.
If your Canadian organization is looking for ways to increase its matching gift revenue, we've put together some great resources below to help you get started! In this article, we will cover:
Are you ready to start securing more matching gift revenue in Canada? Let's get started!


Matching Gift Basics
Matching gifts are a type of corporate giving program in which companies match donations their employees make to eligible nonprofits. Donations are typically matched at 1:1 ratio, but some companies will match at an even higher rate, such as 2:1 or 3:1!
Matching gifts are valuable for nonprofits, as they're essentially free money for their cause. However, many organizations overlook matching gifts because they don't have the time, resources, or staff needed to pursue this opportunity. This is especially challenging because many donors are unaware their companies even offer matching gift programs.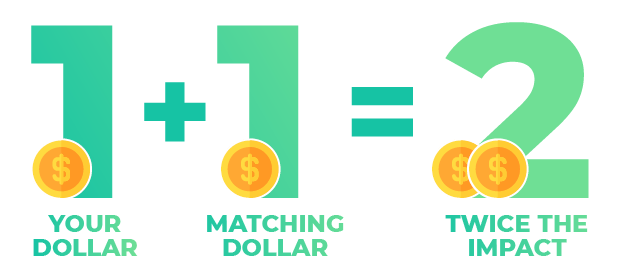 That's why it's important to leverage matching gift software to help your organization identify donors who are eligible for matching gifts through their employers. This way, you will boost awareness and bring in more revenue.
Read more about our favorite matching gift solution below!

Organizations that Raise Money from Canada Matching Gifts
Many organizations in Canada bring in revenue through matching gifts. Below are a couple prime examples of nonprofits that successfully market matching gifts to their supporters and make it easy for them to determine their eligibility.
Opportunity International
Opportunity International's mission is to provide financial solutions and training to empower people who live in poverty to transform their lives. The organization serves entrepreneurs in 28 countries around the world, providing access to loans, savings, insurance, and training.
Opportunity International prominently features a matching gift search tool on one of their "Ways to Give" pages, along with information about Canada matching gifts to encourage donors to check their eligibility: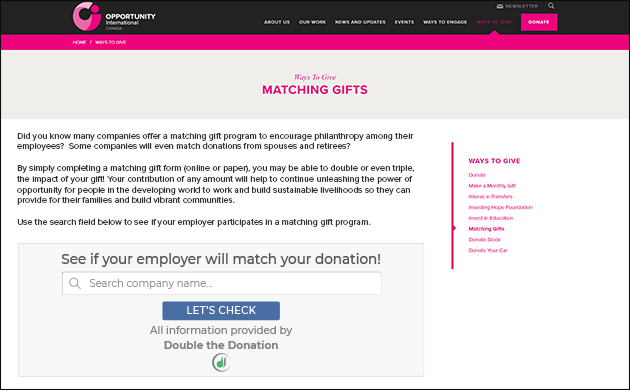 The Citizens Foundation Canada
The Citizens Foundation Canada is a nonprofit organization with the mission to fund educational opportunities for underprivileged children. The organization strives to ensure quality education and a better future by creating opportunities to improve the quality of life.
The Citizens Foundation Canada features matching gifts in their top navigation menu. Right out of the gate, supporters looking to donate can view information about corporate gift matching, which increases the chances that they request a gift match from their employer:

Companies that Match Donations in Canada
As a Canadian organization that benefits from matching gifts, it's essential to know about specific companies that match donations in Canada. Below are some examples of companies that match donations in multiple geographic regions, including the U.S. and Canada:
Weyerhaeuser
Weyerhaeuser has been growing trees and making forest products for more than a century, managing their millions of acres of forests on a fully sustainable, continuous cycle.
Weyerhaeuser donated $5.1 million in charitable grants, in-kind donations, and sponsorships last year. This includes matching gifts! The company matches eligible employee donations up to $1,000 per person per year to organizations throughout the U.S. and Canada.
Weyerhaeuser also offers a Dollars for Doers program, providing grants to organizations where their employees regularly volunteer. Once their employees have volunteered a certain number of hours, individuals or teams can apply for a grant. Last year, their employees contributed 23,000 hours across 24 states and 4 provinces, awarding $290,000 total in grants.
Learn more about Weyerhaeuser's giving programs!
The Home Depot
The Home Depot is the largest home improvement retailer in the U.S., offering supplying tools, constructions products, and services. They have stores in Canada, as well.
Though based in the U.S., The Home Depot also matches donations to Revenue Canada designated charities, with a $3,000 cap per employee per year.
Learn more about The Home Depot's giving programs!
Royal Bank of Canada
RBC, or the Royal Bank of Canada, is a Canadian multinational financial services company, and the largest bank in Canada by market capitalization. 
The company will match employee donations between $100 and $5,000 at a 1:1 ratio for all types of employees—including full-time, part-time, and retired individuals.
RBC also offers a volunteer grant program. Employees and retirees who volunteer more than 40 hours per year can request a grant of up to $500 for the organization.
Learn more about the Royal Bank of Canada's giving programs!
Looking for more of the top matching gift companies? Check out our list!

Our Favorite Database for Canada Matching Gifts: Double the Donation
We reviewed multiple options for matching gift databases, and our top pick came out to be Double the Donation.
Double the Donation offers an easy-to-use database of more than 20,000 companies and subsidiaries representing 15 million+ match-eligible individuals. This means donors who give to your organization are likely to find their employer's matching gift program in this database.
360MatchPro by Double the Donation
360MatchPro by Double the Donation is a matching gift automation platform that pulls from Double the Donation's comprehensive database. The platform can streamline your outreach process and track the match's progress through to completion. It essentially serves as your own matching gift team, taking stress off of your staff's shoulders and boosting your Canada matching gift revenue as a result.
360MatchPro benefits your organization by:
Identifying more matching gift opportunities.

The platform automatically scans provided donor information, including email domains and employer information, and triggers emails to those donors based on their match eligibility. If donors are match eligible, the emails will include instructions on how to submit a match request.

Driving more matches to completion. Direct donors to the forms they need after donating

with automated follow-up emails

.

This will ensure you give the right information to the right donors at the right time and that more matches are completed.

Allowing more time to focus on top opportunities.

Because 360MatchPro automates outreach for all matching gifts, big and small, your team can focus on higher-value matching gift prospects.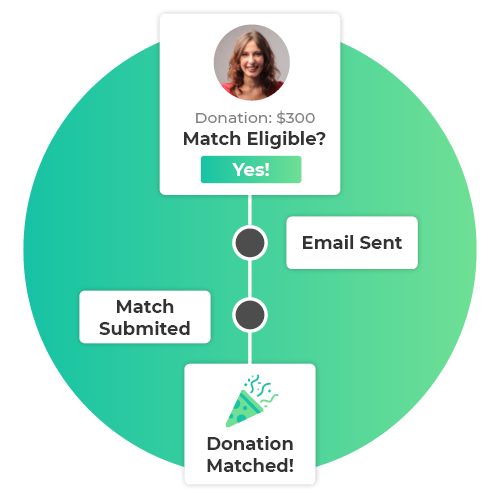 Learn more about 360MatchPro by Double the Donation!
Coverage of Matching Gifts in Canada
Double the Donation's database covers a majority of Canada's match-eligible employees, giving your organization the boost it needs to raise awareness among supporters about Canada matching gifts.
Based on a recent analysis:
Double the Donation's database covered approximately

$99,000 out of $102,000

in matches received for the Canadian market.

After analyzing the number of employees at companies making payments to Canadian affiliates of large global organizations, it was found that companies in Double the Donation's database employed 483,760 people, w

hile companies not in the database employed 4,124 people.

In total, Double the Donation's coverage of specific match opportunities in Canada was between 93-99%.
Double the Donation and 360MatchPro can help grow your nonprofit's revenue by helping you streamline your matching gift process. Raise awareness with the search tool widget and automate your outreach and easily track the progress of each match request.

Integrations with the Leading Fundraising Platforms
While coverage of Canada matching gifts is important, it's also essential to invest in a matching gift software solution that works with the fundraising platforms you already use. This is another reason we've selected Double the Donation as our top Canada matching gift database: the software offers more than 50 integrations with the leading fundraising platforms.
These include:
The benefit of integrating matching gift software with your fundraising solutions is simple. It inserts matching gift information right into your donation process in a natural manner. When the process is seamless, more matches will be driven to completion.
For example, here's how the integration works with Raisin, the leading Canadian fundraising platform: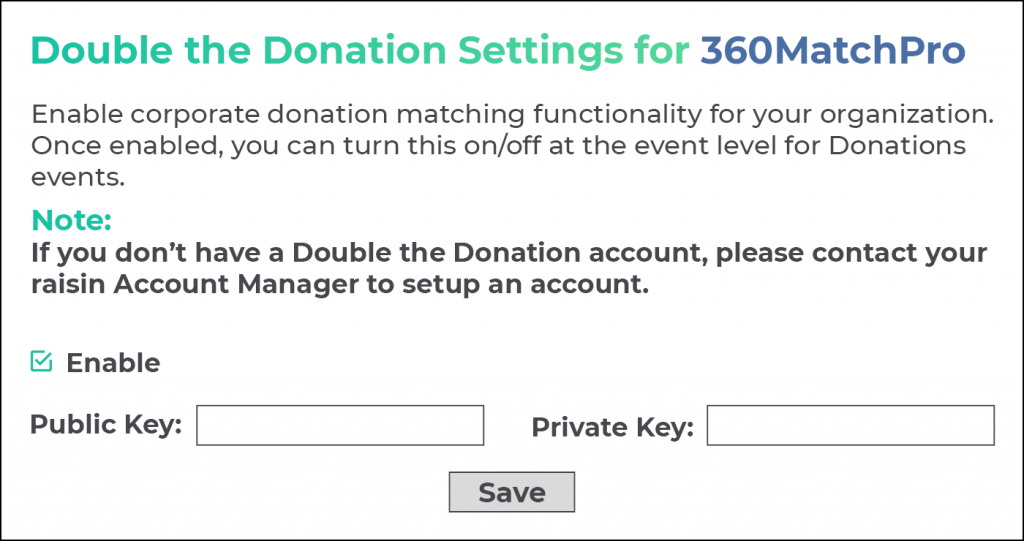 All you need to do is activate 360MatchPro by Double the Donation by entering your API keys within the Raisin platform. From there, you can choose the donation forms you want to feature the 360MatchPro search tool.
These seamless integrations are the key to promoting matching gifts, making the process easy, and allowing you to incorporate the fundraising software you already use.
Learn more about 360MatchPro's integrations!
Customize the Database to Feature Canada Matching Gift Results
Further, Double the Donation can be customized to feature results from specific geographic regions, including the U.S. and Canada. This means if you work for a nonprofit that fundraises primarily in Canada, you can customize the search results of the matching gift database by adjusting the geographic region(s) that apply to your organization.
360MatchPro then tailors the search results and information your donors receive based on your selection:

Double the Donation also categorizes which geographic region a company's matching gift program applies to and can have multiple variations for a company, depending on how the company structures their program. This means your organization's needs will be covered, regardless of your location.
---
Securing matching gifts in Canada doesn't have to be a challenge. Investing in the right database with the most coverage of the Canadian market can significantly boost your revenue. In turn, this will help you better serve your mission!

Additional Canada Matching Gift Resources