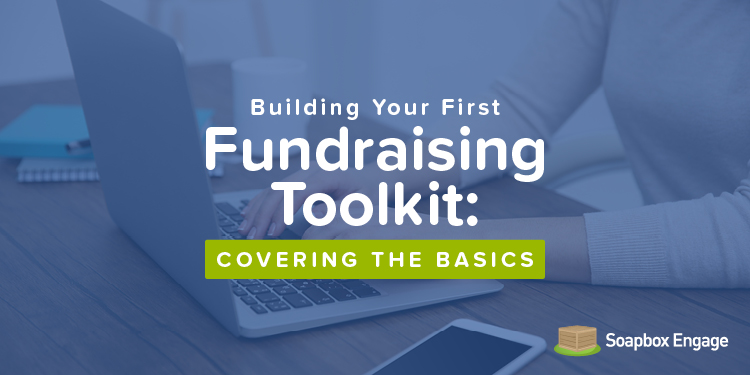 It's easier than ever to get set up with fundraising tech and digital tools, but lowered barriers to entry don't necessarily translate into success all on their own. That is, growing nonprofits can't expect to start boosting their fundraising without a concrete plan in place for developing their toolkit and then making the most of it.
This is especially true today, as the COVID-19 pandemic and its broader economic impacts have forced nonprofits of all sizes to adapt with new strategies and tools. From the shift to working remotely to staying engaged with donors through virtual fundraising tactics, this past year has been all about experimentation for many organizations.
And during times of experimentation and challenges, your technology needs to pull its weight and actively contribute to your success, not stand in your way. Incorporating each tool into your broader fundraising and engagement strategies will maximize their impact and deliver more value over the long run.
For smaller nonprofits, building an effective starter toolkit of online fundraising software is more critical than ever, but where do you start?
With so many different tools on the market, the field can certainly be overwhelming for new nonprofits. Strategically building your first fundraising toolkit should be a top priority, and it all starts with understanding the essentials. We've put together a quick guide of the basics, including:
It can be easy to feel impatient – especially when you're fueled by a great mission and feel eager to meet the moment's challenges. Remember, though, that fully mastering the basics is never a bad idea when you're getting started with something as important as fundraising, especially during times of uncertainty. Let's get started.

The Foundations of a Fundraising Toolkit
In order to start effectively fundraising online, you'll need a few foundational tools at your disposal. Think of these as the essential elements of nonprofit tech:
An online donation tool.
First of all, you need an online tool for accepting donations online. These might be called donation platforms, apps, forms, pages, or tools, but the basic idea is that it's the outlet your donors will directly interact with in order to make online donations to your nonprofit.
This tool is the most critical for actually securing and processing incoming donations. This means you should put plenty of thought into choosing the right platform or app for your organization. We walk through a few essential features to look for in our guide to raising money online.
A way to collect, store, and analyze your donation data.
Once you've secured online donations, you have to make sure you've got a reliable, organized way to record that information. This is for two main reasons:
You need records of all your transactions for accounting and receipts purposes.
You can learn a lot about which fundraising and marketing techniques do and don't work based on this data!
Keeping close tabs on your donation data manually can work for a while, but your organization will likely soon outgrow these methods. Instead, a dedicated, integrated database platform will provide the structure, capacity, and automation features you'll need to support your growth.
Once you've made the upgrade to a dedicated database or CRM, you'll be better able to run useful reports on your data and learn more about donors in order to pursue new opportunities like monthly giving programs and prospect research.
Tools to promote your donation page and campaigns.
Next, you'll need a few tools or outlets to let your supporters know how to donate to your cause. Digital marketing can be intimidating to newcomers, but start where you're comfortable and where you already know you can reach potential supporters.
Social media and email are great places to get started, especially if you already have a local base of support or online contacts. As you grow, keep refining your marketing strategies with the help of your donation data (generated via your donation tool and then stored and analyzed in your database). With underlying structures like these, your fundraising will scale along with your organization as you grow. Marketing is where you let your data do some heavy lifting!
Virtual-specific engagement tools
Amid social distancing guidelines, nonprofits have turned to new virtual engagement tactics to stay in touch with donors and continue growing their communities of support.
You'll likely want to include virtual-specific tools in your tech stack from the start in order to fully incorporate them into your strategies as soon as possible.
Live-streaming platforms are a great place to begin, and there are plenty of free and affordable options available for nonprofits. For more advanced strategies, look to mobile-centric tools. Mobile bidding software for fundraising auctions is a great example if you're planning on hosting more complex virtual events for donors.

Understanding Payment Processing
Payment processing fuels any online fundraising that your organization conducts. It's the essential process that connects your donors through your website to your organization's bank account.
You may not have thought much about payment processing in the past, but it's important to have a general understanding of how it works.
Your choice of service or tools can have a supporting but significant effect on your ability to fundraise effectively, and something that important deserves some careful thought. Broken down into its core steps, payment processing works like this: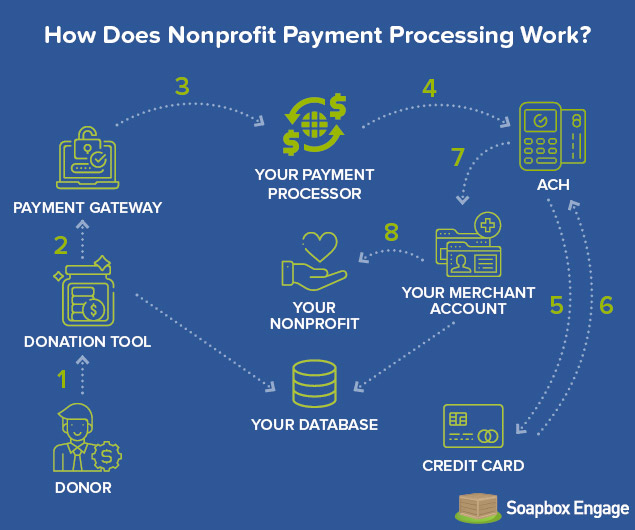 The donor submits their donation in your online donation tool.
The donation tool begins processing the request and (if integrated) sends a record of the transaction to your database.
The payment gateway, part of your processing service, verifies and authorizes the transaction. It sends the request to the main processor service.
The payment processor service transmits the donation data to the Automated Clearing House (ACH) network. This network facilitates the actual moving of funds and keeps official records for banks.
The ACH network requests the donated funds from the donor's credit card company.
The credit card company or bank approves the transaction and sends the donated funds back through the ACH network.
The ACH network deposits the funds in your nonprofit's merchant account. Your payment processing service should automatically create your merchant account when you first begin using it.
Once fully processed, the funds are transferred to your nonprofit's main account. Your merchant account can also provide you with the final transaction data at this point.
The process can certainly look complicated, but it's essentially a series of intermediary steps that facilitate communication. The donation software, payment processing service, bank, and credit card company all need to be in agreement about the transaction before it can be fully finalized. Check out the Soapbox Engage guide to nonprofit payment processing if you're looking for an even deeper dive.
When making the move to a new payment processing service or adopting online fundraising tools for the first time, there are a few key elements to look out for:
Safety. This is a big one, as cybersecurity continues to become a bigger day-to-day concern for more people. Any donation tool or payment processing service you use should be at least PCI-compliant. Responsibly stewarding donations and showing donors you take safety seriously is essential for building trust with your base of support.
Fees. Payment processing services and donation tools make money by charging fees on the transactions that they process. It's always worth taking a close look at the fee structures of any tools or services you're considering, as these amounts can quickly add up. While some fees are unavoidable, you don't want your organization to feel that it's losing out on an inordinate amount of the money donated by supporters.
Extra options. Today's payment processors and donation tools should offer several flexible options. Additional security features are a major plus, as are easy-to-use administrator tools, data reporting, and subscription management for recurring donations.
The bottom line is that payment processing determines your entire ability to fundraise online. This means it's important to have a basic understanding of how the process works and the range of options available to your nonprofit. This will help you make smarter decisions now and down the line as you build out your fundraising toolkit.

Easy Ways to Boost Your Fundraising Results
Once your fundraising toolkit is up and running with the core components described in the first section, you're ready to start fundraising!
As you begin promoting your campaigns to supporters and directing them to your donation page or tool, stay on the lookout for other ways to boost your performance along the way. Here are a few of our favorite strategies for raising more support for your mission using easy online tools:
Peer-to-peer fundraising. With peer-to-peer fundraising platforms and tools, you allow your supporters to set up their own individual donation pages for your broader campaign. They'll then promote their unique donation pages to their friends and family online. These campaigns are extremely effective at raising money and expanding your audience through peer pressure and the personal connections of your supporters.
Corporate philanthropy. Businesses of all sizes have recognized the importance of giving back to nonprofits in their communities, so this has become a valuable source of support for organizations to tap into. Some of your own donors might already work for top matching gift companies! Even the smallest nonprofits can start building mutually-beneficial relationships with local businesses. We recommend Double the Donation's guide for a comprehensive look at corporate giving programs.
Multichannel marketing. This type of marketing strategy has become the new norm for online business and outreach in all types of sectors. The main idea of multichannel marketing is that each of your marketing outlets (like social media, email, your website, and more) should encourage your audience to stay engaged with your message and eventually complete a target action (like making a donation). An example might be encouraging social media followers to check out your website or sign up for your newsletter, where you'll then more directly encourage them to make a donation.
Merchandise. Merch like t-shirts, tote bags, stickers, and buttons have been a staple of nonprofit fundraising for a long time, and for good reason! Branded merchandise can be a great way to directly raise additional revenue while also promoting your nonprofit's image and strengthening the connection that donors feel to your mission. Online merchandise platforms have made it easier to create and sell merchandise in more cost-effective ways. Explore your options, especially if you host live events.
These are just a few ways to supercharge your online fundraising efforts, but the options are limitless. The world of nonprofit tech, including software and online fundraising platforms, is growing every day. Once you've got the essentials of your toolkit in place, you can find additional tools to help you with practically any type of fundraising campaign, event, or marketing push.
These engagement-boosting ideas are especially important as we head into the year-end giving season. If you're planning a Giving Tuesday campaign, make sure to incorporate one or more of these ideas!
---
There are more ways than ever for brand new nonprofits to get up and running with fundraising tech quickly. While it can be tempting to invest in a wide range of flashy tools right off the bat, take the time to carefully weigh your options and cover your bases. During times of uncertainty, taking a strategic approach is more critical than ever.
An online donation tool, a way to record data, ways to promote your campaign, and a general understanding of payment processing will serve your nonprofit well as the core first steps. Be strategic with your toolkit, looking for tools that fit well together or work within comprehensive platforms, and you'll be set up for success!