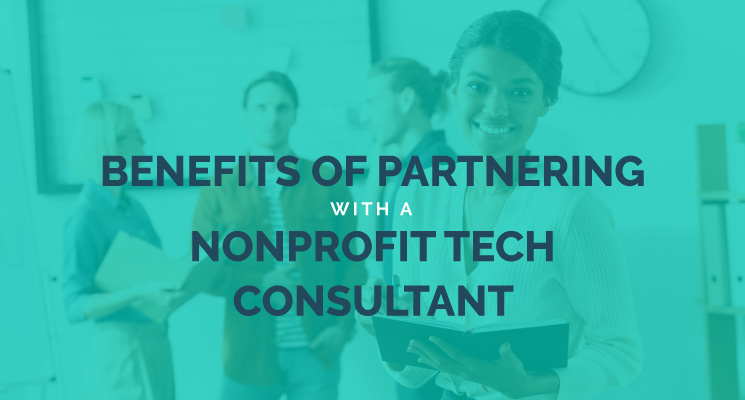 According to a study by Salesforce, 74% of nonprofits think that technological transformation is essential. But the nonprofit landscape constantly changes as new trends emerge and new capabilities become available, and it can feel hard to keep up. Fortunately, there are experts here to help.
Just like your organization might reach out to a fundraising consultant to help you strategize and launch a major campaign, you can partner with a third-party expert to better understand and improve your organization's technology. Here are some advantages of partnering with a nonprofit technology consultant:
As we explore each of these benefits in more detail, consider where your organization's technology currently stands and how a consultant could transform your capabilities.

1. They understand nonprofits
Nonprofit technology consultants have worked with plenty of organizations like yours, so they understand how to navigate the nonprofit technology landscape and make your technology work for you. They're well-versed in the best solutions available for nonprofits, discounts and grants you can access, and the ways you can leverage different features to reach your goals.
Most importantly, these experts truly understand nonprofit priorities. They know how to use technology to meet common organizational needs, such as:
Centralizing donor data. Technology consultants understand that you need all of your data in one place to get the full picture of every donor. They can work with you to determine the best constituent relationship management (CRM) system to use and consolidate all of your data into one centralized database.
Analyzing fundraising results. Experienced consultants know how crucial fundraising is for fulfilling your organization's mission, and they can help you leverage top fundraising platforms to analyze your results and reach your revenue goals.
Managing events and volunteers. If you need a better process for hosting events or engaging your volunteers, a nonprofit tech consultant can find the best solutions and tailor them to your unique needs.
Streamlining nonprofit communications. Tech consultants are familiar with all the latest communication technologies that nonprofits can leverage, such as automation, artificial intelligence, and more.
Plus, technology consultants understand common challenges and limitations for nonprofits, such as tight budgets and limited staff time. With their help, you can build a technology stack that addresses all of your needs and gives your staff members more time back to focus on your mission.

2. You don't have to be a tech expert
When looking for new software on your own, you might explore platform reviews and resources like Getting Attention's peer-to-peer fundraising software recommendations to get a better idea of what technology is available for nonprofits. This is helpful research to do, but without technical expertise, it can be difficult to understand which platforms would truly be the best fit for you.
That's where a nonprofit technology consultant comes in. One of the top benefits of working with a consultant is that you don't have to be a tech expert to completely turn around your organization's technological capabilities.
A qualified technology consultant will help you understand where your current systems are lacking, how they could be improved, and what additional tools could fill the gaps. Ultimately, they'll help you find and implement the best tools to meet your organization's unique needs. 
For example, your organization might already use Salesforce Nonprofit Cloud as your CRM, but you may not know what other tools are available as add-ons or how to maximize your system. By working with a consultant, they could identify a need for a marketing automation tool and implement Salesforce Marketing Cloud to streamline your donor communication processes. Not only that, but your technology consultant might also organize all the necessary training for your team members so they can become experts in their own right.

3. They'll create a plan based on your needs
A good consultant won't go in blind or assume they know what's best for you right away. Instead, they'll spend time getting to know your organization, your existing technology, and your goals on a personal level before making any recommendations.
While approaches vary by individual consultants, the general process of evaluating your needs and creating a plan to address them involves these basic steps:
Analyze your current tech stack. Your consultant will take a look at all of your existing systems and processes to determine what's working well and what isn't.
Conduct a needs assessment. Based on their analysis of your tech stack and discussions with your team members about their experiences and goals, they'll assess your most pressing technology needs.
Define goals and KPIs. With your input, the consultant will establish a few key performance indicators that they'll use throughout your partnership to evaluate your new technology's success.
Give recommendations and outline a plan. Finally, they'll let you know what actions they recommend taking and detail a plan to get you there.
Depending on your technology needs, a consultant's final recommendations can take a variety of forms. For instance, they might suggest implementing a brand new CRM that allows you to better organize and leverage your data, or they might determine you need new marketing tools and an app to manage program delivery.

4. They can help you holistically improve your operations
When you take the time to strategically and holistically improve your organization's technology, the benefits can be wide-reaching. The right nonprofit technology consultant will work by your side to find and implement solutions that benefit as many aspects of your organization's work as possible.
With a technology consultant's help, you can:
Streamline internal processes like staff communication, data tracking, and impact reporting.
Get a better understanding of donors, allowing you to improve donor recognition strategies, general outreach, and fundraising appeals.
Improve program delivery and more easily demonstrate your programs' impact to stakeholders.
Drive volunteer participation and event attendance by increasing your communication and marketing capabilities.
While aiming for holistic improvements, be sure to communicate your top priorities to your consultant so they can focus their efforts on the aspects that are most important to you.

5. They'll handle implementation and customization for you
Finally, once you've determined the best solutions for your organization, technology consultants can fully implement and customize them for you.
Typically, implementing complex systems like a new CRM is an extensive, complex process that can lead to frustration, technical issues, and data loss if done incorrectly. Letting an expert consultant handle the process for you helps mitigate these risks and ensure your implementation goes as smoothly as possible.
According to Redpath's Salesforce for Nonprofits implementation guide, qualified consultants can handle every important aspect of the process, including:
Creating an implementation strategy that takes into account your needs and goals.
Installing, configuring, and customizing your new system to meet your needs.
Migrating all of your supporter data to the new system and verifying its quality after migration.
Providing staff training resources after the system has been implemented.
Supporting your nonprofit post-implementation if any issues or concerns arise.
While your consultant takes the lead, your team will still have a role to play in the implementation. Ask potential consultants how they approach this process to find out which aspects your nonprofit will be responsible for. This could include identifying data that needs to be migrated, reporting issues that need to be fixed, and outlining specific goals.
---
Nonprofit tech consultants are dedicated to helping organizations like yours help others, and they're uniquely positioned to improve your nonprofit's technology in ways that positively impact your ability to deliver on your mission. Start researching potential consultants online to find the perfect match to help you reap these benefits!