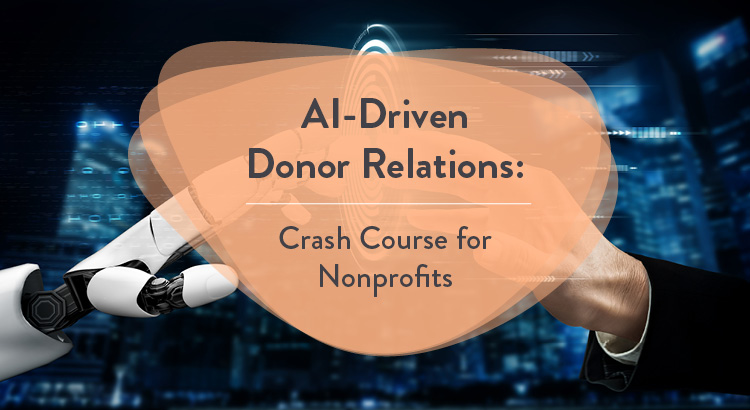 It goes without saying that the past year has been challenging both in terms of fundraising and donor relations. Thankfully, donors have by and large been eager to stay engaged with the causes they love and care about, whether by donating when they're able or getting involved in new ways.
Online donations have actually grown significantly, and virtual and hybrid events and volunteering opportunities have become extremely popular for many organizations.
But these results required nonprofits to make some drastic adaptations. What lessons have you learned along the way? Now is an ideal time to double down on what's worked and find ways to take it even further. For many nonprofits, this means venturing into the world of artificial intelligence.
AI can be an invaluable fundraising tool that, when used well, leads to more gifts and also brings significant donor relations benefits. This crash course will discuss the essentials to keep in mind as you explore your nonprofit's AI options in 2021 and beyond. Here's what we'll cover:
Why is AI valuable for nonprofits?
How does AI for nonprofits work?
How can it improve your donor relations strategies?
At Dataro, our mission is to empower more nonprofits of all sizes to think beyond the buzzwords—AI is an accessible, game-changing tool that can help you engage with donors in smarter ways. Let's dive in.
Why is AI valuable for nonprofits?
As a newer topic in the nonprofit space, understanding what AI and machine learning actually accomplish for nonprofits might seem a bit intimidating, but it's actually very simple—using your data to deliver concrete fundraising benefits. Specifically, AI can help you:
Generate accurate donor predictions to raise more money from your existing fundraising strategies. The whole point of AI for fundraising is to accurately predict which actions a donor will be likely to take based on the complete picture of your historical data. This has several tangible benefits, such as increasing appeal gifts, identifying donors likely to give larger amounts, preventing cancellations in your recurring giving program, and identifying which donors are likely to upgrade their commitment or reactivate a lapsed gift.
Replace outdated donor segmentation tactics. Because it provides predictions down to the individual level, AI is a much better solution than broad donor segmentation. Traditional segmentation only takes a handful of metrics into account to make loose assumptions about which donors will be responsive to which messages. With actual AI-driven predictions based on deep patterns within the entirety of your data, there's no need to guess about where you stand with individual donors. This makes your campaigns more targeted and effective.
Save time and money while raising more support. By streamlining the segmentation process for creating mailing lists for messages and appeals, AI can save your team countless hours spent filtering data manually. It can help you send fewer but more effective appeals to donors, boosting ROI for your campaigns across the board.
Offer more individualized experiences to donors. Staying in touch with your community is more important than ever, but broad blanket appeals aren't the best answer. Donors expect more intuitive, personalized communication these days—AI makes this process scalable by taking the guesswork out of your campaign planning, so you know which donors to contact for each campaign.
The benefits apply equally to your fundraising and broader donor relations efforts.
For fundraising purposes, more targeted, individualized appeals to your donors will result in higher conversion rates. Looking at the bigger picture, remember that donor relations is all about facilitating the right touchpoints—not too many, not too few, and not at the wrong times. AI helps you better target the right people at the right times, keeping your mission relevant in their minds without overwhelming or bombarding them.
How does AI for nonprofits work?
Before delving into how AI can improve your donor relations strategies, it might be helpful to review exactly how the process works at the technical level. Here's how we like to explain it:
Your nonprofit continually generates and stores data in your CRM. At the moment, most nonprofits aren't using this data to its full potential!
This data is extracted from your CRM via APIs (excluding any personally identifiable donor information) and is transformed into sets of hundreds of "features", like donor age and giving frequency, ready for modeling.
The AI software then trains predictive models by identifying deep trends and patterns in your data. It evaluates these models to determine how effectively they can predict specific donor actions.
Using the best model, the software creates propensity scores and ranks for each donor that measure their propensity to take a specific action, like giving to a direct mail appeal.
These individualized predictive metrics are then exported back to your CRM as custom fields for your team to use when crafting new campaigns and mailing lists.
The entire subject of nonprofit and fundraising analytics is broad. However, the bottom line is that AI software helps you figure out which donors to contact in each campaign to maximize returns.
In day-to-day contexts, artificial intelligence can be used to pinpoint how likely your individual donors are to take a wide variety of actions. For example, our AI modules can help you determine your donors' likelihoods to:
Give to a direct mail appeal
Give a bigger gift in your next appeal
Reactivate a lapsed single gift
Join your regular giving or 'sustainer' program
Churn out of your regular giving program
Upgrade or reactivate their recurring donations
Confirm a gift in a will or bequest
Give more than $5,000 in one year
Become a mid-level donor by giving between $500 and $5,000 in one year
Those last two propensity models can be especially useful for your donor relations and development teams during major campaigns. With clear predictions about who your best prospects are at different giving levels, you can better focus your attention on smaller groups rather than taking a one-to-many approach. Just ensure that your AI software provides predictions in a streamlined way, with easy ranks and scores to quickly identify the best prospects.
How can AI improve your donor relations strategies?
You can use AI to shape your donor relations strategies in all kinds of ways. The exact forms that they take will vary greatly based on your unique mission, goals, and community, but they can be broken down into three main ideas:
1. AI can help you reach donors at just the right moments.
It's always important to stay on the minds of your donors, but you should never bombard them with asks. AI helps you proactively predict when individual donors are most likely to donate, improving your results and their experience.
More individually-targeted appeals reduce the chances that donors will ignore your messages or feel awkward about saying no.
This is especially important as nonprofits continue diversifying their engagement offerings. Virtual tactics and events are here to stay, but with more opportunities to promote, it can be easy to inadvertently send donors too many invites, appeals, and announcements all at once. If you've expanded your engagement calendar, AI-driven mailing lists can help ensure that your donor relations approach doesn't become blurry in the process.
Additionally, the benefits of carefully timing your appeals apply to your donors at all giving levels. Careful communication cadences are often thought about in the context of moves management for high-value prospects.
You likely already use broad segmentation strategies to tailor messages to your larger audiences, but AI replaces the inaccurate and inefficient techniques that nonprofits have traditionally used—giving you individualized propensity scores to guide your communication with everyone in your database, not just your highest-value donors.
2. AI can help you reduce donor churn.
Donor relations is essentially about making sure that your donors have positive, meaningful experiences with your nonprofit so that they'll keep supporting it. This means that avoiding donor loss or churn should be a fundamental priority for your team.
By deeply analyzing a complete range of engagement metrics (not just surface-level donation data), AI can help you proactively identify donors at risk of churning.
Previously, your team would need to manually study donation records to make assumptions about who may be forgetting your mission. This approach is inaccurate and time-consuming, meaning many nonprofits with tight resources simply can't devote much energy and attention to actively combatting churn.
Instead, smarter predictions driven by AI give you a focused list of the donors who are truly likely to churn, making the task of targeted engagement much more feasible and scalable. From there, you can step in with thank-you calls, special invites, and other touchpoints to remind them why their support is so important. Public trust in nonprofits is growing, so even casual messages that explain donors' impact and express your gratitude can go a long way to reduce churn and strengthen your retention numbers, when directed to the right people.
3. AI can help you deepen your donor relationships over time.
Similar to how AI allows you to proactively identify churn risks, it can also be used to find donors who are ready to take their relationship with your nonprofit to the next level. AI-driven propensity scores can specifically measure donors' likelihood to join your regular giving program, upgrade their existing recurring donations, or even give a mid-level, major, or legacy gift.
If growing your monthly giving enrollment and revenue is a priority, insights like these propensity scores can very directly point your team in the right direction.
The ability to identify upgrade opportunities is one specific plus, but consider all of AI's benefits in tandem as well. As your database grows, your AI software's predictions will become more refined and accurate over time. This means you'll be able to constantly improve the content and timing of your donor outreach, keeping your mission on their minds and encouraging further engagement at just the right moments.
These sustained relationships with donors can lead to all kinds of new opportunities for your nonprofit. Classic examples for some donors include legacy giving and major giving, but don't forget about ways to grow your relationships with donors at all levels. Anyone can serve as an online ambassador for your cause or launch their own peer-to-peer giving page, but they'll be much more likely to do so if they have a long-standing relationship with your mission.
---
AI and machine learning are the new frontier of fundraising tech, but that means there's also a lot of confusion around what these types of tools can actually do for your nonprofit.
The main takeaway to keep in mind: AI studies patterns in all of your data to generate accurate predictions about the actions that individual donors will take. These insights help you raise more money more efficiently for your cause, giving you a much more accurate and granular view that simply isn't possible with traditional data analysis techniques. This level of detail and individualized focus can be extremely beneficial for your broader donor relations and communication efforts.
If AI sounds like the right choice for your nonprofit in 2021 or beyond, keep researching to learn more about this technology and how it can drive your mission forward.
Author: Chris Paver, COO, Dataro
Chris is the COO of Dataro, joining the team as a business partner in 2018. Chris has a wealth of experience from the world of commercial law, where he specialized in advising technology, media, and high-growth businesses across the full spectrum of strategic, commercial, and regulatory issues. As COO, Chris has helped drive Dataro's rapid growth in the nonprofit sector.