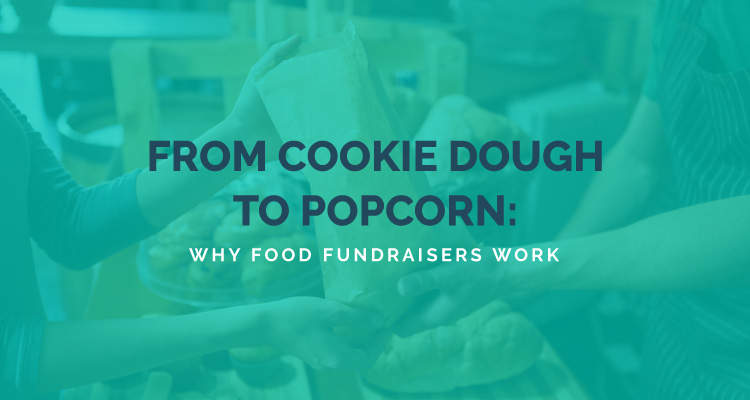 Nonprofits are always looking for new fundraising ideas and ways to diversify their revenue. However, it can be difficult to keep fundraising fresh when you've already tried a variety of methods. To combat that, think of fundraising from the donors' perspective. Ask yourself: How can you make fundraising fun for them and raise money for your cause at the same time?
An easy answer to this question is to host a product fundraiser. It's a win-win situation: you receive funds from donors, and donors obtain an item in return for their donation. Even better, you can sell food in your product fundraiser, which is sure to thrill supporters of all ages.
In this article, we'll go over why food fundraisers are effective, how you can set up your own, and the top food products for you to consider selling. Let's get started!
Why Should My Nonprofit Host a Food Fundraiser?
Besides offering donors delicious treats, food fundraisers have many advantages that make them an effective fundraiser idea for animal shelters, schools, and many other nonprofits. Your organization should host a food fundraiser because they:
Are easy to set up. With the help of a food product fundraiser provider, food fundraisers are incredibly easy to host. They'll do all the hard work of securing the products for you, and you can focus on promoting the fundraiser to your supporters.
Can be combined with other fundraisers. Due to their versatile nature, you can host food fundraisers in conjunction with other fundraising efforts or events. For example, let's say your nonprofit hosts a walk-a-thon every year. To bring in more funds from the event, you can set up a table and sell your food product of choice to spectators and participants.
Give donors something in return. This type of fundraiser is unique because it gives supporters something in return for their donations, almost like a donor gift. Plus, most people buy snacks at the grocery store anyway, so with a food fundraiser, donors can purchase food products and support your nonprofit's cause at the same time.
Allow you to expand your donor base. Since you can easily sell nonperishable food and snack products online, food fundraisers have the potential to expand your donor base beyond your local area. Consider creating a product fundraising web store and encouraging your supporters to send the link to family and friends.
Since food fundraisers are so advantageous to both nonprofits and their supporters, they have immense earning potential. Your nonprofit can bring its community together to support your cause while offering delicious food and snacks at the same time.
How Can My Nonprofit Set Up a Food Fundraiser?
One of the benefits we mentioned in the section above is that food fundraisers are extremely easy to host. Since nonprofits often have limited time and resources for fundraising, that makes food fundraisers extremely attractive, as they are an effective yet simple fundraising idea.
To show you just how easy it is to set up a food fundraiser, we've listed the steps below: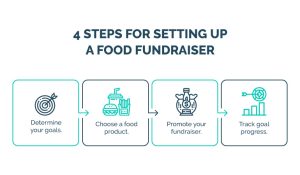 Determine your goals. It's always good practice to start your fundraiser with clear goals. Make sure you adhere to the SMART goal framework: Specific, Measurable, Achievable, Relevant, and Timely. That way, you'll be able to measure your goal success. For example, you might set a goal of selling $500 worth of popcorn over the course of a month.
Choose a food product. Next, you'll choose the food product you'd like to sell. Think about what your donors would love to purchase, or consider surveying them to see which products they would prefer. Additionally, if you're hosting your event near a special time of year such as Valentine's Day or Christmas, you can offer popular foods for those occasions.
Promote your fundraiser. Now it's time to let your supporters know about your fundraiser. Use a variety of methods, such as email newsletters and social media posts, to spread the word. NXUnite recommends setting up a fundraising campaign website dedicated to your fundraiser so you can keep all important information in one place. By doing so, your supporters can easily access any information they need.
Track goal progress. Lastly, measure how successful your food fundraiser was. Refer back to your original goals and compare them to your results. You can also set up a fundraising thermometer on your fundraising campaign website so your supporters can see your progress in a visual format.
That's all there is to it! And remember, with the help of a product fundraiser provider, the process is even easier.
Top 5 Food Fundraiser Ideas
Now that you know why food fundraisers are so effective and how to start your own, it's time to dig into the food products you can sell. Here are our top five food fundraiser ideas:
Cookie Dough
Cookie dough is a fan-favorite food fundraising product. Since so many people love cookie dough, ABC Fundraising explains that hosting a cookie dough fundraiser can earn your nonprofit up to 80% profit.
This type of fundraiser offers donors a variety of options to choose from. You can sell cookie dough tubs and pre-portioned packages for easy enjoyment. Additionally, there are many flavors you can offer, from chocolate chip to snickerdoodle.
Selling cookie dough is also a great holiday fundraising idea. Families can purchase cookie dough and bake cookies together during the holiday season. Then, they can share them with family and friends at holiday parties or gatherings.
Pizza
If you're looking to host a pizza fundraiser, partner with a provider that offers pizza card fundraisers. These providers have established a relationship with a pizza shop and provide cards valid for a free pizza or a pizza discount. Then, you can sell these cards to your supporters.
You can also host a pizza fundraiser by hosting a proceeds night at a local pizza shop. Participating shops will contribute a portion of one night's proceeds to your organization. That way, you can simply invite your supporters to go to the shop and support your local community as a result.
Popcorn
Hosting a popcorn fundraiser will please an audience of all ages. You can offer a variety of flavors, and since popcorn is gluten-free, it's a great food option for those with food allergies.
And what is popcorn without a movie? Make your popcorn fundraiser even more fun by pairing it with a movie night event to bring your supporters together. Consider surveying your supporters to see which movies they would prefer to watch. Alternatively, you can host a themed movie night, such as a superhero or Halloween-themed watch party.
Candy
A candy fundraiser is the perfect addition to your existing fundraising event. You can sell candy at any type of event, from auctions to galas, so your supporters have a sweet treat to enjoy.
Candy fundraisers are also especially effective during candy-related holidays, such as Valentine's Day or Halloween. Consider selling chocolates around Valentine's Day that people can gift to their loved ones or lollipops that supporters can hand out on Halloween.
Snacks
Save your supporters a trip to the grocery store by selling snacks at your food fundraiser. That way, donors can purchase items they'd normally buy in a way that supports your cause. These snack items may include:
Chips
Pretzels
Crackers
Nuts
Dried fruit
Trail mix
Like candy, snacks are an incredible item to sell at fundraising events. For example, if you're hosting a dance-a-thon, you can set up a snack table where people can purchase snacks for themselves or their friends and family members participating in the dance-a-thon.
---
Nothing brings your community together like food and fundraising, so why not combine the two? Since food fundraisers are so versatile, you'll have no trouble hosting an event that appeals to your supporters. Be sure to carefully think through what your supporters would be most interested in to ensure that you maximize the profits for your cause and keep your donors engaged.