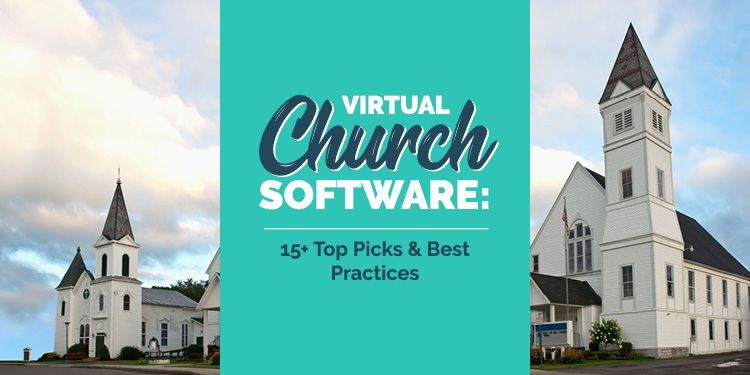 Amid the COVID-19 pandemic, churches all over the world have quickly transitioned to almost entirely-virtual practices – from online tithing and offering collection to digital church services.
Even before the current global crisis, churches and organizations everywhere had begun to experiment with and adopt new digital technology. After all, the rise of the internet and a wide expanse of virtual tools have allowed churches to expand their reach further than ever thought possible.
Churches of all shapes and sizes are looking into how to best manage their congregation through the shift to an increasingly digital world. Whether you're seeking a short-term solution in response to the coronavirus or a more evergreen digital management system, the answer is simple – virtual church software!
Here we've compiled a list of our 15+ favorite virtual church software providers, divided into three easy categories, along with some suggested best practices for implementation.
With the right technology in your toolkit, your church can start engaging congregants and expanding your digital reach in no time. Let's get started.
Virtual Church Fundraising Software
A church's daily operations are highly dependent on the generous contributions from churchgoers in the form of tithes, offerings, and other charitable gifts. Yet with the transition to virtual services and a lack of a physical offering plate to pass, many churches are beginning to worry about maintaining necessary funding.
That's why virtual fundraising software is so important. With some slight tweaking to your fundraising strategy, you can continue to receive support from your congregation in the midst of a strange, unprecedented time.
Snowball

Snowball is an online fundraising platform designed for small- to midsize nonprofit organizations and churches. With carefully crafted online donation pages, donor management software, and text-to-give tools, Snowball has everything that a church like yours needs to get started with the move to virtual fundraising practices.
Churchgoers can quickly and easily send in their weekly tithes and offerings through easy-to-use donation pages. Or, you can make it even easier by setting up a text-to-tithe program where congregants can simply text a keyword to your mobile giving number to give. It's a great set of tools, most of which are available with their free essential plan!
Donately

Donately is an online donation platform with tools that promote generous giving among users. By combining effective fundraising pages with efficient donation tools, donors are willing and able to give in minutes. Plus, your congregation then has access to view their own giving history through an interactive and easy-to-use donor dashboard.
And with project-specific donation forms, churchgoers and other supporters can give directly to a specific giving campaign – whether that's a general fund or support for a particular mission. Check out some of Donately's favorite church-specific fundraising ideas and get started!
Tithe.ly

Tithe.ly is an online giving platform designed specifically for churches. By accepting tithes and offerings in five different ways – online giving, mobile app giving, text giving, kiosk giving, or manual admin entry –  you can make sure your church members are able to give in the way that is most convenient for them.
Plus, you can offer automated email receipts and donation confirmation, weekly giving reminders, recurring gift options, and even lifetime gift tracking so those supporting your church can feel supported as well.
Bonfire

Bonfire is a unique fundraising platform dedicated to designing, creating, and distributing custom-made merchandise for good causes. If your church is looking to raise some extra money during this time, hosting a t-shirt fundraiser might be the perfect way to do it.
Plus, with your congregation stuck at home with extra time for online shopping, now is a great time to get this fundraiser up and running! All you need is a unique design for a t-shirt, tank top, tote bag, or mug, and an audience ready to buy them – and Bonfire does the rest.
Soapbox Engage

Soapbox Engage is an online fundraising platform that specializes in Salesforce-integrated apps. During the transition to virtual fundraising practices, it's important that you choose the right tools to make donations, events, and advocacy possible.
Then, by collecting a set of fundraising and nonprofit management tools that work well together, you can streamline operations to save both yours and your donors' time.
CloverGive
CloverGive is a ministry-based online and text-to-give platform that's perfect for churches looking for a new, easy way to give. With user-friendly, streamlined giving options, congregants can choose to pay tithes or offerings via text message, online donation form, kiosk station, check, or even direct deposit.
Once you've established a solid foundation for giving, your church can start to notice an increase in engagement and overall tithing!
Your fundraising efforts don't have to suffer just because church operations are transforming. You just have to find the right giving platform for your congregation and get started!
Church Live Streaming Platforms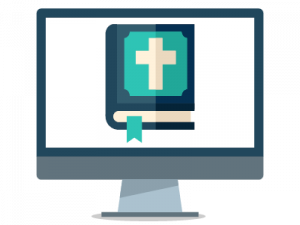 Thanks to live streaming and virtual church software, your church can continue to learn and grow in your relationship with God as a community. But there are so many options for streaming platforms, how can you know which one to use?
Different tools offer different advantages and drawbacks, so it's important that you find one that fits best with your church's particular needs. These are some of our favorites!
Facebook Live

Facebook Live is a simple live streaming tool built out of the well-known social media networking site. All you need to get started is a Facebook page for your church and an audience ready to listen! Then, when you click the live video button, you can start streaming to any followers who want to tune in.
One of the benefits of Facebook Live is that it automatically saves your video as a regular post so those who missed it live can go back and watch it at any time. Plus, Facebook Live offers a Producer version of the platform that allows you to create and distribute higher quality videos to your audience.
YouTube Live

YouTube Live is an expansion of the popular video-sharing platform – with the biggest improvement being the ability to stream live broadcasts rather than pre-recorded content. More than likely, you and the majority of your church has had some experience with YouTube, which makes it an easy platform to adopt.
By live streaming from YouTube Live, you can create an interactive experience with your church congregants by including elements like video sharing, chats, polls, and more. While mobile streaming is reserved for accounts with over 1,000 followers, organizations of all sizes are able to live stream with a desktop or webcam!
Dacast

Dacast is a professional streaming platform that specializes in both live streaming and video hosting. As a professional solution, Dacast is a robust streaming tool with unique features including the ability to embed your videos on webpages and social media posts.
With this software provider, you can stream high-quality videos to share with your churchgoers as you begin to navigate the virtual church realm. Plus, they offer a 30-day free trial to get you started!
Faithlife Proclaim

Faithlife Proclaim is a presentation software provider designed especially for churches and religious organizations. With unique features like pre-built song lyrics and bible verses, polls and surveys, and onscreen bible trivia, you can bring your service way beyond the traditional realm.
Fully engage your congregation with live-streamed sermons that really make use of the technology that's available and keep churchgoers' attention all service long!
With the right tools, you can continue to spread the word of God to church members far and wide. Although your sermons may take on a different form, it's still a great way to foster community and encourage your church family in a difficult time.
Virtual Church Management Software
Not only have your church services likely moved online, but your church management and daily operations have as well. So how are you going to maintain effective communication with your team, keep track of congregants, and transition other office-based tasks to the online realm?
By finding virtual church software with streamlined management tools, of course!
Vision2

Vision2 is a comprehensive church software platform that can help you manage every aspect of your church, from giving to engagement and data entry. With online and mobile giving tools, personalized email templates and automated campaigns, and extensive reports of data analysis, you'll have exactly what you need to sustain church operations.
A strong church relies on communication and togetherness, even from a distance. That's why a platform like Vision2 is so essential for maintaining a tight-knit congregation throughout a difficult time.
Bloomerang

Bloomerang is a nonprofit CRM software provider for small- to mid-sized organizations. A CRM, or constituent relationship management tool, is one of the most effective ways to manage churchgoers and record their history with your church.
With Bloomerang's donor management system, you can keep track of every engagement element you have with your congregation members, staff, elders, sponsors and more all in one centralized location. Armed with this data, you can deepen relationships with members and build new relationships with your virtual visitors.
Boardable

Boardable is an online board management software provider that works to simplify nonprofit board member management. As your church's leadership team transitions to work-from-home practices, it's important that you have the right tools in place to allow for streamlined communication.
Don't let church operations falter because of the disruption, but instead make sure your whole team is on the same page. Plan and host virtual meetings, track your goals, and report updates with Boardable's suite of management software.
Church Office Online

Church Office Online is the software solution you need to streamline church management and ensure effective workflows for effective operations. It's a solid combination of multiple types of church software, including fundraising, live streaming, and church management.
A church is made up of many individuals, including pastors, leadership staff, volunteers, congregants, and members. Keep track of all of these and more with Church Office Online's comprehensive ChMS, or church management system.
Congregate

Congregate is a church management platform that combines web development, member management, and church leadership into one easy-to-use church software solution. This way, you can easily foster relationships with churchgoers thanks to powerful communication tools.
Congregate helps to build out your church's tech toolbox organized into three main categories – that which is available to the public, that which is available to members, and that which is available to leadership – everyone can easily navigate to the information that is relevant to them.
FlockBase

FlockBase is a church management software designed specifically for small- to mid-sized churches. Their tools are easy-to-use and accessible, while still producing compelling results. Manage your membership, church giving, communication, and finances all in one place for boosted efficiency.
Save time and money with this versatile solution – your team, volunteers, and overall congregation will thank you.
Managing your church throughout a pandemic and into an unknown future will take some adjusting, but effective virtual church software can make it not only possible but also powerful.
Best Practices for Virtual Church Management
If your church is new to the virtual realm, this transition may seem overwhelming at first. Here are some of our top tips for maintaining a happy and healthy church body during an uncertain time like this.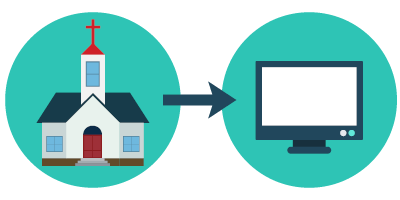 Make sure to spread the word about any changes or updates. 
Life as we know it is unpredictable. That means it's important to have a way to keep the whole church on the same page when it comes to virtual meeting times, ways to give, and even the grand reopening once this is all over. Be sure to reach as many congregants as you can, through personalized, off- and online communications.
Be sure to follow social distancing and shelter-in-place guidelines.
It's important for the safety of your church family to abide by national social distancing guidelines and CDC regulations. This means not gathering together, maintaining six feet distance when you do see others, and washing hands frequently. Encourage your congregation to take the pandemic seriously!
Maintain strong relationships despite social distancing.
One of the main purposes behind meeting as a church is the community and relationships that build out of it. Don't let those relationships falter just because of physical distance. Encourage your church family to check up on one another and maintain deep friendships during this time.
Practice effective work-from-home strategies during this time.
Not only are your church services moving online, but your team is likely transitioning to a work-from-home model for the time being. Make sure your pastors and other church leaders are equipped with the right tools to ensure productivity while operating from home. Just because the church service is online doesn't mean there's any less work to do!
Invest in the right technology to produce well-crafted videos.
Because online church operations include live streaming sermons, it's important that you invest in the right tools. Nobody wants to spend their weekends watching poorly planned and produced church services, especially when they can easily click to another service from anywhere in the world. Having decent equipment for filming and sharing your live streams is essential.
Be sure to cater to your non-tech savvy congregants as well.
When planning your virtual church services, it's important to remember that all of your churchgoers may not be as technologically savvy as others – especially true for churches whose congregations skew older. That means it's important to make things as simple as possible and provide clear explanations as well.
Incorporate opportunities for interaction whenever possible.
Watching digital church services is great, but churchgoers are missing out on the interactive aspects. Try encouraging interaction between both church leadership and your congregation. Consider implementing a Q & A session at the end of a sermon, or including a time to share and respond to members' prayer requests.
Offer intriguing weekly challenges or studies to get involved with.
Try boosting engagement between churchgoers and encouraging daily time in the Word by implementing mid-week check-ins and other opportunities outside the weekly sermon. Consider hosting bible studies through live streaming services or starting a bible-reading challenge to stay on track.
Don't get too caught up with the chaos of the world that you forget about the reason you're managing a church in the first place. Look to God for peace and emotional support for your entire congregation during a trying time. And encourage your church family to be in prayer as well.
There's a lot going on right now, both within your church and outside of it. That means it's important to stay strong, keep a positive attitude, and trust that God will bring you through it.
So do not fear, for I am with you; do not be dismayed, for I am your God. I will strengthen you and help you; I will uphold you with my righteous right hand.
Isaiah 41:10
---
As you transition your church to digital practices with effective virtual church software, keep in mind that it will become increasingly easier as you go along. And remember, spreading the gospel is more important now than ever!
For more information, check out the following virtual fundraising and church management resources: