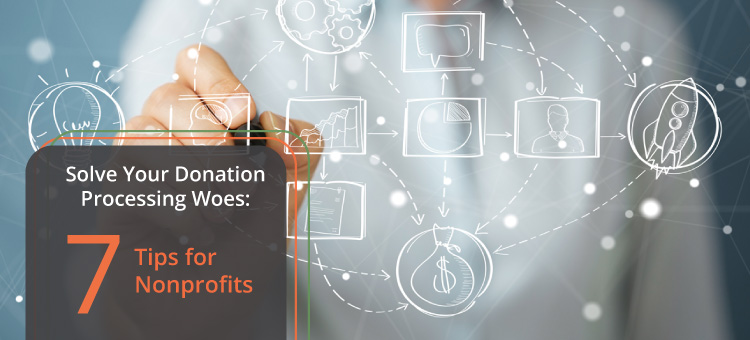 Handling all the donations your nonprofit receives can be a serious burden for your organization's team, especially if you're still operating on outdated software.
We know that donations have to be convenient and easy for both the donor and the receiving organization, so we've compiled the 7 most common issues that organizations run into while figuring out how to process donations.
Do any of these apply to your organization's current donation processing methods?
Your nonprofit might be dealing with one or two of these issues, or all of them! But no matter where your organization currently stands, everyone can benefit from learning about donation processing best practices.
If you're ready to learn more, let's get started!

1. I can't accept online donations.
This issue comes up less and less every year as more nonprofits switch to digital database systems to keep track of their community of supporters, but it is the basis of ending your donation processing woes.
More and more donations are occurring through online fundraising software as opposed to the traditional methods of direct mail campaigns or in-person solicitations. If your nonprofit can't accept donations online, you might be missing out on gifts.
Some fundraising campaigns that rely on online donations are:
Annual campaigns.
Peer-to-peer fundraisers.
Text-to-give fundraisers.
Giving days like #GivingTuesday.
Email campaigns.
Without software that can process credit or debit card information, your nonprofit might not be able to take advantage of these fundraising methods.
Thankfully, this problem is easily solved. Many software companies that create programs for the above fundraisers include online processing as part of their platform.
As your nonprofit upgrades its systems, consider investing in a platform that does everything: event planning, peer-to-peer fundraising, donation processing, and donor database maintenance are all functions your nonprofit's software could handle.

2. We need to account for donations that aren't made through a credit card.
While credit cards are the easiest way for many donors to give, some of your supporters might not have one, or only use it for certain expenses.
Don't forget about cash, check, and ACH debit donations! Cash donations are the quickest way for a donor to give to a nonprofit, because they don't require the money to go through any third-party members.
Check and ACH (automated clearing house) debit donations both allow a third party to pull funds directly from a donor's bank account and deposit them into the nonprofit's bank account. The only drawback to this type of donation is that the transfer isn't always instantaneous.
So how can nonprofits ensure that they can make the most of these non-credit transactions?
They can make sure that their donor database software allows them to manually enter information from cash donations.
They can make sure that their donation processor can handle non-credit transactions.
They can include instructions on how to input information correctly from a check onto a donation form—not all donors are familiar with the numbers on the bottom of a check.
To learn more about the different payment options that different online fundraising platforms can offer, consider this list of considerations from Qgiv that breaks it down for you.

3. I don't know if my supporters' donations and information are secure.
This issue can be a scary one. How is a nonprofit supposed to build a culture of trust and support between themselves and their supporters if their supporters are at risk of theft or identity fraud just by donating?
Thankfully, this issue is an easy one to solve.
When your nonprofit invests in a new donation processing system, make sure that your options are all PCI-compliant. PCI means Payment Card Industry, and the Security Standards Council set up data security standards (DSS) in 2007 to protect people using cards for transactions.
If your donation software is PCI-compliant, that means that it is following all 12 of the DSS requirements and that your donors' information is as protected as possible by your software.
But PCI requirements aren't the only way to keep donor information safe. When looking for donation software, don't forget to ask about:
Tokenization. This term means that sensitive information like a credit card number is replaced by a string of alphanumeric symbols, which makes the numbers harder to steal.
Encryption. This type of security measure keeps donor data private by turning the data into "cyphertext", which can only be read with the right "key".
Other fraud protection tools. These can include measures such as address verification systems, card number tumbling, IP blocking, minimum transactions, and more.
For more information on the security behind online payment processing, as well as more best practices for your nonprofit to follow, check out Double the Donation's beginner's guide to payment processing.

4. I don't want to stop using PayPal.
We get it. These options are super quick and convenient, especially for smaller nonprofits that aren't able to invest in nonprofit-specific fundraising platforms yet.
But you might be missing out on donations that you weren't even aware of because of PayPal. While PayPal is a secure way to process online donations, it doesn't have all the things a good donation page needs because it isn't designed to meet the needs of nonprofits.
Why might donors abandon a donation if they have to go through PayPal?
Donors have to make an account on PayPal to donate. They might not have the time, or they may not care enough to sign up just to make a one-time donation.
A PayPal account doesn't have your organization's branding or logo, which decreases donor confidence in your nonprofit.
PayPal handles millions of transactions all the time. This creates a less personal experience for your donors, as well as less helpful customer service for both you and the donors.
PayPal doesn't capture all the donor data you would want during and after a donation, and therefore makes your follow-up less effective.
PayPal is great for nonprofits just starting out. But as your organization grows, your software capacities have to grow with it, and that means investing in a PayPal alternative that will help your organization grow even more.

5. Processing fees on cards are too expensive.
The biggest downside to asking donors to give money online or through a credit card is that whatever system processes your donations takes a cut of your donations.
While this might seem unfair, there's no way to process a card transaction without those fees. So what's a nonprofit to do?
Offer incentives to pay through cash or check, like free swag branded to your nonprofit.
Choose a platform based on which has the lowest credit card processing fees.
Choose a platform that allows the donor to offset the processing fees.
Of these options, our favorite is the last. Processors with lower fees might come with unexpected drawbacks, like lower security standards or fees hidden in other parts of your usage.
Some platforms allow donors to offset the processing fees as an option during their donation, which means that more of their intended contribution goes straight to your organization. For most transactions, this can be less than $5, and donors won't mind.
In fact, many of Qgiv's clients tell us that their donors prefer to offset processing!
Every fundraiser, from email campaigns to text-to-give drives, will be more efficient for your nonprofit if you don't have to worry about the costs of your software.
Just allowing the option to be placed on your donation form can decrease your processing fees. Not everyone will do it, but those that do will make a difference for your nonprofit.

6. I can't keep track of all my donors' gifts.
It can get complicated to understand all of your supporters' donations, especially when they're coming from different fundraising campaigns as well as through different mediums.
If your nonprofit isn't using a robust CRM or constituent relationship management software, you should be! Not only does keeping track of donor data make it easier to track donations and where they come from, it allows you to build stronger relationships with your donors!
Some important information to know about your donors is:
Their previous engagement with your nonprofit. This means knowing which campaigns they gave to and how much as well as if they've volunteered for your organization.
Their contact information, as well as their preferred method of communication. This ensures that you can remain in contact with them in the future.
Their philanthropic history with other nonprofits. This can keep you informed on their passions and interests, which can help you communicate with them about the topics they care most about.
Any wealth indicators like SEC holdings, or real estate or vehicle ownership. These markers may indicate that they could become a major gift donor for your organization.
Whether you're investing in a new CRM, a new donation processing system, or a software that does all of the above, you need to consider if the systems can communicate or flow information easily.
A software that does both would be the best, because you never have to worry about losing track of a donor post-donation if the software automatically captures donor info.

7. I don't know what software to use.
We've thrown a lot of different variables to consider at you in the past few sections! Now is your chance to put those features to work for your nonprofit.
There are so many different donation handling platforms out there, all with different pros and cons. No single platform is perfect for every nonprofit, so instead we've compiled some lists for your perusal, and you can decide which software is right for your organization.
Here's a list of the top online donation tools if your nonprofit is already a pro at handling all sorts of donations and is ready to take things digital.
If your nonprofit is about to start a crowdfunding campaign and doesn't need to invest in an in-house donation processor yet, check out this gathering of crowdfunding websites for nonprofits of all shapes, sizes, and missions.
For help on everything from choosing the right online donation software to running a capital campaign, your organization should consider taking on a nonprofit consultant. Their expertise can help your nonprofit move forward and continue its growth.
Making any investment in new software for your nonprofit can be overwhelming and difficult, but there are resources available everywhere to help your nonprofit make the right choice.
Donation processing can be a difficult task, especially as your nonprofit is transitioning from an older system to a newer one or is growing rapidly.
Though there's no single perfect answer, there is a perfect system out there for your nonprofit if you look far enough and consider what your individual nonprofit needs.
Author bio
Abby Jarvis is a blogger, marketer, and communications coordinator for Qgiv, an online fundraising service provider. Qgiv offers industry-leading online giving and peer to peer fundraising tools for nonprofit, faith-based, and political organizations of all sizes. When she's not working at Qgiv, Abby can usually be found writing for local magazines, catching up on her favorite blogs, or binge-watching sci-fi shows on Netflix.