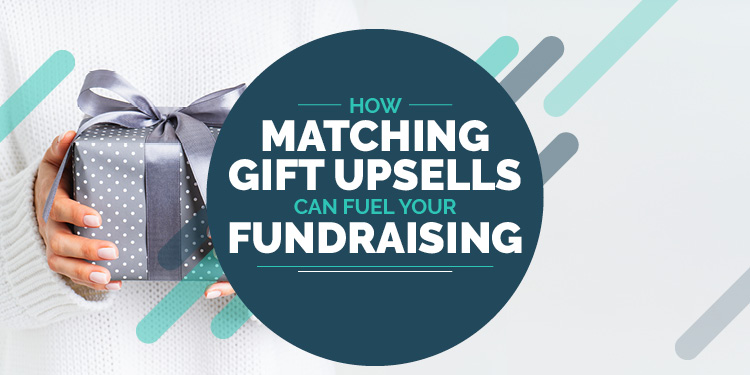 Matching gifts enable nonprofits to collect "bonus" corporate donations in response to personal donor contributions. But did you know that the availability of matching gifts can also help increase individual giving? One of the best ways to do so is by utilizing matching gift upsells!
We've written before about matching gift fundraising and tips for nonprofits like yours to drive substantial revenue. In this guide, we'll focus on the upsell functionality that can bring your corporate gift-matching to the next level. We'll cover the following topics:
Ready to raise more with matching gift upsell strategies? Let's get started with the basics!
What are matching gift upsells?
You know what matching gifts are. But what exactly is a matching gift upsell?
It's essentially the process of encouraging donors to increase their initial contribution amounts in order to qualify for their employers' matching gift programs.
Here's how it typically works:
A donor completes a nonprofit's online donation form.
The donor inputs their intended donation amount.
The donor is prompted to enter the name of their employing company in an optional field.
The company name is automatically searched in a matching gift database tool.
The company's matching gift program guidelines are pulled and compared to the individual's donation amount to determine if the gift meets the minimum donation criteria.
If the individual's gift amount falls beneath the minimum threshold, the individual is given the option to increase their donation in order to qualify for the matching program.
Pretty easy, right?
Let's walk through an example:
Sally is looking to donate to her favorite charity. Initially, she sets her donation amount at $20. When she selects her employer (Bank of America) on the donation form, however, Sally is informed that her gift falls below the eligibility threshold for a matching gift.

If she increases her donation amount to $24 or higher, the bank she works at will double her donation⁠—providing even more resources for the cause she cares about.

Ultimately, Sally decides to up her gift to an even $25. Once the donation match of an additional $25 goes through, her contribution brings a value of more than $50!
Matching gift upsells result in a range of impactful benefits to the nonprofits leveraging the strategy. This includes:
Elevated initial donation amounts
Increased donation conversion rates
Heightened levels of donor engagement
Additional opportunities for corporate matches
And they're effective, too! In fact, studies by matching gift provider Double the Donation report that over 1 in 3 donors would make a larger donation if they knew a matching gift was available⁠—hence the idea of matching gift upsells in the first place.
Best practices for matching gift upsells
So matching gift upsells result in increased nonprofit fundraising revenue. How do you begin reaping those benefits and more? Here are three tried-and-true tips you can follow:
1. Inform donors of matching gift eligibility prior to submitting their donation.
We mentioned that not all match-eligible donors are aware of their employers' giving programs. But if you wait to educate your supporters about the opportunities until after they're completed their (possibly too small) donation, you run the risk of missing out on potential matching donations.
That's why matching gift upsells attempt to solve the problem prior to it even occurring—by informing donors about matching gift possibilities before they ever click "submit."
From there, donors can determine their matching gift eligibility and make their decisions as to whether they'll increase their donation size accordingly. And it all takes place before it's too late!
2. Share company-specific matching gift program guidelines.
Every company that offers matching gifts is able to craft a unique set of guidelines that determines which types of employee donations it is willing to match. These guidelines typically include criteria such as:
Minimum and maximum donation amounts (where matching gift upsells come in)
Qualifying types of employee donors
Qualifying types of nonprofit recipients
Matching gift submission deadlines
Matching gift ratios
When you provide donors with access to their employers' own matching gift program details, you can help them better identify their eligibility status and decide to follow up with their employer for a potential donation match.
The upsell is only the first step in the process⁠—next, the donor must actually complete their now-available matching gift submission. Armed with detailed and accurate information about their companies' programming, they're able to take the necessary steps to do so.
And it doesn't have to be difficult, either! All of this information and more can be quickly and easily located using a comprehensive matching gift database.

3. Invest in fundraising solutions with matching gift upsell functionality.
The simplest and most effective way to utilize matching gift upsells is by investing in technology that was built with this feature in mind. While there is a range of fundraising solutions available, our recommendation for matching gift upselling is with Double the Donation's 360MatchPro. If you're interested, check out Double the Donation's fundraising integrations to locate a donation platform with matching gift upsell functionality!
With these tools in your nonprofit tech stack, you can easily incorporate matching gift tools into your existing online fundraising plan. From there, you'll be able to collect employment information during the donation process, notify donors if they fall below their companies' matching thresholds, and follow up with supporters afterward to drive more eligible matches to completion.
---
Matching gifts help double nonprofit donations. Matching gift upsells help increase the initial donation amounts that are then being doubled. The two concepts go hand in hand, and, in the end, you receive increased funding that allows your organization to operate more smoothly and bring more impact to your mission.
Bottom line? Make sure you equip your fundraising team with the right tools to set your organization up for continued matching gift success.
Interested in learning more about effective fundraising strategies for your organization? Check out these additional resources: