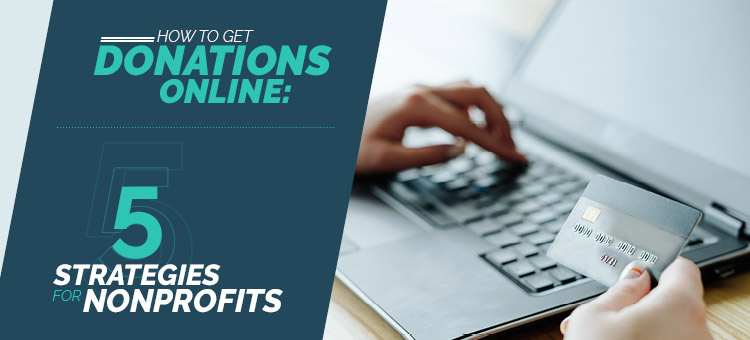 It's no secret that most of us are spending increasing amounts of time online, whether we're at our computers or checking our smartphones on the go. The internet makes almost everything faster and more convenient, from communicating to shopping to supporting our favorite charitable causes and organizations.
Your nonprofit will engage more supporters and encourage recurring giving when you expand your online donation options. Statistics from the Blackbaud Index indicate that online giving has increased over the past few years, and this trend isn't going away.
The keys to encouraging online donation are providing multiple options and spreading the word. When your supporters are aware of all their giving options and can choose the methods that work best for them, they're more likely to form lasting relationships with your nonprofit.
Let's take a look at some of the most popular and effective online donation methods. Whether your nonprofit is already offering these options and wants to improve your strategy or you want to incorporate more ways to give online, these tips will help you make the most of these popular methods.
Many of your supporters will be motivated to give when they're provided with the opportunity to take part in the fundraising process. You can offer them this option by starting a crowdfunding campaign for your nonprofit.

Get Online Donations Through Crowdfunding
Crowdfunding is an online donation strategy that harnesses the power of social media to garner support for your cause. When your supporters share your nonprofit's crowdfunding page with their networks of friends and followers on social media, you'll widen your supporter base and see an increase in donations.
A crowdfunding campaign is an excellent way for your organization to connect with your current supporters, reach new ones, and spread the word about your online donation options.
How does crowdfunding for nonprofits work?
Crowdfunding campaigns are highly effective and easy to get up and running. To get started, your organization simply has to:
Choose a crowdfunding platform.

This is the platform you'll use to create your shareable page. Look for a provider that allows your organization to customize your page with your recognizable brand elements as well as images related to your campaign.
Share your campaign with your followers on social media.

Make sure that your page is easy to share on the most popular social media platforms and that you can post updates about your progress. You'll want to encourage your followers to give to your campaign and share your page so that they can encourage their friends to do the same!
Consider turning your crowdfunding campaign into a peer-to-peer fundraising campaign.

In this style of online fundraising campaign, your nonprofit recruits volunteer fundraisers from among your current supporters to customize their own fundraising pages and share them with their social media connections. All of the money raised goes back to your nonprofit. This is an excellent option if your organization has many dedicated supporters who would be excited to get more involved in your fundraising efforts.
Crowdfunding pages are especially effective when they use multimedia elements to help communicate your nonprofit's goal. This campaign created through Fundly for Habitat for Humanity uses a video to help supporters better understand the cause they're contributing to.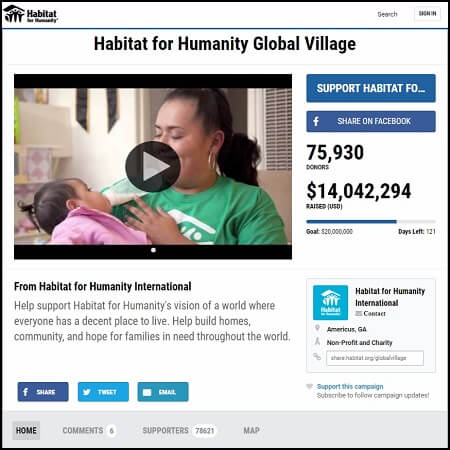 Top benefits of crowdfunding for nonprofits
Crowdfunding is an effective way for nonprofits to gather online donations because:
Social media sharing enables your organization to reach more supporters.

Time-sensitive campaigns create a sense of urgency surrounding your goal.

Your most dedicated supporters can take part in the fundraising themselves.
Just because your latest crowdfunding campaign comes to a close, that doesn't mean your online fundraising has to stop! Create or refresh your nonprofit's online donation page so that visitors to your website always have the opportunity to give.

Set Up an Online Donation Page on Your Website
Whether your supporters have contributed to your nonprofit for a long time or they've only recently discovered your good work, many of them view your website as a hub of information about your organization. An engaging website and an easy-to-use online donation form or page are effective ways to boost giving to your organization.
As online giving becomes increasingly popular, it's more important than ever to keep your website and your online donation page up-to-date.
How to add an online donation page to your site
An effective online donation page is one that is easy to use and part of an engaging overall nonprofit website. To create or refresh your donation page, you'll want to:
Choose a CMS designed for nonprofits.

The right CMS (content management system) makes it easy for your nonprofit to create a visually engaging website that's also easy for your team to update regularly, even if they don't have coding experience. A CMS designed with nonprofits in mind also makes it easy to create necessary pages such as online giving forms.
Provide convenient links to your online donation page.

Many site visitors will arrive on your website with the intention to give, while others will be inspired to do so after they've explored your content. Ensure that everyone can find their way to your donation page within one click from anywhere else on your site.
Ensure that your online donation form is easy to complete.

The form should be branded to your nonprofit so that supporters know their gifts are going directly to your organization. Minimize the number of required fields they have to fill out so that they can complete their gifts quickly.
The best online donation pages make the giving process as convenient as possible. This form created using Donately offers preset amounts to help donors decide how much to give, as well as a recurring gift option.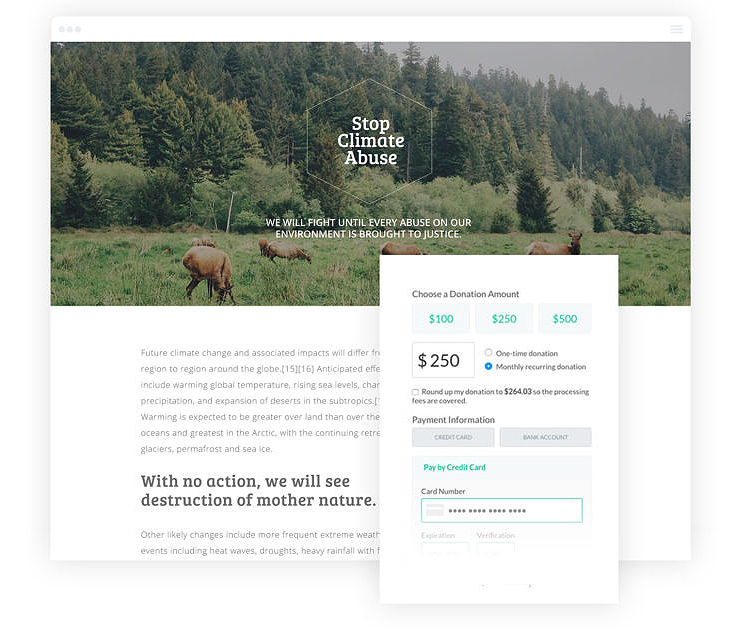 Best practices for getting donations on your website
To encourage visitors to your website to use your online donation form, make sure that you:
Incorporate multimedia elements such as photos to help tell your story.

Share your online donation form on your nonprofit's social media accounts.

Provide online donors with automatic gift acknowledgment notes for their records.
Providing donors with a convenient online giving option encourages recurring contributions and helps them stay connected to your organization. You can reward your donors for their support—and help spread the word about your nonprofit—by selling branded merchandise online.

Sell Merchandise to Get Online Donations
Selling merchandise branded to your organization has two main purposes: rewarding your supporters for their donations and helping to spread the word about your organization and the great work you do. Offering branded merchandise is an excellent way to draw supporters to your online donation page and encourage increased giving.
Supporters will be especially excited to receive branded merchandise when your nonprofit chooses quality products that are both fun and practical.
Choosing the right merchandise to get online donations
To make branded merchandise a successful component of your online fundraising strategy, it's essential that your nonprofit chooses merchandise that your supporters will be excited to receive. Select products that are:
Going to be used.

T-shirts and other wearable items are great choices because they're fun to receive and use. Choose products that your supporters will want to wear or use in public to help spread the word about your organization.
Easy to distribute.

Select products that are easy to ship to individual online donors when they make their gifts, register for your next event, or interact with your organization on social media.
Desirable to have.

To encourage increased giving using branded merchandise, design a product that your supporters will love. If you're not a design expert, you can partner with an online firm that will help you create attractive original designs.
A custom t-shirt like this one created through Bonfire combines a stylish design with a useful product that supporters are sure to enjoy receiving.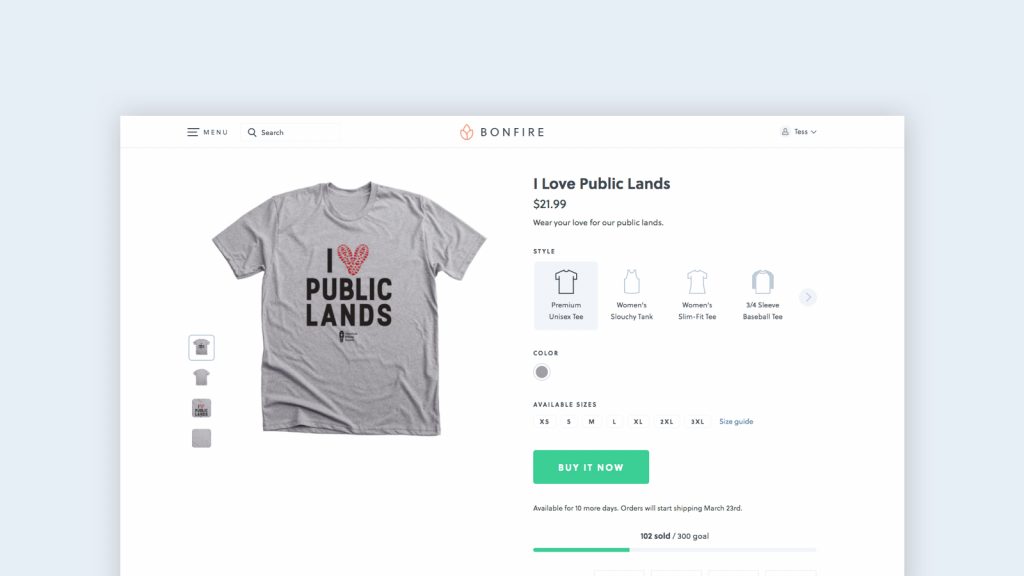 Quick tips to market your merchandise and get more donations
To make the most of branded merchandise opportunities, supporters have to know what products your nonprofit is offering and how they can obtain them. Try:
Including pictures of the products on or near your online donation page.

Incorporating branded merchandise into your online event registration packages.

Rewarding the winners of a social media contest with branded merchandise.
Social media provides numerous opportunities for distributing branded merchandise as well as other forms of getting your supporters involved with your nonprofit. Make sure that your social media followers are aware of all the online donation options available to them.

Ask for Online Donations on Social Media
No matter how you may feel about it, you can't deny the popularity and ubiquity of social media. Use the most popular platforms to connect with wider networks of supporters and encourage them to use your online donation page.
To best reach supporters on social media, you'll want to create attention-grabbing content that reaches them where they already are.
Connecting with online supporters on social media
As more social media platforms pop up, your nonprofit may not know where to start, especially if you're new to this form of communication. Whether you're social media-savvy or still new to this environment, you'll succeed when you:
Understand your supporters' preferences.

Facebook remains the largest social media platform and is a reliable choice for reaching supporters of all ages. If you have a lot of younger supporters, consider using Instagram as well.
Make the most of multimedia opportunities.

Mix short posts with multimedia elements such as photos and videos to capture visitors' attention. Engaging and shareable content helps your nonprofit reach new audiences.
Link to your online donation page.

A direct link to your online donation page should never be more than a click away from your primary social media account or most of your posts.
Social media helps your supporters stay connected to your organization and updated on your progress wherever they may go, inspiring them to donate. Connecting your social media presence to your main website, as Pet Rescue New York did on their site created using Morweb, is an effective means of keeping supporters engaged.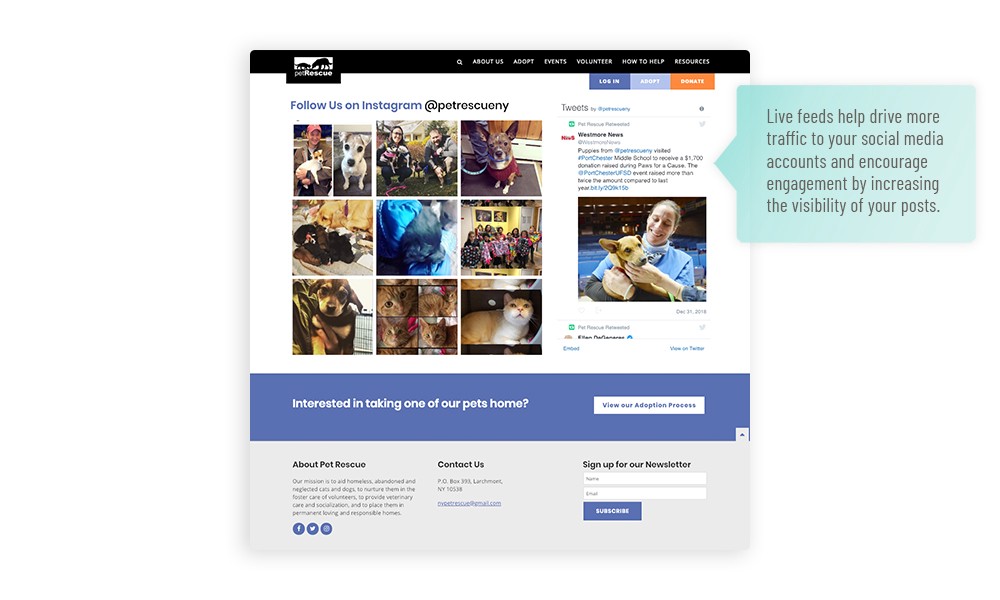 Social media best practices for online donations
Effective storytelling is key to social media success for nonprofits. Keep your supporters involved in your progress and motivate them to give by:
Keeping text-based posts short but packed with essential information.

Creating content that suits the strengths of your chosen social media platforms.

Responding to your social media followers as personally as possible.
Social media helps you reach your supporters where they are, inviting them to your website and your online donation page even if they may not have found it on their own. Similarly, you can reach out to donors wherever they may be through email.

Request Online Donations Through Email
Whether we're at work or on the go, most of us check our email regularly. Email can be a highly effective means of connecting with your supporters. Create short, engaging emails that direct supporters to your online donation page.
Emails are both an effective and efficient method of communication, as you can send them to large groups of supporters at once. The best emails connect your request for donations with your nonprofit's current project in just a few carefully chosen sentences.
How to write attention-getting online donation emails
To create emails that your supporters will not only open and read but also use to make online donations, remember to:
Use a short, engaging subject line.

Draw your supporters in with a subject line that encourages them to open the email without giving too much away too soon. While creating a sense of urgency can be useful, avoid language that suggests an emergency.
Keep it short.

Supporters are likely to stop reading an email that becomes too lengthy. Remember that your goal is to get them to your website and donation page. A short message and a link to the page is plenty of content.
Include a button linking to your online donation page.

This button should appear prominently at the end of the email message and should take supporters directly to your giving page to save them time.
Automation is an excellent way to reach many supporters at once via email. The nonprofit marketing tools of a software solution such as Salsa can help your organization create, send, and manage your automated email communications.
Tips for online donation email success
Your supporters will open and interact with your emails when you:
Give them the opportunity to join your email list on your website.

Direct them toward making a donation through a series of engaging emails.

Personalize your emails as much as possible by segmenting your supporter base.
Your online donation strategy will be most effective when you use multiple methods to engage supporters in various ways. Learning and taking note of their communication and online giving preferences is an excellent way to begin building the lasting supporter relationships on which your nonprofit depends.
---
If you're looking for more information about how to get donations online or on fundraising in general, check out these additional resources below: