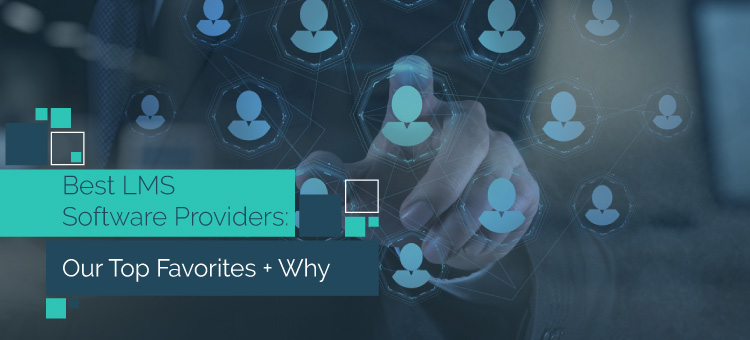 When it comes to helping individuals complete their education, no matter if they're students or professionals, nothing is more effective than a learning management system, or LMS.
A learning management system is a software solution used by organizations to distribute coursework, assessments, accreditation, and more. With an LMS, an organization can offer online and brick-and-mortar classes to a variety of individuals, based on their needs.
We've compiled a list of our favorite LMS providers for different organizations. Associations, nonprofits, and other organizations are all going to have different needs, and therefore require different LMS customizations. Our list of favorites is:
If you're ready to learn more about these different LMS providers and what makes them shine among the competition, read on!

---

1. Web Courseworks – Best Association LMS Software
Associations require a specialized LMS software because of the nature of their members' needs. Members of associations require an LMS to continue their education and gain accreditation or certification to further their careers.
Overview of Web Courseworks's Learning Management System Features
Web Courseworks offers a totally customizable learning apparatus so that organizations can offer the courses that they need to, however they want to. They offer services for associations, trade associations, and healthcare associations, all of which are catered to the industry's unique needs.
Additional features of the Web Courseworks platform include:
Built-in course and assessment authoring.

An intuitive and mobile-responsive interface.

Adaptive learning capabilities.

Social learning options
Their platform is constructed so that it's as easy as possible for your administrative team to construct courses, collect data, process registrations, and more.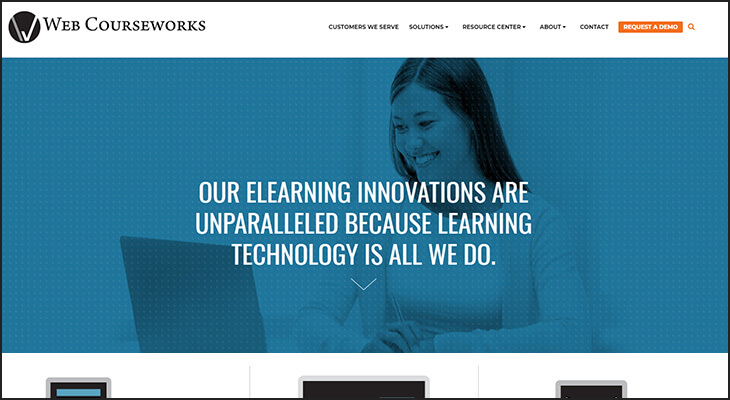 Why Web Courseworks is a Top LMS for Associations
Web Courseworks is the top provider of learning management systems for associations because of their commitment to customization. With their system, associations can ensure that they're offering their members the best possible solution.
Web Courseworks offers transcripts, accreditations, and certificates, so that professionals in ever-changing industries can prove that they're remaining up-to-date and certified in different areas.
However, they know that online courses aren't the only ways professionals gain experience. They offer the option to manually enter credits and courses from attending other educational experiences, which are then listed on the members' transcript.
---

2. Blackboard – Best University LMS Software
University students are constantly on the go—running between classes in different buildings, working internships or jobs for class credit, and studying abroad. They require smart learning management systems to keep up with their busy lives.
Learning management systems also make online classes possible for students to take their education on the go.
Overview of Blackboard's Learning Management System Features
Blackboard provides LMS services to a variety of clients, from K-12 schools to government offices, but their LMS shines in their higher education offering. They've also recently created a new option called the Ultra experience, which offers a streamlined interface for both teachers and students.
Other smart and helpful features of Blackboard's learning management system include:
Personalized learning profiles for students.

Streamlined and intuitive test creation and grading.

Targeted notifications and messaging.

Simplified system navigation.

Simplified content creation.
Their system is built to make it as easy as possible for students to communicate with each other through social forums and boost overall engagement.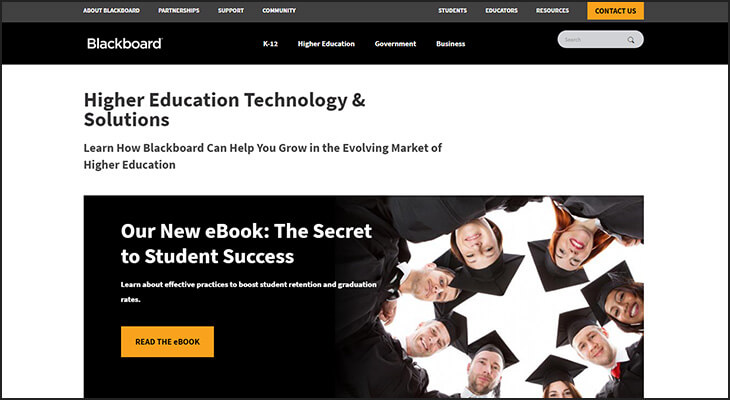 Why Blackboard is a Top LMS for Universities
University students are engaged and passionate learners, and universities need to provide an effective learning management system that can keep up with them.
Blackboard is so effective as a learning solution for university students because it's personalized, communicative, and engaging. With Blackboard's LMS, students can take their online classes with them on their smartphones and tablets. The customized learning options allow teachers and students to strengthen their collaboration skills.
Plus, when students feel empowered to take charge of their own classes, they become more engaged and more likely to complete the coursework. This, in turn, improves their learning outcomes across the board and drives them closer to the completion of their degree.
---

3. ProProfs – Best Cloud LMS Software for Enterprises 
Enterprises of all shapes and sizes need a learning management system (LMS) for the continued learning and development (L&D) of their employees. Ideally, such tools should be easy to use, scalable, cost-effective, and offer comprehensive solutions. Users should also be able to administer online training centrally.

Overview of ProProfs Learning Management System Features

ProProfs LMS is the world's easiest LMS designed for users of all skill levels. It provides a one-stop solution for all corporate training needs. A library of 100+ courses ready for deployment helps users get employee training up and running in minutes.

Other useful features in ProProfs LMS are:

Centralized and secure virtual classroom software 

Built-in quiz and survey tools

A Q&A-based online collaboration forum

Multilingual support for 70+ languages

Reporting & analytics engine
Simplify, streamline, and standardize employee enterprise learning with ProProfs LMS. With a shallow learning curve, a clean interface, and numerous options for customization, the platform can help you deliver an engaging learning experience like never before.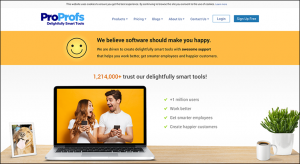 Why ProProfs LMS is a top LMS for Enterprises
ProProfs is the simplest enterprise learning management system. With 100+ settings and configurations, you can use it to create, manage, and deliver workplace training your way. Automated grading and reporting save you time from repetitive tasks, which you can devote to improving the learning experiences and outcomes.
As an enterprise-grade solution, the LMS can be used to deploy all types of training programs, including employee onboarding, HIPAA, OSHA, and sexual harassment training.
The software application is compatible with different devices, so learners can access it anytime and from anywhere. Add to that an awesome support that ensures a delightful customer experience.
---

4. Accord LMS – Best Nonprofit LMS Software
Nonprofits require LMS software to train their staff and volunteers in an effective, engaging, and cost-effective way. And because so many nonprofits are spread out across the country or even the world, they require an online learning system that offers the same quality of training to every individual, regardless of location.
Overview of the Learning Management Systems Features of Accord LMS
The team behind Accord LMS knows that nonprofits don't have a lot of extra time or resources to painstakingly train every volunteer that comes through their doors. It's just not feasible! That's why they're so focused on providing a valuable and cost-effective way for nonprofits to offer training courses.
More features of Accord LMS include:
An attractive, well-organized student and instructor interface.

Mobile-responsiveness for a variety of screen sizes.

Gamification points for increased engagement.

Community features to enhance social learning.

Transcripts including course history, certificates, and badges.
By making their LMS intuitive and easily understandable, Accord LMS can help your administration staff and training team save time and energy while creating and adapting courses for their organization's needs.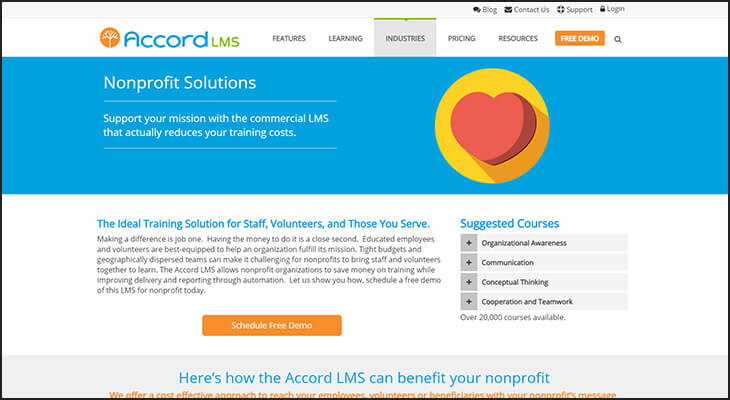 Why Accord LMS is a Top LMS for Nonprofits
Nonprofits have specific needs just by their nature. They don't have the same financial freedom that for-profit businesses do, so they need to make sure that they can use their limited budgets as effectively as possible.
With an LMS solution like Accord LMS, they can save money on training while still improving delivery of course information and reporting of training efficiency through LMS automation.
Training is a necessity for nonprofits: trained members and volunteers provide more value to the organization than untrained enthusiasts! With a cloud-based and mobile responsive LMS solution, staff and volunteers will be able to conveniently complete their training courses wherever and whenever they have time!
---

5. Google Classroom – Best LMS Software for K-12 Schools
Kids of all ages learn best when exposed to a variety of learning styles, and the increase of technology-enabled learning devices has introduced online learning into classrooms with kids of all ages. These schools require an LMS that empowers teachers to customize their courses to their classes' needs, as well as introduces kids to technological literacy.
Overview of Google Classroom's Learning Management System Features
Google Classroom comes free for schools that already use the G Suite for Education. This learning management system encourages students to collaborate creatively while helping teachers save time through streamlined assignments and assessments.
Other important features of the Google Classroom LMS include:
Fast setup options.
Communication tools.
Integration capabilities.
Reporting and analysis.
Google Classroom's easy-to-use and intuitive software, as well as its ability to work easily with a plethora of other teaching tools, save teachers and administrators time and give them more minutes in a day to work hands-on with students.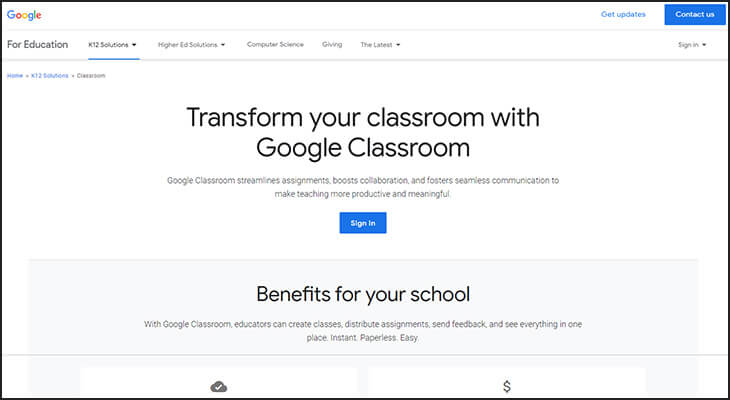 Why Google Classroom is a Top LMS for K-12 Schools
First off, the ubiquitousness of Google makes Google Classroom an easy choice for schools to use as their LMS platform. Students are already familiar with the G Suite, and teachers already know how to use Google's tools to optimize their teaching strategies.
Technology is becoming more and more important in the classroom, so using Google Classroom to help students learn and grow is a smart decision for preparing them to become technologically literate young adults.
Educators are able to create courses, give and receive assignments, distribute feedback and course evaluations, and analyze a student's progress from a bird's-eye view, all through one streamlined platform.
Plus, thanks to all the apps that work #withClassroom, Google Classroom can fit quickly and easily into a teacher's existing technology strategy.
---

6. Moodle – Best Open Source LMS Software
There are a thousand different reasons that an organization needs access to an LMS software. Associations, schools, nonprofits, hospitals, and more all depend on the education of their members. But not every organization has the funding necessary to invest in a dedicated LMS software.
Overview of Moodle's Learning Management System Features
Moodle is a free, open source learning management system. It is funded by a network of over 80 different Moodle Partner companies, and is maintained by a team of dedicated software developers. It is the world's most widely-used learning platform, with over 90 million members worldwide
The most empowering features of Moodle are:
A modern, customizable, mobile-responsive interface.

Collaborative social learning tools.

File manager for documents, photos, videos, and other formats.

Progress tracking and transcripts.

Secure authentication and enrollment.

Multilingual capabilities.

Bulk course creation, backup, and restoration.
Moodle is built to help students, teachers, and organization developers create the best experience possible for those using the LMS.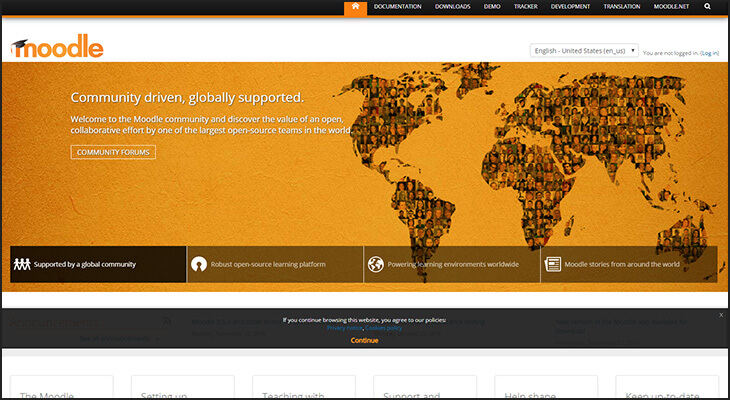 Why Moodle is a Top LMS for Users
No matter what type of organization you represent, Moodle is a valuable choice for an LMS software solution. Its open source status makes it easy to customize for any organization's needs, and any developer can design an integration for whatever other software your organization relies on.
It's an all-in-one learning platform built for anyone to use, and it is scalable to any size. This flexibility makes it a valuable choice for an organization that foresees rapid growth or shrinkage in the coming months or years.
One of the greatest features of Moodle is its community: the vast network of users that all rely on Moodle are there for your organization if you have questions, concerns, or suggestions. Any issue that you could run into can be tackled with the help of 90 million other users, easily contactable through the Moodle forums.
---
The software solution that your organization invests in can influence the way that you interact with and engage your members, so make your choice carefully! For more of our software reviews, as well as other additional resources, check out a few of our favorites: