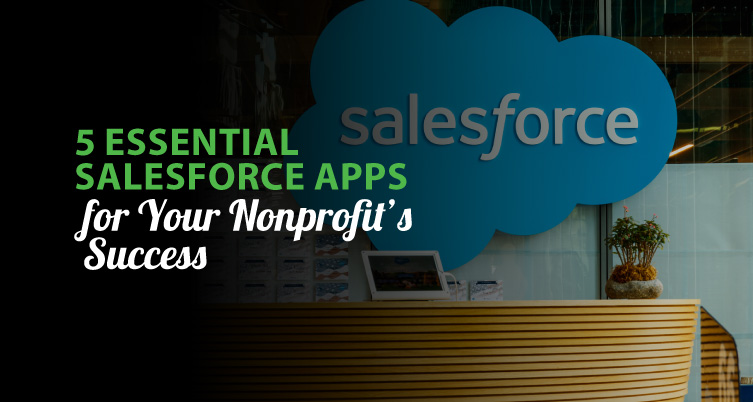 As a nonprofit Salesforce user, you've likely heard of the Salesforce AppExchange and the apps that are developed to drive organizations like yours toward success in your fundraising efforts.
Along with Salesforce Apps, you also have access to the Salesforce Nonprofit Success Pack (NPSP). This built-in resource supplies nonprofits with the features they need to be successful. Whether your team is just starting to use Salesforce CRM or are seasoned pros, you need to look into the host of apps offered to move your efforts forward.
Many nonprofit professionals have found it valuable to have this CRM platform and wide resource of integrated applications to expand online fundraising, strengthen donor relationships, and accurately retain valuable data. However, even the most analytical person will find it challenging to decide what's best for your specific organization. To help, here's a list of Salesforce apps for nonprofits that we recommend:
Brickwork
360 Match Pro
Causeview
FormAssembly
DocuSign
Ready to learn more? Let's dive in.
Brickwork: Payment Processing
Brickwork by iATS Payments is the one and only payment processing app on the Salesforce AppExchange that is entirely dedicated to the nonprofit sector. When you have a tool that functions solely with organizations like yours in mind, you receive the following benefits:
Donations in your nonprofit bank account quicker.
Higher data security compared to a more general payment aggregator. Brickwork has a Level 1 Payment Card Industry (PCI) security certification, paired with customizable fraud protection settings. Did you know that when organizations can customize their app preferences, it increases usability and productivity? It's worth the investment!
Personalized attention from people who know the nonprofit sector and understand the current challenges facing the field.
On top of all of these benefits, there is little know-how required after installation. All you need to do is to download the software and let the program do its job. Once someone makes an online donation to your cause, the data flows seamlessly into your CRM.
Salesforce's CRM, when paired with Brickwork, can actually work to engage your donors in meaningful ways. For example, it'll supply your communications with:
Donor preferences for personalized communications
Automated payment invoices
When your team is intentional about the way you reach out to supporters, your relationships deepen and you're more likely to retain them for future donations. And Brickwork is free for Salesforce users. For more information on Salesforce donation apps, iATS Payments offers a helpful guide outlining the details of further options.
360MatchPro: Matching Gift Automation
360MatchPro by Double the Donation is the number one automatic matching gift application. Too often, nonprofit organizations miss out on corporate philanthropy because donors don't know that they're eligible for matching gifts. With this tool, your organization can find matching gift prospects automatically and easily guide them through the corporate matching process with very little legwork.
This way, when your donor makes a gift to your organization, they'll be automatically contacted if they qualify to be matched by their employer in a donation. This tool not only increases your fundraising dollars but also benefits your organization by:
Automatically providing easy access to matching gift eligibility information for donors and nonprofit organizations.
Tracking each matched donation and gathering actionable information from the gifts donated to your cause online.
Delivering automated communications with supporters to drive contributions.
Optimize your Salesforce toolkit for $500/year with 360MatchPro. Get started on doubling your donations with this helpful tool.
Causeview: Overall Donor Management
Causeview adds a host of apps to your current Salesforce CRM. This tool helps you choose apps that can manage your donor's data to build relationships, maximize fundraising, and personalize outreach.
With this software, your team can manage each donor's journey from start to finish with payment tools, and follow up after each gift. After all, your supporters will want follow-up receipts for their taxation purposes.
Investing in Causeview can help your nonprofit organization do the following:
Personalize your own donation pages, event registration forms, and various other applications pertaining to your outreach efforts.
Follow up with and engage donors with automated messaging.
Receive and store accurate data to base any strategic readjustments on accurate insights.
Analyze data on personalized dashboards provided by Causeview.
For Salesforce users, Causeview costs $1800/year. To get started, all you need to do is set up an appointment with their specialized coaching team, install the application, and configure the app to expedite gift processing and donor receipts.
FormAssembly: Donation Form Building
Many sources recommend FormAssembly to create customized donation forms. A donation form that suits your organization's needs is crucial in retaining only the essential information you need to inform your strategies and communications.
As a nonprofit professional, you're making forms on a regular basis. For example, you may be creating an event registration form one week and optimizing your donation form the next. Therefore, it's important to have complete control over the look and feel of your forms for the best results possible.
This is especially important to inform your strategies going forward. You'll want to create forms that allow you to ask specific questions and have valuable information sync right into your donor database.
When your team uses FormAssembly, you have access to features such as:
Streamlined data collection process
An intuitive and easy form builder
High data security standards for HIPAA, CCPA, GDPR, and more
Customize your organization's forms and ensure the data you collect is secure with FormAssembly for only $99/month.
DocuSign: Document Signing
Your supporters are likely signing a ton of registration, donation, and other information forms when interacting with your organization. Streamline this process with the Salesforce app DocuSign.
With this tool, you can obtain signatures easily, process waivers, and leave a positive impression on your supporters who are signing any forms with your team. If your organization often distributes contracts, DocuSign is a key app you should definitely consider.
When your team implements this app into your organization's signing process, here's what you'll benefit from:
An expedited workflow due to the ease of document exchange
Automated management and storage of all signed documents
Tools to generate custom documents that can be signed through this app
For only $30/month, your team can expedite your signing process and document storage so that you're able to save time and money.
______________________________________________________________________________________________________________________
Salesforce has an incredibly useful suite of applications for nonprofit organizations like yours. Be sure your team is making the most of your investment by researching the best tools for your Salesforce kit. From document designing apps to payment processors, do your research and find what works best for your organization's specific needs!
______________________________________________________________________________________________________________________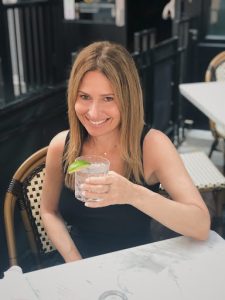 Robbie Bernstein, an iATS Payments Account Executive, uses her wealth of payment processing knowledge to help nonprofits thrive. Robbie puts her heart into fundraising for cancer research, the Make a Wish Foundation, and the Heart and Stroke Foundation.