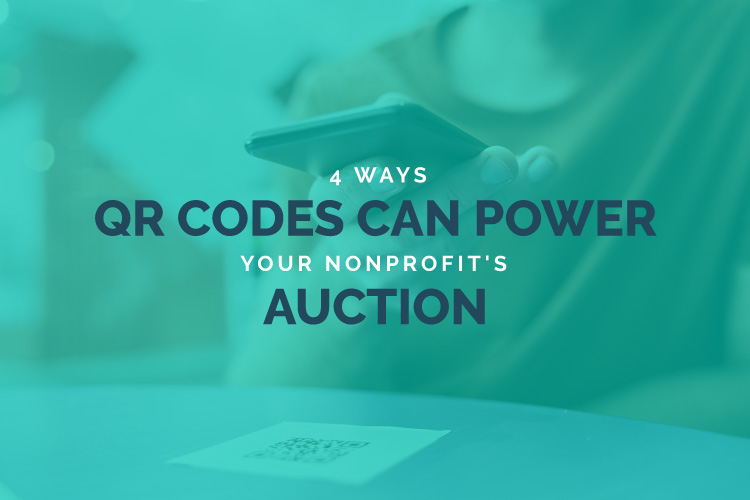 As a nonprofit leader, you've likely discovered the impact of digital tools on your fundraising efforts, such as corporate giving programs or peer-to-peer initiatives. It's no mystery that technology helps to draw attention to your organization and raise funds more efficiently.
One such digital tool is the quick-response (QR) code, which is a barcode that links to information when read by a computer. In today's digital age, QR codes can be scanned by mobile phones to redirect people to websites, social media channels, and even educational information.
For nonprofits planning a fundraising auction, a QR code can help engage bidders by allowing them to:
Between QR codes and auction management software, your fundraising event will be executed seamlessly when you use the right tools!

View auction item details via QR codes.
Imagine your auction tickets sold out and a large crowd of participants hover over a small table in your venue, eager to see your event's big-ticket item. How likely is it that anyone in that crowd was able to read the item's display sheet?
The display sheet provides all the relevant information about an item so potential bidders can decide whether or not they want to compete for it. It should include the following information:
Auction item title. An enticing name for the item
The name of the donor or sponsor. The people or local corporations that supported your nonprofit by donating goods or services to the auction
A detailed description of the item. The potential uses of an item, the item's history, or other important details
The item's fair market value (FMV). How much the item is worth
The minimum starting bid. The amount the item will start selling for at the auction, which should be 30-45% of the FMV
Required bid increment. The amount by which each bid should be raised
That's a lot of information to squeeze into one sheet! Instead of printing paragraphs of text, display a QR code next to each item that links to the item in your digital catalog. Then, participants can view this information from their mobile devices and consider whether or not they'd like to place a bid.
As an added bonus, some information might prompt bidders to do research of their own. For example, they might find their employer donated an item to your auction, which might lead them to learn about their employer's other corporate social responsibility efforts, like a matching gift program. In this way, your bidders can find additional ways to become regular supporters.

Scan a QR code to place a mobile bid.
Alternatively, you might print item display sheets but include a QR code to place a bid in a silent auction. This not only simplifies bidding for participants but also adds a bit of mystery to the silent auction competition—when everyone bids from their phones, people won't know who is bidding for what!
All you have to do is choose an auction management software that supports QR codes. Input all the item details and starting bids into the platform. Then, as ClickBid's guide to mobile bidding explains, your software will automatically stop accepting bids for the item at the predetermined closing time and the winning bidder will be announced.

Checkout with a QR code.
360MatchPro's fundraising statistics show that mobile-friendly donation pages yield 34% more donations, making it more important than ever for nonprofits to encourage mobile interactivity. You can go a step beyond mobile bidding by allowing winning bidders to pay from their phones!
Set up "check-out" QR codes around the venue for winning bidders to scan. After scanning, they'll be taken to a secure payment portal, where they can pay for their auction item and receive a receipt. Then they can provide an address for the item to be sent to, or show the receipt at an item pick-up booth.

Find extra resources from QR codes on event signage.
As with any fundraising event, you should consider the effect it will have on all your organization's initiatives, even while you plan an auction to raise money for a specific project. Maximize giving opportunities and raise awareness for your organization by encouraging auction attendees to explore all of your nonprofit's work.
Print signage for your event with QR codes that direct bidders to:
Your website: Send participants to your nonprofit's website through a QR code for more information about your mission, cause, or a specific project.
Other fundraising initiatives: Hint at other giving opportunities, such as your organization's matching gift program or another upcoming fundraising event.
Social media channels: Ask bidders to keep in touch by linking to your social media channels via QR codes.
Your auction will ultimately be more successful when you provide extra resources because you'll encourage everyone at the event to give to your organization in some way. For example, bidders who didn't win the item they were vying for might scan a QR code and make a gift to your organization through your donation portal.
Also, you'll offer meaningful ways for supporters to connect with your organization. Instead of just auctioning off an item and thanking them for their support, you'll gain their long-term attention on your social media channels or potential participation in future volunteer events.
Final QR code tips
Incorporating QR codes into your auction will not only simplify participation for bidders but also engage supporters more deeply by providing numerous ways for them to support your nonprofit. To make the most of this digital tool, make sure to place the QR codes strategically throughout your venue. That way, you can be sure they're gaining as much visibility as possible.
Also, it may be helpful to print brief instructions on how to use a QR code for attendees who have never used one before. When you explain how easy it is, they'll likely be excited to try it out!