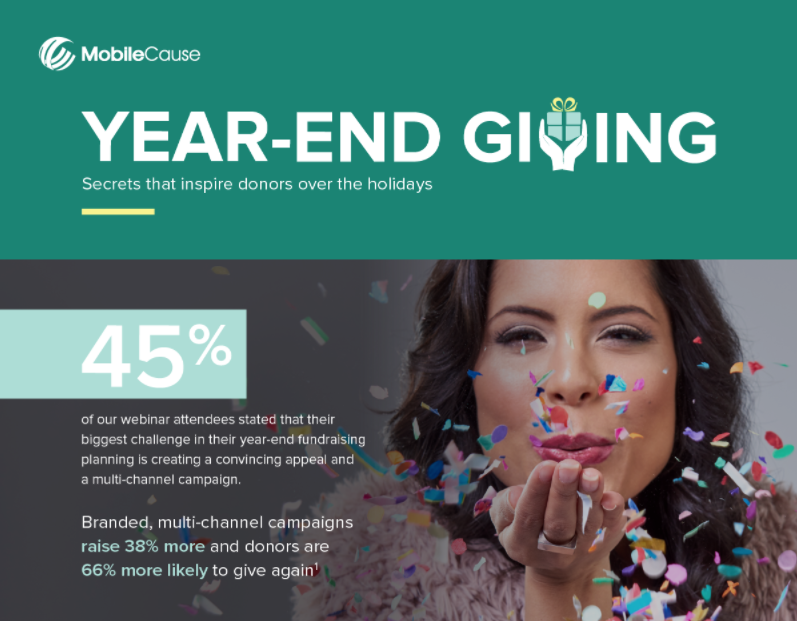 It's that time of year again! That's right: with #GivingTuesday on November 28th, nonprofits everywhere are in full swing with their year-end fundraising preparations.
Between Thanksgiving and New Year's Eve 25% to 35% of all giving occurs. That means, in the span of about nine weeks, over a quarter of all fundraising dollars are raised each year.
This important fundraising season is kicked off by #GivingTuesday, the global day of giving on social media. With each passing year, more and more money is raised on #GivingTuesday by internet-savvy nonprofits like yours. In fact, $177M was raised on this day in 2016 alone.
Since #GivingTuesday is an online fundraising movement, getting year-end fundraising right starts with having the right online fundraising strategies in line.
Not only is this season a great opportunity to raise money for your annual fund, but you can also leverage it to help reach fundraising goals for larger-scale projects like your capital campaign as well.
Want to learn more about how you can make the year-end fundraising season a huge success for your nonprofit? Check out our awesome online fundraising tips to get started:
Create customized donation pages
Focus on mobile and social engagement
…But don't forget about your other communication channels
Keep engaging with your donors (the right way)
Put video at the heart of your communications strategy
Don't forget about matching year-end gifts
Year-end is here, so there's no time like the present to put these online fundraising best practices in place. Let's dive in!
Bonus! Want to learn more about year-end giving and #GivingTuesday? Check out MobileCause's in-depth infographics:

1. Create customized donation pages
For online fundraising year-round, it's always crucial that your nonprofit has customized online donation forms in place to seamlessly accept gifts from supporters wherever they are, whenever they choose to give.
However, having these customized giving pages ready is even more important during year-end giving when so many donors will be visiting your nonprofit's website. Your team should make sure that your giving pages feature some of the following elements to make them your own:
Include branded colors, logos, and images to differentiate your giving forms.
Suggest customized gift amounts to donors to take the guesswork out of giving.
Create a branded short link that leads to your giving forms.
This season is an especially valuable time for your organization to acquire new donors. Since holidays like #GivingTuesday are designed to spread your year-end fundraising campaign far and wide across social media, your nonprofit will likely encounter new prospects.
Because of this, you want to make sure that giving online is as streamlined as possible, and there's no better way to do so than by customizing your giving pages.

2. Focus on mobile and social engagement
Another way to make donating online during the year-end giving season to your nonprofit even easier on donors is to prioritize mobile and social fundraising strategies.
#GivingTuesday started as a social media movement in response to consumerist holidays like Black Friday and Cyber Monday. As the hashtag took hold on social sites like Facebook and Twitter, nonprofits noticed that a large portion of fundraising during year-end giving was happening on mobile devices.
In fact, nearly 80% of all social media activity happens on mobile devices like smartphones and tablets. Mobile giving and social media engagement go hand in hand, and if your nonprofit doesn't yet have strategies in place to take advantage of these channels, you're seriously missing out.
Here are a couple of ways your organization can bring mobile and social engagement to the forefront of your year-end giving strategy:
Optimize your giving pages for mobile devices.
Recruit social media ambassadors to spread your fundraising campaigns on social sites.
Embed your giving page on Facebook to collect gifts directly through the site.
Bonus! Year-end fundraising is a great time to emphasize giving to your nonprofit's crowdfunding campaigns. Since they're already designed to spread like wildfire on social media, it'll be even easier to signal-boost these important fundraisers. Looking for more crowdfunding campaign wisdom? Visit MobileCause for more crowdfunding ideas to try out.

3. …But don't forget about your other communication channels
This isn't to say that your year-end giving season should be dominated by social media engagement to the detriment of your other communications channels. In fact, quite the opposite!
You can (and should) connect with donors across all of your existing channels of communications during year-end fundraising. Year-end fundraising didn't start with #GivingTuesday, and while the holiday has exploded in popularity over the last several years, your team should still make an effort to connect with prospects using a multi-channel approach.
Your nonprofit can not only leverage these channels to promote online giving, but you can also empower donors to give through offline channels as well if that's their preference.
Consider some of these tips to get you started:
Email: Include donate buttons in every email you have with donors during the year-end giving season. For donors who may not be active on social media, this is a great way to make a direct connection with them online.
Website: Don't forget that your organization's main website is the hub of your online fundraising efforts. Steer visitors to your donation pages with seasonal calls-to-action specific to year-end fundraising.
Direct Mail: Your nonprofit can leverage direct mail to promote online fundraising during the holiday season by including QR codes that link to your giving forms. (Pairing direct mail with other methods actually boost response rates across all channels!)
By maintaining a multi-channel communication approach, your team can steer even more donors toward online giving during the year-end fundraising season.

4. Keep engaging with your donors (the right way)
While conventional wisdom would suggest that your nonprofit should put space between donor communication efforts, the year-end fundraising season is actually the perfect time to amp up how often you get in touch with your supporters.
We already know that during year-end giving and on #GivingTuesday, donors are more inspired to give than any other time of the year. This is why nonprofits need to trust that their supporters will be willing and excited to hear from them in these months.
On fundraising booms like #GivingTuesday and New Year's Eve, your team should make an effort to connect with supporters at least three different ways. For example, you might send a text reminder to a donor requesting a gift, email them a solicitation with a donation button, and connect with them via direct mail.
Whatever schedule your team chooses, clearly outline it in your calendar as part of your broader fundraising plan for the year-end giving season.
Even though that might seem like this strategy could turn off donors, it has quite the opposite result. The more you connect with supporters during year-end giving, the easier it is for them to make their gift (and even give a second time).

5. Put video at the heart of your communications strategy
Communicating with donors via videos is quickly becoming a go-to engagement strategy for nonprofits, and it's easy to see why.
On social media, it's increasingly common to see "timeline" and "newsfeed" algorithms favoriting video content over still images and text posts. In laymen's terms, this means that videos are more likely to reach the top of your supporters' social media streams, and more likely for these sites to steer them toward that content.
During year-end giving, it's even more important to do what you can to reach your donors on social media, so your team should start incorporating video into more and more of your engagement tactics online.
Consider these unique ways you can use video to connect with supporters online:
Film thank you videos to show appreciation to donors throughout the year-end giving season.
Post call to action videos on social media and encourage supporters to share these on their feeds.
Stream live broadcasts using Facebook Live or Instagram Stories to galvanize your supporters.
During the holiday season, it's easy to put a year-end fundraising twist on any of these methods. For example, you might live stream your holiday stewardship party, or post-Christmas or Hannukah-themed videos on your social pages to get in on the holiday spirit.

6. Don't forget about matching year-end gifts
While so much of the year-end fundraising boom can be attributed to an increase in philanthropy from individual donors, there's something to be said for amping up your nonprofit's corporate giving strategy during this season.
Especially when it comes to online giving, it's easier than ever to maximize your supporters' giving potential by tapping into corporate giving programs. One way you can do this? Consider promoting matching gifts to your donors.
In a corporate matching gift program, businesses agree to match employee gifts when they donate to nonprofit organizations. Every year, millions of fundraising dollars are left on the table because individuals are unaware of the fact that their company matches gifts or how to complete the gift matching process.
During year-end giving, your nonprofit should empower donors to verify their matching gifts eligibility using a matching gift database tool. You can embed a tool like this onto your website and brand it to your organization, making it a seamless addition to your online presence.
Are you ready to get more from your year-end fundraising season? Put into practice these helpful online fundraising tips and there's nothing stopping your nonprofit from reaching it's most ambitious fundraising goals yet!
Bonus! Did you know that universities can also benefit from the year-end giving fundraising boost? Check out DonorSearch's alumni engagement tips to learn more ways you can improve how you raise money for your school.