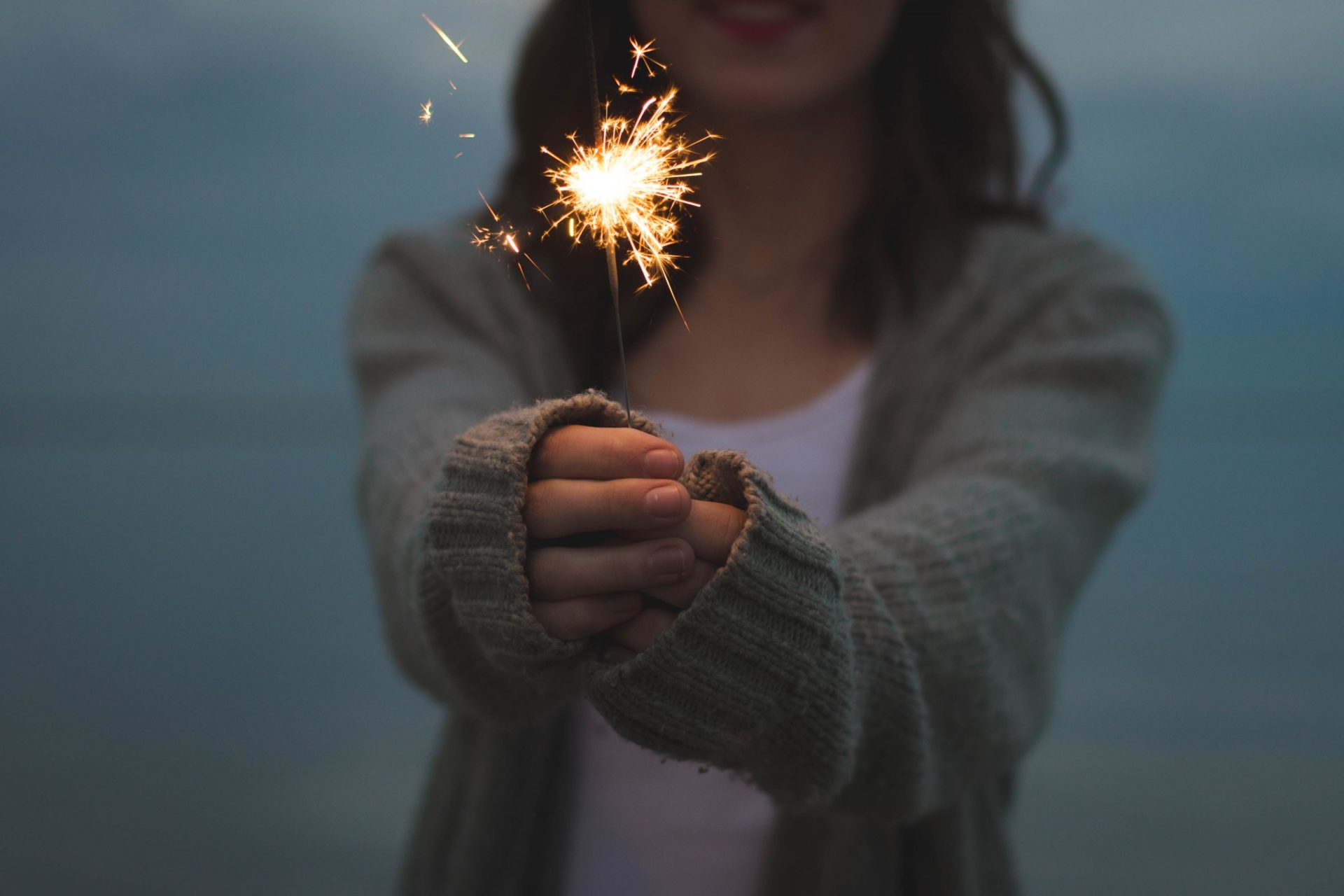 The former Director or Digital at charity: water, Paul Young, described the value of peer-to-peer fundraising best in his post 5 Biggest Lessons From Leading Digital At charity: water:
The majority of charity marketing uses a direct-marketing model acquiring monthly givers. The goal is to convert a user into a direct donation, and ideally a monthly subscription. At charity: water, we focus on acquiring fundraisers because it is so much more valuable.

While our average donation size online is similar to most charities I have benchmarked, our average fundraising campaign is worth many times more. But even more importantly, every fundraising campaign brings in, on average, 13 new donors.
For charity: water, their average fundraiser raises about $770. That's like a donor giving $30/month for just over 2 years. Not bad. Plus these fundraisers are recruiting new supporters, at little to no cost, who may then go on to become regular supporters or even fundraisers themselves. On top of that, there are many posts, shares, emails and touch points about your organization along the way as the fundraiser tries to reach their goal. Finally, the act of fundraising which produces all this value for the organization is, generally speaking, something that the fundraiser wants to do and even enjoys doing.
That's a pretty good case for the potential of peer-to-peer fundraising. As Fundly explains, it gives you the potential to raise a lot of money relatively quickly, improves donor engagement, and grows your network. And the good folks at Classy recently created a simple overview Value of Peer-To-Peer Fundraising INFOGRAPHIC and based on that infographic (found below), as well as my own experience in the peer-to-peer fundraising space, here are…
6 Insights Into Peer-To-Peer Fundraising
1. Peer-To-Peer Fundraising Is Different Than Crowdfunding (Sort Of).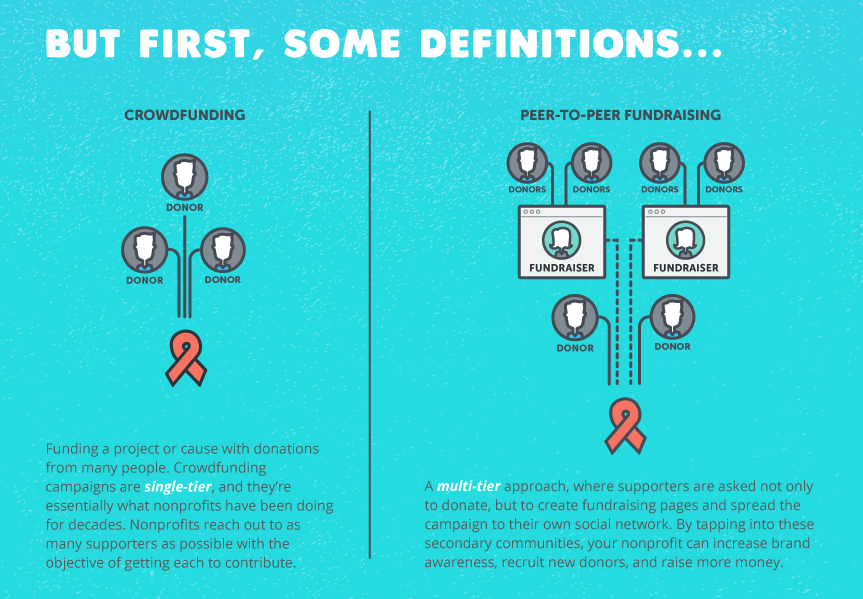 Classy breaks 'crowdfunding' and 'peer-to-peer' fundraising into two categories to bring some clarity to these terms. In an interview with Bloomerang TV, I described three levels where Crowdfunding, macro-level, encompasses both crowdfunding, single-tier or donation focused, and peer-to-peer, multi-tier or fundraiser focused.
The terms are often used interchangeably, I'm guilty of that myself, but the main thing to keep in mind is that one is about you asking people for money and the other is about people asking for money on your behalf. That's the strategy and value Paul describes and what this post and infographic are all about.
2. Peer-To-Peer Fundraising Is About More Than The Money. But It Does Raise Money.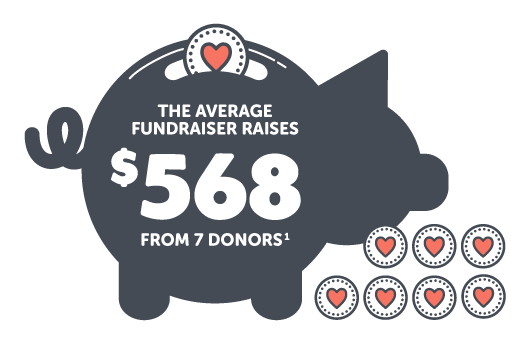 I've already covered the lifetime value equation of a one-time fundraiser above and Classy notes that the average fundraiser brings in $568 from 7 donors. With lifetime value being the most important metric to your fundraising, the question of how you can keep, engage and inspire these fundraisers should be of utmost importance. And the answer is simple: treat them like major donors. Or as Paul says:
Make the fundraiser the hero.
It's said a lot in the fundraising world nowadays, I use it all the time myself, but it's not something you think of when it comes to a 22-year-old college student who just raised $400 for you. They will fall into the online and lower level support segment of your stewardship plan (if you have one). And they will never raise funds for you again.
Instead, think of your communications, acknowledgment and reporting (what has been shown to keep supporters around) partially based on their lifetime value to your organization (money + people + awareness x time). This should bump them up a bit in the 'stewardship' queue. Then, think about what they did to raise those funds for you: set up a page, put themselves out there, ask friends and family, collect funds, send to you, etc. Mostly on their own. That takes time, commitment and a bit of nerve. And that should be rewarded.
Think of your fundraisers as heroes and thank, report, and acknowledge them in ways that honour the value they brought and effort they gave. For you.
3. Peer-To-Peer Fundraising Is Growing. Quickly.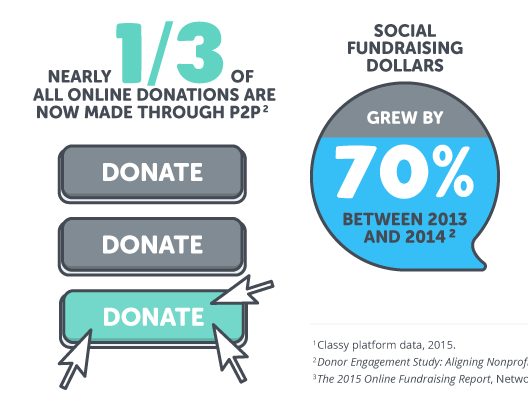 23% of all online giving, according to Network for Good, is from peer-to-peer fundraising and the above mentioned 70% is the fastest growing online fundraising strategy. It's also popularized by charity: water and their September campaign (the charity and the campaign to copy for social fundraising strategies) and came to the fore through the Ice Bucket Challenge (not to be copied but shows the vast potential). Peer-to-Peer won't be going anyway anytime soon and with low-cost tools and a 'proof of concept' approach, now may be the time to dip your toe in the (charity) water. See what I did there?
4. Don't Only Focus Peer-To-Peer Strategies On Millennials.
I was actually a little surprised by this figure in the infographic but, keeping in mind it is survey-based and how questions are framed makes a big difference, there is loads of potential in older peer-to-peer fundraisers. And they are out there.
Firstly, there is potential because, well, older people tend to have more money (although this is changing). And their friends have more money. Which means a 50-year-old executive giving up their birthday for a cause should raise more money than a 22-year-old college student.
Secondly, how do I know they are out there? Because I've seen it first hand. The 50-year-old executive example is a real one (raised $21,000). Also, boomers and older donors have been using their influence and networks to raise support for causes for years. Table hosts who invite their friends to attend a gala is a great example. This sort of strategy just happens online now which allows for greater scale at less cost than the gala's of yesteryear. And finally, older donors are using technology more and more. 59% of 66+ donors gave online and 55% of Canadians do their banking online. So while that's not the exact same as 'online fundraising', non-Millennials are clearly able to make digital and technology leaps.
Don't cut out your older supporters in peer-to-peer fundraising as, they may be fewer (slightly), they can be more valuable.
5. Be Focused With Peer-To-Peer Campaigns But Support Fundraisers Year-Round.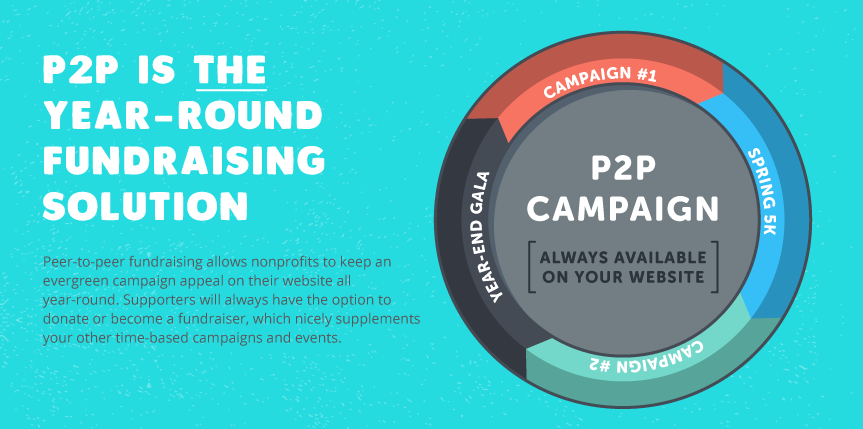 Fall campaign. Spring campaign. Year-end campaign. Almost regardless of who you work for and how big you are, that's your fundraising calendar (or it should be). You can easily add in a social element to those campaigns but what about those in-between times? And what about the dog days of summer? Peer-to-Peer fundraising programs can require little effort as people can do them on their own, whenever they want and, in theory, can be done all year-round.
I'm not quite as bullish as Classy is on the year-round peer-to-peer fundraising, but I do agree there is greater potential with peer-to-peer than say a physical event or gala. Especially in the summer months when people are away and physical events – runs, walks, Spartan Race, etc. – are going on.
And if you are starting out, my recommendation is to try a focused, time-bound campaign with a strong peer-to-peer focus (as opposed to it being an add-on). By using a campaign structure and clear end date, you are making it easier for your fundraisers to a) know what to do and b) when to do it by. The less confusion or ambiguity the better. And by focusing your energy on a shorter period of time, you can invest more time in supporting these 'champions' than you probably otherwise could. Year-found peer-to-peer fundraising may be useful, but a great and supported fundraising experience should come first.
6. Give People Structure And Let Them Be Creative.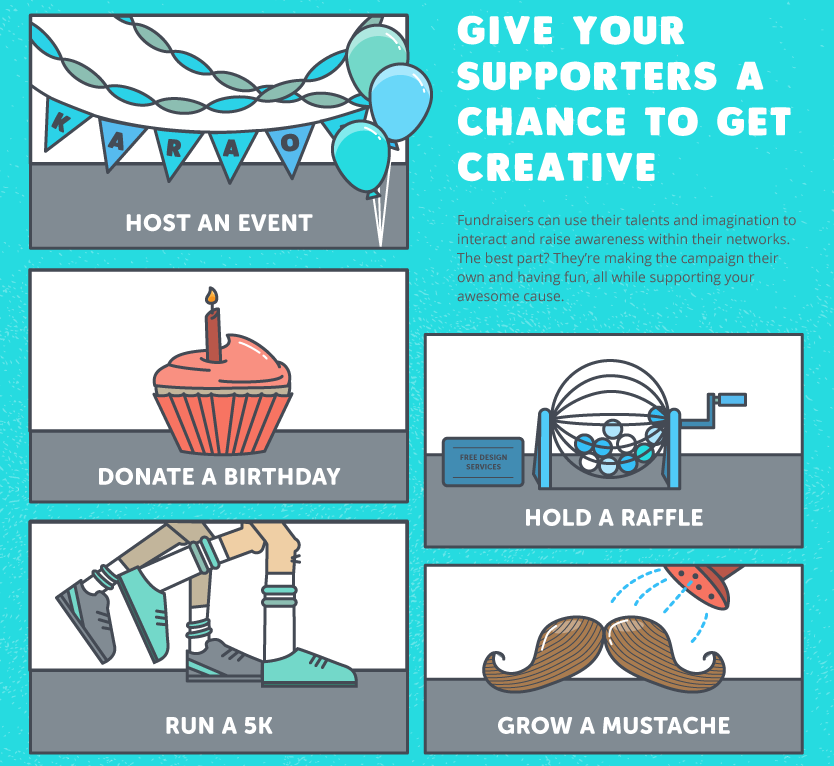 One of the underrated aspects of peer-to-peer fundraising is how it can engage certain people, and then their networks, where classic fundraising may not. Artists, for example, regular ones… not like Beyoncé…, rarely make 'top donor lists' but can be great fundraisers. They have a talent – music, photography, video, writing, etc. – and have probably built up a following, network or community of some kind. So they have something to 'sell', or creative capabilities, and a market to 'sell' it to, or people to be creative for.
I've seen musicians offer to cover songs, photographers donate sessions and give the proceeds to a charity and writers create custom poems to raise money. From a couple hundred to tens of thousands of dollars, peer-to-peer fundraising allowed them to tap into parts of themselves they like and like to use but for something bigger than and beyond themselves. You'll still have to provide a tool, some support and a good reason (oh yeah, that part…) to make it easier for them to get up and running but once they are, sit back, support them and watch them get creative with it.
So…
As you think about how to further engage your supporters, grow your funding base and raise more money online, consider using a peer-to-peer fundraising strategy. If you do, provide structure so people, not just Millennials, can be empowered to get creative and raise funds for you through a campaign or even all year-round. It can be meaningful to them and valuable, in their lifetime, to you and your bottom line.
More On Peer-To-Peer Fundraising
And here's Classy's Value of Peer-To-Peer Fundraising INFOGRAPHIC