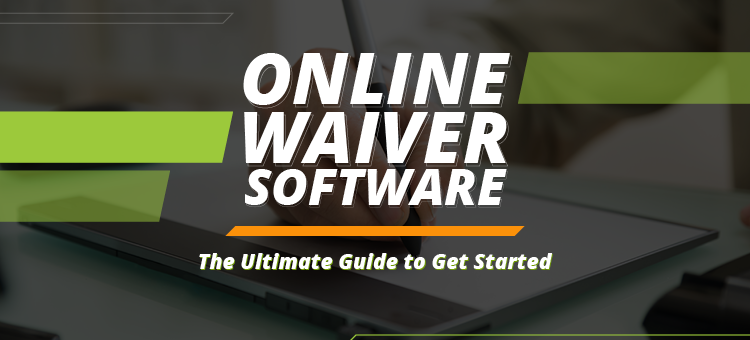 Do you remember signing your first waiver? You had likely just turned 18 and signed up to do something fun (or maybe a little dangerous). Perhaps it was skydiving, bungee jumping, or white-water rafting. You walked up to the registration table, and a staff member handed you a paper form to sign, probably with a poor-quality pen and a clipboard. You experienced a rush of pride at signing a waiver without the permission of a parent or guardian.
These days, 18-year-olds may have a little bit of a different experience. While they still get to feel pride from signing on their own, they may not be signing on paper.
That's because online waiver software is the newest trend for agreements of all sorts. From liability waivers to rental agreements, intuitive digital forms create a more straightforward signing process for participants and a simpler collection process for the host organization.
At re:Charity, we're always a fan of innovative technology and the vast benefits it can bring to organizations like yours. This complete guide will help you understand the basics of online waivers (and the online waiver software that powers them). Plus, we'll kickstart your search for a software provider who will offer all of the necessary features for a thorough yet straightforward agreement process. Specifically, we'll cover the following key points:
Online waivers don't need to be a drag or a hassle—especially with the right software. Let's learn more about how they can positively impact your organization!

If you don't have time to read through the entirety of this guide, we suggest that you check out our favorite digital waiver provider, Smartwaiver. Smartwaiver streamlines the waiver signing process for event participants and provides an organized system for businesses and organizations to use—so you never risk losing track of a waiver.
By offering increased security, identity verification, and other features that are not available with physical waivers, you can keep yourselves and your constituents as safe as possible. To learn more about Smartwaiver's unique offerings, skip down to our recommended software section or navigate to their website.
Now, let's dive in!

The Importance of Online Waiver Software
Any organization that requires waivers to make agreements with event participants, customers, volunteers, or staff members can use online waiver software to streamline these processes. For example, organizations might use waivers for physical activities such as walkathons, equipment rentals for items such as kayaks, or even medical agreements for procedures at the dentist or doctor's office.
These types of organizations, or any number of others that require signed waivers to protect their guests and their internal operations, should consider the following questions when deciding whether or not to go digital:
How many waivers do you expect to be signed? Storage for online releases tends to be more organized and easier to handle than for paper waivers.
What types of information will you require? Paper waivers rely on your participants' handwriting, so consider the kinds of questions you ask and how legible you need the answers to be.
How often will you search through the waivers? It can be tough to search through paper waivers manually. However, digital files are easy to search through based on keywords and attributes.
What will you use your waiver data for? Waivers provide an excellent opportunity for organizations to collect information about participants to save in your CRM. For example, you may ask someone if they consent to receive promotional materials from your organization. If they agree, you can add them to an email list. Then, perhaps you want to segment participants by age, gender, location, or participant history—that's likely all collected in your waivers!
The importance of online waiver software is simple: it protects your organization from potential liabilities. Waivers prevent the risk of your organization being involved in a costly legal battle that drained your bank account and resulted in shutting your doors.

Paper Waivers vs. Online Waiver Software
One of the first things that people worry about when it comes to online waivers is their validity. If that's your primary concern, we have some good news! According to the Electronic Signatures in Global and National Commerce Act (more commonly known as the E-sign Act) of 2000, digital waivers are just as legitimate and legally binding as paper waivers.
Specifically, this statute states:
Notwithstanding any statute, regulation, or other rule of law…, with respect to any transaction in or affecting interstate or foreign commerce — a signature, contract or other record relating to such transaction may not be denied legal effect, validity, or enforceability solely because it is in electronic form; and a contract relating to such transaction may not be denied legal effect, validity, or enforceability solely because an electronic signature or electronic record was used in its formation. 15 U.S.C. § 7001 (a) (1) & (2)
However, some additional regulations are used to keep this validity sound, including that:
The waiver must be in an unalterable digital form.
The waiver must be accessible to the consumer.
The consumer must give consent to sign electronically.
When your digital waiver appeals to these guidelines, your agreement will hold your organization harmless and protect you from legal trouble. For a quick look at other factors that come into play in your decision between physical waivers and online waiver software, check out this comparison: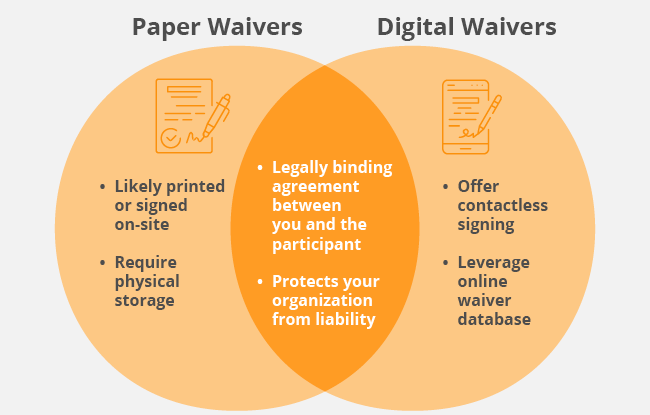 Both paper forms and online waiver software can establish legally binding agreements between your organization and its participants and protect your organization from potential liabilities. However, each type of waiver has its unique benefits and downfalls.
For example, digital waivers offer better storage opportunities for businesses and organizations by allowing you to store information in digital folders rather than physical files. This way, you won't have to worry about sifting through thousands of forms if a single participant is harmed or risk having misplaced that document should you need it to hold your organization harmless.
Online waiver software also makes waivers quick and easy to send and receive, saving your nonprofit a lot of time and overhead and reducing the risk of human error in the waiver management process.
Digital waivers even allow participants to sign their waivers online even before their arrival, thus streamlining the registration or check-in processes and providing a convenient experience for everyone involved. For those who opt not to sign their online waivers beforehand, you can even set up an on-site kiosk using any tablet or encourage participants to scan a QR code to complete their digital form on their mobile device.

Key Features of Online Waiver Software
Before investing in an online waiver software solution (which we'll discuss below), you'll want to make sure you're getting all of the features you need for maximized success.
Specifically, look for online waiver software with features such as:
A custom waiver editor. Custom editing allows your organization to personalize your waivers with your brand's colors, logos, and fonts. This helps consumers identify the content as belonging to your organization.
Unlimited waiver templates. Waiver templates help you find a starting point in the waiver creation process. Make sure you can save as many templates as you need and display them on a single screen.
Multiple initial and signature boxes. Throughout the body of your waiver, you may find the need to include numerous locations for initials or signatures. Be sure you have access to as many of these elements as you need now and for future waivers.
Flagged questions. Flagged questions alert your team when a particular answer is chosen. For instance, if a participant selects "no" for giving consent to a liability release clause, they won't be able to submit the form until the correct answer, "yes," is chosen.
Photo capture. The photo capture feature allows you to snap a picture of the person signing the waiver, adding another layer of identification to the digital signing process.
Safety video embedding. Safety video embedding helps ensure that your participants watch safety videos during the waiver signing process before they can submit their forms. It adds an element of safety during your organization's activity or program.
Be sure that whatever software you choose offers all of these features in every payment plan. It can be incredibly frustrating to invest in a solution, expecting to get all of the features but needing to scale up in price for access to a vital element. We suggest looking for a solution with scalable pricing in terms of the number of new waivers signed rather than features available. This way, you only pay for the releases you need and still unlock the software's full functionality.

How to Use Online Waiver Software
You might be thinking to yourself, "All of these features look great to me, but how will they look to the consumer?" You might also be asking questions concerning the user experience and overall ease of use for your end consumer.
Thinking like this is imperative for creating the best online waivers. After all, most people have experience with signing traditional paper waivers, meaning they benefit from familiarity. So when choosing your online waiver software, it's critical to select a provider that prioritizes user experience above all.
And while it's possible to make your digital waiver look just like a paper waiver with simple PDFs, these may not create the best user experience. Instead, when a participant is signing your organization's online waiver, they should find it easy to:
Locate and fill out the required fields.
Read the legal text on any device.
Draw or type their signature.
Then, gaining access to the completed waiver should be just as simple as filling it out. You might even incorporate an option that allows participants to print or send themselves a copy of their completed waiver for their records!
When you choose an online waiver tool, be sure to complete a demo where you can view and fill out a sample waiver yourself. This helps you see what your participants will see and get a better feel for the software you'll be investing in.

The Online Waiver Collection Process
One of the main reasons to switch to online waivers is because they're easier for your organization to collect and process. Instead of gathering tons of paper forms and trying to organize them cohesively by hand, simply go digital so that you can streamline the entire operation.
There are a number of ways to collect waivers from your participants, including several that are contactless. Our favorite methods include:
Embedding a waiver widget on your site. Waiver widgets help participants sign your digital waivers without ever leaving your organization's website. Users simply click the widget, and it pops up on the screen for easy signing.
Emailing links to the waiver. Incorporate links in your registration messages, confirmation emails, or activity reminders to encourage participants to sign their online waivers ahead of time.
Generating a QR code. Prominently display a QR code at the location of your activity so that participants don't need to wait in line to sign! Instead, they simply scan the QR code and sign from their mobile device in seconds.
Using a waiver kiosk. Be sure participants can sign your waivers on-site with portable waiver kiosks. Look for software with a free app for your tablet for an easy DIY kiosk for guests who don't have their mobile device or opt to use yours instead.
When you rely on technology to collect waivers, it's essential to be prepared for the worst. For example, you should always bring extra chargers for your tablet-turned-kiosk (or a different device altogether) and invest in software that you can use offline. That way, you can continue to collect waivers even when the internet goes down.
It's also a good idea to look into the type of support options that come with your online waiver software solution to better understand the tools and resources you'll have on hand should you experience various troubles.

Data Management with Online Waiver Software
When you collect digital waivers from participants, you gain access to a lot of data. With all of this information at your fingertips, managing it all may seem like quite a hassle. Luckily, the right software (and a solid understanding of your tools) can help.
You can think about managing data in two different ways: the management of the waivers themselves and the management of the content contained within them. Here, we'll discuss both!
Management of the Online Waivers
When participants arrive at your event or facility, you'll want a quick and easy way to confirm that they've signed a waiver or allow them to sign then. Digital waivers that incorporate a streamlined check-in process help you keep track of who has signed and make it easy for those who haven't completed their forms.
Then, after you've collected your digital waivers, be sure you always have access to your data by downloading it from the online waiver platform. You might download the data as a CSV and the individual waivers as PDFs or set up a synchronization so that copies of the waivers are automatically sent to your hard drive.
Once you're sure the waivers are saved in another location, set up expirations in the online waiver software platform. This way, you can ensure that your online waiver database is clean and optimized for maximal usage. And should you need to pull any one waiver, you can do so in seconds with a simple search by name, date, or birthday.
Management of the Waiver Data
One of the most powerful benefits of digital waivers is their ability to collect and record a wealth of consumer data for you. And while some of this information is likely stored in traditional paper waivers as well, it would take hours upon hours of your valuable time to extract the critical points from your forms.
But with online waiver software, it's automatic! Once you collect this information in your digital forms, you can draw conclusions from variables such as when people sign, where they sign from, their engagement history with your organization, and other key characteristics. You can even add notes to the information collected in your digital waiver software for more complete views of the participants!
Before investing in online waiver software, it's also a good idea to consider any integrations. For example, email integrations (such as MailChimp, Constant Contact, and Emma) can help automatically transfer contact information from your digital waivers to your favorite marketing tool, allowing you to make the most out of the information you collect.

Our Recommended Online Waiver Software
Now that we've reviewed how digital waivers work and the most important elements to consider, it's time to discuss our favorite online waiver software selection: Smartwaiver.
Smartwaiver helps you convert your existing waiver into a digital waiver to be signed on-site or from any computer, tablet, or smartphone.
Specifically, Smartwaiver enables your organization to:
Track your data. With Smartwaiver's Smart Trends functionality, you can present customer demographic information with easy-to-use visuals to better understand activity and trends. With a better understanding of your existing participants, you can know how to build stronger relationships and reach out to like-minded individuals.
Improve your marketing. Integrations with MailChimp, Constant Contact, and other popular email automation solutions make it easy to use your marketing data and better reach out to your organization's consumers.
Collect waivers hands-free. Get your waivers signed in a contactless manner by encouraging users to complete their forms on their own mobile devices. Your team can do this through a QR code on-site, a widget on your website, a social media button, or an email link to increase your options.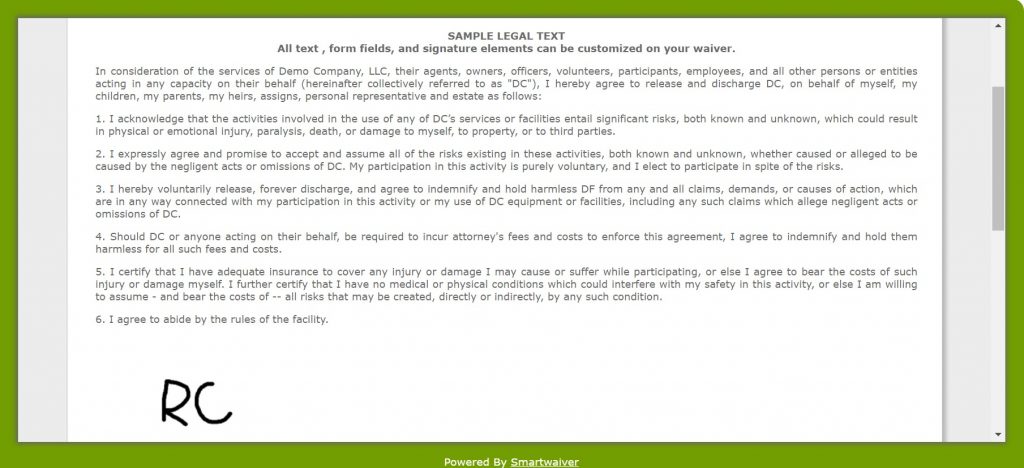 Their secure online database makes it easy to save data collected from waivers, search for relevant information, and export data to use as needed. You can also access this data through Smartwaiver's powerful API for deeper integration.
It's the perfect solution for businesses and organizations of all shapes and sizes, too, as their scalable software allows you to unlock full functionality with any number of waivers—whether you need ten waivers a month or ten thousand.
---
Online waiver software equips organizations of all shapes and sizes to make legally-binding agreements with participants with ease. By simplifying the creation, signing, and collection processes by going digital with your organization's waivers, you can set your team up for continued growth and long-term success.
Just remember: not all waiver software is created equally. Be sure to seek out a provider that prioritizes the features you need while offering an easy-to-use interface both for you and your end-user. For us, that means Smartwaiver!
But don't take our word for it. Want to learn more about the online waiver software your organization can use to streamline daily operations? Check out the resources below: