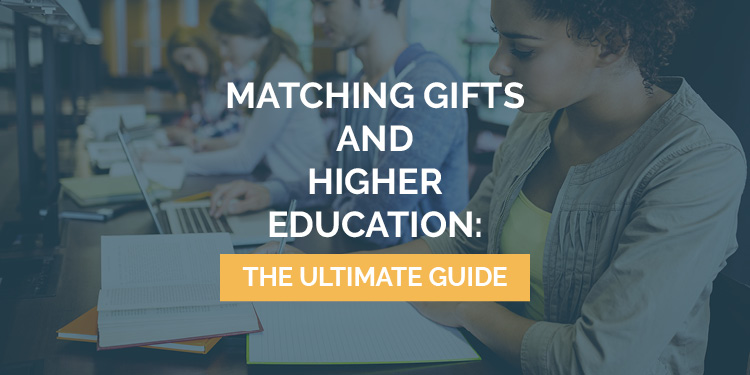 If you're looking to integrate your matching gifts and higher education fundraising strategies, you've come to the right place!
Corporate matching gifts enable all sorts of nonprofit organizations to receive doubled donations for the cost of soliciting a single contribution.
Eligible corporate gift recipients often include health and human services, arts and cultural organizations, civic and community institutions, environmental nonprofits, K-12 schools, and—you guessed it—colleges and universities.
But if you feel your school has not been making the most of available matching gifts, you're not alone! This guide will cover everything a higher ed fundraiser (such as yourself) needs to know about matching gifts to effectively take advantage of the opportunities at stake.
Let's walk through the following key topics:
More than likely, your school requires ample revenue to maintain basic operations, let alone go above and beyond to make a difference in the lives of your students. You probably already have a generous network of support making that happen. But matching gifts can help!
By increasing matching gift program participation, you can collect additional backing for your institution, thus enabling your team to drive its mission forward.

Matching Gifts and Higher Education: FAQ
It can be difficult to know where to get started when it comes to matching gifts for your higher ed institution. These commonly asked questions and answers share some expert guidance and can help point your team in the right direction.
What are matching gifts?
Matching gifts are a popular form of corporate giving program where companies agree to provide financial support to the nonprofit organizations their employees personally give to.
We've written about matching gifts before (we recommend checking out our comprehensive guide on the topic to learn more), but we'll also provide a brief refresher here!
Since General Electric fostered the idea in 1954, tens of thousands of companies, large and small, have begun to match employee gifts to nonprofit causes as a way to drive their corporate philanthropy and CSR efforts.
Corporate matching gifts are most often contributed at a 1:1⁠ (or dollar-for-dollar⁠) rate, meaning if a donor gifts $100 to your organization, their employer contributes a matching donation of $100. If a donor contributes $1,000, the company matches at $1,000 as well.
How do matching gifts impact higher education?
Corporate gift-matching provides all sorts of nonprofits⁠—including higher education institutions⁠—with new opportunities for increased funding. Not only are the matched gifts from corporations an additional revenue stream, but the offering of matches also encourages more individual donors to give⁠—and to give more.
In fact, Double the Donation research states that 84% of contributors report a higher likelihood of giving if they know their employer would provide a match. At the same time, 1 in 3 donors reported that they'd make a more generous donation if it was match-eligible. As a result, fundraising appeals that mention matching gifts see a 71% increase in response rate and a 51% increase in average donation size as compared to those without matching information.
Donors love participating in matching gift initiatives because the programs enable them to make a larger impact on the causes they give to⁠—namely, your college or university⁠—which also provides your team with additional opportunities for supporter engagement.
Why are matching gifts underutilized by higher ed and other institutions?
Unfortunately, studies show that matching gift revenue remains severely underutilized by eligible corporate employees and the nonprofits to which they give. But why is that?
Well, the most significant roadblocks to matching gift success at all organizations concern a lack of awareness of these programs in the first place. Not to mention, fundraisers at higher ed institutions tend to be particularly busy with the tasks already on their plates and have little to no room to expand into new fundraising opportunities.
By sacrificing matching gift potential, however, schools and other nonprofits continue to leave billions of dollars (approximately $4 to $7 billion, in fact) of available match revenue on the table each year. This is why we've put together this guide to aid higher education fundraisers with the tips, tricks, and tools they need to maximize their matching gift efforts while minimizing the amount of additional effort required.
What are some companies that match gifts to colleges and universities?
If your institution lacks a dedicated matching gift fundraising strategy, you might be surprised to find out how many companies actually participate in these giving programs. In fact, matching gift research reports that more than 65% of Fortune 500 companies will match employee donations to nonprofit organizations⁠. Not to mention, tons of small and mid-sized businesses offer the programs as well.
Luckily, higher ed institutions are included as eligible recipients in nearly all of these programs' guidelines! Here are a few corporations with generous matching gift programs that you might recognize:
Make sure you and your team are keeping an eye out for philanthropic businesses like these, and note when your school's alumni or donors are employed by them. There are many more that we'd love to include⁠—but it's too many to list!
Here's a top hint: equip your team with a matching gift company database to easily discover more higher education-friendly matching gift programs.

4 Best Tips for Driving Matching Gifts for Higher Education
There's clearly a significant difference between available matching gift dollars and effectively secured matching gift dollars on an industry-wide scale. Follow these four best practices to help bridge the gap and drive as many matching gifts to completion as possible!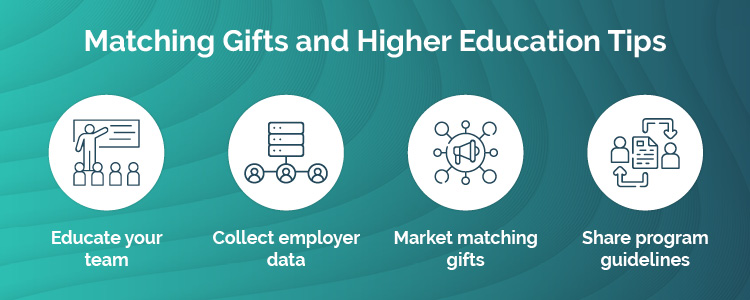 1. Educate your team on the benefits of matching gifts and higher education.
Before you can effectively maximize matching gift participation among donors, it's important that you start at the beginning⁠—with your own development, advancement, or fundraising departments.
The better your own team understands corporate matching gift programs and the correlation between matching gifts and higher education fundraising success, the better you'll be able to communicate the ideas to your network of support.
Consider sharing plenty of informational resources, hosting a training session, and incorporating a matching gift overview during your onboarding process. And be sure to clarify where a team member should look for further questions and support!
2. Collect data on alumni and donor employment.
Employment data is the most critical piece of information you can have in order to identify matching gift opportunities and communicate available programs to eligible donors. And when it comes to matching gifts and higher education, one of the obvious places to start is with your school's alumni.
This can be as simple as incorporating an optional field in your online donation form where you ask donors to enter the name of their employing company. When you include a brief explainer as to why you're collecting this information (to locate matching gift eligible donors), individuals may be more likely to complete the request!
For donors who haven't provided employment information, you might utilize other identification methods, such as screening donors' email domains for corporate addresses, conducting manual online research, integrating matching gift software, or working with a third-party data appending service.
3. Market matching gift fundraising opportunities to your audience.
Because the largest obstacles to matching gift success are awareness concerns, one of the best things you can do to help solve the problem is to take a proactive approach to market matching gifts to your institution's audience. This audience should include supporters, donors, volunteers, students, alumni, faculty, and more!
Here are a few recommended best practices to help get the word out about the opportunities:
Share educational resources about matching gift programs on social media platforms such as Facebook, Twitter, Instagram, LinkedIn, and more.
Mention available matching gift programs in fundraising appeals to donors.
Incorporate matching gift information directly within your institution's online donation forms and confirmation screens.
Highlight matching gifts in multiple prominent locations on your school's website, including on your "ways to give" page, site navigation menu, and a dedicated matching gift web page.
Follow up with matching gift-eligible donors within your acknowledgment messages soon after receiving their gifts.
Send matching gift appeals to donors during times of increased giving, such as Giving Tuesday, year-end fundraising, and university Giving Days.
Being a new concept for much of your fundraising audience, it might require several touchpoints with donors and prospects before they become engaged with the idea. Keep sharing matching gift information (on both a mass and a personal scale) to drive participation for eligible donors in the end.
4. Share company-specific program guidelines with match-eligible donors.
The less information a donor will have to conduct on their own (regarding eligibility status and request process), the more likely the individual will complete the process and submit their match request on your institution's behalf. Thus, we recommend providing each donor with as many of the following data points as possible for their employer:
Donation minimum and maximum amounts
Company matching gift ratios
Types of employees eligible to request matches
Types of nonprofits eligible to receive matches
Matching gift submission deadlines
And, when possible, you'll want to include direct links to a company's online match request forms.
Luckily, a comprehensive matching gift database can easily provide a lot (if not most) of this information for thousands of companies, meaning the task of menial research doesn't have to fall on your team, either. A top software provider can even automate the process of communicating the above guidelines to each donor⁠—which brings us to our last section!
Matching Gifts and Higher Education Fundraising Tools
Without the right tools, matching gifts can seem like just another task to put on your team's plate. And unfortunately, it's one that's often swept under the rug when time and resources are running low.
By equipping your development team and your donors with the best-in-class technology designed specifically with matching gift fundraising in mind, you can streamline and automate the process from start to finish.
Here are some tools to keep in mind!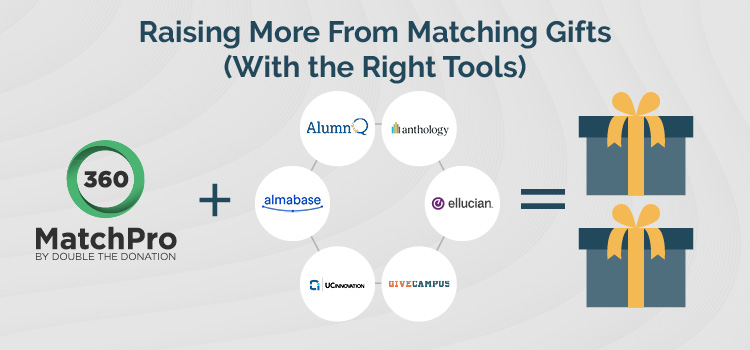 Matching Gift Automation Software
Matching gift-specific software enables users to raise more through matching gift opportunities without lifting a finger.
Check out our #1 recommendation (which we've also written about here).
360MatchPro

Double the Donation's flagship product, 360MatchPro, is the industry-leading matching gift fundraising platform for nonprofits and higher education institutions alike. The innovative software solution enables organizations to streamline the matching gift process through strategic automation. This includes simple ways to:
Collect donor employment information.
Identify potentially match-eligible donations.
Equip donors with an easily searchable database of information.
Follow up with matching gift donors post-transaction.
Provide donors with their employers' company guidelines.
Drive more matches to completion.
Track donation matches through the request and disbursement processes.
Collect and analyze matching gift data.
With a tool like 360MatchPro, schools like yours can significantly elevate their matching gift fundraising efforts. And the best part is that the software carries the brunt of the work!
Higher Education Fundraising Platforms with Matching Gift Functionality
The following platforms are not dedicated matching gift platforms in and of themselves. Rather, they integrate with the top matching gift solution to provide easy company matching functionality to their users.
Browse our brief reviews of six higher education fundraising platforms that offer matching gift abilities, and see what they can bring to your institution!
Almabase

Almabase is a top alumni management software that many higher education institutions use to engage with alumni post-graduation, build lifelong supporting relationships, and manage advancement opportunities in an effective manner. This solution has partnered with Double the Donation in order to add best-in-class matching gift functionality to their fundraising technology toolkit for their college and university clients.
Through a seamless integration with the two providers, Almabase users are able to easily highlight matching gifts while donors are at their highest levels of engagement⁠—directly following the transaction on the confirmation page. From there, donation records flow into 360MatchPro's matching gift portal, where eligible donors are identified, and personalized donation follow-ups are triggered. This will encourage more completed matches and, ultimately, more revenue funneled toward an institution.
AlumnIQ

AlumnIQ is another popular alumni management tool for colleges and universities that has also instituted matching gift technology, thanks to a partnership with Double the Donation. This solution incorporates event, giving, email engagement, volunteer, and supporter management, enabling alumni and friends alike to contribute to their favorite schools.
With 360MatchPro integrated into the platform, donors are introduced to matching gifts at multiple points during the engagement⁠—including within online donation forms, on confirmation pages, and through automated email follow-ups. The more familiar donors are with matching gift opportunities, the more likely they will participate if eligible.
Anthology

Anthology, previously known as iModules, is a higher education management solution designed for colleges and universities with tools for admissions and enrollment, student success, institutional and learning effectiveness, and strategic advancement efforts. Anthology's advancement solution, Encompass, provides digital engagement tools, flexible online giving, full event management, and more.
And with their partnership with Double the Donation, Anthology also offers matching gift automation functionality. Donors are easily informed about matching gift opportunities, provided with company-specific matching gift program information, and followed up with strategic outreach to ensure as many match-eligible donors complete the request process as possible.
Ellucian

Ellucian is known as a campus technology platform, offering smart solutions from employee empowerment to strengthened fundraising⁠—all backed by data-driven decisions. Within its fundraising systems include a CRM which incorporates personalized supporter engagement experiences, donor lifecycle management, and, of course, matching gifts.
Ellucian, too, offers matching gift capabilities thanks to an integration with the top matching gift solution, Double the Donation. This provider looks to drive matching gifts and higher education efforts through strategic alumni communications. When alumni donors give to support their alma maters, data is screened for matching gift identifiers, which then trigger customizable automated email streams aimed to drive more matches to completion.
GiveCampus

GiveCampus is an educational fundraising technology system offering solutions for all sorts of nonprofit schools, with a particular focus on higher education institutions. GiveCampus provides its education-based clients with tools for annual giving, major gift fundraising, alumni relations, giving days, and more.
In order to offer their customers matching gift software availability, GiveCampus integrates with 360MatchPro, equipping users with the ability to promote matching gifts within the donation experience and through a number of follow-up communications.
UC Innovation

UC Innovation is an innovative advancement and constituent management system for higher education institutions built on the Salesforce CRM platform. Their advancement product, ascend, was designed for effective prospect management, gift processing, constituent engagement, and actionable insights.
Another key component of UC Innovation's ascend is its seamless integration with Double the Donation's 360MatchPro. Donations processed through the ascend platform then flow into Double the Donation's matching gift portal. The portal screens for matching gift eligibility status and triggers company-specific matching gift emails encouraging donors to complete the process of requesting a gift match.
---
Matching gifts and higher education go hand in hand—and the opportunities to get involved are bountiful. Keep an eye out for donors (and alumni!) who work for companies that match gifts to colleges and universities, and be sure to incorporate matching gift information in your overall audience engagement strategy. And, of course, you won't want to forget the vitality of the right tools for your team!
Interested in learning more about driving matching gifts for your college or university? Check out our other top resources below:
Matching Gifts: The Ultimate Guide for Nonprofits in 2022. Find out everything you need to know about corporate matching gifts and how to increase the funding source for your institution. Browse common kinds of matching gift programs and our recommendations for the right tools.
Understanding the Matching Gift Disbursement Process. A lot goes on behind the scenes to ensure matching gifts are successfully flowing from participating companies to organizations like yours. Learn more about the process here!
4 Matching Gift Challenges⁠—and How to Solve Them! In this guide, walk through four of the most common roadblocks to matching gift fundraising success and discover how your institution's fundraising team can get ahead of typical challenges before they even arise.