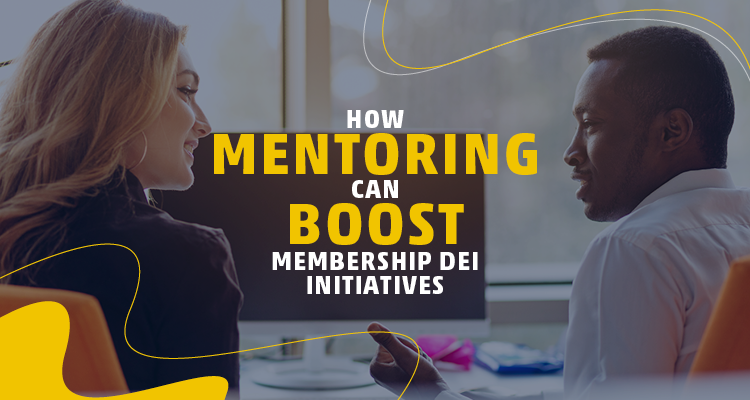 Author: Korrin Bishop
As an association, you want your members to feel welcome—regardless of age, race, gender, disability, sexual orientation, socioeconomic status, religion, or any other factors that distinguish one person's lived experience from another's. 
That's why diversity, equity, and inclusion (DEI) initiatives are so important if you're looking to better connect with your members and make them feel more included within their industries. And mentoring is one strategy that can boost your efforts.
Ready to update your engagement strategies to create a more welcoming and supportive community for your members?
We'll help you get started by covering:
What Are Diversity, Equity, and Inclusion Initiatives?

How Mentoring Can Strengthen DEI Programs

Tips for Creating a More Diverse, Equitable, and Inclusive Mentor Program
What Are Diversity, Equity, and Inclusion Initiatives?
DEI initiatives are proactive steps associations and other organizations take to acknowledge, embrace, and support individuals from varied backgrounds. They consider three core elements: 
Diversity:

The different characteristics and lived experiences each person brings to an organization, such as those listed in the previous section.

Equity:

Not everyone begins on an even playing field, so we need to consider steps we can take to address the biases and obstacles individuals may face to correct any disparities.

Inclusion:

Fostering spaces where each individual feels safe and empowered to share their ideas, participate in activities, and be a valued member of the group.
Associations choose to adopt DEI programs for a variety of reasons, including being able to:
Meet members where they are and appeal to their needs and preferences.

Create a better member experience and boost member retention.

Enhance new member recruitment efforts to ensure a diverse range of perspectives and experiences.

Increase member engagement by supporting all voices to speak up and offer their ideas. 

Encourage members to invite others with similarly diverse backgrounds to join.

Empower members from historically disadvantaged groups by identifying and providing the resources and supports they need to thrive.
When implemented with intention, DEI initiatives can strengthen both your organization and its members.
How Mentoring Can Strengthen DEI Programs
Mentorships often happen informally. A family member may introduce you to someone, you may have a supportive supervisor who takes you under their wing, or you could hit it off with someone at a professional event. However, not everyone has the same access to these channels.
Having an established mentoring program at your association can strengthen your DEI efforts by giving mentees access to new opportunities, such as networking or career development, that they might not have otherwise known about.
Additionally, mentoring can enhance internal DEI initiatives by making all members feel included and welcomed, not just in your association, but also in your industry at large. A mentorship program is an opportunity to collaborate with professionals from across your field, letting them know that you value their expertise and unique perspectives.
Tips for Creating a More Diverse, Equitable, and Inclusive Mentor Program
As you develop a mentorship program to support your overarching DEI initiatives, there are several tips you can keep in mind to ensure your mentor program itself is diverse, equitable, and inclusive.
1. Educate mentors on mentee interactions that promote diversity, equity, and inclusion.
While it can be easy for associations to say they want to support DEI in their activities, it's harder to actually implement. People may not know how to talk about differences or may be afraid of doing it wrong. 
This is why it can be helpful to bring in an external educator to lead mentors, mentees, and staff members in DEI activities and discussions. These trained facilitators can create a space where your staff and members can learn and grow together.
2. Be intentional about how you recruit volunteers for your mentorship program.
Asking for volunteers when selecting mentors can inadvertently leave some people out if they're worried about their particular schedule, resources, or whether they're even who you're targeting. Likewise, recruiting mentees through mass email sends or other group-based messaging can miss members who might benefit most from the program.
Therefore, plan to be intentional with your recruitment efforts. Reach out personally to those who you think would benefit from either being a mentor or mentee, with special attention made to underrepresented groups. You want to make sure that these groups know they have a place in your program and that you're mindful of their needs.
3. Create a DEI committee to work with and support your mentorship program
A DEI committee is a group within your organization dedicated to ensuring that DEI remains top-of-mind. The mentor-mentee relationship should be a continuation of your DEI initiatives, but the pair may need support in identifying activities in line with that goal. 
If you haven't already, consider creating one and integrating it with the management of your mentorship program. Your DEI committee can find and suggest activities and programs for your mentor pairs to participate in to continue their own DEI education. They can also share opportunities or affinity groups specific to the demographics with which your mentor pairs identify. These can be ways for your mentor pairs to find additional support and community in line with their needs.
4. Craft a code of ethics for your mentorship program.
A code of ethics helps guide your mentorship program to ensure it aligns with your values. It lets everyone involved in the program know what behaviors are acceptable, offers a channel for self-evaluation, and promotes a high level of integrity among members.
Make sure at least one of the categories in your code of ethics is related to DEI. Putting this in writing in a document signals its importance and your organization's commitment to it.  
5. Offer DEI resources on your website for mentor pairs. 
Similar to including DEI in your code of ethics, including DEI resources on a permanent page on your website keeps the topics front and center and demonstrates your commitment to the cause.
This also provides a reference for your mentorship pairs if they have questions or if they're looking for additional support. Your DEI committee can continue to add resources to this page as they become available.
6. Foster a culture of trust and accountability.
Finally, to ensure equitable, inclusive mentoring experiences, check in with mentors to see if they're on track regarding the activities and programs they should be engaging in. It helps if mentor pairs set up SMART goals (specific, measurable, attainable, relevant, and time-bound) at the start of the mentorship. This makes it easy to see whether they're keeping to that timeline or if anything needs to be adjusted along the way to shape the right experience for the mentee.
Also provide mentors and mentees with plenty of opportunities to give feedback, whether through a survey, one-on-one conversation, or both. You should also offer the option for participants to provide their feedback anonymously. 
Fostering a DEI-centered culture means listening and adjusting as needed. By doing so, your mentor pairs can trust that the program will support them.
Use Mentoring as a Way to Grow Your DEI Efforts
DEI initiatives value the potential each unique member brings to your organization. With some thoughtful planning, mentoring can be an excellent way to support your overall DEI strategy.
DEI programs ensure your association creates a place where all of your members feel like they belong. As a result, they can increase member retention, encourage new members to join, and enhance member engagement.