Things move fast in the world of social media—there's always a new network, campaign or trend to look out for. But one of the most effective ways to amplify your communications efforts is to rely on the oldest kind of marketing: word of mouth. In fact, 84% of people rated recommendations from people they know as more influential than any other form of advertising. In the nonprofit world, word of mouth recommendations can lead to greater awareness of your organization, a larger audience for your efforts and, ultimately, greater support on and offline.
Getting better results through word of mouth doesn't mean you need to scrap your social media strategy and start from scratch. Your employees are one of your organization's greatest assets—they are dedicated to your cause, well-versed in your mission, and likely already active on social media. In fact, 88% of employees use social media personally, and 50% are already posting about your organization. Your goal is to help employees share strategically rather than posting at random: provide suggested wording, encouragement and education that helps them send the right message on social media.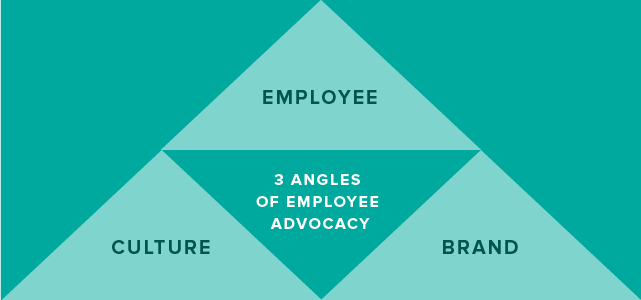 Whether you want to spread the word about your #GivingTuesday campaign or hire a new program manager, your employees can help. In a previous post on re: charity, Kailey covered the reasons why your staff should be on social media—but after they get started, how do you keep team members engaged and actively sharing content from your organization? Here are five ways you can get your team talking.
"There are no better champions for your organization's communications strategy than your staff. Leveraging the networks and personal brands of your staff as champions can help your organization's communications strategy have more impact."
—Beth Kanter
1. Share your (social media) mission.
If you're a communications manager or your organization's resident social media champion, you already know the value of social media for spreading your message. But does everyone on your team understand why and how you use different networks, and how your efforts translate to impact?
It can be difficult to get people to engage in a new program if they don't see the greater purpose. Help your team buy into an employee advocacy program by clearly articulating why they should be on social and how their efforts can drive your mission forward. Brand messages are re-shared 24 times more frequently when employees share them than when an organization does—so greater employee engagement on social translates to significant results.
2. Educate your team.
@TheMiddle says don't assume everyone knows how to use social media. Educate if you want to create a social organization. #SuperSig

— Dean Petrulakis (@dpetrulakis) January 22, 2016
Statistics like "Facebook has 1,550,000,000 monthly active users" make it easy to forget that having an account on a social network isn't the same thing as actively sharing content or feeling 100% comfortable using the platform. Before encouraging your team to start sharing, lay the groundwork by providing social media education to help them gain confidence and competence using the networks that are most important to your audience.
One way to lead the charge is to offer social media trainings, whether you structure them as workshops or informal Lunch and Learns. Start with the platforms that matter most to your organization and help employees learn how to effectively use them. When I worked in communications for a college access program, we found that a lot of our high school and college students, along with education bloggers and influencers we followed, were active on Twitter—so I led a Twitter 101 training to help staff better understand the platform and how they could use it personally and professionally.
3. Create a social media policy.
Everyone has heard at least one horror story about an employee posting something inappropriate on social media and facing the consequences, so it's no surprise that people can be hesitant to post about their employers. If you want to empower your employees to post about your organization on social, make it clear that they have permission—and encouragement—to share.
Creating basic guidelines and a framework for social media advocacy can help build trust and confidence among your team. Create a clear social media policy with a proactive focus: best practices, guidelines and how employees should disclose their relationship to your organization. It should be clear which employees are authorized to speak officially on behalf of the organization and what kind of content is appropriate to share—especially when it comes to respecting privacy when sharing pictures or videos of other people involved in your work.
4. Make it easy to share.
When it comes to communications, we often focus on external audiences. Spending a few minutes thinking about your internal audience can have a significant impact: Brand messages reach 561% further when shared by employees than when shared via official social media channels.
The next time you launch a social media campaign or donation drive, provide your team with suggested messages that they can share on different social networks. Whether you send these in an email or use an employee advocacy platform, making it easy to share is key to a successful program.
5. Communicate your results, online and off.
As your employees share messages from your organization on social media, make sure you're recognizing their efforts. On a day-to-day level, monitor your social mentions and Retweet, regram and share messages from your team. Using official handles to amplify individual voices helps humanize your organization and show the variety of individuals who support your mission.
On a larger level, tell your team how their social media sharing is affecting your overall results: by providing fresh content for your social feeds, increasing hashtag mentions for a specific event or driving overall follower growth. If you don't see results at first, or your team is slow to get engaged, ask for feedback and consider how you can reward sharing through a friendly competition or giving individual shoutouts to your most active social media advocates.
---
If you're ready to get your team engaged on social media, I hope these ideas will help you get started. If you've already started and want to share ideas or challenges, let us know in the comments or Tweet me at @aliciabjohnston to start the conversation.