Adrienne Johnson had a challenge that maybe some of you can sympathize with. The nonprofit she runs has evolved over the years. So the scope of work they do had expanded greatly and the constituents they serve are more varied now. But communicating this change was a challenge. According to Adrienne,

"Our organization and family of websites can be complicated to folks – we originally started as SeniorNavigator back in 2001 and since then have grown into an entire family of websites.  But, folks often still identify us as SeniorNavigator vs. VirginiaNavigator."

Or maybe you can sympathize with the challenge Hannah Ettema faced. As Digital Communications Coordinator for the National Forest Foundation, she's tasked with selling the importance of the USDA Forest Service to the American people. But she's given a budget that limits the kinds of marketing campaigns she'd like to deploy.
If either of those scenarios resonates with you, then maybe it's time to take a serious look at how animated explainer videos have been solving these same problems for years.
"A Google study has found that 57 percent of people who watch a video made by a nonprofit then go on to make a donation. Over half!!!"

– Julia Campbell, author of the forthcoming book Storytelling in the Digital Age: A Guide for Nonprofits.

If you've bought an app, subscribed to a new online service or just been on the internet over the past decade, you've probably seen an animated explainer video. Short, engaging videos that bridge the gap between an ad and a full-on presentation. You might have even seen a few for some high-profile nonprofits.
They've become ubiquitous not because they're a fad, but simply because they work. If your goal is to grab attention, deliver a message and leave an indelible impression, then explainer videos are one of your best bets. Why? Glad you asked, here are 5 reasons.
1.They're Attention-Grabbing
For both humans and search engines, videos stand out in a crowded content marketplace.
"…simply including the word "video" in an email's subject line saw an increase of 7%-13% in overall click-thru rates…"
But with the proliferation of smartphones and video sharing capabilities, we're inundated with footage in our social feeds. So, even though you still enjoy the SEO benefits, it's harder to differentiate your message with live action videos alone. For the National Forest Foundation, their 60-second explainer provides a great complement to their live action video gallery, consistently driving the majority of their views on YouTube.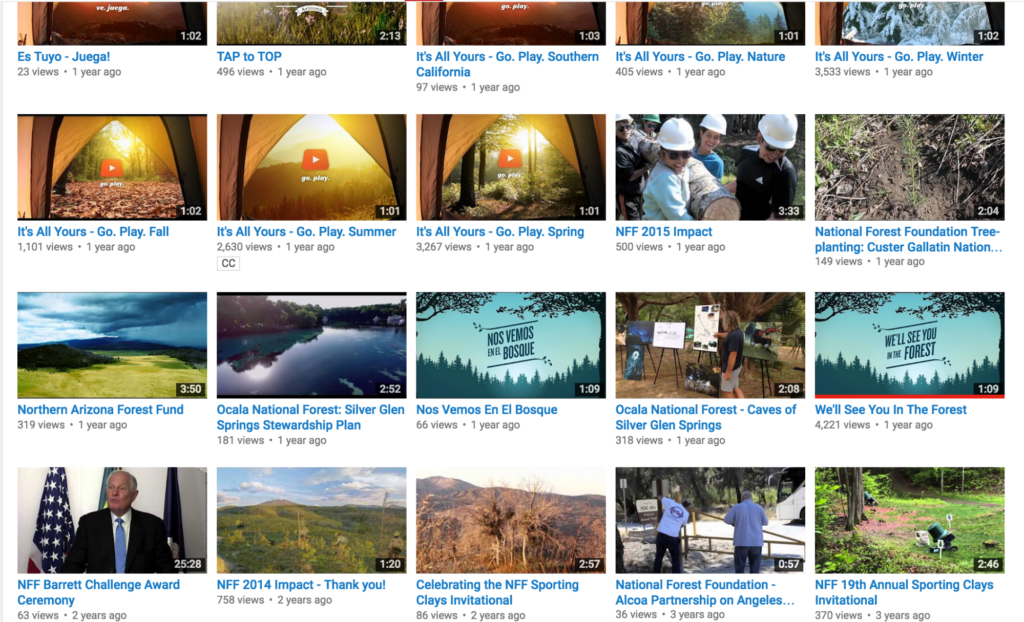 2. They're Engaging
In the time it'll take you to read this sentence, most of your target audience will probably have moved on to an another tab or a cat video. Why? Because our attention spans are worse than that of a goldfish. So once they've grabbed your audience's attention, animated videos are one of the best ways to keep their focus long enough to deliver your message and have it stick.
"65% of video viewers watch more than ¾ of a video. With retention rates for video content far outpacing those of text-based content, it's clear that video is the preferred communication style for viewers" 
For Adrienne at VirginiaNavigator, the results were almost immediate. In addition to putting their explainer video front and center on their website, they're using it on social media, emails, as a presentation starter, even internal training.
"We have shown it to a variety of folks – from seniors and caregivers, to high-level professionals within our industry, to Board Members and Advisory Council members, and to the general public.  Where we've had the opportunity to glean feedback all seem to agree – very easy to digest, good explanation of who we are…I have actually heard folks say "wow" after seeing it in a presentation…"
3
.
They're Infectious
Because they engage both the eyes and ears, animated videos are proving to be one of the most effective types of content to share.
"Audiences are about 10 times more likely to engage, embed, share, and comment on video content than blogs or related social posts."

– Rob Ciampa, Chief Content Officer Magazine
For Hannah at the National Forest Foundation their 60-second explainer, having been shared over 27K times, has magnified their reach beyond what they were used to.
"We've used the video repeatedly on social media with great results… Occasionally we share it with prospective donors or existing donors and partners share it on their channels… "

– Hannah Ettema Digital Communications Coordinator – National Forest Foundation
4.
They're Approachable
Animation can make even the most abstract idea, tangible and easy to grasp. The sky's the limit as far as what ideas and message you want to convey as you're not limited by what's physically possible to show.
"You can grab the audience's attention with good design and fun animation and you're able to accomplish things that are much more difficult to achieve with live action."

– Alyce Currier, Wistia
Besides, it's sometimes more effective to have a bit of separation between what you show your viewer and the gravity of your cause. Real images, if too graphic, have a way of backfiring in their intent; repulsing your viewers instead of engaging them. Visually abstracting the subject matter into icons and characters removes that barrier, increasing the probability your message gets across. You can read more on how we've tackled sensitive topics through animation here, but as examples, the following two videos were produced to highlight the uncomfortable issues surrounding adolescent female sexual health. Try tastefully communicating that with live-action.
5.
They're Versatile
As you saw with Adrienne's explainer, animated videos are great evergreen content to keep in your marketing arsenal and used in a variety of situations. Producing them offers a lot of flexibility as well. During production there's no need to account for cameras, lighting setups and actors and the only deadline to consider is yours. Plus, making corrections, updates or variations, later on, are simpler since there's no cast and crew to re-book and reschedule.
"Making changes to the script or how something looked after the production is over isn't always easy. Going back and fixing or changing something could mean a lot of extra costs. With live action video, booking talent and crew for another day or more of reshoots can be pricy."

– Alyce Currier, Wistia
The first video in the No Child For Sale campaign for World Vision laid out the startling facts about child trafficking around the world. The next year, a follow-up video encouraging support from viewers and outlining what successes had been achieved was created. Since the raw materials already existed from the original video, the subsequent story could be produced quickly.
Another example of this efficient repurposing of content happened when the George Bush Center created an initial video aimed at highlighting the sacrifices and struggles of Post 9/11 veterans.
As a continuation of that effort, shorter topic videos were later created focussing on specific challenges these warriors face. The Invisible Wounds campaign featured four 15 second animations tackling issues including PTS and Traumatic Brain Injury. These videos repurposed the existing assets from original the Post 9/11 veterans video, which not only maintained visual consistency among the entire military themed campaigns spearheaded by the Institute, it greatly streamlined the production of the supporting videos.
So they get you noticed, hold your audience's attention longer, are more likely to get your message across and get shared online, all while providing a versatile evergreen asset to your marketing mix. While a nonprofit animated explainer video alone can't hold up an entire campaign, as part of a cohesive story, they're a tremendous asset.
 Want More?
Get your copy of The Most Efficient Way to Plan Your Next Nonprofit Explainer Video from Andrew and Paragon today!