Fundraisers have been known to go out on a limb for causes they love. They rappel down buildings, run marathons, and, yes, sometimes even grow mustaches.
Courage alone, however, isn't usually enough to make a successful fundraiser. Organizations need to actively manage peer-to-peer fundraisers to help them reach their goals, or at least provide them a rewarding experience.
There are many ways to engage fundraisers, but all the strategies boil down to solid communication efforts. Every interaction with a fundraiser should be meaningful and get them closer to their goal. Here are four ways you can move the needle for fundraisers.
1. Educate Them
What small-scale experiment resulted in tripled donations? A simple effort to educate fundraisers.
When the development team at Team Rubicon wrote a one-page tips sheet for new fundraisers, they didn't expect anything dramatic. In an effort to test if the sheet would be effective at all, one group of fundraisers received the sheet, while the other was left to fend for itself. What the data revealed blew them away. The group that received the tips raised three times more than those who didn't.
Some items you can include in a tips packet are:
Fundraising best practices
Assets for their campaign pages and social media, like a header image, video, or shareable infographic
An example of an email ask
Pre-written social media blurbs (You can download a customizable tips sheet like Team Rubicon's, here).
2. Speak to Their Talents
Some people just have a knack for rallying their friends. You probably have that friend or you might be one of those people yourself. Those individuals have a special talent: they are network mobilizers. Senior development director at Team Rubicon, Matt Scott, identifies these supporters and directly reaches out to them about peer-to-peer fundraising. If they agree to fundraise, he'll provide them with that ultra-successful fundraising tips packet and get them set up with a Classy page.
After the earthquake in Nepal, Team Rubicon, which is an emergency response organization, needed to mobilize as quickly as possible. Matt reached out to Lynn Le, a proven network mobilizer. On her own, she came up with a challenge as a way to rally supporters for her campaign. If she could get 25 people to donate $100 each, she promised to do 100 burpees per person.
"Lynn came out full force for Team Rubicon," he said, "Within the first 24 hours, she raised $1,500."
Speak to the talents of your supporters, they have many! Some talents or interest you could leverage include:
Network mobilizer – they're known for rallying support.
Writer or journalist – they can tell a great story.
Public figure or student leader – they already have a large audience.
Artist or musician – they have a means to get creative.
Daredevil or sports enthusiast – they probably love a good challenge, which makes for great and fun fundraising.
When you encourage supporters to use their strengths, you clear the way for them to activate their network in ways your organization isn't capable of doing.
3. Celebrate Their Wins
Fundraising is hard. There are ups and downs during a campaign, lulls and surges. Create sustainable momentum when you celebrate a fundraiser's wins, however small. Liberty in North Korea sends a feel good email when fundraisers reach personal campaign milestones, like a halfway point.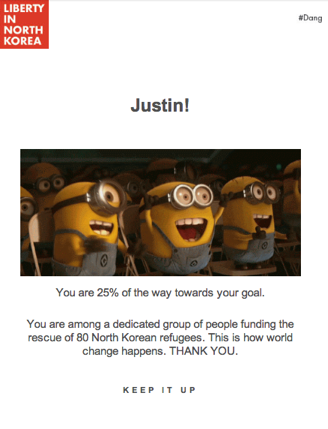 The organization's creative director recommends designing a message that will be the best email that person receives that day. Here are some ideas for email content:
A short blurb about how impactful their campaign is to your cause
Figures or stats that demonstrate the importance of peer-to-peer fundraising for your organization
A special graphic that shows the fundraiser's progress and that encourages them to share on social media
4. Thank Them
There's no better way to wrap up a fundraising campaign for your favorite cause than to feel appreciated. Fundraisers put a lot of work into their campaigns. They reach out to family and inundate friends with Facebook status updates and tweets. Show them how stellar their contribution is to your organization. Gratitude is the first step in proving to supporters they're part of your movement.
Send fundraisers a hand-written thank you card, recognize them on your social channels, or feature them on your blog. Whatever you choose to do, the experience should be very personal and enthusiastic.
Peer-to-peer fundraising can be a huge asset to your organization, but it is not an effort that can be passively managed. If you maintain active relationships with fundraisers and show your appreciation for them, you'll turn them into lifelong supporters. And they'll bring their friends and family along for the ride.
Other Related Posts